Le Marche, Italy
Written by Valerie Schneider
The Italian region of Le Marche is said to encapsulate all of Italy in one place. The hill towns, beaches, mountains, art and musical treasures, and idyllic landscapes certainly seem to prove it to be true. With medieval towns, Renaissance splendor, and postcard-worthy countryside staked out in grapevines, olive groves, and waves of sunflowers, Le Marche embodies what many of us expats envision for our lives in bella Italy.
Le Marche rests between the Adriatic Sea to the east and the soaring Sibillini Mountains to the west, part of the central Apennine range, with Tuscany and Umbria lying on the other side of the peaks. These mountains have impeded invaders from having much impact here. Abruzzo sits to the south while Emilia Romagna and San Marino are to the north. Broken down into five provinces, each one offers beauty, culture, and an easy-going lifestyle. Many liken Le Marche to Tuscany and Umbria, which it borders to the west, and there is no denying the resemblances with the hill towns, art, landscapes, and golden sunlight. Yet, Marche is still distinct and remains largely off the tourist track.
Endowed with an airport, you'll find connections within Europe, while the high-speed rail line along the Adriatic takes you up or down the coast. There are two caveats to living here. Because of the hills and valleys, getting around within the region isn't very conducive to public transit, so a car is probably a good idea. Because of the recent seismic activity along the Umbrian border that seriously hit several towns on both sides of the border, it's a good idea to stay towards the center and seasides of the region. Those are the places that attract most expats, anyway.
There are some beautiful artistic cities here and yet it is still rural at heart—farming, fishing, and light manufacturing help keep the economy going. But don't think this region is a backwater. It gave us Bramante and Raphael, as well as the writer Leopardi and the composer Rossini. Every city and many of the smaller towns have ornate opera theaters that offer a variety of shows, and the region is rich in festivals and events.
Retire in Le Marche, Italy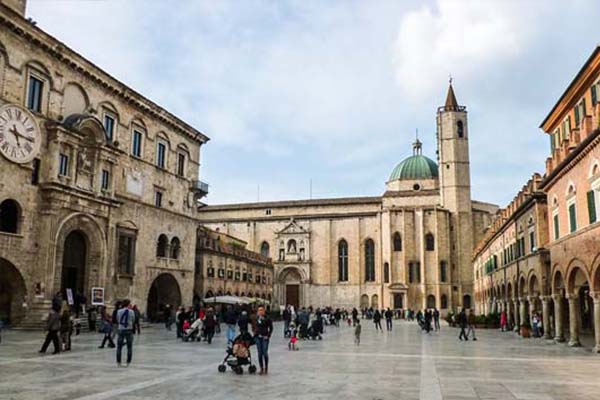 You can have the best of all worlds here, with the Adriatic beaches in easy reach of just about any town you choose. With 118 miles of coast, there are miles of wide, sandy beaches studded by palm trees, making it "the Palm Riviera". Those easily-accessible long beaches are interrupted by the stunning cliffs of the Conero promontory where dramatic seascapes and delightful towns offer a blissful diversion from the usual stretch of sand.
The largest city is Ancona, the region's capital, with about 100,000 residents. Other art cities and surprisingly sophisticated small towns can easily compare to the more famous neighboring regions, giving a good quality of life with cultural amenities and outdoors activities.
There are English-speaking expats all over the central and coastal areas, and the Marchigiani are friendly and open folks so you won't have a hard time finding friends and fitting in. The regional wines are exceptional, and the dishes will keep your taste buds happy, with bounty from the land and the sea.
The climate varies with the landscape—cooler in the mountains and warmer (and more humid) at the sea. The inland hills are pleasantly breezy; summer evenings will usual cool down beautifully, while winter sun kisses the brick towns to give off some warmth. In general, the daytime temperatures in the summer average 83 F, while spring and autumn hover around 64 F.  Winter days average about 48 F. The rainiest months are November and December.
While inter-regional transit can be somewhat awkward, there are buses that take you to Rome, Florence, Arezzo, and Pisa. Trains skim the Adriatic—up to Venice or down to Puglia, and all points (and connections) in between. The airport in Ancona serves well for quick jaunts around Europe, and if you base yourself in southern Le Marche, you can utilize the airport in Pescara (Abruzzo), as well.
Lifestyle in Le Marche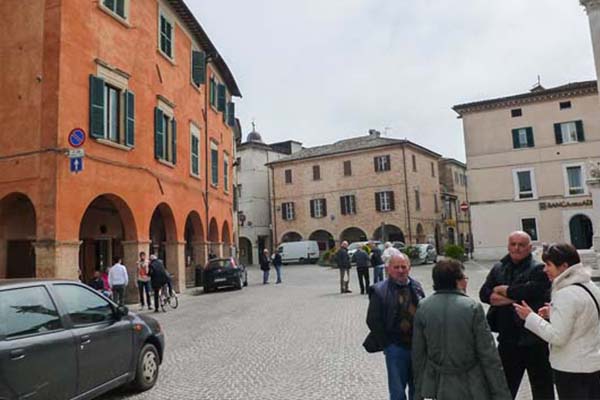 There is something for everyone and every taste in Le Marche. Rural or urban, town or countryside, seaside or mountain, Le Marche presents a pretty face at every turn. The Renaissance splendor of Urbino and the spectacular travertine city of Ascoli Piceno are overlooked gems, while Jesi, Recanati, and Macerata all bear beautiful city centers with lots to see and do. Seaside Senigallia, Fano, and Pesaro have city amenities with beach benefits. And all over the wavy hills are utterly charming towns that are every bit as beautiful as Tuscany's.
Velvet-draped theaters are found in most towns, where musicals, operas, and prose are staged at reasonable prices. Alluring Ascoli Piceno has three theatrical venues and even tiny Petritoli has an active performance space. Pesaro was the birthplace of Rossini so expect to hear exceptional opera there, but Macerata challenges them with its summertime open-air opera arena, called the Sferisterio. Ascoli Piceno hosts big-name concerts in its beautiful enclosed piazza, and a costumed parade of hundreds in opulent medieval costumes march through town to the jousting stadium where the Middle Ages return in a Palio competition between the city's six sestieri, called La Quintana.
Le Marche's festivals and Carnevale celebrations are some of the most interesting (and raucous) in Italy, and the line-up of food and wine festas (called sagras) let you eat and drink well for rock-bottom prices.  The region has hundreds of monuments, along with castles, museums, art-filled churches, and abbeys galore. Hiking, horse riding, water sports, and 10 golf courses let you stay active, and nightclubs let you dance the night away. The beach resorts turn into sandy discos in July and August. You're never far from the coast, and you can pick from wide sandy stretches, or the coves and cliffs of the Conero. The area's fishing tradition ensures fresh seafood to enjoy when you jaunt to the beach.
The region's wines are not just notable, but laudable. From the lush Rosso Piceno to the full-bodied whites like Pecorino and Passerina, the vintages here are spectacular, with wine trails to follow for some winery-hopping.
Cost of Living in Le Marche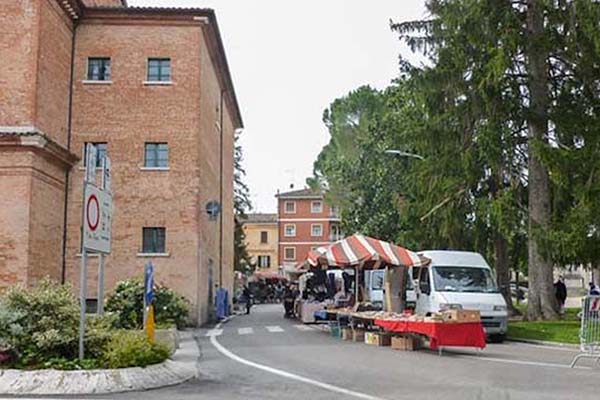 Le Marche isn't as cheap as some regions, but it's not off the charts expensive, either. Enjoy the popular "apericena" (aperitivo with enough snacks to be a light meal) for $6 to $7; a simple glass of vino at a piazza bar will cost you just $4 to $5, even on the spectacular Piazza del Popolo in Ascoli, called one of Italy's most beautiful squares. A morning cappuccino is $1.30 and a bag brimming with locally grown produce from the weekly mercatowill rarely cost more $6 or $7.
Enjoy a pizza and beer for $8 or $9, and a three-course trattoria lunch with a glass of wine and espresso chaser runs around $16 per person. A romantic dinner in a lovely atmospheric restaurant can cost less than $80 for a couple, including a good bottle of wine. (And you'll definitely want to dine on the region's delicacies, that include fine noodles called maccheroncini, a rich layered lasagna-like dish called vincisgrassi, and seafood stew called brodetto. The jumbo meat-stuffed olives are a sensory sensation, especially when coupled with the sweet fried cream called cremini. Winter stews, grilled meats or fish, and luscious cheeses also keep the taste buds singing.)
Housing costs run from affordable apartments to million-dollar villas. Rents are reasonable everywhere, though. In Ascoli Piceno, for example, furnished two-bedroom homes in the city center are listed from $500, and the same (or less) can be found in towns all over Le Marche. Urbino can be the exception because of the popular university; students scramble for the apartments in the centro.
Things to do in Le Marche
The central Italian region of Marche isn't boring, that's for sure. You'll find plenty to do to satisfy every taste, interest, and whimsy, from outdoorsy to cultural to spiritual, it's all here…and more. There are billowing hills and soaring peaks, 112 miles of seacoast, and more perfect hill towns than you can visit in a year. (My favorites? To name a few: Jesi, Fossombrone, Mondavio, and Offida.)
There are so many things to see and do that it is hard to narrow it down, but here are my picks for some of the best things to do in Le Marche.
Go Underground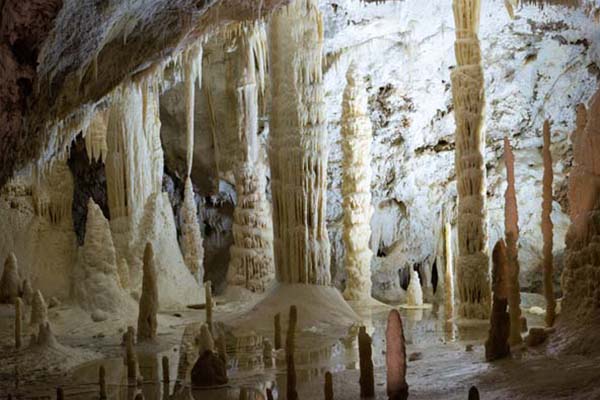 The Caverns of Frasassi are in the middle of the region, west of the port city of Ancona near Arcevia, and are a true geological wonderland. The extensive network of caverns covers eight miles. Only discovered in 1971, they are in excellent condition, without too much outside intervention or damage. In fact, to enter Frasassi, you'll need to pass through three sets of vault-like doors that keep the caves at a precise climate to maintain its natural state.
Once inside, your guide leads you through stalagmite-lined passageways and into vast chambers like the Ancona Abyss, which is so enormous the Milan Cathedral could easily fit inside. You'll pass otherworldly geological formations, like the calcite cascade known as "Niagara Falls," a crevice called "the Grand Canyon," and "the Organ Pipes," a series of stalactite formations that resembles the church instrument and makes varying tones when lightly tapped.
Visit Mary's House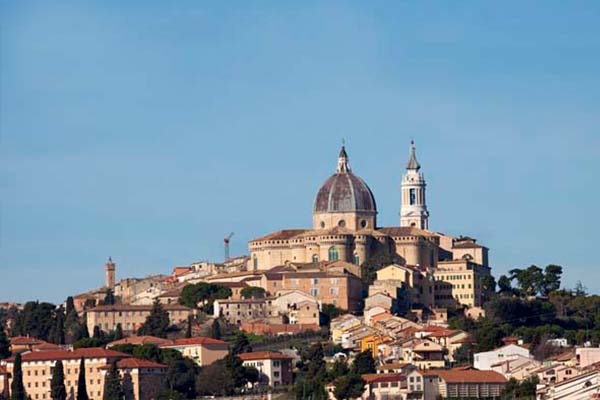 The brick hill town of Loreto sits on a hill above the Adriatic, an easy stop off the A-14 autostrada. And it's worth the stop because not only is it pretty, that huge dome you can see from the valley is the seventh largest in Italy, a lofty covering for a humble home. Inside the Basilica della Santa Casa is a small rustic house said to be that of the Virgin Mary, transported here on the wings of angels in 1294. The cavernous basilica was started in 1468 and took more than 100 years to complete, but bears beautiful artwork; many people miss the Sala del Pomarancio, but you don't want to. It's called the Sistine Chapel of Marche. The "holy house" is now swathed in ornate marble, but step inside to see the rustic interior. The rear of the basilica is something to see, too, with its castle-like apse, while the piazzain front is outlined by the bishop's palace, now an art museum that is a worth a visit. As you head back to the highway, stop at Ristorante Zi Nene where the lunch menu sets you back a mere $13.
To Infinity and Beyond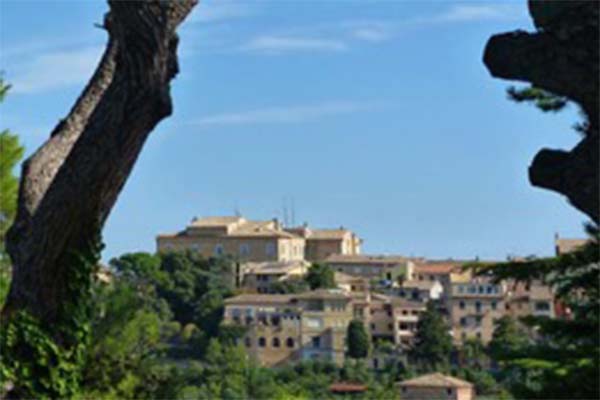 Recanati is so picturesque it could be a film stand-in for any Tuscan town, with its caramel-colored brick buildings strung along the ridge and a tall defining tower as a centerpiece. It is the birthplace of one of Italy's most famous writers, Giacomo Leopardi. If you don't know his works it's ok, but you'll see the Cliff Notes around town, namely at the Colle dell'Infinito (Hill of Infinity), the idyll and theme of his famous poem L'Infinito praising the landscapes and places of his hometown.  The dreamy spot overlooks endless olive groves, grape vines, and sunflower fields. A visit there is a must. But Recanati also offers some interesting museums, especially the Civic Museum with a section dedicated to Lorenzo Lotto.
Stop in the Tourist Information office, because along with the maps and books you'd expect, they also have regional foods and wine tastings. Cap it off in a big way at the MUREC Museum of Recanati, a vertical museum in the tall tower, finishing at the lofty terrace, with sweeping views of the sea and hills; from here you really can see to Infinity, and beyond.
Take in an Opera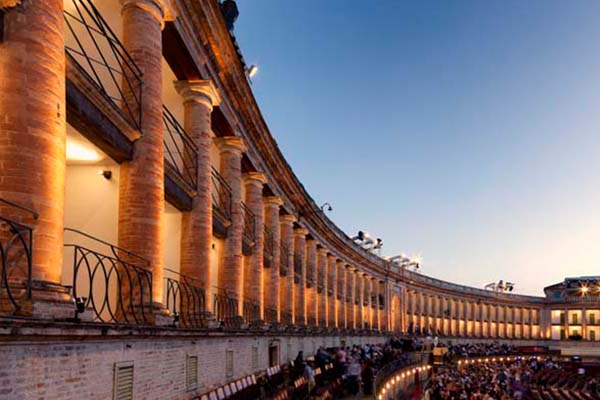 There are spectacular velvet-draped theaters in many towns, but true opera fans will want to make a pilgrimage to Pesaro, hometown of Giacchino Rossini. The theater is a jewelry box decked with viewing boxes, and the composer himself inaugurated it with his production of La Gazza Ladra. There is a festival every August dedicated to Rossini. But Macerata vies with Pesaro for the high notes, with its colosseum-like open-air Sferisterio venue, as well as a traditional theater. Not an opera fan? No problem. Pesaro also has an arena for concerts, and the Sferisterio hosts dance and other musical genres. Nearly every town has a theater for live productions, and many towns bring in big-name bands, jazz, and more, covering most musical tastes, as well. A dinner and a show is a great way to go local.
Hang out With Raphael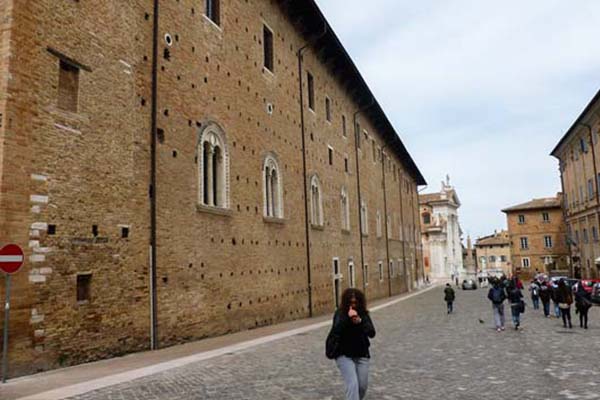 One of the area's native-born sons that everyone is proud to claim, the artist Raphael was born in the "ideal city" of Urbino. For the city's part, it is a UNESCO site, which lends credence to its title, and should definitely be on your must-see list. You'll need some stamina to get up and down the steep streets, but it's worth it to enjoy the alluring ambiance and hip life of the city (there's a university here that keeps it hopping). The tucked-away fresco-slathered Oratorio di San Giovanni will have you gaping in awe. Then head to the headliner monumental Ducal Palazzo with the National Gallery of Le Marche, where works by (you guessed it) Raphael, along with Titian, Piero della Francesca, and others are displayed. You can really go all-in and stop by Raphael's house, in the old artisan quarter, with period furnishings and works by the master. You're going to be hungry, so head over to Osteria Kilometro 0, where everything is made with local ingredients only.
Time Travel to the Middle Ages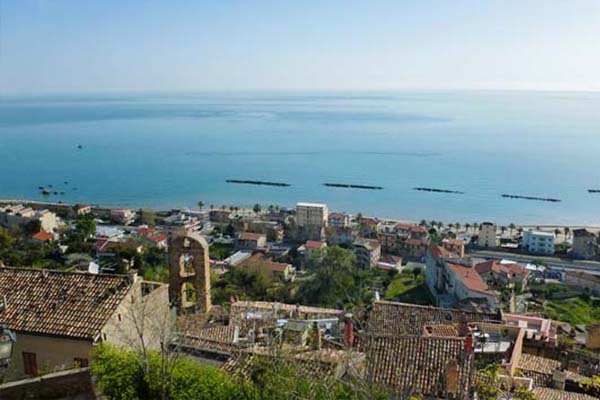 While the region has ancient history going back to the Piceni people and the Romans, it was the Middle Ages that really marked its development and that remains as the architectural hallmark of many towns. A few stand out as retaining their medieval roots and monuments particularly well. Tiny Castel Trosino is a 9th century Lombard hamlet on a rock outcropping where time stands still, and the silent green nature surrounding it adds to the effect. Gradara is a perfectly kept castle-town completely encased within its antique walls. The noble castle-hamlet is one of the best-preserved in Italy. Compact Castignano is another medieval charmer that dates to the 11th century and is steeped in Templar lore. They put an annual blowout called I Templari, that really lets you step back in time. Acquaviva Picena's old town with its castle puts on a banquet and costumed parade that immerses you in the Middle Ages (in a glorious and tasty way), while rollicking Palio events in Ascoli Piceno, Fermo, and Servigliano combine formal pomp and ceremony with luxuriant costumes and medieval competitions like archery and jousting accompanied by buglers and drums. They are really something to behold.
Hit the Beach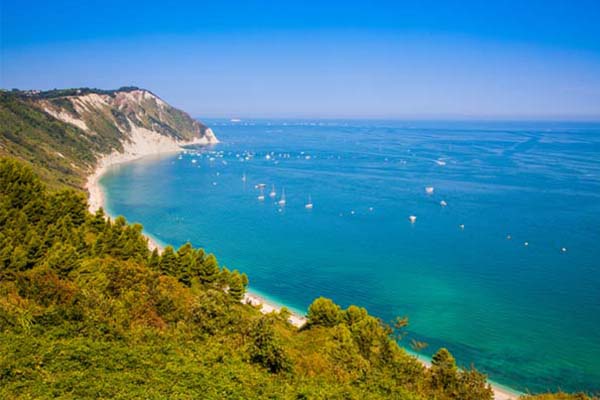 The Adriatic shore offers a beach to fit every preference. Do you prefer wilder beauty with cliffs and hills that plunge to the sea? Yep, got that; the Conero is one of the east coast's most captivating places. Is a pebble beach more to your taste? Head south of Fano. Much of Marche's coast is covered in wide expanses of sand, and much of that is staked out with ordered rows of color-coded umbrellas that you rent by the day (or week), but there are free beaches, too.
One caveat to Marche's beach scene: the train line rockets along the coast, so in many places you'll have that whizzing noise interrupting the sound of the waves. To avoid that, you'll want to go to the Conero, where the promontory protects from the rails. Sirolo and Numana are especially adorable towns. A few towns give you a bit of distance from the train and autostrada, like Porto San Giorgio, Civitanova Marche, and the area north of Porto Recanati towards Marcelli.
Buy Some Shoes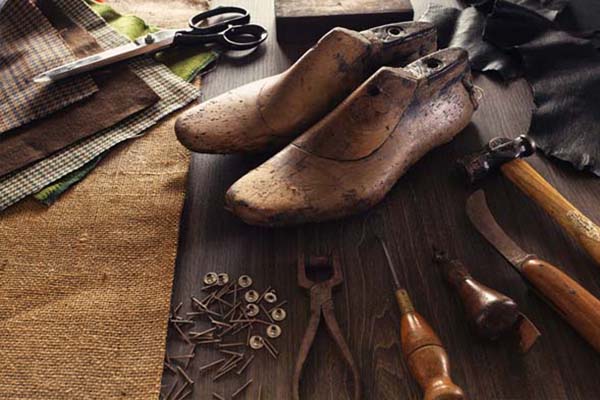 Le Marche is Italy's epicenter of quality shoe manufacturing much of it in small artisan workshops. Put all the cottage industry pieces together and you get some fancy footwear, Italian style. Most of the workshops are in the Val d'Ete, the river valley that leads inland from Civitanova Marche. Here you'll find outlets for big names like Tod's, Cinzia Valle, Cesare Paccioti, and Prada, among others. Some factory stores are clustered around Montegranaro, as well. The weekly markets in many of the towns have a Made in Marche shoe vendor stand, so keep your eyes open for that if you're not able to go searching for the outlets.
Enjoy the Elegance of Ascoli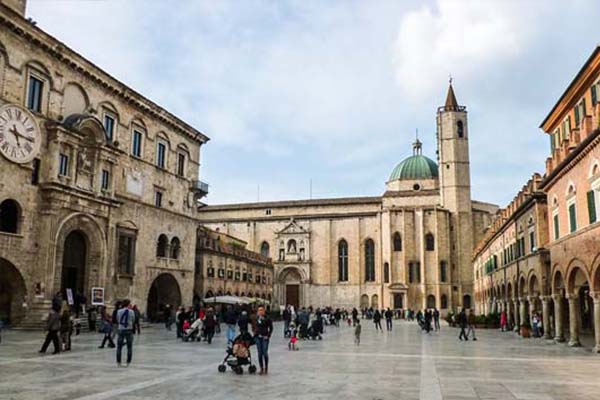 I can't pass up singing the praises of this stunner, as Ascoli Piceno wasn't just my home for two years, it is, in my opinion, one of Italy's most beautiful, yet overlooked, cities. The monumental buildings are elegantly dressed in travertine, yet there is casual and unpretentious. It has streets lined with historic posh palaces, two grand piazzas, a gorgeous cathedral, and important museums. The city's heart is the awe-inspiring Piazza del Popolo, a rectangular travertine expanse outlined by arcaded buildings and dominated at one end by the great Gothic church of San Francesco. It gleams and is among the most beautiful piazzas in Italy. Wander the lanes, meander along the river, then circle back to the piazza and snag a seat at the genteel Café Meletti to enjoy a drink and the people watching. There's a lot to see here, so stop by the tourist office where an excellent guidebook in English is available.
Eat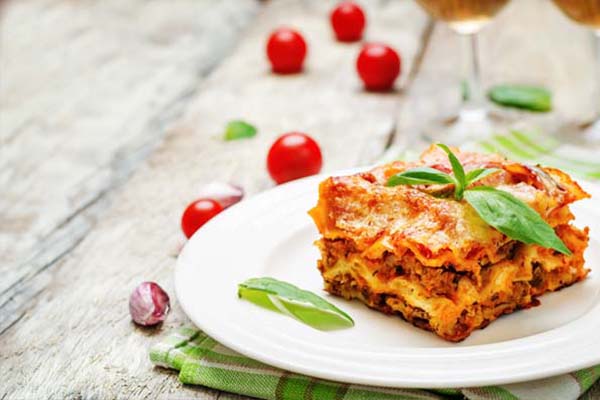 Hello, this is Italy! Eating is what everyone thinks about and talks about and loves, so get into the specialties that are uniquely Marchigiani. Fine noodles called maccheroncini come from Campofilone and are used all over, especially tasty with the tomato ragu or a simply clam sauce. Le Marche likes their fried foods; in fact, there is a week-long festival dedicated to it annually in Ascoli Piceno. And in that city you have to try the hallmark olive all'ascolana, gigantic olives that are stuffed with meat and deep-friend. Near the sea, they stuff them with fish, but I have to say they're just not as addictive. Another fried specialty here—cremini, a thick custard cream that is breaded and fried. The hill towns' offer up tasty lamb and vegetable dishes.
10 Foods to Taste in Le Marche
By Valerie Fortney Schneider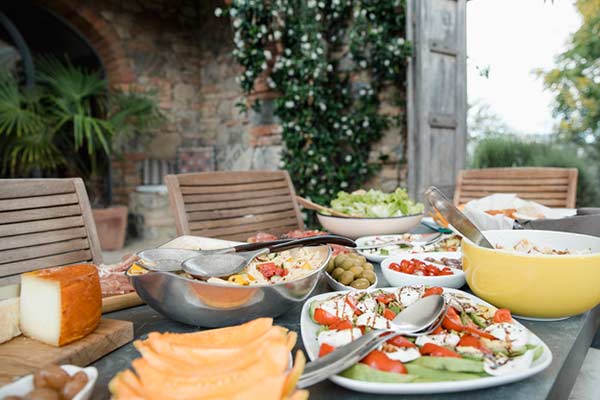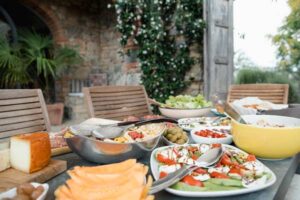 Vincisgrassi
Vincisgrass is one of the hallmark dishes of Le Marche. Like lasagne on steroids, Vincisgrassi starts with a long-simmered meat sauce that may include large pieces of duck, pork, rabbit, or chicken (never ground meat). Then, thin pasta sheets are layered with the meat, béchamel sauce and chicken giblets, to create a celebratory feast.
Olive all'Ascolana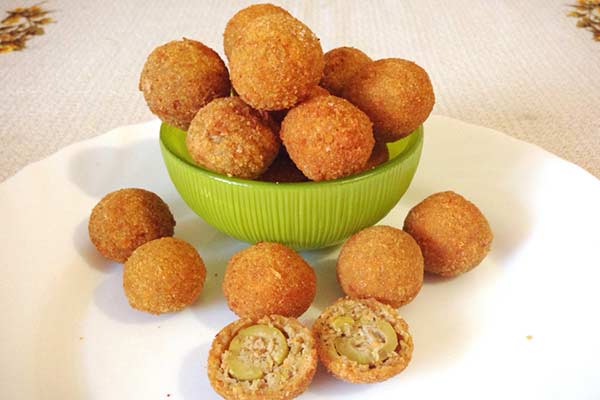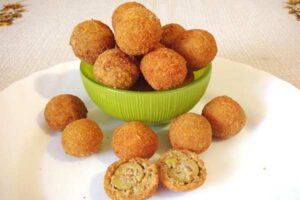 An addictive treat from Ascoli Piceno, the giant Ascolana variety of olives are hand-cut off the pits, then stuffed with a savory meat mixture, breaded, and deep-fried. They are served as an antipasto, and no holiday or celebration in southern Le Marche goes off without them. There are small shops in Ascoli Piceno specialized in making them. At the nearby coast, they are stuffed with fish instead of meat. There are now vegetarian versions available, too.
Formaggio di fossa
A masterpiece of cheese that is aged in a stone cave (fossa means pit or underground chamber). The sharp yet delicate-flavored sheep cheese has an initial sweet taste and woodsy aroma and then finishes with a little bite. The cheese rounds, produced in north-central Le Marche, is put in cotton sacks and laid on straw within the stone cave, which is then sealed for 80 for 100 days. Opening the fossa is a celebratory event that takes place only twice a year.
Maccheroncini di Campofilone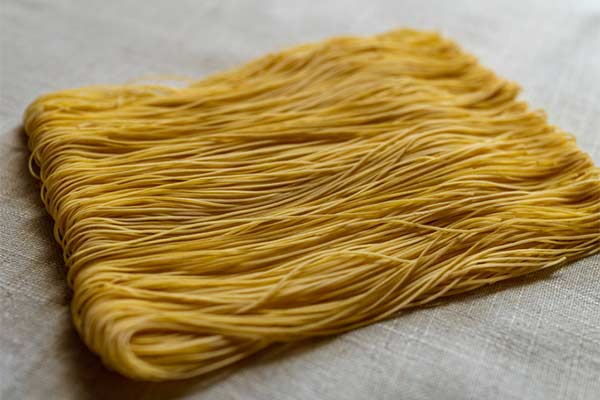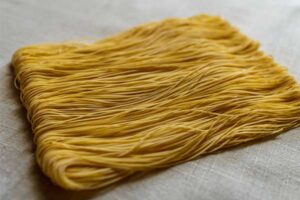 Fine, long strands like angel hair pasta, these thin noodles are made in Campofilone using just flour and eggs with no liquid, and are found all over the region. They're especially great with tomato sauce (with or without meat), but also with a simple clam sauce, tuna, or zucchini-ricotta topping.
Funghetti
Little mushrooms from Offida are sweet anise-scented meringue-like treats that look like… well, mushrooms. The cute candies are usually served around Carnevale time, but also for celebrations and festivals. You can find them in pastry shops, market stalls, and specialty foods shops.
Brodetto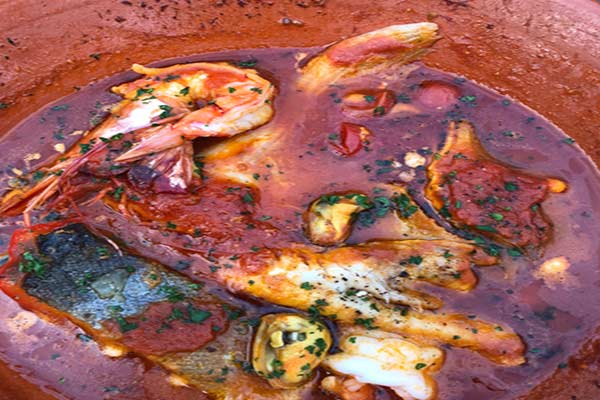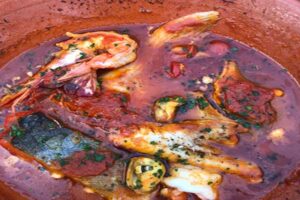 The brothy mixed-seafood stew called brodetto is rich and satisfying, and each coastal town does their own version, so taste a few of them to see which you prefer. (My vote goes to Porto Recanati's variation, without tomatoes.) You might find mussels, shrimp, monkfish, sole, calamari, mackerel, rockfish, cod, and more in the pot; there may be up to nine types in there. You'll be asking for more bread to soak up the broth.
Porchetta
They love a spiced roasted pig all over central Italy, and Marche is no different. You'll find trucks selling it at markets and festas, but the Marchigiani also do a twist on it. They love their rabbit or chicken porchettata (porchetta-style), using the same principle but more manageable to make at home. One taste of the succulent and flavorful meat and you'll see why it's so popular.
Fritto Misto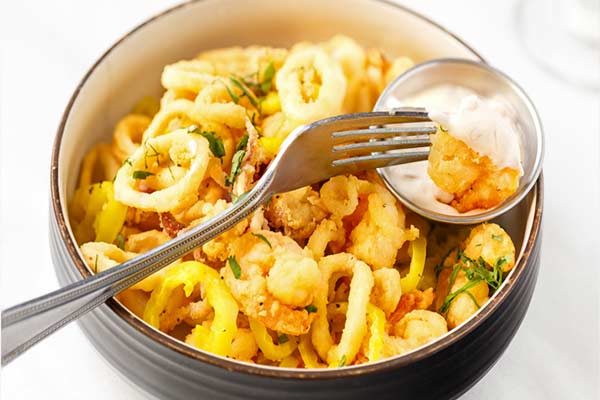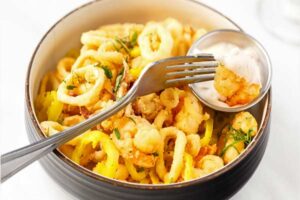 Le Marche loves their fried foods, so much so they put on a big festival in Ascoli Piceno every spring to celebrate it, and thousands come from around Italy to gorge on it (nearly 95,000 fritto fans in 2019!). No matter when you visit, you'll find the fritto misto on many menus. Each restaurant may have variations, but it usually includes those stuffed olives, a fried lamb or pork chop, and fried vegetables all piled on the plate. It includes cremini, sweet thick custard cubes that are (what else) deep fried.
Piconi
Also called cacioni, they are ravioli-like baked savory poppers stuffed with pecorino cheese-egg mixture, snipped on the top to let some of the cheese filling ooze out. Most commonly made around Easter, they are fragrant with the heavenly aroma of the cheese. You can't eat just one, so don't bother trying to resist; pop them in your mouth and enjoy.
Ciauscolo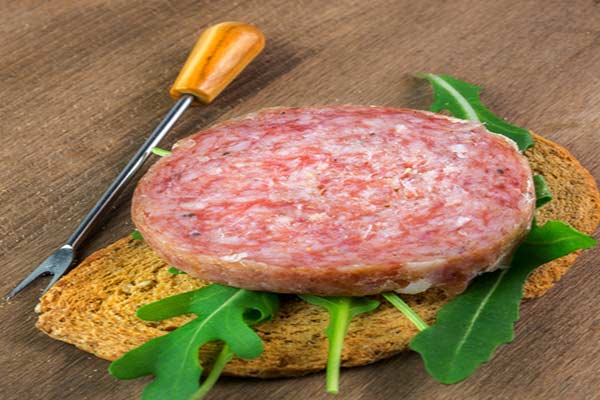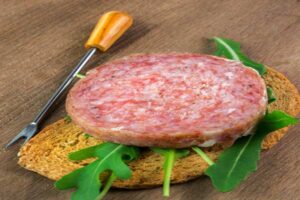 Ciauscolo is a soft, spreadable finely-ground salami common in the Marche hills. It's made from pork shoulder, pancetta, prosciutto and loin, with a bit of lard and white wine, delicately seasoned with garlic and pepper. It can be served sliced in the casing, or scooped out and spread on bread. It's also used to flavor bean soups or pasta.
Bonus: What to Drink in Le Marche
Anisetta
Anise-flavored liqueurs are made in the Macerata province (Varnelli anice) which is very dry, not sweet, and in Ascoli Piceno (Meletti anisetta) which comes in sweet or dry versions. They're fine after-dinner sips, though Varnelli is often used in coffee, especially by older gents. The best place to sample an anisetta is at the source, in the elegant Caffe Meletti on Ascoli's gorgeous Piazza del Popolo. Mistra' is a high-octane anisey moonshine; approach with caution.
Vini Marchigiani
Le Marche produces excellent vintages, though many aren't well-known outside the area. Rosso Piceno and Rosso Conero, Lacrima di Moro d'Alba, and Rosso Conero are reds to seek out. The whites here are full-bodied and aromatic. The Pecorino is unique local grape, and was saved from near-extinction here; Passerina and Verdicchio are other ancient indigenous varietals to try.
Vino di Visciole
Vino di Visciole is a cherry-infused wine, a lip-smacking treat found around Urbino. The sour cherries are covered in sugar and left in the sun, then doused with red wine and left to sit awhile. It's a lovely finish to any meal, or drizzled on gelato.