Umbria seems like a study in contrasts. It's wedged between Rome and Tuscany, so plenty of travelers pass through it, yet it manages to not feel overly touristy. It has divinely decorated cathedrals, as well as vast tracts of woods—including an enchanted forest that locals say is inhabited by fairies (a sign asks you to seek the woodland creatures' permission before you enter their realm). It is both rural and refined, full of culture and outdoor activities, too. There are hiking trails, river rafting, and world-renowned festivals like the Spoleto Festival and Umbria Jazz. It isn't remote and yet it isn't overrun. It is what many expats consider the "perfect" location. With only two bona fide cities, Perugia and Terni, life is laidback and on a human scale.
Umbria seems to encapsulate the best scenery and aspects of Italian life into one land-locked region. Here you'll find perfectly preserved hill towns at every turn, where villages have a sense of life and history, and enough services to satisfy daily needs. The vine-striped hills produce excellent wines—Sagrantino di Montefalco ranks up there among the most noted vintages by casual quaffers and wine snobs alike, and Orvieto is a white that is perfect for summer enjoyment.
From earthy truffles on pasta to hearty meats to abundant fresh vegetables grown in the region's fertile fields, the food of Umbria bears resemblance to its neighboring regions, Lazio and Tuscany, yet with its own flair that comes from using local products, like saffron, lentils, and exotic black celery.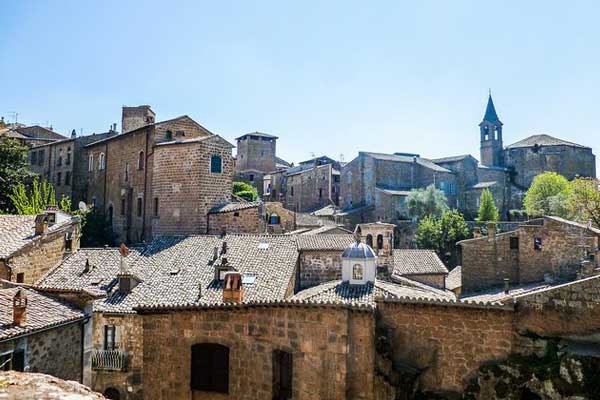 On my recent trip around the region, I gaped in awe at the riot of frescoes by Signorelli in Orvieto, and stood in a surprisingly deserted church in Città della Pieve, where the Adoration of the Magi by Renaissance master Il Perugino was all mine to admire. I was offered coffee by strangers in Umbertide, given samples of local olive oil in Todi, and was the grateful recipient a special meal in Narni—off menu, because the chef thought I absolutely had to taste the truffles. These weren't experiences granted to me as a journalist, but just a casual traveler receiving the Umbrian hospitality.
I loved the variations of landscapes—from thick woods, to verdant valleys, to gentle hills blanketed with expanses of glinting olive groves and straight lines of vines. Cypress trees outlined country lanes, castles sprinkled the hilltops, and I swear I couldn't tell the difference between this landscape and more-famous Tuscany. Except for the prices.
Take two similar hill towns, Umbria's Città della Pieve and Tuscany's Montepulciano, separated across the rolling hills by only 30 kilometers and in view of each other. A cappuccino in Città della Pieve was $1.50, while in Montepulciano it was $1.90. A plate of handmade pasta with freshly grated truffles cost me $12 in Città della Pieve; in Montepulciano it was on the menu for $17. At a wine bar in Città della Pieve, I had a luscious glass of wine for $7.50, which included a plate of bruschetta and a cup of olives. In Montepulciano, a glass of wine was $17, with the snacks costing extra. I spotted several lovely, restored homes in the center of Città della Pieve for less than $124,000; in Montepulciano, none.
Umbria also has a significant expat community, so even small villages have some English-speaking residents to interact with. Yet prices are still more reasonable than I'd have thought, given its central location and charming advantages. There's an airport in Perugia for inter-European flights, and Rome's international terminal is within two hours from most of Umbria. The riches of Florence, Siena, and other jewels of Tuscany are in easy reach—but Umbria is easier on the budget.
Related Articles
Live "La Dolce Vita" in Sunny Italy
There are Many Appealing Reasons that Inspire Expats to Move to Italy