Cotignac, in Provence-Alpes-Cote-d'Azur, France, is considered one of the most beautiful villages in the South of France. It is located in a heavily wooded region consisting mainly of Cypress, Elm, and Fir trees in the shadow of a low craggy cliff, the site of two medieval watch towers.
There's a strange feeling of temps immobile (time standing still) in the village square, surrounded on all sides by ancient buildings, many of which have been continuously occupied since Roman times. With a cloudless sky, and summer temperatures at noon approaching the low 80s F, the village is hot, but not unbearably so.
Are you interested in retiring abroad? Yes | Not Sure Yet
When viewed from higher ground, the village appears as a cluster of terracotta buildings which seem to have been thrown together in a random manner, whilst newer homes on the outskirts are rather more modern with green spaces between them, and much wider roads.
In the village itself, houses crowd closely together with Roman-style arches connecting buildings, mysterious steps leading to goodness-knows-where, dark mysterious alleyways and passages, and narrow winding lanes where two bicycles can barely pass.
There are two squares in this ancient village. An upper and a lower. The lower—Cours Gambetta—parallels the main street and is a slightly sloping oblong, much of it shaded by plane trees.
On the upper part, tables and chairs are set out for patrons of the cafés and restaurants which offer inexpensive food and acceptable wines—especially the local rosés—at $2.50 a glass.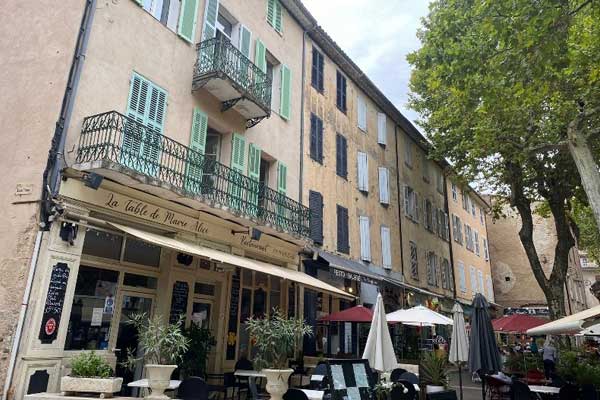 A reasonable three-course meal here will cost in the region of $18 to $22. You will find the surrounding tables occupied by a chattering clientele, mostly in French, some smoke Gauloises which ever-so-subtly scent the air, while a handful of dogs of various breeds sit obediently by their owners' tables.
Cotignac is the home of world-class Mirabeau rosé wine which is produced at Chàteau Mirabeau near the village. Their shop is on the village square.
There are two fountains in the square; at the top, the beautiful Fontaine des Quatre-Saisons which was taken from a convent in Aix-en-Provence during the French Revolution. At the lower end, close to where the local men play boules, stands a large white-marble dolphin-style fountain—Fontaine de la Cascade.
At weekends the square erupts with activity as market stalls mushroom on the roadside and home-made produce of all sorts is offered; there is also a bric-a-brac section which is interesting to sift through looking for bargains.
The upper square, Place de la Maire, is reached via a short narrow alleyway—Grand Rue—passing a boulangerie on one side which provides sticks of French bread by the armful, and a variety of mouth-watering pastries. Opposite is a small bar where there's live music on Friday and Saturday nights.
Here you will also find a couple more cafés, shops, a large sundial, and a stone fountain, the Fontaine des Deux Places. A stone cross commemorates the dead of both World Wars listing those who were killed. At the bottom of the cross are the names of three members of the French Resistance who also lost their lives.
Steps from Place de la Maire lead toward the base of the cliffs and a path takes you to Moulin du Piquet where there is a large olive oil press. During the Middle Ages olive oil was an important commodity, and produced here in large quantities. By the 19th century production had largely died out, and this is the last press still in use.
An open-air theatre behind the church, at the base of the cliffs, hosts concerts during the summer months, and farther along the path is the old hospice de la charité. From here narrow paths, protected by iron railings, are carved into the cliff face where holes and caves can be discovered and explored. In places, homes have been built into the cliffs—some are still lived in today.
The last hotel in Cotignac closed recently so I took the rental of a small apartment near the lower end of Cours Gambetta at $80 a night. I was told it dated back to Roman times, and as though confirming this claim, a small stream ran between the ancient flagstones in the basement.
Cotignac is a delightful village and a great place to stay and unwind. You're sure to love it as I did and soon long to return.
Related Articles
Pros & Cons of Living in France
5 Best Cities and Towns to Live and Retire in France
5 Places to Live in France; 2 to Avoid
Upcoming Conferences
The Only 2023 Fast Track Costa Rica Conference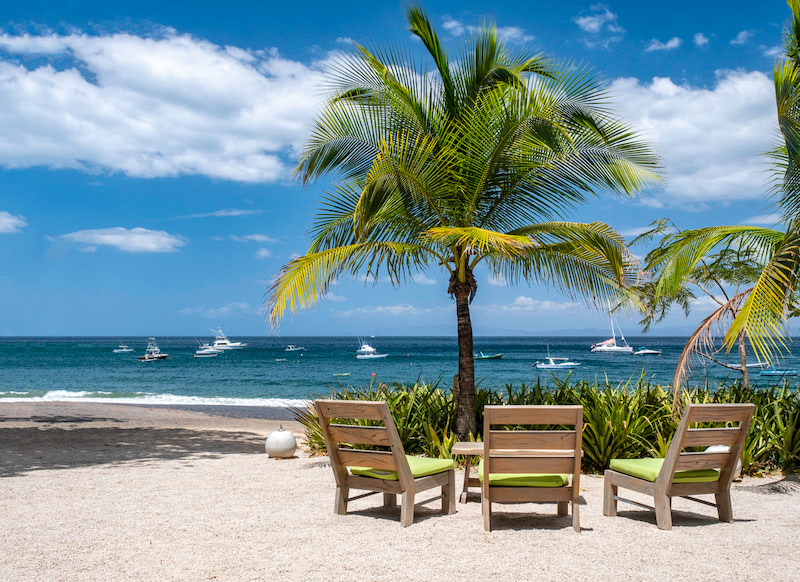 If your dream retirement involves stunning beaches… lush green mountains… a perfect year-round climate… first-rate healthcare… incredible value for money (a couple can live well on $2,109 a month—including rent!)...
Join our Costa Rica experts and expats in June and discover true Pura Vida.
REGISTER NOW, SEATS LIMITED: EARLY BIRD DISCOUNT HERE
---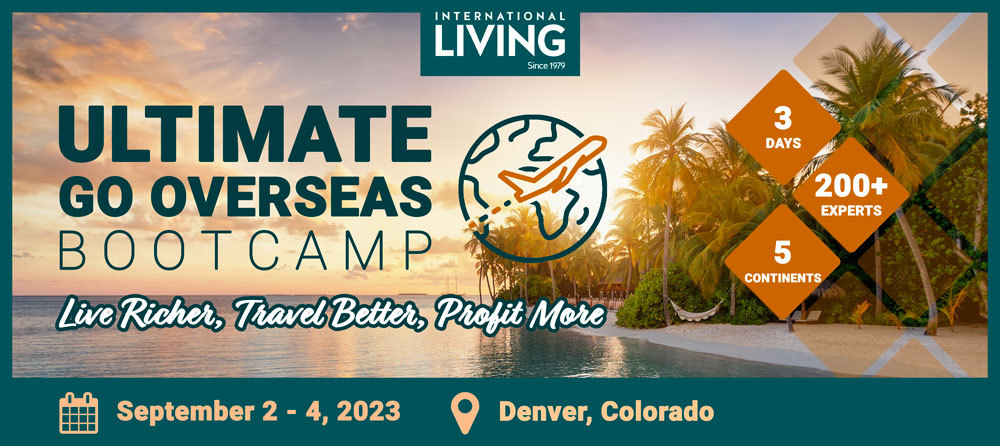 Most Popular Products
Popular Articles You May Also Like