"We have a pretty typical life for a family with young kids," Geoff Kent says. "Get the kids off to school in the morning, help them with homework in the evening. It's pretty normal." Geoff and his family originally moved from the U.S. to Nicaragua six years ago. Last summer, they relocated to Chelem, on the Gulf Coast of Mexico.
Like many people, the cost of living was what drew the Kents to Latin America initially. But they stay because they love the slower pace of life and the culture.
Retired from the U.S. military, Geoff had a pension, but with two young children, he and his wife were exploring their options. He was looking into online work when a website article, touting the best places in the world to retire, piqued his interest.
The Central American country of Nicaragua was on that list. After exploring the usual cost of living questions, the California natives realized they could make the move and focus on raising their children rather than being part of the rat race. So, they made the move to Nicaragua with their young sons and embraced their new life.
Fast forward to the summer of 2018 and the family decided it was time for a change. They relocated to Mexico's Gulf Coast about 45 minutes from the city of Mérida. The town of Chelem is a quiet fishing village and provides the opportunity for a slower-paced life. The family rents a four-bedroom, two-bathroom home, a block from the ocean. It has a dip pool, a balcony, and a small yard—there's even a sliver of ocean view. And they pay just $600 a month.
View of the ocean near Chelem, Mexico, where Geoff and his family live.
Geoff says there's a big snowbird population in Chelem. "We only have two neighbors right now, it's pretty quiet. But more are coming. There will be a few thousand Americans and Canadians here through the winter."
Their boys are 12 and 14 and fluent in Spanish from their years in Nicaragua. They attend the local public school. But Geoff says there are plenty of other options for young families, especially if you consider the nearby city of Mérida. In Mérida, there are private schools offering bi-lingual and tri-lingual tuition.
While the kids are at school, Geoff and his wife do the grocery shopping and food prep. They may take a walk on the beach. In the evenings, they have dinner at home and help the kids with homework.
This simple life by the beach costs $1,800 a month. A bus ride to the nearby town of Progreso is about 50 cents. They spend $150 each week on groceries and another $25 per month on gas for cooking and hot water.
They are considering opening a small coffee shop or donut shop. Geoff says there are many expats doing everything from selling real estate to running restaurants.
Geoff does have some advice for anyone considering a move abroad. "Rent a place for six months to a year before you buy a home. You want to get a feel for the neighbourhood. Try it out before you commit."
Get Your Free Mexico Report Here:
Learn more about Mexico and other countries in our daily postcard e-letter. Simply enter your email address below and we'll send you a free special report - Why Millions of Americans Are Moving to Mexico.
This special guide covers real estate, retirement and more in Mexico and is yours free when you sign up for our postcards below.
Related Articles
There are Many Reasons for Moving to Mexico
Upcoming Conferences

Maximize what you receive in retirement benefits, pay less tax, and position yourself to retire earlier.
REGISTER NOW. DISCOUNT ENDS SOON
---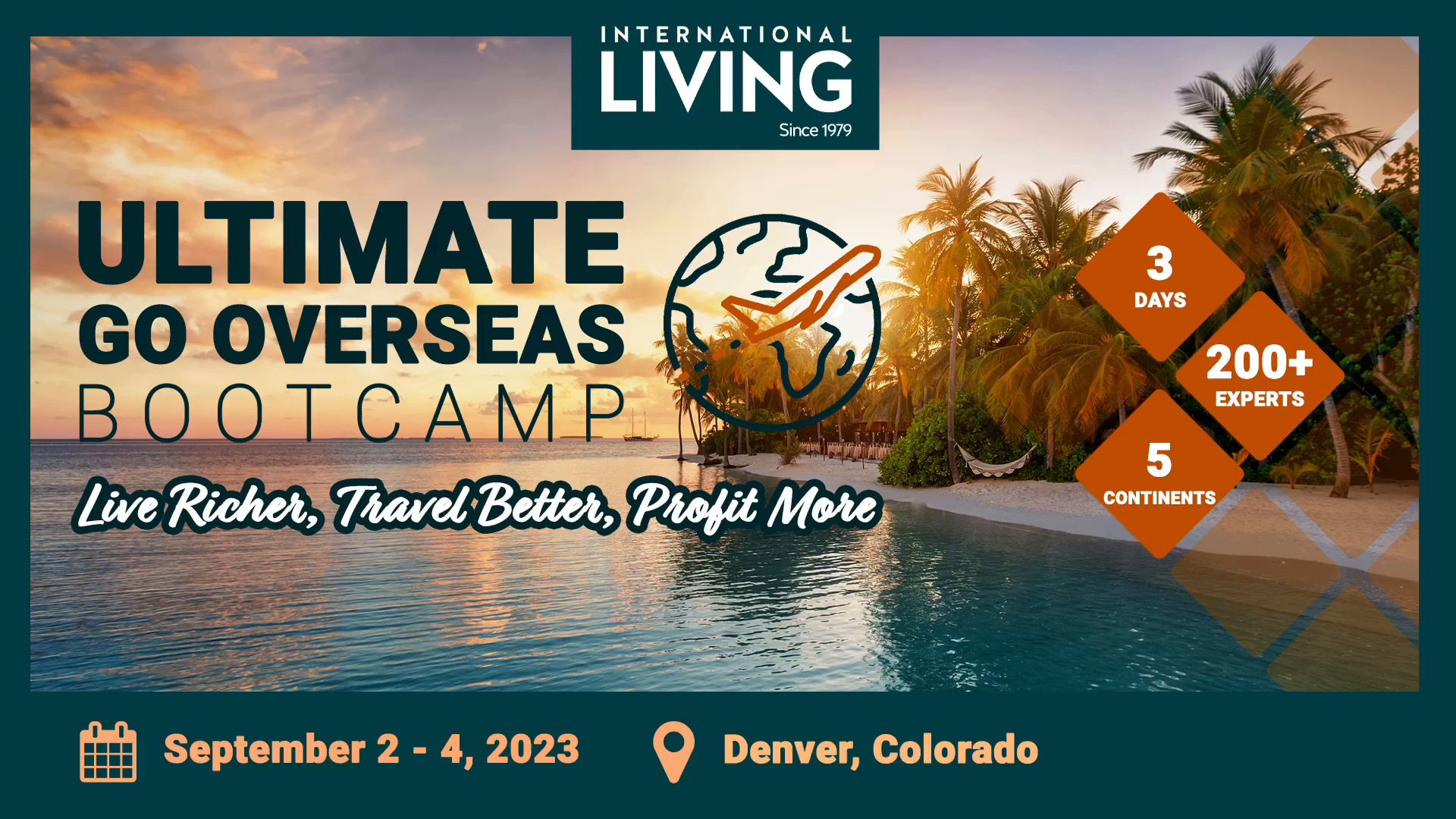 Most Popular Products