Not many places in the world give you the chance to live on a volcanic crater, surrounded by steep, forest-clad peaks, deep river ravines, acres of deep pasture…and long, sandy beaches within 20 miles.
That's the package you get in Panama, though. You even have your choice of ocean—either the rolling waves of the Pacific on the south coast, or the white-sand, swimming pool-blue waters of the Caribbean to the north. They're only 50 miles apart.
In what must be one of the world's most diverse, most compact collections of expat living options on the planet (beaches, mountains, and a major city are all within 100 miles), it would be a shame not to explore. That's exactly what Sue Ostrem and her husband, Ben, chose to do.
Are you interested in retiring abroad? Yes | Not Sure Yet
"We retired to Panama in 2019, after vacationing in most areas of the country over the years. We have never regretted it for a single moment and, even though we have recently relocated from our original place in Pedasí on the Azuero Peninsula to the El Valle de San Anton area, we will never leave Panama," she declares with conviction.
"We made friends and enjoyed our time in Pedasí, but decided to move for two primary reasons—budget and location." Sue and Ben found the cost of living in Pedasí a bit more than they were looking for (though still less than you would pay in the U.S. or Canada). In addition, while they enjoyed the lovely beaches surrounding the area, they eventually came to the conclusion that they have a stronger affinity for hills and ranching country, due to their mutual love of horses and horseback riding. Plus, they wanted to be closer to Panama City.
Sue combed the internet for a suitable rental in the El Valle region, and in December 2020, found the perfect place. They had decided early on to be renters rather than buying a house, meaning that they could stay mobile and try different parts of this diverse country.
Sue's search led them to a two-bedroom rental house in El Valle Village, a gated community in El Espino de San Carlos, located four miles from El Valle itself.
"Though we had no initial intention of living in a gated community, we have discovered many benefits," Sue explains. "Most of the residents are Panamanians or South Americans who reside in Panama City and come to the village for weekends and holidays. Two large swimming pools, tennis courts, barbeque areas, and three miles of pathways for daily walks are available for residents." El Espino is a very small Panamanian town surrounded by lush forests, vibrant flowers and spectacular birdlife.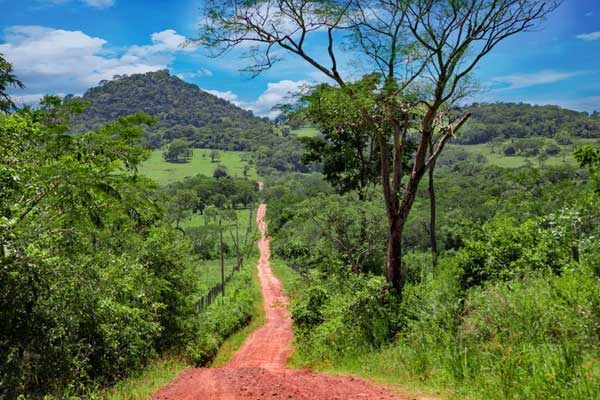 "It's a very quiet, peaceful place, with a strong sense of community," Sue says. "Though our Spanish is somewhat limited, we can converse enough to get by. Our neighbors are caring and helpful and we feel privileged to call them friends."
Even with limited Spanish, the community has welcomed the Ostrems. It goes a long way, just making the effort. "We feel that our willingness to learn Spanish has been the primary factor in our overall positive and rich experience here," Sue says. "If you come to Panama expecting to be able to speak English with everyone that you meet or need to do business with, you will be frustrated. As will the Panamanians! It's not necessary to learn it fast or become highly proficient, but if they see that you are making an effort, your reception is likely to be much warmer."
Ben and Sue love their new location and feel that it is the best of both worlds—a quiet country lifestyle, yet the convenience of living near a big city center. What's more, they are only 20 miles or so from the amenities of Coronado, where you find good supermarkets, banks, a medical center, and the like.
Great weather was the Ostrems' main incentive for relocating to Panama. Unlike their old home in Alberta, Canada, which was unpredictable at best with snow and cold during the winter months, Panama is stable and warm.
Sue confirms, "We love it here. Yes, there is the rainy season, but there are very few days which don't include some hours of sunshine."
The people are another plus. They find the Panamanians throughout the country warm, friendly, and helpful, as well as family- and community-oriented. The Ostrems feel accepted and safe among them. Also, the cost of living is considerably cheaper than in Canada, especially as they emulate a Panamanian lifestyle in most ways.
These days, there are fewer expats in their immediate area than there were in Pedasí. However, there are active expat communities close by in El Valle, Coronado, and Nueva Gorgona. Once a week Ben and Sue join a group of them for trivia and conversation at a popular Coronado restaurant which has become an expat hangout.
Having had very few health issues during their more than three years in Panama, the Ostrems have had minimal interaction with the healthcare system other than the odd doctor's consultation and a bit of lab work. "We've been very pleased with the accessibility, cost, and quality of the care we received," Sue says. "We plan to enjoy our lives in Panama to the fullest for as long as we can unless or until unforeseen circumstances prompt us to re-evaluate," Sue says, summing up.
"Otherwise, we will continue to call Panama our forever home."

Get Your Free Panama Report Here:
Learn more about Panama and other countries in our daily postcard e-letter. Simply enter your email address below and we'll send you a FREE REPORT — Panama: Easy, First-World Living and the World's Best Retiree Program.
This special guide covers insider advice on real estate, retirement and more in Panama. It's yours free when you sign up for our IL postcards below.
Related Articles
By Moving to Panama You Can Move to Paradise
Panama Itinerary: How to Spend 7 Days in Panama
An Overview of Traditions and Culture in Panama
Popular Articles You May Also Like