Panama boasts cool mountain havens and country hamlets…miles and miles of beaches along the Pacific and Caribbean… and of course, a modern capital famous for its sparkling skyline. With so many destinations and climates to choose from, planning a scouting trip can feel like an impossible task. So, what's the best way to make the most of your time?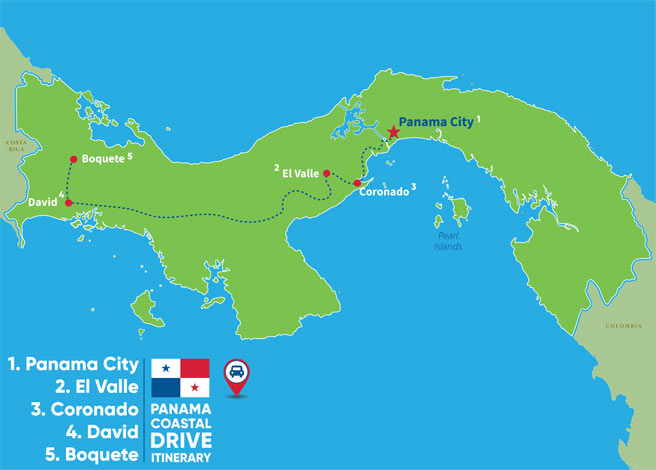 The good news is Panama is tiny, so distances are short…and with reliable inter-city buses, domestic flights, and highways, it's easy to get around. With a bit of strategic planning, you can work with a professional to organize a tour or even rent a car and drive around on your own. Since I've been traveling in and writing about Panama for over a decade, I've learned a trick or two. Here's how I would go about crafting a seven-day itinerary.
Day 1 to 2: Panama City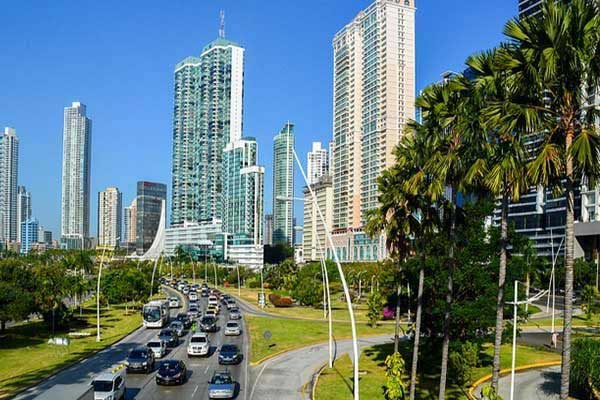 No matter which airline you prefer, you'll likely find that they offer flights to Tocumen in Panama City (known as PTY). There are non-stop commercial flights from the U.S., Canada, and even Europe.
Panama City is the nation's capital and the only major cosmopolitan city in Central America. Known for its gleaming skyscrapers on the Bay of Panama, it's a popular expat destination and a great hub from which to explore the entire country. If you're thinking of living here, you may want to check out a variety of residential neighborhoods, such as bustling San Francisco, convenient and central El Cangrejo, or green, quiet Ancon (about 10 minutes west of the city center).
My number one must-see is colonial Casco Viejo, the most popular destination for a night on the town. Settled in 1673, Casco is full of churches, galleries, monuments, stately plazas, hotels, bars, restaurants, clubs, and more. Spend an hour or two wandering its bricked lanes, take a guided tour, or have a sunset cocktail at one of many rooftop bars. For an evening to remember, head to Danilo's Jazz Club—a small venue abutting the stunning American Trade Hotel, it's easy to miss if you're not looking for it. I love Idania Dowman's theatrical Latin jazz act—she's featured regularly so if you're here on a weekend, you just may be able to catch her.
Of course, if you're interested in the Panama Canal, then carve out a few hours for the Miraflores Visitor Center and museum. If you're lucky there will be a ship going through while you're visiting. You won't believe how close-up the views are from the balconies…it's a spectacular way to spend a sunny day. There's even a restaurant where you can enjoy a cold beer.
Day 3: El Valle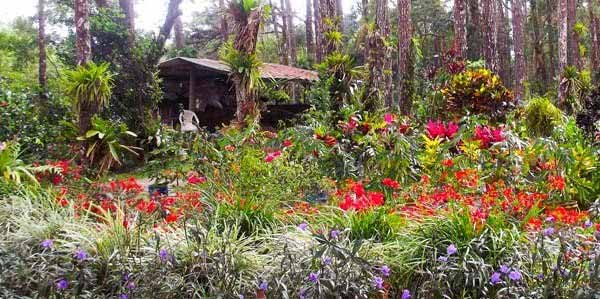 It's an easy two-hour drive along the famed PanAmerican highway to El Valle, close to the beach town of Coronado. This little hamlet is known for its velvety green landscapes and cool mountain breezes. Head to the town's well-known market to buy Panamanian handicrafts, enjoy a cool shaded walk around the Chorro El Macho waterfall, or bliss out at the hot springs. If you're a flower-enthusiast, visit my favorite attraction, the orchid center. It's tucked away down a small lane—just follow the small, hand-painted signs from the main road.
Day 4 to 5: Coronado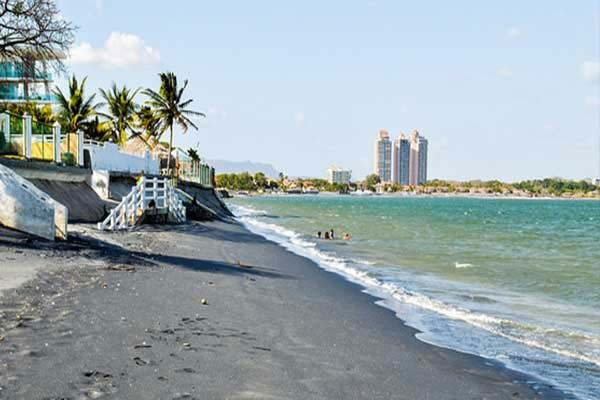 If you're interested in living on the beach, you owe it to yourself to explore Coronado, just a 45-minute drive from El Valle. The Coronado region has long attracted well-to-do locals thanks to its close proximity to Panama City. A string of beach towns extends along this coast, and there are expats living in most of them.
Coronado is the region's hub and most popular town. The friendly residents are constantly organizing activities and the many services and amenities make life incredibly convenient. Want to meet a bunch of expats and find out about fun events? Head to local eatery and de facto community center Picasso for happy hour.
With a quiet, pristine beach and a hodgepodge of meandering lanes, Coronado doesn't look like much, but it's one of the sunniest, most welcoming beach communities you'll find. Just spend a little time here, and you, too, may fall in love.
Days 6 to 7: Chiriqui Province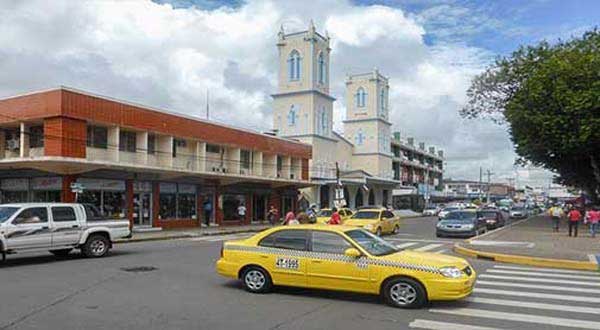 Next head to the province of Chiriqui, in Panama's beautiful countryside. You can drive here in about four hours from Coronado, or go back to Panama City to catch a one-hour flight.
There is so much to do in Chiriqui that you could easily spend a couple weeks here. I'd start with the provincial capital, the sultry city of David. If you like the idea of living in a small, manageable city, this may be the place for you. It has most of the amenities and conveniences of Panama City, but on a much smaller scale. It doesn't have as visible or cohesive an expat community as some of the other destinations mentioned here, but the cost of living is incredibly low.
If you're done exploring David…or find it a tad too warm…then head to highlands. In just 35 minutes you can be in Boquete, known as one of the world's best retirement destinations. Go horseback riding, white-water rafting, hiking, birding, or just walk around the village. Life here is all about being outdoors, enjoying the spring-like weather and homey, family-friendly environment. Greater Boquete's valleys and mountainsides are home to hundreds of active expats—no matter where you stay or eat, you're bound to meet more than a few.
I'm hard-pressed to choose my favorite thing about the Boquete region. The landscapes will literally make your jaw drop, and there are more than a dozen cute restaurants offering up great food and even locally-brewed beer.
As a die-hard java-lover, though, I'd probably have to go with the cafés and tourable fincas or coffee farms. Did you know that Panama's coffee is consistently ranked among the best, most expensive in the world? At Café Ruiz you can sample a light, fragrant brew made from the coveted Geisha bean. It'll cost you way less than it would in the States, too. A Klatch Coffee in California recently reported selling the world's most expensive latte: $75 for a single serving, made from award-winning Elida Natural Geisha 803 beans.
Get Your Free Panama Report Here:
Learn more about Panama and other countries in our daily postcard e-letter. Simply enter your email address below and we'll send you a FREE REPORT — Panama: Easy, First-World Living and the World's Best Retiree Program.
This special guide covers insider advice on real estate, retirement and more in Panama. It's yours free when you sign up for our IL postcards below.
Related Articles
By Moving to Panama You Can Move to Paradise
Most Popular Facts About Panama
An Overview of Traditions and Culture in Panama
Upcoming Conferences
Live Better, Spend Less, Retire Sooner
IL's Retire Overseas Bootcamp
October 21-23, 2022 in Atlanta, GA

In safe, warm, welcoming communities abroad, as little as $1,700 a month can bankroll a good life... this fall, our experts will show you where—and how.
Early Bird DISCOUNT—Save $100 When You Register by Sep. 29
Details Here IL's Retire Overseas Bootcamp
---
Registration Now Open for the Best of Europe Private Screening

In the Right Spots in Europe, You Can Retire in Style—in an Historic, Sun-Drenched Locale—for as Little as $2,300 a Month or Less—Especially Now With the Dollar and Euro at Parity for the First Time in Two Decades.
And We'll Show You How, October 1-2, During the Special All-Online Best of Europe Private Screening.
---
The Income Revolution Forum
What if You Had the Freedom to Enjoy the Good Life Anywhere in the World You Wanted to Be...and Get Paid While You're There?
We'll show you how—with hands-on guidance—you could beat inflation...secure your retirement...ditch your commute...and turn a skill you already have into a portable side income of $300, $600, even $3,000 or more a month.