In the 16th and 17th centuries, Spanish galleons combed the New World for gold. Much more recently, in the northeastern Spanish city of Girona, Michele and Stanton Cohen struck lifestyle gold in their retirement. They moved to Girona over three years ago from Yuma, Arizona.
"We moved to Girona so that we could easily travel around Europe," says Michele. "We have been to Vienna, Paris, Toulouse, the Loire Valley, Florence, Venice, Parma, Modena, Bologna, Bilbao, and San Sebastian."
Situated on a strategic north-south pass between Spain and France, the city of Girona has long been a coveted destination. The city's population of roughly 100,000 live in a cosmopolitan setting that's steeped in European history. Archaeologists and historians here often find ruins and relics from the Romans, Moors, and even from Napoleon's armies.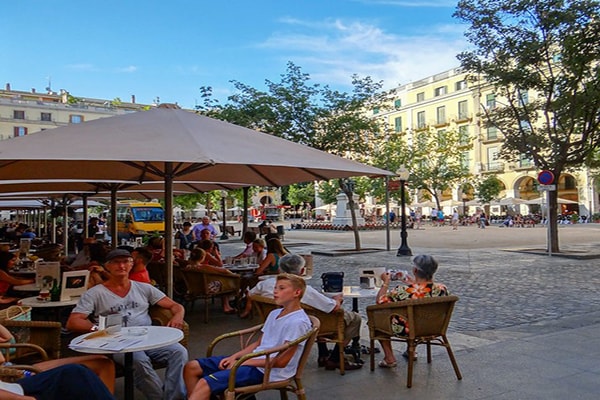 Today, the city's Mediterranean climate, proximity to Barcelona's international airport, and relaxed lifestyle are the factors most compelling to outsiders. It is also affordable—leaving more money in your pocket.
"Food is less expensive," says Michele. "Imagine going out for a 3-course meal and paying less than $30." Lower food costs also allow for more frequent opportunities to dine out.
"We often go out for breakfast and meet friends for coffee or drinks at least twice a week," Michele explains. "We eat lunch at a restaurant at least weekly."
After working at a hospital in Arizona, Michele also has good things to say about Girona's medical infrastructure.
"Medical and dental care are excellent," says Michele. "The prices are about one-third of U.S. medical costs, if your insurance doesn't cover it."
She has also found prescription medicines to be dramatically cheaper. "The cost of medication is significantly less. The total cost of many drugs is less than what my drug co-pay was when I was working."
A healthy lifestyle and abundant walking helps to ensure that Michele and Stanton's interactions with the medical system are kept to a minimum.
"We do not own a car," says Michele. "Because of our location, we are able to walk nearly everywhere we want to go. It was not possible to live in Yuma without a car. [In Girona] there are excellent bus systems both in the city and intercity. We are a 15-minute walk to the train station, which includes high-speed rail transportation."
Living in the heart of Girona has other distinct advantages, including the chance to be a part of history.
"We have an apartment in the historic city center that has been completely remodeled inside," says Michele. "The street on which we live was the road used by the Romans when they entered Spain through France. When businesses are remodeled, they uncover Roman walls that need to be documented by an archaeologist before they can continue."
While the Romans may not have paved Girona's roads in gold, they did lay the groundwork for a treasured lifestyle on the Iberian Peninsula. The city may be worth considering if you are researching a move abroad.
Get Your Free Spain Report Here:
Learn more about Spain and other countries in our free daily postcard e-letter. Simply enter your email address below and we'll also send you a FREE REPORT - Live the Good Life in Sunny, Affordable Spain.
This report covers real estate, retirement and more in Spain and is yours free when you sign up for our IL postcards below.
Related Articles
An Overview of Traditions and Culture in Spain
There Are Many Reasons for Moving to Spain