Today, we're catching up with my other scout who has boots on the ground in Puerto Vallarta…
Puerto Vallarta is a destination I've visited many times before, but when I was there on a scouting trip last March, it really clicked with me. I had more time to explore, acquaint myself with the city, and dive deeper. And what I found was very appealing.
Puerto Vallarta is one of the most successful expat communities in all of Mexico. Thousands of snowbirders come to escape the freezing weather back home. In Puerto Vallarta they can enjoy tropical weather, great dining, and the beach.
Not only have you the North American market. You also have a big domestic market. For the 1.5 million residents of Guadalajara, Puerto Vallarta is their beach town. The well-heeled locals snapped up a lot of the shiny new towers here, while gringos tend to buy in the Zona Romantica or in Nuevo Vallarta to the north.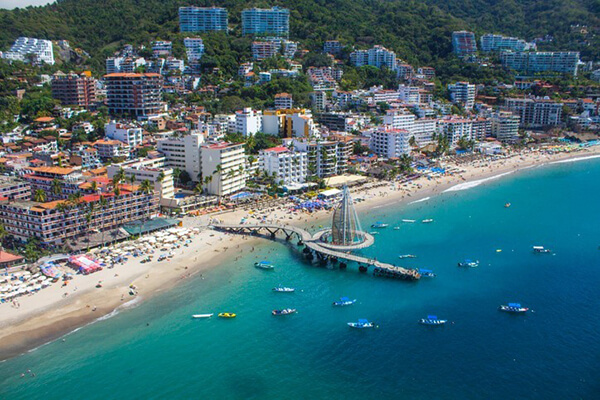 Within town, I see opportunities around Centro. There's a lot of charm here. Restaurants, bars, street vendors, and craftsmen. In Centro you pay lower prices, but you're buying along the Zona Romantica's path of extension and effectively getting a Zona Romantica experience.
More about this in a minute…
For the past week, my scout Jason Holland has been pounding the pavement down in Puerto Vallarta. I sent him there to get an update on the market, to dig for deals, and to see what he could find in the surf towns and seaside retirement havens to the north of the city.
One particular place I asked him to check out is the rapidly developing Colonia Versalles neighborhood in Puerto Vallarta.
What I'm hearing is that Versalles is showing strong signs of gentrification and I wanted an update from the ground.
For real estate investors, gentrification offers an opportunity to bag a piece of a hip new area before the big money rolls in.
Here's how it usually plays out:
First come the pioneering tastemakers seeking new territory—I'm talking about artists, boutique shop owners, chefs, and restaurateurs who have been pushed out of the "best" parts of town by high housing costs and out-of-reach commercial leases.
Then come the hipsters venturing out to find the next big thing when it comes to restaurants, fashion boutiques, and cool shops. Eventually, the place goes mainstream, the "regular" people start coming in numbers, and prices rise.
It happened in Brooklyn years ago…and now it's happening in Puerto Vallarta, the buzzing resort town on Mexico's Pacific coast.
Jason WhatsApped this message to my Scouting Group soon after he arrived there…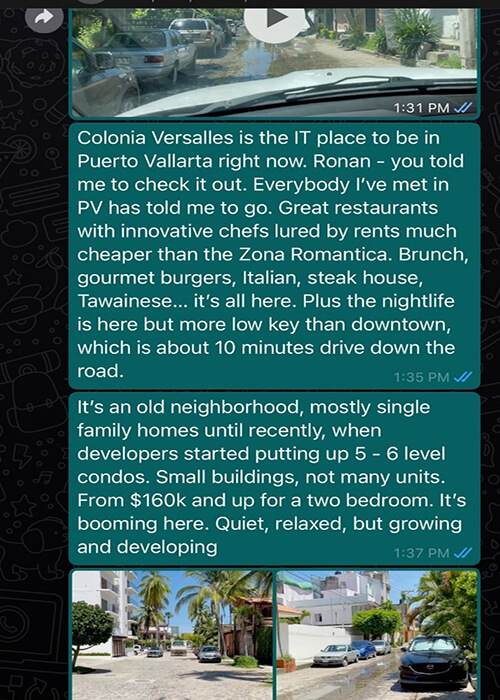 My contacts on the ground in Puerto Vallarta, especially the longtime residents, have been telling me about Versalles for a while. Gentrification of this neighborhood is progressing at a fast pace, with not only cool restaurants, bars, bake shops, and boutiques but also condos at a fraction of what you'll pay in the Zona Romantica—the main tourist and expat zone—which is hovering in the $500,000 range for something nice close to the beach.
It's similar "upgrading" to what we're seeing in the Centro area, which is between the Zona Romantica and Versalles.
The cost of doing business in the Zona Romantica, including high leases, especially during the pandemic, has pushed many merchants and restaurateurs to find lower cost places to operate…and their customers have followed.
I didn't ask Jason to risk life and limb to get the scoop on Versalles. But, as he explained to me, he wanted to get a full view of the place, and it seemed like the best way…
Read his scouting note below…
***
Hipster Hangouts and Cheap Condos in Puerto Vallarta, Mexico
By Jason Holland
As I made my way up to the third floor, and glanced over the side of the building, I started to regret my decision.
It's not that I have a fear of heights. But when the stairwell is open to the air and the floor of this half-built condo building is covered in rusty nails, lumber, and tangled power cords…not to mention holes in the ground that go down God knows how far…
At least I had elected to wear shoes that day instead of flip-flops.
But I pressed forward. I really wanted to get a birds-eye view of this neighborhood.
This is Colonia Versalles, a rapidly changing neighborhood just inland from the Hotel Zone in Puerto Vallarta.
This six-level condo building was one of several sprouting up in the area, with a few others already built and occupied. Two-bedroom units with balconies. Rooftop terraces with small pools. A sliver of a view of the Bahia de Banderas (Bay of Banderas), but the verdant Sierra Madre mountains are in full view.
But it's close to the airport and shopping, as well as the beach and Marina Vallarta, and Puerto Vallarta's Centro and Zona Romantica (the most popular dining, nightlife, entertainment, and beach area in town) are about 15 minutes' drive south. Plus, like the Centro, you can find much more affordable housing options there than in the Zona Romantica, where condos will run you a half-million.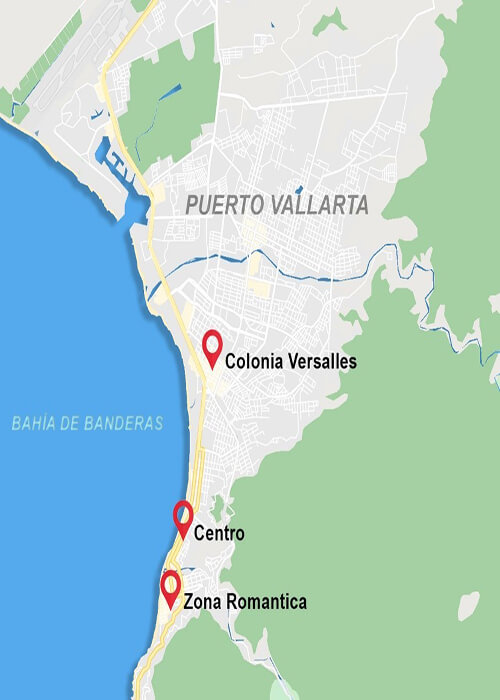 In Versalles, two bedrooms will run you from around $160,000 up to $250,000 depending on location, views, and building amenities.
Commercial leases are much cheaper here too. And that's drawn a group of innovative restaurateurs and chefs, as well as boutique shopkeepers, to this area.
Traditionally, it was residential, mostly single-family homes for local families. Now it's becoming hip. The go-to place in town. Older homes coming down, condos going up. And the municipality seems to be getting in on the action with major road improvements.
Check out this quick video update I shot from the streets in Versalles: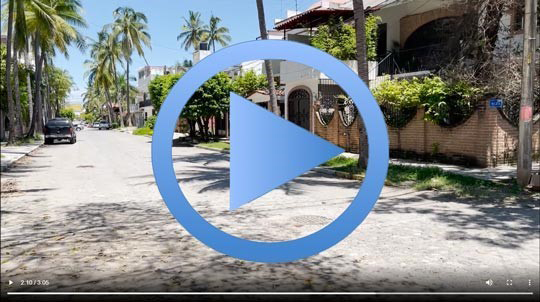 Everybody I met in Puerto Vallarta had a favorite restaurant there; all said I had to go during my visit. Breakfast, brunch, lunch, dinner…it's all covered. I had an excellent omelet and latte one morning at Cha' Cocina Libre and pork belly tacos on blue corn tortillas at El Puerco de Oro later that day. But there is also an artisan pie shop, nouveau Mexican, barbecue, Cajun, Italian, sushi, steak and seafood, gourmet burgers, Taiwanese, Greek…plus, a bar with mezcal and craft beer.
There is a low-key nighttime scene with quiet bars and entertainment that runs more to jazz than the booming nightclubs and sometimes raucous bars in the heart of town.
If you make it here, head to the corner of Calle España and Calle Hamburgo. Within a block or so in each direction, you have several options.
People are calling Versalles the Soho or Williamsburg of Puerto Vallarta. I don't know if I would go that far just yet. But it's on the way there and certainly worth checking out…if only to get the tacos at El Puerco de Oro…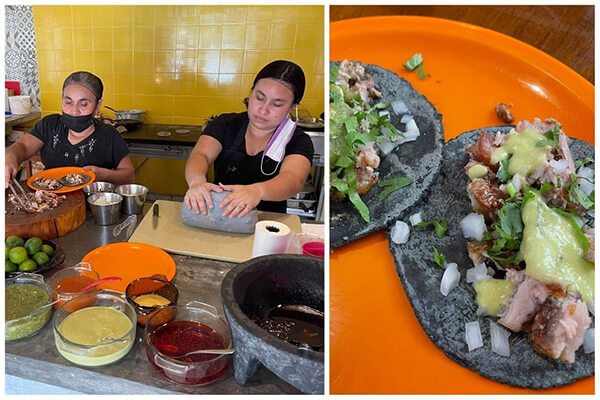 Your Comments and Questions
Debbie says: Hello, I would like to see more information on affordable golf communities. for instance, a place where an investor or owner would have golf membership included in the purchase or some kind of discounted golf.
Paying $150 a round is a bit beyond most retiree's budgets.
Ronan says: Well Debbie, you are in the right place. It's a topic very close to my heart. Availability of golf is one of the top criteria for where I base myself.
For starters, have a look at my club in Portugal. Click on golf and you will see details of two courses, West Cliffs Golf Course and Praia D'el Rey Golf Course. They have a range of membership options with no entrance fee at the moment. Unlimited golf on both courses is €2,000 a year (about $2,343). There are 150 members competitions a year and a vibrant club in Praia D'el Rey. West Cliffs is more like a resort set up. Golf is much more accessible here than down in Portugal's Algarve.
Cabo San Lucas on Mexico's Baja California, where I spend my winters, has awesome courses. Unfortunately, it's pricey. My owners' rate at Quivira is $165…and tee times are difficult to get.
For accessible golf, generally the best places to go are places where locals golf and you can just join a local club, not a resort. Places like here in Ireland where I'm writing from. Or France…
Stay tuned. You'll be hearing more from me on this topic. Next week I'm playing Ballybunion and Tralee in Ireland's southwest. Can't wait!
Get Your Free Real Estate Report Now
Sign up for our free daily Postcard e-letter and get a valuable free report on the The 5 Best Places to Buy Real Estate In 2023.
Related Articles
Mexico Visa and Residency Information