Last week I sent a scout to Portugal with two jobs:
1. Get an update on the best real estate deals on the Algarve…I haven't had boots on the ground there myself in two months. Things are moving fast, and the opportunity is so strong that I want at least one team member there every quarter.
2. Do some exploring on the way…
He's taken me very seriously.
This guy is a former IL Editorial Director, a scouting specialist. He's trained hundreds of IL writers and personally scouted most of the world's top retirement havens as ranked in IL's Annual Global Retirement Index 2021.
He does his best work when you just wind him up and let him go. I've been riveted by his reports in our team's WhatsApp "Scouting Group." This is where my team and I drop all our raw reporting from the ground to process and discuss.
This guy's name is Eoin Bassett and he's a bloodhound for opportunity and travel.
Today, Eoin's got something for us from a hidden corner of Portugal…
But if you want to get his full bumper report, you'll need to get IL's Dream Home Letter.
It's a brand-new e-letter…starting this week. It's pretty much a rocket-fueled upgrade to Your Overseas Dream Home.
In the coming days, I'll be sending you your invite to the Dream Home Letter, so you don't have to miss a beat…
All you have to do is sign up by noon on Friday—then you'll get the report, The Dream Home Guide to Bargains and Profit in Portugal, when it drops on Saturday.
Stay tuned…
***
FOMO in the Jewish QuarterShrimp
By Eoin Bassett
I can't sleep. Crumbling houses, olive groves, and sunlit terraces race through my mind.
Which one…which house… I just love this town. And it's going to be discovered, surely.
I need to talk to Ronan. Get his sound advice.
The first house I saw is just €40,000. It needs work. (All the houses do). But this one could be my four-bedroom hill-town home.
I would sit on the cobbles in the shade of the grapevines and read and drink wine.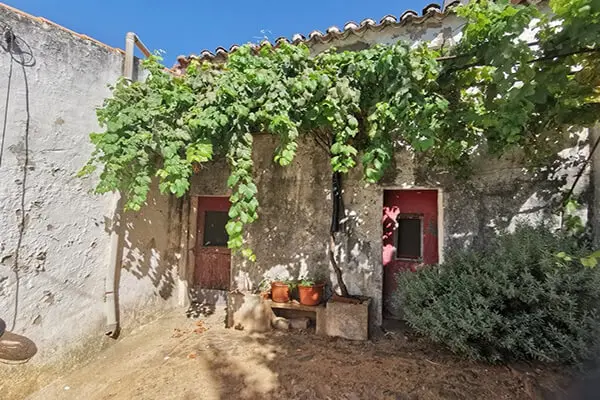 Then there's the house for €22,000. I would offer €16,000…spend another €20,000 to €30,000 or so on renovations. Add a spiral staircase down to the basement kitchen. I would have my desk by the Juliet balcony, enjoy the twilight…practice Portuguese with the old lady hanging washing across the road.
To put it into U.S. dollars, for less than $55,000 I'd have the perfect little bolthole in this eagle's nest of a town. I could stroll the battlements just outside the house, pop down to the main square for a 76 cents coffee (that's U.S.). I'd get my bread fresh from the bakery…my meat in the butchers…or just eat out all the time. Everything is so cheap here…
Here's a photo of the €22,000 house: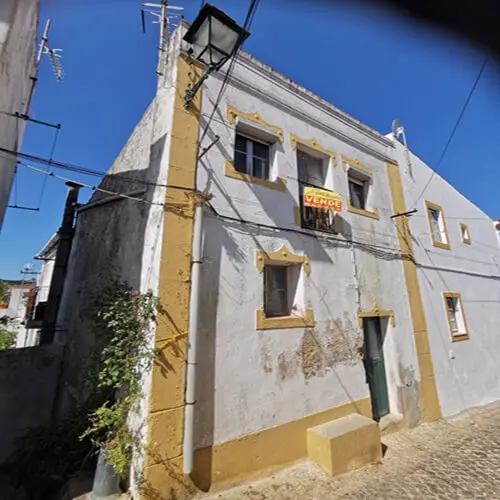 And here is a really short video to show the immediate location and the views: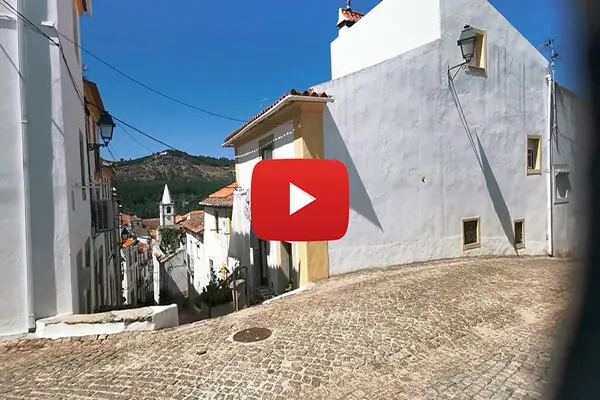 Or how about the large lock-off option I saw?
A lot of the historic houses in the old Jewish quarter of this hill town have two separate entrances.
You just lock an internal door inside to have a large separate apartment you can rent out or lend to friends and family. The large lock-off option has an asking price of just €65,000 and that's negotiable. Plus, the house next door is for sale. Buy them both! A grand town home…
Of course, if you're looking for a grand home, there's the nine-bedroom mansion I toured, something straight out of a lavish period drama. It was listing for €687,000 but the price dropped to €560,000. An offer of €500,000 would be considered I reckon…who knows, maybe less. It's been on the market for a couple of years.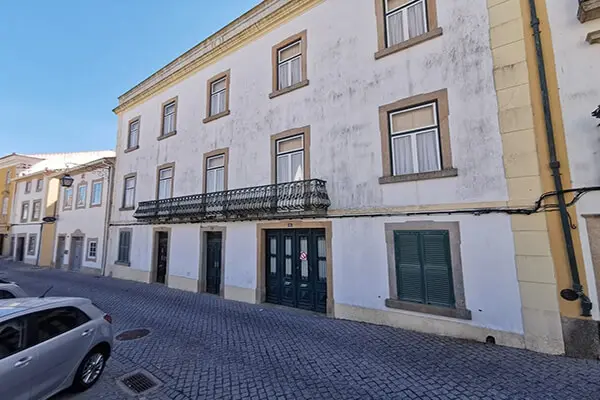 The one I really want…the real dream home has its problems, but I can see it I my mind's eye…
It's got land, over an acre, yet it's five minutes' walk from the center of town. It's a big house too. With work you could have five bedrooms, put in a pool…have a gardener help you with the fruit trees. Loll about eating figs and plums. All for under $230,000 maybe. I need to talk to some architects. Price the renovations. But this property could be really special. It's a short walk from the town's best restaurants and cafés, yet completely private.
I'm in love with this town…
It's among the safest, most relaxed, and romantic places I have ever been.
Well-tended roses climb over the doorways of restored houses. Around cobbled street corners you find little parks from which to admire a breathtaking view and savor the smell of freshly clipped box hedging. Swooping swallows chirrup above you. Goat bells gently tinkle in the valley below. A distant rooster crows. The church bells call "lunch time."
Take a meander out of town along old Roman and medieval roads into the olive groves. Pack a lunch of bread, wine, and olives. Get lost in a forest of chestnut trees, pick figs from roadside trees and ripe blackberries from shrubs.
Or head to the trendy tapas bar by the big church and stuff your face with delicious fresh salads, fried green beans, and hearty tomato soup…. Or, close by, dine on partridge in the most famed of the town's fine restaurants.
Everything is so incredibly low cost here. Yet, this is in no way "rough around the edges." The local council and residents keep their town immaculate. You have pharmacies, a supermarket, a local daily market…
Plus, when you want a city fix you're only two hours from Lisbon on good roads and three or so to Madrid. The beaches of the Silver Coast are under three hours too…the Algarve is four…
Stepping out of a restaurant at 10 p.m. I found happy children playing after dark. There's a couple of art boutiques, as well as local cork, ceramic, and leather craft spots…
And a famed artisan chocolate store…
I have the classic mix of emotions when you find real estate you really like, which looks like it could also spell opportunity to make some money…greed and fear of missing out…
I need to talk to Ronan…
Ronan Says: I spoke with Eoin briefly after he sent this report. I told him to go home, spend a few nights in his own bed and put together the entire package of his findings for me. After I've worked through this I'm going to send it straight to IL's Dream Home Letter.
Like I said, IL's Dream Home Letter is a brand-new e-letter. Pretty much a rocket-fueled upgrade to Your Overseas Dream Home. With more deals, more crazy low price real estate, and more opportunities from across my global beat.
All you have to do to start receiving it is sign up when I send you your invite in the coming days.
I'm aiming to go visit the town and region Eoin's talking about myself on September 4 to 7.
This is exactly why I like to keep my schedule fluid. After Eoin's reports, I changed my plans to check it out. I'm expecting to find some of the most inexpensive real estate available, not just in Europe, but anywhere. With a truly compelling lifestyle opportunity to boot.
Is there a profit angle? Maybe…but only by putting in the work to create something special and unique. The play isn't to compete with the inexpensive and poorly run local rentals. Your competition is Tuscan villas and rural Algarve hideaways. There's an opportunity here to create your own distinctive mini destination.
For the right person, with a passion for remodeling and the imagination and creativity to make the most of this stunning setting, that's not as hard as you'd think. (And Eoin also sent me details of a turn-key rental operation listing at €500,000. That gets you seven apartments and acres of olive trees.)
Plus, you can buy with bank financing at rates that are deeply negative in real terms. Buying quality real estate with cheap fixed mortgage is the best hedge I know against inflation. You could borrow at rates of 0.9% or less. At a fixed rate, long-term, you'll pay just a little bit more.
A bolthole, a retreat, and a money-maker all in one. I can't wait to visit for myself…
Last year I bought a beachfront condo on Portugal's Silver Coast for €300,000 ($366,262). I moved in last April, before heading to Ireland in July. Now, almost two months after vacating my condo there and handing my keys to my rental manager, I have already collected more than €6,500 in rental income. I bought this to use as a home and generate some income when I'm not there.
And, in November I had an offer of €410,000 accepted on a repossessed condo in one of the most prestigious communities in the Algarve.
I bought with no money down, and a monthly mortgage of €1,400. Now, after some renovations, I can charge €3,500 per week in August. And an identical unit is listed for sale at €830,000. Those are some savage paper gains. I'll spend a few nights there from time to time, but I bought here purely for financial gains.
And I'm looking now for something else on the Silver Coast. I have my eye on a few old farmsteads, old and overlooked, with tons of potential.
Remember, my full report on the bargain opportunities in Portugal's hill towns will be out later this week. It's called "The Dream Home Guide to Bargains and Profit in Portugal" and you get it FREE this Saturday if you sign-up to the Dream Home Letter before noon on Friday.
I'll be sending you your invite to do just that in the coming days, so be sure not to miss it.
Get Your Free Real Estate Report Now
Sign up for our free daily Postcard e-letter and get a valuable free report on the The 5 Best Places to Buy Real Estate In 2023.
Related Articles