For some time now, Berlin has been near the top of our travel bucket list, but like most Western European cities, it can be pricey to stay for an extended period. So, when we started to throw around ideas for our summer cycling tour, I figured we had nothing to lose by adding a 'Berlin' alert in our housesitting app for summer.
Imagine our delight when we landed not one, but three amazing sits in different areas of the city, adding up to just over six weeks.
Are you interested in retiring abroad? Yes | Not Sure Yet
We locked in the first three-week sit in late January, which meant we could plan the rest of our trip around those dates. With Neukolln, Berlin as the destination and July 10 as the start date of the sit, all we needed to do was plot our cycling route and milestones to get us there in time.
As we researched things to do and see in Berlin, it became apparent that we couldn't possibly see and do even a tiny fraction of what was on offer. When we got an alert for another sit immediately following our first, we successfully gained another three weeks in a different part of the city—Prenzlauer Berg.
Then, when it looked like we would arrive in Berlin a few days early, it was an easy matter to add a specific alert for the few days before the first sit started. Fortunately, it wasn't long before we locked in the Friday and Saturday nights (July 8 and 9) in yet another inner-city suburb—Freidrichschain.`
To be honest, we knew nothing about the different parts of Berlin. We assumed, like most cities, it would have both desirable areas and those not so nice. But we figured by living in three separate districts, we should at least get a snapshot of the 'real' Berlin. As it turned out, the combination couldn't have been better.
Housesit 1: Friedrichshain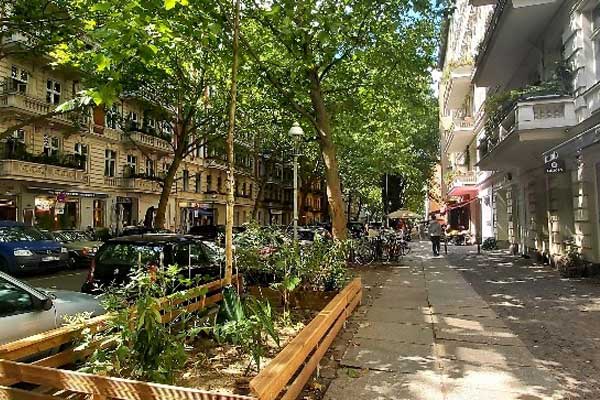 The first sit (over the weekend) was looking after two low-maintenance cats in a spacious modern apartment in a new development in Friedrichshain, a part of the old East Germany. The young international couple who rented the apartment worked from home in the gaming industry, so there was a huge TV with all the streaming channels, an ergonomic office setup, and a huge comfy lounge—all of which were extremely welcome after a month of touring on the bicycles and camping. There was a well-stocked supermarket under the apartment block so we could self-cater and plenty of cafes, restaurants, and pubs in the immediate area for when we were too lazy to cook. And, when we wanted to go further afield, there were excellent public transport links to all parts of the city. The weekend wasn't nearly enough to get to know the district well, but we returned time and again over the ensuing six weeks.
The district of the Friedrichshain is one of the neighborhoods within the Freidrichschain-Kreuzberg borough, which spans both sides of the River Spree that flows through the center of the city. Once an industrialized, working-class district, it's now one of the trendier, more expensive areas of Berlin and home to both young families and a range of creatives. The architecture ranges from elegant "Wilhelmine" (Neo-Baroque) buildings in tree-lined, boulevards to shiny new apartment developments down narrow, cobbled, inner-city streets.
Just one of the highlights of Friedrichschain was the weekend flea market at RAW Gelande, a bohemian hotchpotch where young, pierced, and tattooed hordes mill amongst colorful murals and food carts redolent with the smells of far-flung destinations, while cloistered stalls sell everything from second-hand clothes and ornate jewelry, through to gaudy bric-a-brac, and obscure and sexy, vinyl LP's of '50s French Jazz.
And we couldn't miss a trip to the East side Gallery—a permanent open-air gallery along the River Spree where over 100 artists created murals on a 1400-yard remnant of the Berlin Wall.
Friedrichshain has hundreds of restaurants, cafes, and bars serving up authentic international cruising and with the stupendous summer weather, sidewalk dining and drinking were a popular choice. After six months away from Saigon, we chose to dine al fresco at one of the many Vietnamese offerings and it didn't disappoint. The district is also home to some of the best craft brew pubs in the entire city and we were mightily impressed by the offerings at Hops and Barley, Protocol Taproom, and Hopfrenech.
Get Your Free Report on Europe Here:
Learn more about countries in Europe and other countries from around the world in our daily postcard e-letter.
Simply enter your email address below and we'll also send you a FREE report - All the Charm and Romance of Europe…at a Price You Can Afford.
Housesit 2: Neukolln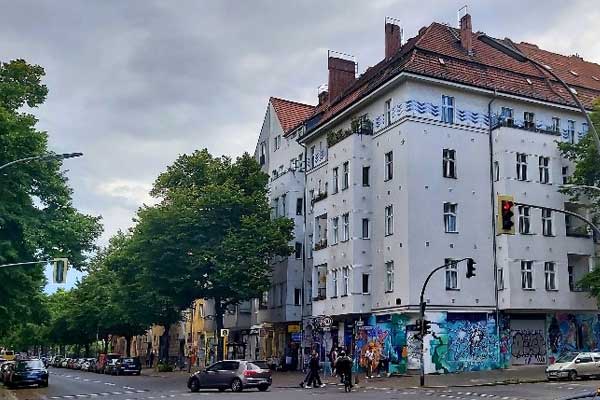 The homeowner of the second apartment we looked after said that 'not everyone liked Neukolln where she lived, but she loved it." A quick Google search showed her apartment was about three miles from the center of Berlin, with excellent transport links, and right on the edge of the trendy Kreuzburg district. The apartment pictures looked nice, and with just two young, healthy cats to care for, it sounded like the perfect sit for exploring central Berlin.
On arrival, we weren't disappointed. The supermarket was one block away, our new favorite craft beer bar (Lager Lager) three blocks, dozens of excellent cafes and restaurants within a five-minute walk, and several bus routes went right past our building's front door.
The large apartment was on the ground floor, at the back of the building, so while right in the thick of things, it was really quiet.
A truly eclectic mix, Neukolln is one of the edgier districts of the city and was part of the former West Berlin. While graffiti and street art are prevalent throughout every neighborhood in Berlin, Neukolln dials it up to eleven. As other suburbs became gentrified, we've been told that younger people moved to this part of town because it's still central but cheaper. At first, we felt a little old and out of place without visible piercings and tattoos. However, we soon realized the area was home to all types, including a good friend we'd met traveling a decade previously on a wild adventure in Tajikistan.
Our friend Helge's a teacher, and as we were there during the summer holidays, he was more than happy to introduce us to many of his favorite local haunts and play tour guide on our bicycles to destinations further afield. The cycling infrastructure is so good in Berlin it was easy to get out to the summer playground of Wannsee and cycle via castles, villas, and historic breweries to Potsdam and San Souci.
Our friend also knew the best vantage points to experience the Berlin Pride Festival, one of the largest in Europe, if not the world. The whole event took over the streets of central Berlin with a sensory overload of sound and spectacle.
Over the three weeks we spent in bohemian Neukolln we planned little excursions each day getting to many of the iconic Berlin tourist attractions such as Museum Island, Templehoffer Airport, Treptower Park and Memorial, Market Halle Neune, and Hackershier Market. The excellent transport network meant we were rarely more than 20 minutes from our destination, and the €9 a month transport ticket implemented by the German Government over Summer meant getting around was practically free.
Housesit 3: Prenzlauer Berg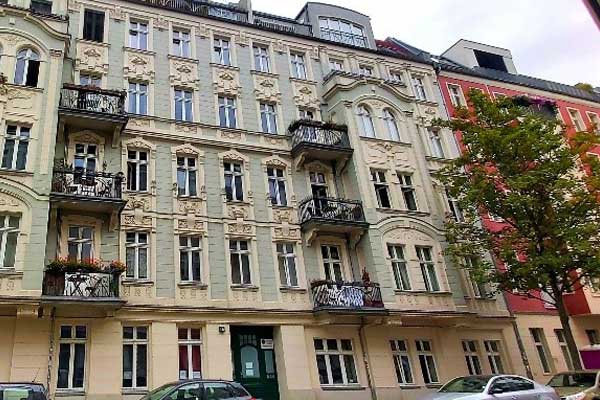 Our final sit in Prenzlauer Berg to look after a single elderly cat was like moving to another world. While the suburb is part of old East Germany, significant investment has been made to beautify the streets and buildings. As a result, the area felt quite posh. There was much less graffiti on well-restored character buildings and tree-lined streets. We had dozens of excellent restaurants, cafes, and bars in the surrounding neighborhood. The five-minute tram to Alexanderplatz in the city's center was only 150 meters from our door, and we had two supermarkets within a few blocks.
During the three weeks we spent in this 4th-floor apartment, we continued our daily outings to the places and things we still wanted to do and see, including finding the best traditional roast Pork Knuckle, currywurst, and 'Special' chicken in Germany, as well as a range of newer craft brew joints popping up around town—four of which; Bira (Italian craft beer), Brauger BrewPub, Manafest Taproom, and The Monterey Bar, were either a short walk or tram ride away.
While Berlin certainly has its share of world-class museums such as the Pergamon, Altes, Neues, Bode, and Humbolt Forum, it is also home to a range of quirky exhibits. I tracked down the story of the Ampelmann, the symbol used for East German stoplights, the Magic Museum, the German Spy Museum, the Berlin Underground, and the Germania exhibit. The Bud Spencer and David Hasselhof museums are more shrines to their namesakes, but it was interesting to understand yet another side of Berlin culture.
The Kulturbrauerei complex, a former brewery, which often has cultural festivals and includes an excellent museum on life in former East Germany, was also a short tram ride away. So too was the Saturday farmer's market at Kollwitzplatz, with colorful stalls selling everything from gourmet meats and cheeses to specialized licorice stalls and colorful fresh-cut flowers. On Sundays, Mauer Park is home to a huge flea market selling a huge range of gifts and souvenirs, along with international food trucks and live entertainment, including the popular Karaoke sessions.
Final Thoughts
By the end of the six weeks, we had fallen in LOVE with Berlin! This truly international city is full of life, incredibly diverse, and welcomes people from all walks of life. The city itself is full of history, culture, and entertainment, but there's still plenty of green space, and it doesn't take long at all to get out of the city proper to the lakes, forests, or larger recreational areas that surround it.
The public transport is excellent. One of the most significant impacts on how much we've been able to see was the introduction of the €9 per month ticket. We would quite often take a tram to a train and then a bus to where we were going without having to buy or show tickets, it was super-efficient! The fact that we didn't have to worry about single or day tickets reduced the hassle and cost enormously. We saved around €500 in transport costs. (A monthly ticket is normally €107 each and then another two weekly tickets (43 x 2 each) plus the regional trips we took, plus tickets for the bikes, etc.) Added to six weeks of free accommodation and the ability to self-cater in well-equipped kitchens meant that we saved well over $6,000, which we could then spend on cultural pursuits, entertainment, and tracking down the best of German craft beer.
Related Articles
Cost of Living in Germany with Monthly Budget Breakdown
When is The Best Time to Visit Germany?
Popular Articles You May Also Like