With temperatures in the mid-80s F, habitually warm Caribbean waters on all sides, and a perpetual sea breeze accompanied by the trills of soaring sea birds, Mexico's Isla Mujeres maintains a loyal complement of full-time residents and seasonal snowbirds. It's no longer a hidden gem, but rather has grown into a mature destination where expats can enjoy an affordable island retirement in casual, Caribbean comfort. A couple can live in grand style on Isla for $2,500 to $3,500 a month; this includes rent, utilities, dining out regularly, and a couple of trips to the mainland each month for major shopping.
Access to and from the island is provided by a fleet of modern, high-speed ferries that maintains a frequent schedule between several terminals in the mainland city of Cancún. The cost for a round-trip ticket is about $20 and it's a comfortable 30-minute ride.
Isla (as the locals call it) is not a sandy, beachy island. Although the island's north end does have a very nice beach of soft, white sand, Isla is a chunk of stone rising from the seabed, with a powerful surf and mostly rocky coastline. But, no worries—its proximity to Cancún and the Riviera Maya provides 80 miles of postcard-perfect, palm-lined, sugar-sand beaches for those who want to wiggle their toes in the sand.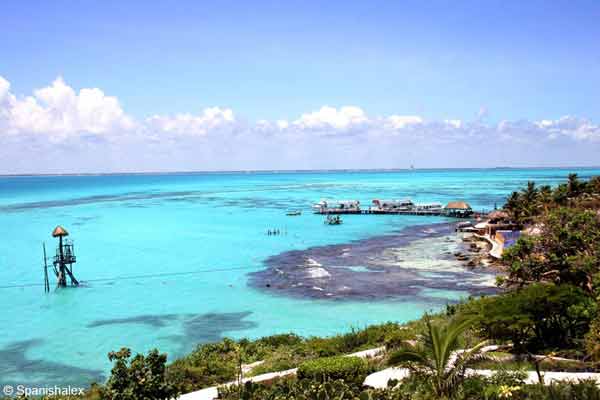 For expats, Isla's big appeal is its casual lifestyle, where shorts and beach shoes are the accepted attire for any function. It's common for weddings to be officiated while bride and groom take their vows in shorts, tee shirts, and sandals.
Life on Isla Mujeres can be very affordable. I recently visited the home of retired expat John Pasnau and his wife, Valerie. The home is about 800 square feet and has two bedrooms, a modern bathroom, sitting area/living room, and a very functional kitchen.
It is furnished and air conditioned and has a small fenced yard. They pay $800 a month, including all utilities.
"A bottle of local beer, Indio, is only about $1. And I can buy a whole chicken for about $3.30. A large bottle of Coke is 65 cents and a big loaf of bread is 75 cents," says John.
Cost of living on Isla Mujeres varies, depending on your taste. I know of one person who lives entirely on a Social Security check of $1,700 a month. His apartment is small and he pays about $325 a month in rent. He lives a very comfortable life and puts $300 in his bank account each month so he can fly home to see his kids and grandkids a couple of times a year.
"We can go to the beach and relax, or hop on a ferry and go shopping or to the movies in Cancún," says expat Jim Silver. "We also like traveling in the area: Mérida, Belize, Tulúm, Isla Holbox…there's so much so close here. It has it all."
Get Your Free Mexico Report Here:
Learn more about Mexico and other countries in our daily postcard e-letter. Simply enter your email address below and we'll send you a free special report - Why Millions of Americans Are Moving to Mexico.
This special guide covers real estate, retirement and more in Mexico and is yours free when you sign up for our postcards below.
Related Articles
Is It Safe to Travel in Mexico?
Tulúm, Mexico: Retiring, Cost of Living and Lifestyle Information