A flourishing expat community has evolved over the years as adventurous spirits from all over the globe set their wandering feet to rest, seduced by the charm and easy living in Antigua, Guatemala.
Foreigners of all walks and stages of life stop by on a world trip, study Spanish and volunteer in one of the slew of language schools and NGOs or visit already settled friends. The romance starts with a pit stop, but many succumb to the laid-back lifestyle in Antigua and stay.
Year-round spring-like climate, old-world colonial charm, ethereal volcano views and close proximity to the capital and international airport (about 45 minutes drive) make living in Antigua a breeze.
A lively cultural scene with a constant flurry of festivals and events, trips and tours to jade factories, coffee fincas, volcanoes and weaving communities and a myriad of classes including salsa, local indigenous languages and Guatemalan cookery are just a sampling of activities available in Antigua and its surroundings.
The lifestyle in Antigua, Guatemala can be very affordable. Live like a local or, depending on your tastes and purse strings, lead a life of extravagance. Below is a guide to some of the costs living in Antigua for my simple but comfortable life.
Cost of living in Antigua, Guatemala

The rent for my sizable furnished apartment with bougainvillea-draped patio and rooftop terrace with volcano views is $350/month including electricity, water, cable and WiFi. A 15-minute stroll along cobbled streets between color-washed houses and stores sees me in the midst of vibrant city life.
As anywhere, rentals vary on location and you can get much more for your dollar in one of the neighboring villages, where you will experience more of a local lifestyle than living in Antigua.
A 25-pound bottle of cooking gas costs $17 (lasting me about six months); a five-gallon bottle of purified drinking water is $2; a cleaner costs me $6.50 for about four hours; and laundry around $0.75/pound.
A ladies haircut ranges from $6 up to $13 in a salon with a foreign English-speaking stylist…and a dental clean and checkup costs between $20-$50.
My trips to the ample mercado overflowing with fresh, local produce are always an adventure and provide me with plenty of photo fodder and all my fresh fruit and vegetables.
If you go early in the morning, variety and freshness are guaranteed, while bargains can be picked up late in the day. I look around to get an idea of quality and prices before buying as these can vary depending on season. I spend about $10 a week there and this time of year a papaya goes for less than $2, a watermelon about $1.30 and a pound of tomatoes for $0.40.
I also shop in one of the local supermercados spending about $35 a week on staples, sometimes splurging in a modern deli selling imported goods or in one of Guatemala City's well-stocked mega supermarkets.
Antigua is small enough to walk, but with heavy loads, I take a rackety, three-wheeled motorized tuk tuk paying $1.30 within the city during the day. Normal taxis charge $3.20.
There are plenty of options when dining out in Antigua. Tastebud-tickling flavors and aromas choke the air from simple Guatemalan fare served up at local eateries and street stalls to choice cuisine in international restaurants.
Prices vary from around $1.50 for a set lunch in a cheap eatery, while a juicy sirloin in an Argentine steakhouse will set you back $15, a cappuccino $1.60, and a local beer less than $2.
A useful aid for visitors and expats living in Antigua is the online guide degustantigua.com that includes restaurant listings by cuisine type, menus, prices, food-related articles and recommendations.
For a taste of the lifestyle in Antigua and beyond, browse Guatemala's free English-language magazines at revuemag.com and grupoquepasa.com. Other resources are antiguadailyphoto.com and my travel photography blog, which covers Guatemalan festivals and traditions.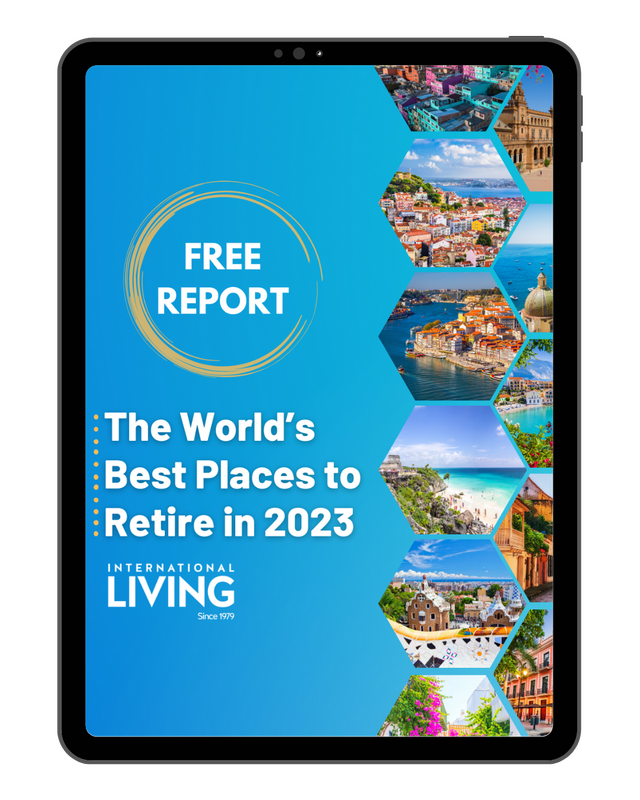 Get Your Free Report on the World's Best Places to Retire:
Learn more about the best places in the world to retire in our daily postcard e-letter.
Simply enter your email address below to sign up for our free daily postcards and we'll also send you a FREE report on The World's Top 10 Retirement Havens, plus access to over 10 more free reports. Our gift to you, on our favorite destinations.
Related Articles
Rent in Antigua, Guatemala from $220 a Month
Earn Money by Selling an Online Course