Our Mediterranean Comfort Food Tour
When we visit Europe, we naturally expect the kind of dining experiences we see in the movies: a quaint bistro, a warm welcome from a genial chef, plates piled high with chicken parmesan so good it makes us weep, and a check that's half what we'd pay for a fast-food burger back home. And yet, all too often we get caught up in the kind of whirlwind travel that leaves us saying, "If it's Tuesday, this must be osso buco." We're hungry for authentic experiences, yet we somehow lose sight of the fact that every meal is an opportunity to connect with locals and their culture. I decided there must be a better way.
It was my husband, Rich, who came up with the idea of organizing an entire trip around Mediterranean comfort food. As a travel writer, I'm always looking for interesting cultural perspectives. As a man who loves to eat, Rich is always advocating journeys that involve more ice cream. It was perfect for both of us.
At the time, we were tossing around ideas for a long road trip, and now the journey began to take shape in our minds. We'd travel around the Mediterranean rim, sampling old-school cooking so delicious the recipes had been passed down for centuries, and so steeped in tradition each dish would reveal unexpected aspects of the culture. A little internet research would identify regional specialties, we'd find restaurants and cooking schools offering them, and then we'd eat. Having recently learned how to shoot food videos, I hoped to film techniques, gather recipes for my readers, and interview the cooks. "Be sure to ask them where to find the best ice cream," Rich said.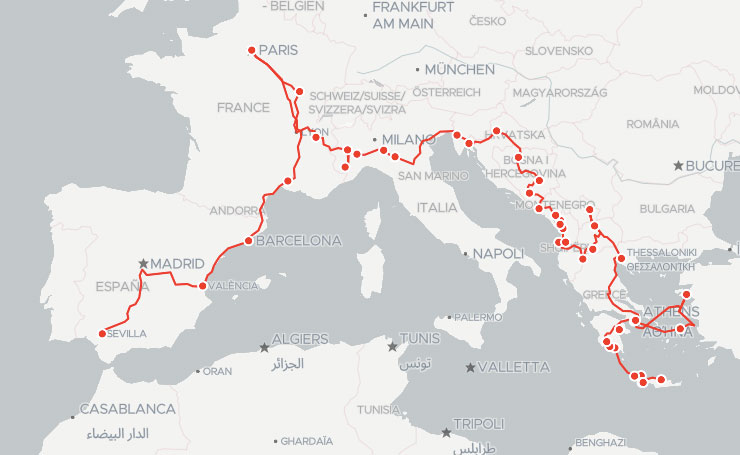 For purposes of this trip, we defined comfort food as traditional dishes that make you feel warm and cozy, like your mom's chicken soup or chocolate chip cookies fresh from the oven. The flavor, the aroma, the feel of that first, glorious bite in your mouth—it all transports you back to a place you once felt at home. The feel-good sensation is universal; the particulars vary considerably.
When I asked a friend from Crete what he considered comfort food, he immediately said, "Hohli bourbouristi. Snails cooked in rosemary." For my Spanish amigos, it's cakes piled high with whipped cream. Different strokes. I knew I might have to kiss a few frogs (possibly literally) along the way, but I wanted to taste the cooking that has been comforting Europeans for generations.
Comfort food is best enjoyed at a leisurely pace, and we decided to travel slowly, by public transportation, so we could appreciate the gradual shifts in the cultural and culinary landscape. And with a few exceptions—the nearly defunct Albanian rail system springs to mind—we found the local buses, trains, and ferries to be surprisingly efficient, convenient, and comfortable. Occasionally we took a taxi or hired a car and driver to reach an obscure location. We spent 161 days wandering 5,234 miles through Greece, North Macedonia, Kosovo, Albania, Montenegro, Bosnia and Herzegovina, Croatia, Italy, France, and finally back to our home in Seville, Spain.
One of the biggest surprises of the journey was how willing people were to invite us into their kitchens. Cooks in rural farmhouses, urban apartments, cafés, and family restaurants all cheerfully shared their grandmother's recipes. Language differences were bridged with Google Translate and pantomime; great food, laughter, and fellowship were always on the menu. I gathered great recipes and travel tales for my blog, EnjoyLivingAbroad.com, and eventually a book.
So what was it like? Here are a few highlights.
Ikaria, Greece: The Island of Longevity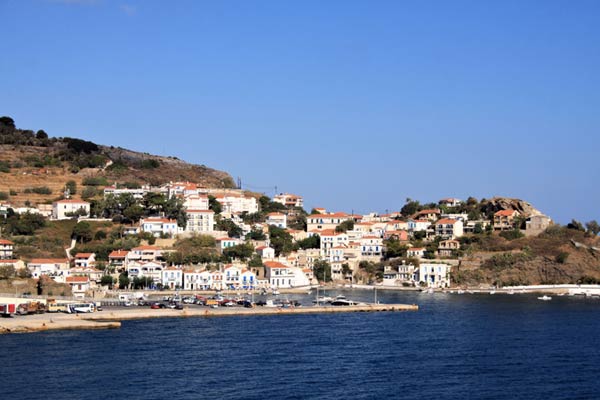 The people of this small island live remarkably long lives and rarely suffer from cancer, depression, or dementia. Ikaria has been designated one of the planet's handful of Blue Zones, places where longevity and good health are off the charts.
"We have to go there," I told Rich. "Maybe it will rub off on us."
What's the island's secret? It starts with a relaxed attitude. Islanders don't live by the clock, lightheartedly referring to any time of day as "late-thirty." Their diet includes wild greens, homegrown vegetables, homemade cheese, fish, and wild goat (an exceptionally lean meat).
Our hotel clerk sent us up the coast road to Popi's, where the owner's son, Zisis, lingered at our table, chatting as if he had all the time in the world. Eventually I asked if he'd show us how he cooked wild goat, and soon we were in the garden meeting the family's small flock, and then in the kitchen, watching Zisis stew the meat in its own juices and dust it with wild herbs, including the island's nutrient-rich, fragrant oregano.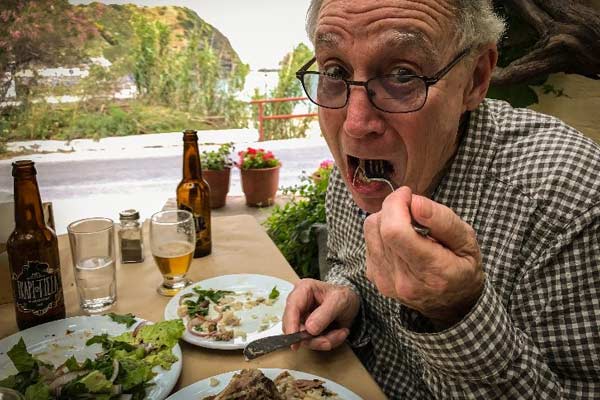 During our stay on the island, Rich and I made every effort to adopt the island's lifestyle, eating fresh, local food, joining in one of the all-night dances with which saints' days are celebrated, and walking at something close to the locals' relaxed pace. I've made it a lifetime goal to live more like the Ikarians, wherever I am.
Divjakë: Albania: The Horse Restaurant
​Four years ago, my husband—and I say this lovingly—became obsessed with an Albanian restaurant called Ali Kali.
"The owner brings in your food riding on the back of a trick horse," he said. "Ali Kali means Ali's Horse. It's fantastic. We've got to go."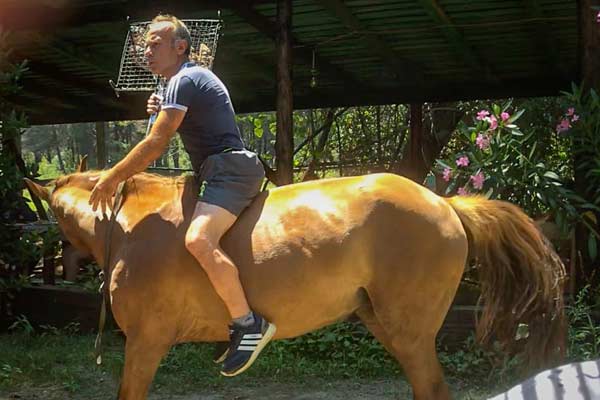 But getting to a small town on the coast of Albania isn't as easy as it may sound. Our kindly Airbnb host in Bitola, North Macedonia, drove us over the mountains to the charming little city of Korçë, Albania. From there, we hired a car and a driver to take us 77 miles to the nearest railway station. We arrived to find it locked and dark.
"Not running today," said a man in a nearby café. "Not enough passengers to justify the petrol."
Our driver, Reoland, kindly offered to take us all the way to Durrës, the city nearest Ali Kali. By the time we drew up in front of our hotel, he knew all about our comfort food tour and Rich's obsession, and we'd invited him and his wife to join us at the Ali Kali two days later.
The four of us had an uproarious time. The owner, Ali, rode into center of the outdoor restaurant on his trick horse, brandishing a grilling basket filled with sizzling fish. On cue, the horse knelt down. Ali leapt off, strode up to our table, and placed a fish on every plate. He then ran back to the horse and gave it a kiss on the cheek. The horse dropped down onto its knees, Ali leapt on, and they trotted off through the tables.
"Even better than I'd hoped," Rich said happily, as we left.
Sarajevo, Bosnia and Herzegovina: The Comeback City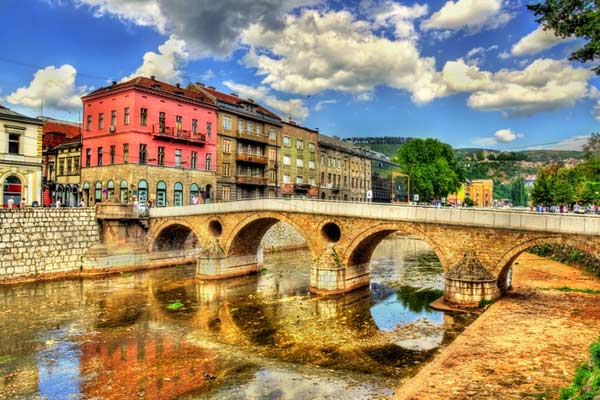 After 14 years, I expected to find the city changed, but Sarajevo's transformation was breathtaking. Rich and I had briefly visited the capital of Bosnia and Herzegovina en route to a volunteer work project in 2005, just nine years after the end of the Bosnian War. My memories were mainly empty streets, a ghastly hotel mattress, and buildings riddled with bullet holes.
Today, the city is bustling with activity. Visitors flock to the old market, delighting in the gorgeous Ottoman architecture, traditional food, and tiny, colorful shops. We visited the spot where an assassin slew Archduke Franz Ferdinand, launching World War I. Even more sobering was the Tunnel of Hope, the only way in or out of the city while it was under siege for 1,425 days during the Bosnian War. It's a great place for profound thoughts about the resilience of the human spirit.
And Sarajevo is nothing if not resilient. Despite its traumatic history and the challenges of competing in a world economy, there's optimism and energy. And while its population is diverse, it's united in the appreciation of good food. Local cuisine includes such hearty, delicious fare as cevapi (grilled ground meat), burek (flaky pastry filled with meat or cheese), and Begova Čorba (Bey's Soup), a heavenly mix of chicken, okra, and a touch of lemon.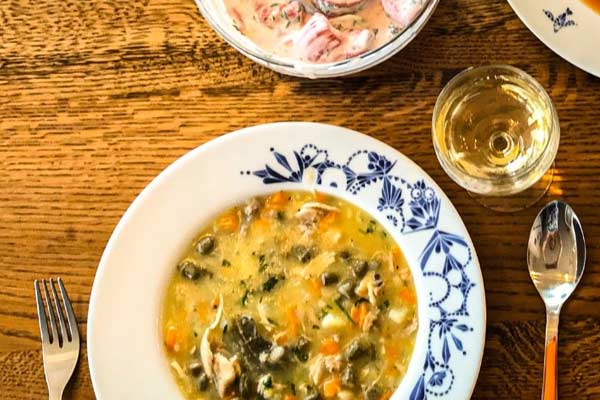 The name refers to Gazi Hüsrev Bey, the Ottoman ruler whose building projects and social reforms made Sarajevo "a flower among cities" 500 years ago. Local legend says his soup kitchen served food so delicious that everyone in the city ate there, including Gazi Hüsrev Bey himself. True story? Who knows? But I can confirm that today, Bey's Soup can be found on restaurant menus and family dinner tables throughout the city, a living testimony to his generous spirit.
Zagreb, Croatia: Where Europe Meets the Balkans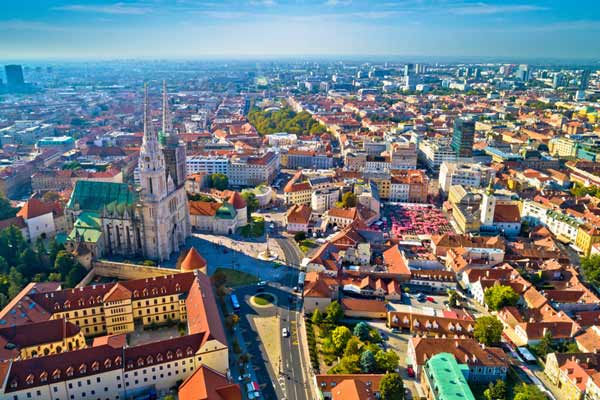 I like a city with a checkered past, and Zagreb certain has that going for it. The city was founded in Roman times, expanded during the medieval and industrial eras, survived Nazi occupation, was incorporated into communist Yugoslavia, became an economic powerhouse, and emerged as the capital of independent Croatia. Today, it's one of the liveliest and most entertaining cities I know.
This summer, in Zagreb's Zrinjevac Park, Rich and I did the chicken dance under the stars, flapping our wings and shaking our tail feathers to the corny, irresistible old song. Summer dance evenings around the bandstand are part of the city's Time Machine project, paying homage to mid-twentieth century nostalgia. For slightly edgier fun, there's the Museum of Broken Relationships, which displays keepsakes of grand passions that have gone down in flames, often with wincingly hilarious explanations. ("Why did I take an axe to this chair? Well, this guy …") The gift shop offers smoked sea salt labeled "Salt: rub it into the wound" and the anti-stress pencil marked "In case of anger, break here."
Zagreb's architecture is a glorious mix of Romanesque, neo-Baroque, Austro-Hungarian Empire, Bauhaus, and more. The food is equally eclectic, from such hearty classics as štrukli, dough filled with sour cream and cottage cheese, to the grilled corn sold on street corners.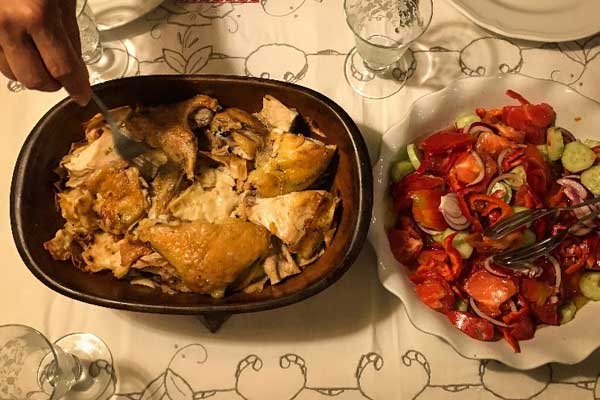 The best meals we had on two separate visits were with Lidija, a local dentist and chef who offers meals in her home via EatWith (often called the Airbnb of dining). Three years ago, we sat on her balcony and ate delicious skuša riba (mackerel) with blitva, a local vegetable somewhere between kale and spinach. This year she cooked us mlinci, a dish that looks like pasta but is actually flatbread that's baked, boiled, and then soaked in drippings from a roast chicken. How good was it? Rich and I started doing the chicken dance right there at the dining table.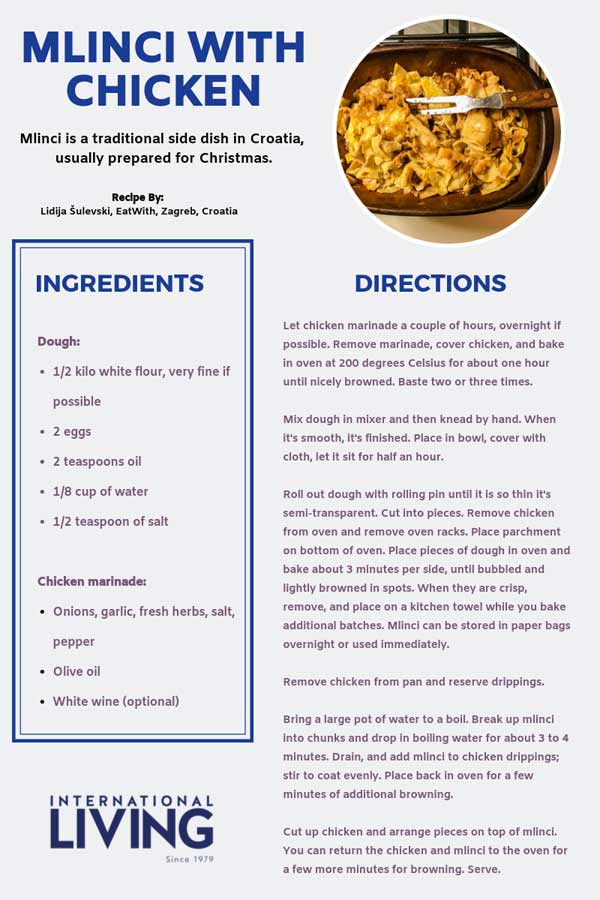 Turin, Italy: Carlotta's Blessing in Disguise
When I met Carlotta in Turin, Italy, she confided that she's always had a passion for cooking, especially classics from her Italian heritage. Which is what made it so challenging when she learned she'd have to live a gluten-free life.
"At first," she told me, "when I was diagnosed with celiac disease, I thought it was the end. Not only of my good eating, but also of my cooking. But actually, I would say it was a blessing in disguise. Because it helped me to look at things in a different way. And to adjust recipes, even traditional recipes, and to do more research about the science that is behind baking especially, and about cooking in general. All in all it was something that made me progress in my cooking, in my passion, and in my knowledge."
Most of us associate Italian cuisine with such gluten-rich treats as pasta, pizza, and crusty bread dipped into olive oil. At Carlotta's, we nibbled an antipasto of olives, two kinds of salami, slivers of golden pear, and local cheeses drizzled with truffle honey and grape compote. To follow, we had vitel tonnè, thin slices of veal with a sauce made from tuna. (I know, but don't knock it until you've tried it; the flavor is amazing.) The star of the show was the robust sausage risotto. To finish up the meal, we had flourless hazelnut cake with creamy Moscato zabaione sauce.
Rich and his sweet tooth were in their glory. When I reluctantly set down my fork without finishing, having stuffed myself to capacity on the risotto, he eyed the remains of my dessert until I passed the plate to him.
"You see?" Carlotta grinned. "You can eat a full Italian meal that is just as good as a gluten-y meal."
 The Takeaway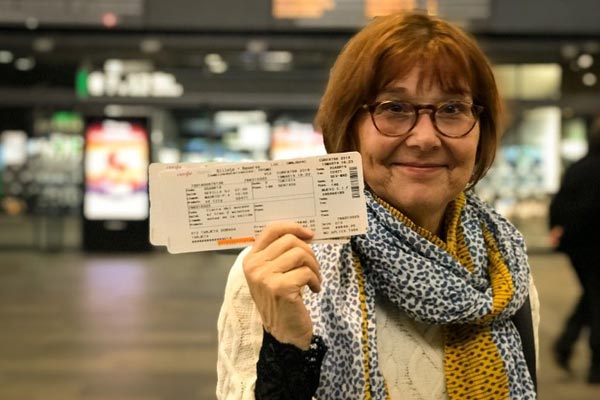 Rich and I thoroughly enjoyed visiting people in their kitchens, getting to know the recipes, preparation tricks, and backstory of the food they loved. I no longer felt like I was floating on the surface, drifting from hotel to restaurant to museum; instead, the trip gave me a lot of insight into their culture—and my own. I began to look at my own life differently. How could I reduce stress like the Ikarians? How could I adapt to challenges as gracefully as Carlotta? It all went to prove something I've said for years: When we set out in search of adventure, what we really discover is ourselves.
Get Your Free Report on Europe Here:
Learn more about countries in Europe and other countries from around the world in our daily postcard e-letter.
Simply enter your email address below and we'll also send you a FREE report - All the Charm and Romance of Europe…at a Price You Can Afford.
Related Article
Europe's Top 5 Affordable Retirement Havens
11 Places in Europe Where You Can Retire on $35,000 a Year