As the 14th largest country in the world, Mexico is also one of the most biodiverse. Bordered on three sides by oceans—the Pacific, the Gulf, and the Caribbean it's not surprising there's a lot of seafood in Mexican cuisine. But there's also large swaths of farmland in the highlands which means a whole host of vegetables and spices.
In fact, there are at least 64 different types of chilis in Mexico ranging from smoky poblanos to jalapenos. Though that's not to say all Mexican food is spicy.
Many expats are surprised when they visit Mexico and don't recognize items on the menu. Take chimichangas for instance, popular on menus in Mexican restaurants in the U.S., you'll be hard pressed to find them South of the Border. As it turns out, Mexican food is both simpler and more complex in its native home.
The sheer numbers of sauces presented with meals and the depth and variety of flavors are a welcome surprise to visitors.
Here are a few food favorites:
For Desayuno (Breakfast):
Huevos motuleños is a hearty breakfast that includes fried eggs on small pieces of tortillas and smothered with black beans, bits of ham, peas, and a dollop of salsa. Sometimes sweet, roasted plantains are included.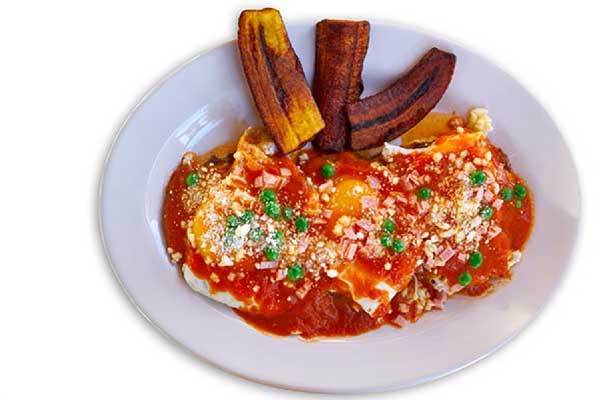 Chilaquiles is like a Mexican casserole. Originally devised to use up leftover tortillas, there are as many variations on this as there are cooks. Some tear the tortillas into strips and pan fry them while others assemble a casserole of ingredients and bake it.
The toppings can include onions, chorizo, chicken, cheese, salsas of all types, cilantro, really, anything you may have on hand.
You'll find both on most Mexican breakfast menus and either one served with a steaming cup of coffee will leave you satiated for hours.
For Lunch or Dinner
Mole – Dating back to Pre-Hispanic times, this is a sophisticated dish that uses 20 or so ingredients. It includes onions, peanuts, raisins, cumin, thyme, and cinnamon all cooked in lard. Then it's combined with tomatoes and maybe tomatillos which are a type of green tomato, fresh chilis, chicken broth, and chocolate all blended into a smooth sauce with a velvet-like texture.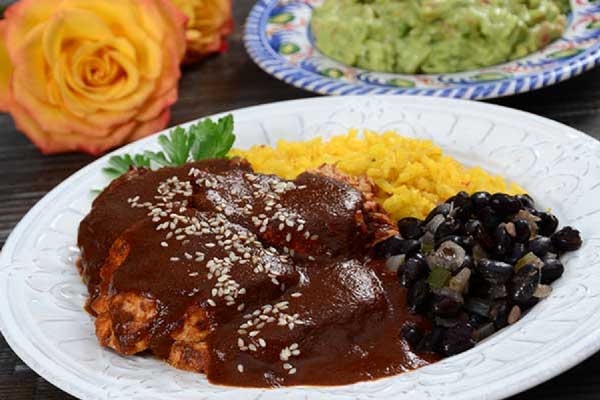 It's typically ladled over baked chicken or enchiladas. Of course, every family has their closely guarded recipe, but one thing everyone can agree on is that it's delicious.
Pozole – Described by some as the oldest dish in Mexico, this heavily seasoned soup is made with hominy (corn) and meat, often pork. It's garnished with shredded cabbage, radishes, avocado, and chilis. Depending on what you put in it, it can be green, white, or red.
Grilled Octopus or Pulpo – The plate-sized pile of tentacles may be off-putting to some, but once you get past the appearance, you'll realize that the firm, flavorful meat is delicious.
Ceviche – A staple of the coasts, this is often served as an appetizer or a light meal. Fresh seafood is diced and "cooked" in a mixture of lime juice, onions, and cilantro. It can be made with shrimp, squid, octopus, or any firm, white fish like sea bass or flounder. It's so fresh that I've seen snorkeling boats heading back to land haul up a flounder, gut it, and prepare it fresh right there on the boat.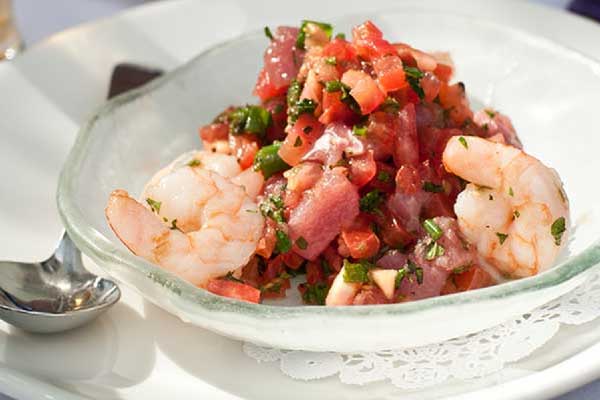 Cochinta Pibil – This slow roasted pork dish is native to the Yucatan Peninsula. It's said that the Mayas once cooked it in underground pits but these days it can be cooked in a traditional oven. Either way, the meat is marinated in spices and vinegar and slow-cooked for hours. It's generally eaten with rice and tortillas.
Tacos – These are such a part of Mexican culture they may deserve their own section. There are taco carts and tacos in fine-dining restaurants. What they all have in common is the tortilla and fresh ingredients. Traditional tortillas are made with corn but flour tortillas are also common.
Depending on where you are, the taco fillings may be seafood based, shrimp or fish are common. Tacos Pastor is another favorite. This is a spit-roasted pork filling that resembles Middle Eastern shawarma and in fact was brought to Mexico by Lebanese immigration.
Most tacos come with an array of toppings from fresh onions and cilantro to a squeeze of lime and salsa.
Snacks
Churros are made from narrow deep-fried dough, and are frequently dipped in chocolate sauce. It's typical to find people walking down the street (or the beach) offering these as snacks.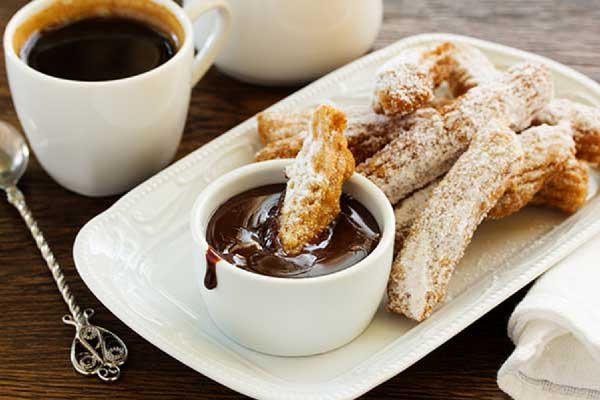 Marquesitas — are crispy crepes made in front of you on a waffle-type press and then filled with melted cheese and a sweet filling, typically jam or Nutella.
Drinks
Tequila or beer may be the first thing that comes to your mind when you think of Mexico but there are plenty of other drinks common here.
Agua frescas – "Fresh Water" is a blend of purified water and fruit for a cold refreshment. Every "menu of the day" type of restaurant has their "water of the day" that accompanies the meal. Think cucumber water, mango, papaya. Some restaurants even bottle their own.
Cerveza Michelada is a local favorite around the country too. It's made with beer, lime juice, assorted sauces (like hot sauce) and served in a salt-rimmed glass.
Chocolate – Once considered a sacred drink in Mexico, hot chocolate was prepared with spices, pepper, and bitter chocolate and taken in a ceremonial manner and served by a shaman. These days, you can find some chocolate ceremonies but you can also purchase hot chocolate for enjoying at most coffee shops.
Get Your Free Mexico Report Here:
Learn more about Mexico and other countries in our daily postcard e-letter. Simply enter your email address below and we'll send you a free special report - Why Millions of Americans Are Moving to Mexico.
This special guide covers real estate, retirement and more in Mexico and is yours free when you sign up for our postcards below.
Related Articles
Fun and Interesting Facts About Mexico