With influences from China, Malaysia, Laos, Myanmar, Cambodia, and a royal culinary tradition, Thai cuisine is the best of many worlds. Thai cuisine mixes spicy, sour, salty, and sweet, as well as various textures into one dish. The combination of herbs and spices produce complex flavors that somehow come together like a fine-tuned orchestra.
Eating and sharing food is a vital aspect in Thai culture, and Thai people graze on tasty snacks and meals from street stalls, markets, and restaurants at any time of day. In fact, Thai people will commonly greet each other with 'gin khao reu-yang' which translates to 'have you eaten yet?'
So where does Thai cuisine rate on the world stage?
In 2019, CNN listed Thailand as one of their top 10 world food cultures and destinations. In their 'World's 50 Best Foods' list, seven Thai dishes made it to their top fifty. And famed Chef and TV personality Andy Ricker of Pok Pok fame said: "Thai food, in my opinion, is one of the great cuisines of the world…"
As a retired expat who has lived in the 'Land of Smiles' for four years now with travels to many corners of Thailand, the most challenging thing in creating this Top 10 of 'must try' Thai dishes is limiting it to 10. There are so many different and tasty dishes just waiting to be shared and devoured, so let's get started.
Tom Yum (Spicy Soup)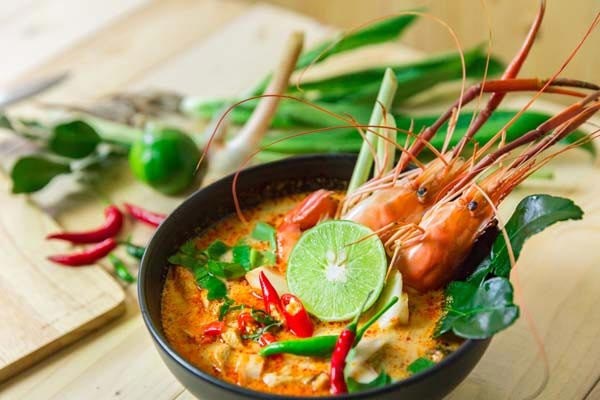 This fragrant, hot and sour soup packs a punch. It combines tomatoes, mushrooms, lemongrass, galangal, kaffir lime leaves, coriander, chilies, and lime juice to produce a mouth-watering healthy broth. With shrimp, the most popular addition, it's called Tom Yum Goong, with seafood Tom Yum Talay, and Tom Yum Gai with chicken.
Another favorite soup is Tom Kha Kai, which has similar ingredients to Tom Yum. However, the addition of coconut milk to this chicken dish reduces the spiciness and makes it creamier and milder. Both soups can be eaten with steamed rice.
Phat Ga-phrao (Holy Basil Stir-Fry)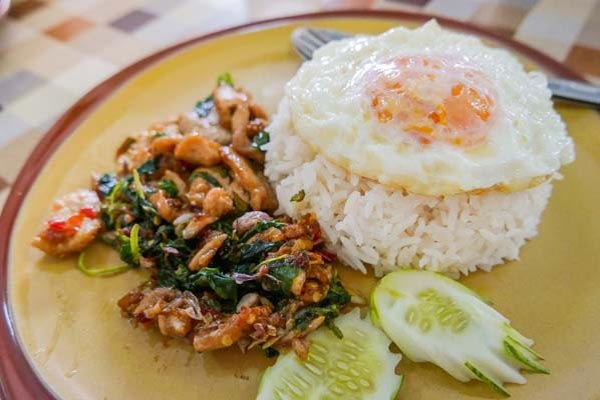 A favorite with Thais, this quick and delicious dish is prepared with minced pork, chicken, beef, tofu, or seafood. If you have tried it outside of Thailand, it may have been missing the key ingredient—Holy Basil. The torn leaves add a distinctive, slightly hot and pungent flavor. When combined with chili, garlic, and sauces—it will tantalize your taste buds. It is served with rice. For an even more authentic twist, ask for Kai Dao, a crispy fried egg to top it off. To adjust the spiciness see the Hot Tips at the end of the article.
Phat Thai (Thai Stir Fry Noodles)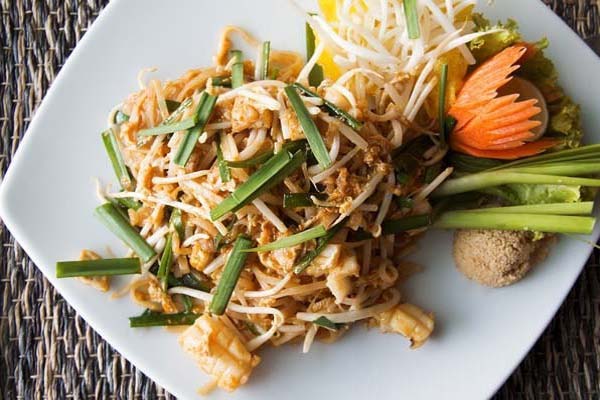 Phat Thai is frequently spotted on Thai menus around the world and needs little introduction. Rice noodles are pan-fried with fish sauce, lime juice, or tamarind pulp and sugar, then topped with ingredients like chopped peanuts, tofu, bean sprouts, chives and shrimp, or chicken. It's a delicious meal, especially for those who yearn a reprieve from spicy Thai food, as further seasonings are added individually.
Gaeng Kiao Waan (Thai Green Curry)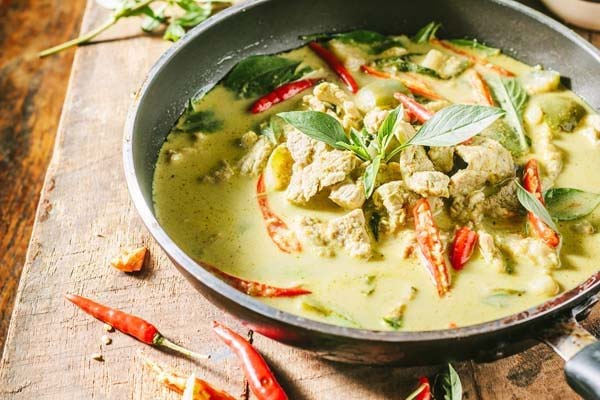 This dish is one of the spiciest and most familiar of the Thai curries. The green curry paste is cooked with coconut milk and has a hint of sweetness. Gaeng Kiao Waan Gai (chicken) is common. However, other meats or vegetarian options are available. Fresh Thai basil or coriander leaves top the dish giving a vibrant and fresh zing.
Som Tam (Spicy Green Papaya Salad)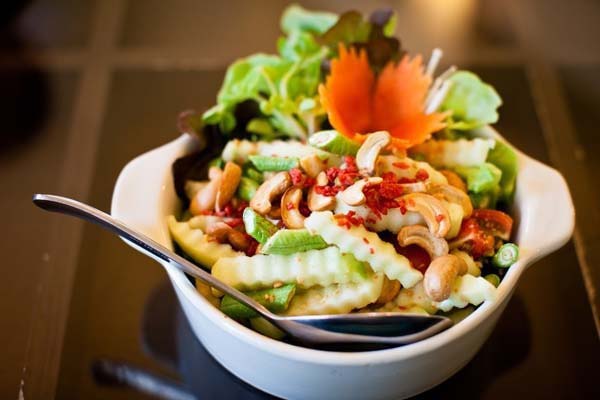 This spicy little number is spotted in street stalls and markets, as the vendor rhythmically and firmly works their magic in a large mortar and pestle. Tossed in is garlic, chili, shredded green papaya, beans, tomatoes, dried shrimp, peanuts, lime, tamarind, sugar cane paste, and fish sauce. Variations use grated green mango, crab, salted fish, or try the fruit inspired Som Tam Ponlamai. A usual accompaniment is sticky rice and grilled chicken (Kai Yang). Typically made to order, so you can ask for the chili level to be adjusted to your liking.
Larb (meat salad)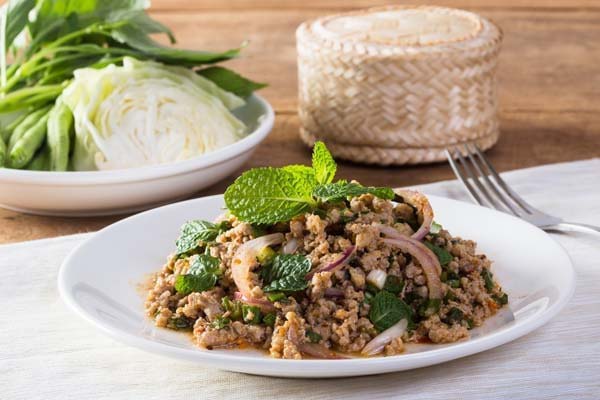 Larb is a type of Lao meat salad that is now found all across Thailand. Larb is usually prepared using minced or finely diced chicken, duck, beef, or pork. It's simple to make too. Flavors of fish sauce, lime, shallots, and chili are added to the wok with tossed meat and topped with lots of fresh mint and coriander. The secret in the ground toasted rice mixed through giving a slightly nutty flavor. Another dish where you can ask for your preferred level of spiciness.
A variation of this may be found in restaurants featuring Isaan (north-eastern Thailand) food. Larb Balls usually made with pork and further flavored with lemongrass and kaffir lime leaves, rolled, and deep-fried. Absolutely delicious, especially with a cold beer.
Khao Soi (chicken or beef)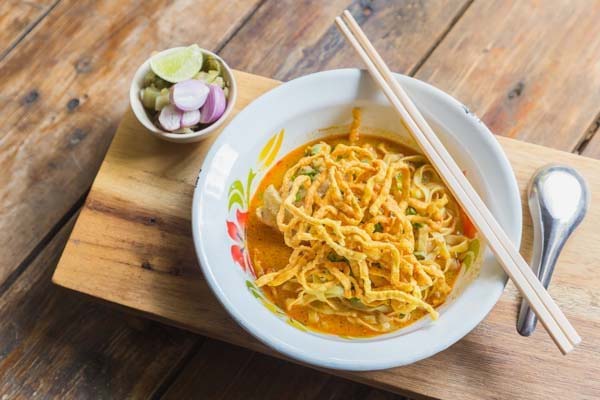 This delicious soup style curry dish is most common in Chiang Mai and northern Thailand. The meat, usually chicken leg slow cook, is served atop egg noodles in a deliciously spicy, creamy, and slightly sweet coconut milk sauce. It's topped with crispy fried wheat noodles and a side dish of pickled cabbage, chili paste, lime, and shallots. It's one of my favorites.
Kuai Tiao Nam (Noodle Soup)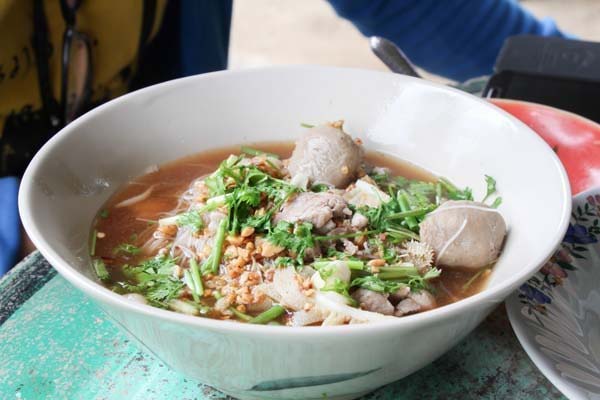 A versatile soup which can be eaten any time of day and is made with your favored ingredients. Choose your protein—seafood, pork, chicken, beef, duck, dumplings, or meatballs. Decide on the noodles, from rice vermicelli, wide flat rice noodles, or egg noodles. These are served in a broth with vegetables. Simply adjust to your taste from the four condiments on the table, which include sugar, fish sauce, chili flakes, and diced chili in vinegar. With chopsticks and spoon in hand, you're ready to slurp and savor.
Massaman Curry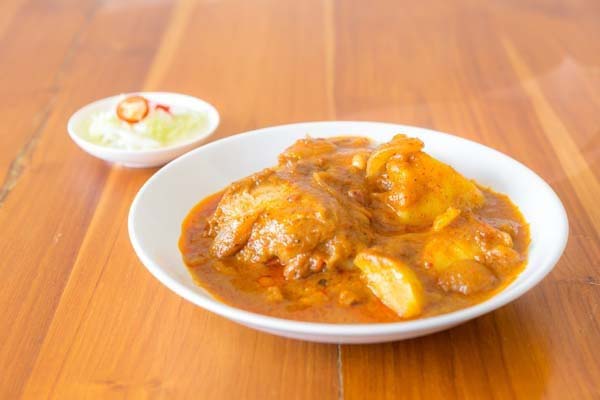 Named 'The King of Curries' and number 1 on CNN Travel's 'World's 50 Best Foods' this spicy, slightly sweet coconut-based curry is said to have come from the Muslim communities of southern Thailand. It is even mentioned in poetry from the early 1800s in the reign of Thai King Rama II. So, what's all the fuss about? This hearty dish includes beef or chicken, potatoes, and onions. The curry paste consists of a delicate balance of chili, garlic, lemongrass, cardamom, cloves, nutmeg, cinnamon, cumin, and more. It's a slow-cooked dish, and the meat falls apart, and best eaten with rice to mop up the sauce.
Kha Niao Mamuang (Mango Sticky Rice)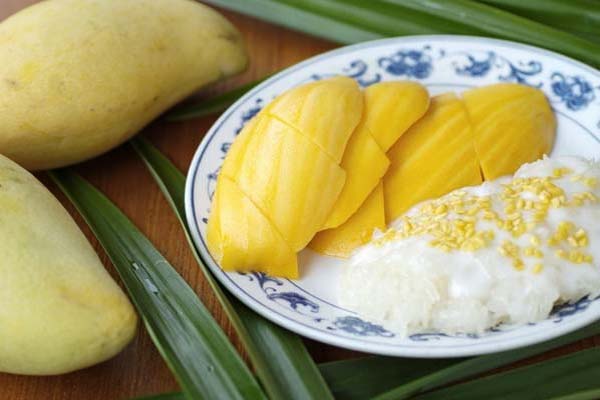 While some people shy away from Asian desserts, this is one not to be missed. The sticky rice is cooked and sweetened with thick coconut milk and served with juicy ripe slices of mango. It is topped with more coconut milk and sometimes roasted rice or sesame seeds. Thankfully, mangoes are plentiful most of the year, so we can always find this plate of heaven when the mood strikes.
If your dish is a bit too hot, eat steamed rice, sliced fresh cucumber, or fresh cabbage to reduce the heat. Drinking a beer, water, or other cold drinks doesn't really help.
Thai food can be divided into four distinct cuisines plus the Royal cuisine with each significant geographical region having their own specialties. The dishes listed here do give some sense of the diversity of Thai food. So, when in Thailand, I encourage you to be adventurous when you are eating. There are so many more delicious creations, teaming with fresh local produce, just waiting to tempt and tantalize.
Hot Tips:
Thai food can be spicy (pet in Thai), however many dishes can be toned down. Try this when you are ordering:
Not spicy at all                   mai pet
A little bit spicy                 pet nitnawy
Normal                                 pet tammada (be careful what you wish for as Thais often use lots of chilli
Very spicy                            Pet maak
Related Articles
Find Your Dream Retirement in Thailand
Enjoy a Low Cost of Living in Thailand