Although I have seen many stunning cities in Europe, the three towns in the northernmost region of Italy known as the South Tyrol stand out for their beauty. My husband, Barry, and I visited the area en route to the enchanting silvery Dolomites, never guessing that the cities of Bolzano, Merano, and Trento would themselves be enchanting.
Bordering Austria and Switzerland, the South Tyrol is the only part of Italy that is officially bilingual, thanks to its cobbled history—belonging at different times to the Austro-Hungarian Empire and to Italy. After World War II, it was decided that while it would remain part of Italy, the German-speaking population would be allowed a high degree of autonomy. For this reason the main language you hear spoken is German, and the street signs are all bilingual.
Bolzano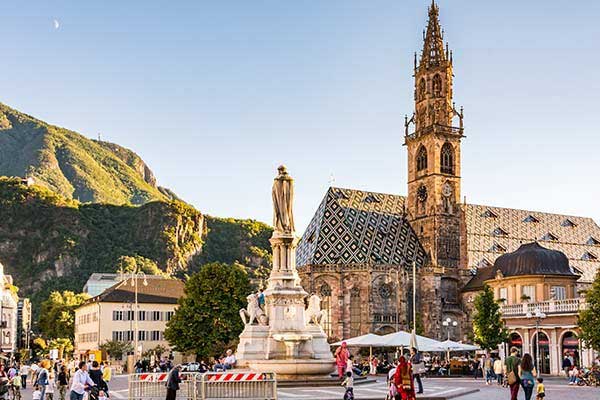 "I could live here" I crowed to Barry, soon after we arrived in the leafy town of Bolzano. As we wandered around the town's cobblestoned historical center, I kept wondering why I had never heard of it.
With a population of just over 105,000, Bolzano is built at the confluence of three rivers. The capital of South Tyrol, in 2014 it was voted the Italian city with the highest quality of life.
Bolzano is probably best known for the mummified body of a man who died some 5,300 years ago known as "Ötzi the Iceman." He was discovered accidentally by hikers in 1991 and is now housed in a unique cold cell in the South Tyrol Museum of Archaeology, where you can see him through a small viewing window. The museum also displays his copper-headed axe and the rest of his clothes, his bow and arrow, and much more, to help us understand life as lived in the Alps long before the pyramids were built.
Bolzano's Cathedral, or Duomo, dating back to the 4th century, has a green, white, and yellow diamond roof that stands out among the surrounding buildings. The city has a myriad of other churches, including the Gothic-style Franciscan church and arched convent, with its many frescoes and wooden altar.
Although the city's buildings are charming, what attracted me most was its ample green space. After strolling along the river Talvera, we sprawled on the grass under the branches of a big plane tree and listened to the sound of the running water. How could you feel any anxiety at all in such a serene, green environment? My only regret is that we weren't there in the fall. Next time.
Bolzano has other beautiful walks, notably the Guntschna-Promenade, located in the northern part of the city just off of Via Michael Pacher, starting near the old church of Gries. As you hike, you'll see views of the city and the surrounding mountains.
Merano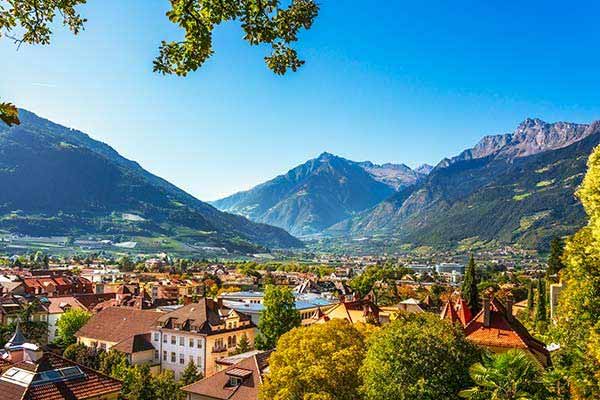 Another river town like Bolzano, Merano is more upscale and still feels like the spa town it was in the 19th century. Located within a lush basin, it is surrounded by mountain peaks that reach to almost 11,000 feet. You enter the old town through one of three 13th-century gates. I decided I wanted to live in Merano, too.
Many of the old hotels, restaurants, bars, and cafes are lined up along one side of the Passirio River, where, during the summers, people wade, leap from rock to rock, and picnic. At the end of the row of hotels, you'll find the thermal baths that brought Merano its fame 200 years ago. The Terme Merano offers 25 indoor and outdoor pools of different temperatures, saunas, a fitness center, and a bistro.
Merano is sheer candy for walkers, with paths and promenades abounding all over town and at different elevations. The Summer and Winter Promenades line either side of the river, the first winding its way beneath shade trees and the second past a covered Art Deco portico with paintings.
A longer walk is the two-and-a-half mile Tappeiner Trail, which leaves the city center and climbs upward, where you can stroll along looking down at the rooftops of town and stopping at different spots for a beer or a coffee. The trail is considered one of the legendary high walks in Europe.
Yet another route, Sissi's Path, is named for the popular Empress Elisabeth of Austria, who loved to walk when she sojourned in Merano during the late 1800s. This path takes you from the center of Merano up to Sissi's holiday residence at the Trauttmansdorff Castle, whose elaborate gardens offer a mix of alpine and Mediterranean vegetation, combined with panoramic views.
One day we took the cable car up to Merano 2,000, feeling very spoilt to glide over the treetops and not have to climb up 3,000 feet to enjoy the mountain scenery. At the top we found miles of moorland and trails, ranging from easy to difficult, not to mention pubs and restaurants dotting the landscape.
Trento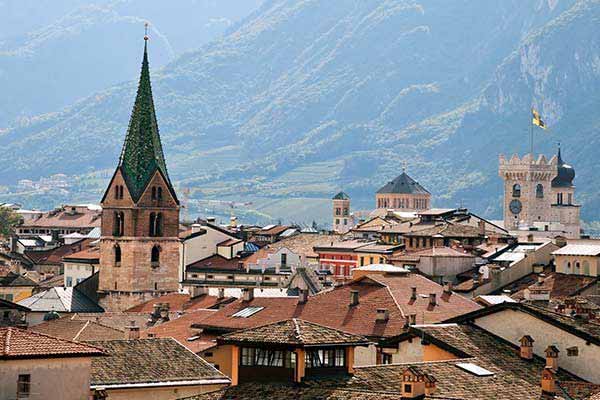 The city of Trento sits on the Adige River halfway between Bolzano and Lake Garda. It has a picturesque medieval and Renaissance historic center, almost entirely car-free. The town boasts an extensive and well-preserved underground Roman site, Tridentum, which includes fortification walls and remnants of mosaics and courtyards. It also has a modern science and natural history museum, Muse, each of whose six floors represents a chapter in the history of evolution.
Hundreds of miles of dedicated bike routes surround Trento. You can cycle through fruit orchards and vineyards toward Bolzano, or in the opposite direction toward the northern edge of Lake Garda. We had our own folding bikes, but the Tourist Office can direct you to a bike rental shop if you want to rent a bicycle.
My favorite thing to do was…well, not a lot. Simply stroll around the narrow pedestrian streets and small squares, loiter over espressos in different cafes, and pretend I had retired to Trento.
So many beautiful places to live. Trouble is, I can't live everywhere. But if I were going to move to Europe; Bolzano, Merano, and Trento would all be at the top of my list.
Related Articles
The World's Best Places to Retire
Europe's Top 5 Affordable Retirement Havens
5 Places in Europe Where You Can Retire on $35,000 a Year
Upcoming Conferences
The Only 2023 Fast Track Costa Rica Conference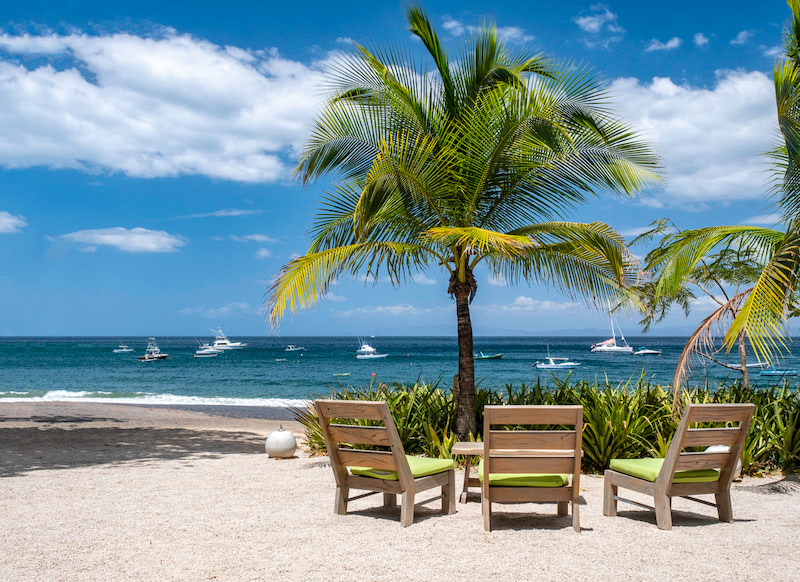 If your dream retirement involves stunning beaches… lush green mountains… a perfect year-round climate… first-rate healthcare… incredible value for money (a couple can live well on $2,109 a month—including rent!)...
Join our Costa Rica experts and expats in June and discover true Pura Vida.
REGISTER NOW, SEATS LIMITED: EARLY BIRD DISCOUNT HERE
---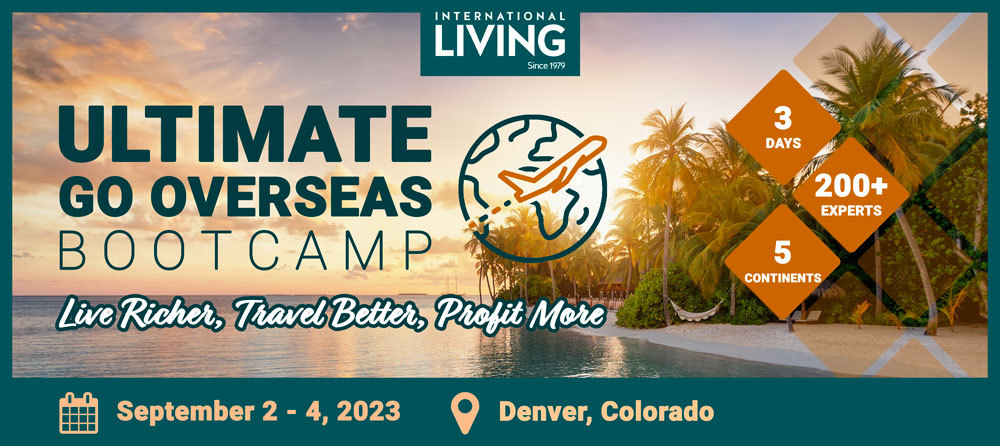 Most Popular Products