"Don't get us wrong, we do miss Toronto sometimes," Jennifer Roberts says, "but I certainly don't miss the winters. We love it here, and the expat communities are thriving."
Jennifer, 63, and her husband Steven, 61, live in the calm, residential area of Holland Village, just 15 minutes' drive from Singapore's central Marina Bay. They moved here just over three years ago from Canada, and have no plans to return.
We're currently sitting in a shaded, bohemian outdoor restaurant. The air is warm and pleasant, and the smells drifting on the breeze from the mouth-watering dishes in front of us make me never want to leave.
One reason that the city-state of Singapore is such a popular destination for anyone looking to move to Southeast Asia is that Singapore prides itself on being Asia's most modern city. English is one of the small island's four official languages. That fact, along with First-World amenities, beautiful weather and landscapes, high quality of life, and favorable exchange rate, is a compelling reason why many Western expats decide to make Singapore their new home.
It's a great lifestyle, and the food is superb.
"It's such a great lifestyle, and the food is superb," says Steven. "Try this!" He pushes a dish of the most succulent black-pepper crab imaginable across the table.
Holland V, as it is often called, is a favorite residential area among expats for its variety of restaurants featuring cuisines from all over the world, including plenty of choices from the Americas and Europe. It's a quiet neighborhood but with enough going on to keep you entertained.
"It was fairly easy to relocate here" says Steven, throwing his arm wide to include the surrounding view. "Singapore has a diverse culture, great shopping, and modern amenities. And it's safe. I guess that's why there are so many prosperous expat communities here. Approximately 25% of Singapore's population is made up of foreign workers or expats. We've met lots of people and easily made new friends. Plus, there are helpful expat groups from Canada or the U.S. which help you with relocation advice."
"We've made several local friends through work and our gym too," Jennifer adds, "as well as many from across the expat communities." Jennifer is currently working in finance for a multinational company, and Steven works as a freelancer in website design.
"Singapore doesn't offer a retirement visa option, so if you want to move here you need to find work," explains Jennifer. "We got a work visa, but some people we know got an entrepreneurship visa or made a large investment to gain long-term access to the country. My employment permit was achieved through being hired by a company here in Singapore. We applied for permanent residency after one year of living and working here, so now we're sorted!" (Permanent residency is valid for five years between renewals.)
After lunch, we hop in a taxi and head toward Marina Bay Sands, one of Singapore's most famous hotels due to its being the home of the world's largest rooftop infinity pool. It's also got spectacular views over the bay. On our way we pass a local food court, teeming with locals, where we stop off for some delicious (and very cheap) fresh smoothies and some excellent street food.
Because it's arguably the premier economic superpower and technology hub in the global southeast, Singapore can be on the expensive side, but the benefit of this means it has a thriving, cosmopolitan culture, where you can find a blend of people from all over the world. Realistically, you can expect to spend around $2,000 a month to maintain a basic lifestyle (including paying $1,000 or more in rent per month to live in one of the popular areas).
Utilities average around $170 to $200 per month, and a meal at a mid-level restaurant will cost about $30 to $40 per person. If you do decide to work while living here, that should not be too difficult, as salaries in Singapore are higher, on average, than they are in most areas of the world. The average monthly salary after taxes is nearly $4,000, so all is relative.
Tourism is a booming major industry in Singapore. There is plenty to see and do. Forbes currently lists Singapore as the fourth most-visited city in the world, and almost 15 million people visited the city-state last year.
And while Singapore draws people from all over the world partly because of its exciting urban glitz, its well-maintained parks and seafront areas still offer the natural beauty of the tropics. And to complement its high-rise glamor, the historical sectors of town display fine colonial architecture from its history as a trading hub at the crossroads of Asia.
Singapore now acts as the international airline hub of the region, providing convenient access to low-cost flights all over Asia and the rest of the world. The majority of its residents live in new, upscale apartments, but somehow the high-rise buildings don't affect the tropical paradise feel of the city-state. As Jennifer and Steven have found, there's a lot to love there.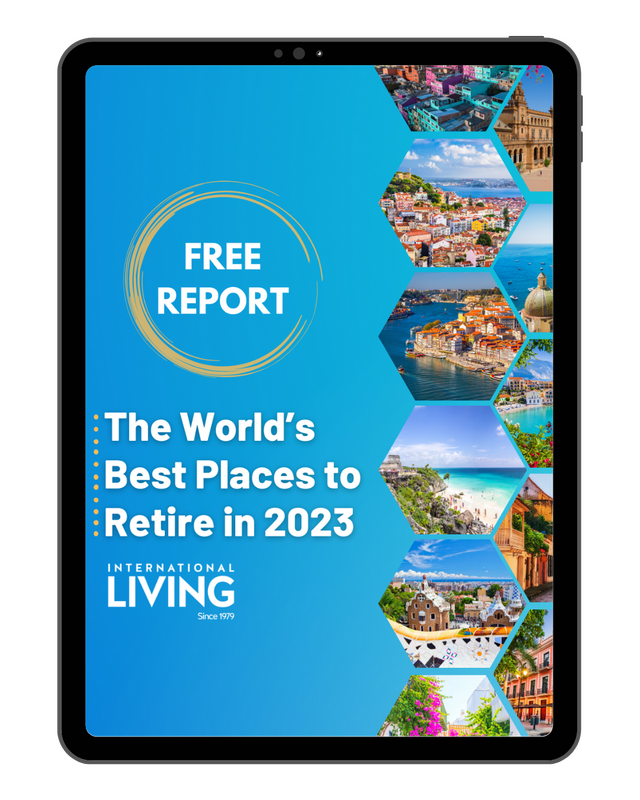 Get Your Free Report on the World's Best Places to Retire:
Learn more about the best places in the world to retire in our daily postcard e-letter.
Simply enter your email address below to sign up for our free daily postcards and we'll also send you a FREE report on The World's Top 10 Retirement Havens, plus access to over 10 more free reports. Our gift to you, on our favorite destinations.
Related Articles
The World's Best Places to Retire
5 Great Places to Retire Where it's Easy to Fit In