Last week, I put boots on the ground in Portugal's Algarve…
My scouting trip got off to a whirlwind start…
I uncovered bank foreclosure deals…found an overlooked opportunity in a luxury resort in the Central Algarve…and in a moment I'll tell you why a wrecking ball could deliver a double-your-money deal to members of Real Estate Trend Alert.
I based myself in Vale do Lobo—one of Europe's premier beach and golf resorts.
All around me were homes that could sell for multi-millions—from €2.5 million to anything up to €25 million.
But as I recently explained, I managed to buy a condo here with a partner for €410,000. I've seen the same unit type listed for over double that at €830,000.
And I bought with 100% financing at extremely low rates.
Now this condo is renting for €3,500 a week in peak season.
It was an extremely lucky find. But luck was only one factor…
Pound the pavement for long enough, knock on enough doors, make the right contacts, and you will eventually uncover a stupidly profitable deal. That's why I spend six months of every year on the road…
In the case of Vale do Lobo, I struck gold thanks to a bank contact who let me know she had access to a little portfolio of bank foreclosures.
I looked at all 11 available units…but only one was a standout deal.
With bank foreclosures, it's very much a numbers game. 99% of them don't add up. They're in the wrong place, not attractively priced. But every now and again you find a nugget in the middle. Prime inventory that the bank priced wrong.
Like I say, I can rent this place for €3,500 a week in peak season. But I want to improve on that. That's one of the reasons why I'm staying in my own rental this week. I'm taking it for a test drive and seeing where the experience can be improved. As I explained in a report I sent you last week— called A Lifetime of Income: How to Turn Real Estate into a Money Machine—even if you're hands off with your vacation rentals, you should still pay close attention to your rental manager's performance.
Right across the Algarve, luxury real estate is on a tear. In the high-end resort of Quinta do Lago you would have paid €1.6 million for a tear-down property just two years ago. Today, it easily cost as much as €5 million.
A surge of demand is driving incredible appreciation in the value of land in most luxury resorts. But I've uncovered an anomaly that could potentially deliver a ground-floor opportunity.
On Tuesday I visited Palmares Ocean Living and Golf Resort. It's a resort that's been in existence for a few decades. But a couple of years ago it was bought by a major Spanish group who are completely transforming it to compete with Quinta do Lago and Vale do Lobo.
In my opinion, Palmares is much nicer. It has amazing ocean views, a stunning beachfront golf course. You've views of the historic beach town of Lagos on one side and views of Portimão on the other. It's super high-end, tranquil, as luxurious as you'll find anywhere in the world.
But here's the thing: Brand awareness hasn't yet kicked in. And that's reflected in the pricing. We can buy at half the price you'd pay in Quinta do Lago. And like I say, what we're getting here is arguably nicer.
I've already started pursuing a RETA-only deal here for members. This is a ground-floor opportunity. A chance to buy something truly special, that taps into a sweet spot here on the Algarve, where we can get in before prices soar.
You can check out a brief scouting video I shot in Palmares here: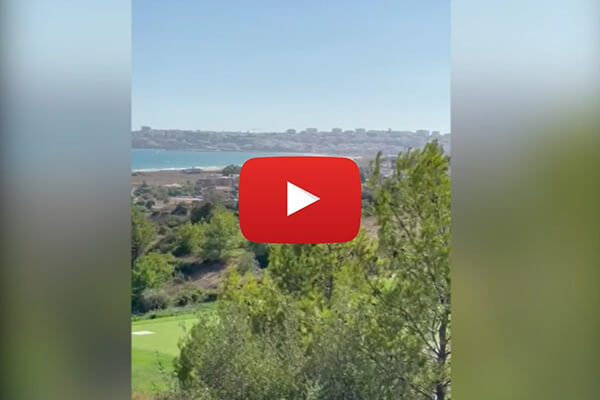 Meanwhile, in the beach town of Lagos, the huge surge in demand continues. Demand for resales…as well as demand for rentals. And the scarcity is acute.
Last year I recommended condos in the Adega building to members of my Real Estate Trend Alert group. I got word this week of a RETA member who got a soft offer on their condo in the Adega community that could hand them €160,000 in profits.
I'm more bullish than ever on our opportunity here. In Adega, another RETA member has just moved in—even before the communal areas are finished. Other projects where members bought—the landmark projects of Dona Maria and Santa Maria—are progressing fast. And I'm very impressed by what I've seen in terms of the attention to detail from the developers.
Members who bought in Lagos are set to do very well.
And our opportunity there looks set to continue, thanks to a timely visit from a wrecking ball.
Here's why:
Lagos has had a huge eyesore in a prime location for 38 years. It was a giant project that got abandoned half build, and ever since it has sat there unfinished.
Well, this week it got torn to the ground to make way for a new luxury hotel and resort community. It's going to be a game changer for Lagos, raising the profile of the area, bringing in more tourists, and driving appreciation.
The thing is, a developer contact who has already delivered some of our best deals in Lagos owns the adjacent land. He has been sitting on this land for years, waiting for the eyesore to be removed.
Now he's planning a project for the site, and I want to make sure we can get a RETA deal there.
Getting a discount won't be easy. This is a crown jewel piece of land in a strong market. The negotiation will be tough. However, it is a relatively big project, with 300 to 400 units planned. That means RETA's group buying power could be very attractive to the developer. He'll want to get as many early sales as he can, even if it means giving RETA deep discounts.
(If you want to ensure that you can get in on this, and any other deal that I find in the Algarve in the coming weeks and months, you need to be a Real Estate Trend Alert member…you can sign up right here.)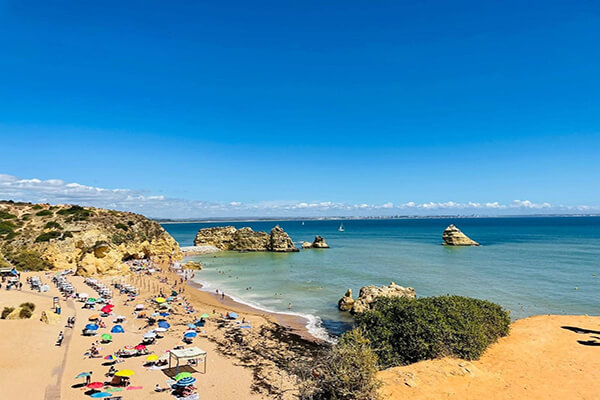 I also spent time in the ancient city of Silves, the former capital of the Algarve. It's a traditional Portuguese town with whitewashed walls, terracotta roofs, overlooked by a large, fortified castle.
On the edge of town, I found potential opportunity…
About a mile and half from town, you'll find a verdant garden setting with comfortable and spacious town homes and condos at prices unheard of in this area for this size. I'm talking in the range of €250,000 to low- or mid-€300,000 for very spacious two-bed condos with plenty of outside space, just minutes from Silves about 10 minutes from the beach, and just a short drive from Portimão.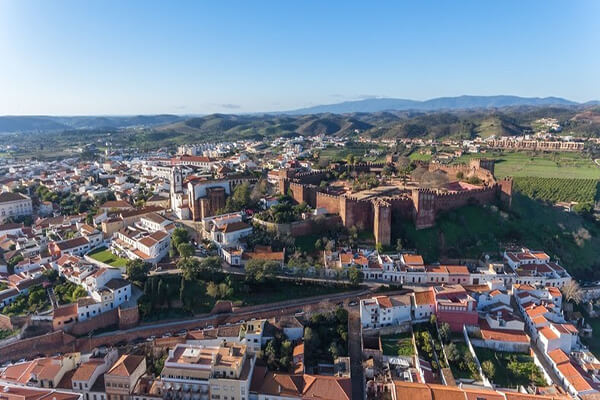 We have a lot to look forward to on the Algarve.
But truth be told, I can't wait to get back to my home on the Silver Coast. I bought my condo there last year for €300,000 ($366,262). I moved in last April, and then handed my keys over to a rental manger before I left for Ireland in June.
I'm looking forward to the wild and empty beaches…the cool Atlantic breeze…the quaint towns and finishing villages—and not a luxury car dealership in sight.
It's a very special place. And one that's also proven far more profitable than I ever imagined.
The Silver Coast is not an internationally well-known region. It's quiet. Tranquil. A place where you can walk along vast stretches of beach and never meet a living soul. Yet, my bank account tells me that it's more popular than I first thought.
Since June, my rental manager has been dropping rental income into my account. And in just 10 weeks, I've seen over $10,000 in profit.
Not bad for a property that was bought as a lifestyle investment.
When I get back to the Silver Coast, I'll be hunting for more deals.
P.S. Portugal is just one of the locations on my beat where I'm looking for real estate deals for members of my RETA group. Panama…Mexico…Costa Rica…Spain…they are all in my sights. The major benefit of joining my group is the exclusive access you'll get to any future deals I uncover…but you must be a Real Estate Trend Alert member. No one else can act on these deals. Be sure you are signed up and ready to act when the deal that's right for you comes along.
Get Your Free Real Estate Report Now
Sign up for our free daily Postcard e-letter and get a valuable free report on the The 5 Best Places to Buy Real Estate In 2023.
Related Articles
I Spend My Summers Living Like a Tourist in Lagos, Portugal