As I told recently, there's a lot to like about Uruguay...
It's stable and prosperous. It's First World, with an emphasis on banking privacy, and a business-oriented government.
As a global safe haven, it's a place where smart money goes in times of uncertainty. A place where you can diversify, protect your wealth, and still be exposed to the kind of double-your-money opportunities that we look for at Real Estate Trend Alert.
I've been seeking opportunities in this little South American safe haven since the earliest days of RETA. And this latest deal I've secured is one you don't want to miss.
For a limited time, you can own an ocean-view, walk-to-the-beach lot in an exclusive up-and-coming coastal region that's being called the "Hamptons of South America"…from just $664 a month.
Our opportunity is in Rocha, a region known for its unspoiled cream-colored beaches and quiet interior of lagoons, pampas, forest, and farmland.
Rocha is not a place of sprawling residential communities, big shopping malls, or looming condo towers. It's an unspoiled escape.
It's the polar opposite of busy Punta del Este, the major resort destination about 1.5 hours' drive to the west that has long catered to the world's rich and famous but also draws huge crowds of everyday folks who want to be close to them.
In high season, Punta's population swells from less than 10,000 to around 400,000.
That's why many of the jet-set crowd are heading to Rocha—it's an idyllic, under-the-radar escape.
Rocha, known for tiny beach towns and sleepy fishing villages, is squarely on the Path of Progress heading east out of Punta. And, as a result, is in the midst of a major transformation that I've been tracking since 2007.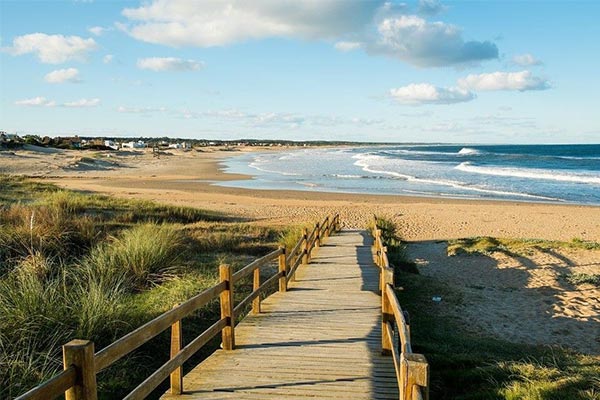 Our lots, starting from just $664 a month (with the interest-free financing I've negotiated with the developer), are steps from the beach in the emerging vacation hot-spot of Rocha, on the country's Atlantic coast. As normal travel starts up again, I expect these lots to double in value in the next few years as the area continues to attract attention.
You see, Rocha has emerged as an alternative to the busy resort town of Punta del Este to the west…and, as infrastructure improvements make access easier and easier, more and more of the jet-set crowd seeking a more low-key getaway are starting to catch on to Rocha's charms: the unspoiled beaches, natural reserves, low-density development, and cute little towns.
This should drive up demand…and prices.
I struck a deal with the developer of the master-planned community where our lots are located, to offer the remaining properties for a bargain price, with discounts and interest-free financing available.
With financing, the lots we can own from just $664 a month, are fully paid for within 48 months…
We are able to get on these lots at a such bargain price because the developer bought the land in the early 1990s, before Rocha was on anybody's radar. One parcel he purchased, for example, was a potato farm. He paid $1,500 per hectare (around $607 per acre). That's a steal for land with ocean views that's a short stroll to the beach. Today, if you could find a parcel of land with these characteristics in the same area, someone looking to create a similar development would pay 10 to 15 times more.
Thanks to the growing popularity of this region with those in the know, I predict these lots will experience capital appreciation—and double in value—even if you do nothing with the land in the next few years.
If you do choose to build, you could bring in a healthy rental income due to a lack of accommodation that meets the standards of wealthy visitors. And you can always visit yourself…perhaps live in Rocha part-time or full-time.
Like I say, simply owning here is a great way to protect your wealth, the capital gains and income potential are just gravy…
RETA members can read my full report on the deal right here in their April issue. When I published that story last month, our price was $579 a month. Those lots got scooped up fast, but we still have limited inventory available from $664 a month—still an incredible deal.
Read the report and inquire about availability here.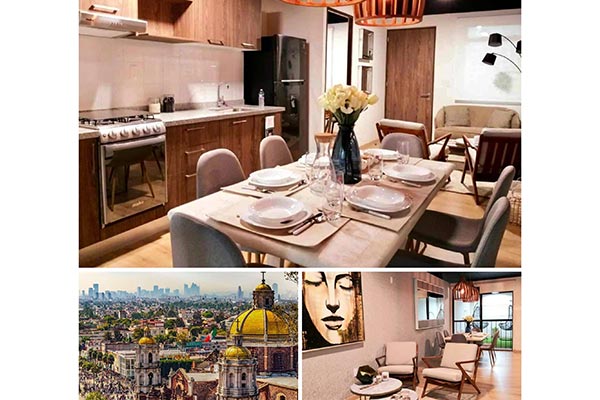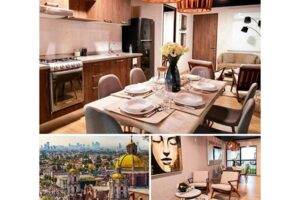 Although a sprawling metropolis (it's home to 21 million people), Mexico City is one of those places with bags of culture and vibrancy. In the Azcapotzalco neighborhood is this new two-bed, one-bath condo. It has an open-plan kitchen, living, and dining area with access to a balcony. The building it's in has an elevator, a gym, and shops on the ground floor. If you want to get your big-city vibe on, they don't get much bigger than Mexico City.⁠⁠
Remember, we don't make money from any listing shared here in the Your Daily Dream Home section. We have no dog in the fight. We're just sharing cool properties we've found.
I haven't visited this property or done due diligence on it. If you're interested in the listing, you should hire an attorney and do your own due diligence.
Get Your Free Real Estate Report Now
Sign up for our free daily Postcard e-letter and get a valuable free report on the The 5 Best Places to Buy Real Estate In 2023.
Related Articles
A Luxury Island Home in Panama City
Portugal's Silver Coast Bargains?
How Much is an Ocean View Worth to You?