In the evening it's sunset and drinks from your spacious terrace…
The views are spectacular. A vast sky painted in shades of orange and violet hangs over a shimmering Pacific Ocean. The soft sea breeze stirring the desert palms in front of you.
In the distance, you see El Arco silhouetted on the horizon. It marks the spot where the Sea of Cortez and the Pacific meet. An ancient formation of rock carved by winds and waves.
Everything about your life in Cabo is shaped by the sea and the spectacular beauty all around you.
Golden-sand beaches fringe a desert landscape, with the fingers of giant Cardon cacti (some of which are 500 years old) pointing to the bright blue sky overhead.
The desert is a place that feels primeval…unspoiled. Where you can get back to nature. At night, the glimmer of millions of stars lights up the dark skies, a magical experience.
And you can watch it all unfold right from your condo…
In fact, the luxury condos RETA members can lock down are all ocean-view, and in an incredible amenity-rich community…
You can lounge in the community's infinity pool…sit on your terrace with an ocean view…there's a state-of-the-art gym planned, a co-working space…a solarium…massage rooms…
And all from just $188,200. A price that's unheard of in Cabo for this kind of community.
Step outside the gate and you have immediate access to the wealth of activities Cabo has to offer…
Cabo is a marine paradise and a beach-lovers dream. You can snorkel, paddleboard, fish, or just sip a drink on Medano beach and watch whales frolic yards from shore.
When I stay in the winter, I love to golf. It's world class, and one of the reasons why I'm based in Cabo part of the year.
Another is the weather. Cabo has 320 days of sunshine per year. And in the winter I'm never too hot, too humid, nor cold. Always just right.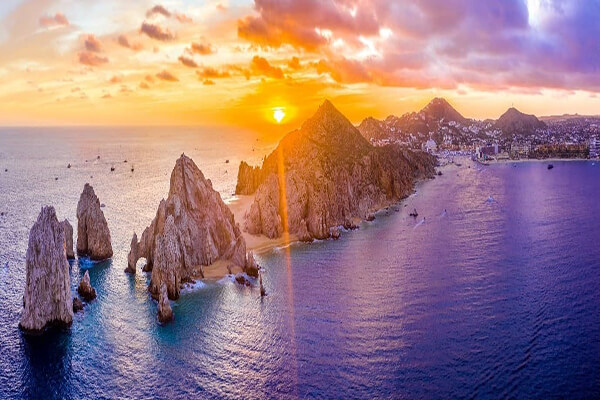 It's not surprising that our deal is among the most highly anticipated RETA deals I've ever brought you.
In no small part that's because of how tough it is to get the right kind of deal for our group in Cabo. All the factors that have created a critical shortage of quality real estate in Cabo make our deal even more special—water scarcity, building restrictions, rising land costs, and rarity of land with ocean views.
Demand was exploding before the pandemic, but now it's gone totally crazy. I predicted this squeeze on the supply of real estate years ago but the pandemic has just accelerated everything.
Now is the time to get in. Frankly, there might never be another. I've been working for over a year on this. Like I say, the right deals in Cabo are hard to get. Deals that give you best-in-class ocean views for prices as low as ours—and offer such enormous gains and rental potential too…
To get a sense of how good our price it's worth looking at a comparison…
Right across the road from our opportunity is Tramonti, where prices start from $326,000 and go up.
Here's a listing for $475,000. It's a penthouse. When our deal opens, RETA members can get a penthouse from just $249,800.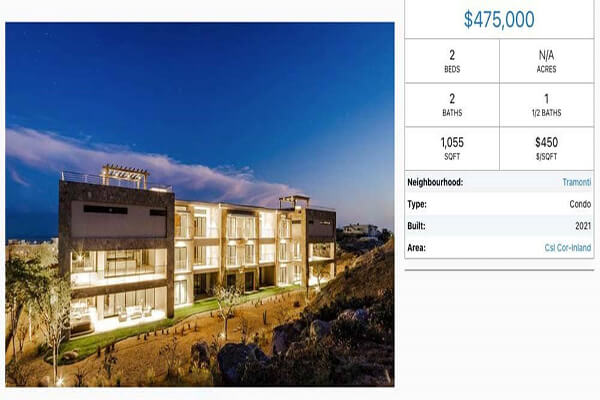 When folks on the Cabo real estate scene hear about our insanely low price, they're not going to believe it.
I already own in Cabo, but there's no way I'm missing this deal. I'll be getting in right alongside RETA members.
I'm predicting the condos we can own for $188,200 will easily be worth $330,000 three years after delivery. (As it stands, like I say, luxury two-bed condos across the road list for that price right now and more.)
My predictions could end up being dwarfed in just a few short years but I like to err on the side of caution.
As for rentals, well, I reckon you could rent for $2,200 per month long term. That's a gross yield of nearly 14%…renting long-term. I figure you could make more or less the same gross yield renting short-term for less than half the year (10 weeks at $1,500 plus 15 weeks at $1,000). But as travel rebounds and the full true post-Covid world emerges, I expect the short-term rental rates and occupancy to be significantly higher. And the amenities you get with this deal will be hugely appealing to renters.
Before the pandemic, tourism was booming in Cabo. In 2018 passenger numbers at the airport were up nearly 7% on the year before. 2019 saw the same increase again.
Now, in the wake of the pandemic, tourism is bouncing back bigger and faster than before. Airport authorities say even more passengers came through the airport in March 2021 than in the months before the coronavirus outbreak.
In May, a TripAdvisor survey showed two thirds of Americans planned to travel this summer and Cabo was in the top 10 destinations.
Millions of folks can work from anywhere and Cabo is already flooding with professionals, young and old, single and with families, all with laptops in hand looking for rentals…looking to buy…
At the same time as this surge in people coming it's getting easier to do that. Even while the pandemic rumbles on we have new air routes announced. For instance, direct flights to Cabo from Las Vegas and New York. And bear in mind, Cabo is just a drive away from 24 U.S. cities. (I have neighbors in Cabo who drive from Ontario and Alberta in Canada.)
This all means you have options. And my own personal choice with my own Cabo condo is to spend a few months enjoying the Cabo lifestyle and then rent monthly when I'm in Europe and scouting elsewhere.
Like I say, I'll be buying alongside RETA members for the second time in Cabo. The first time I did so was back in 2015, and I'm now sitting on six figure paper gains from that deal, along with rental income.
We've waited a long time for the deal we have now in Cabo. Deals here are incredibly hard to get.
If you're not a RETA member, and don't want to miss out on future deals like this, sign up here.
Your Comments and Questions
Alexa says: Hi Ronan. My husband and I plan on spending a month exploring Italy next summer primarily between Rome and Florence. We want to explore the possibility and best locations in Umbria or Tuscany to purchase a home that can be used for vacations for us and rental during the months we are back in the States.
Are all transactions strictly cash or is financing a possibility? Also does one have to apply for dual citizenship if planning to own and operate that type of entity in Italy?
Thank you in advance for your response.
Ronan says: Hi Alexa. Financing is very much an option when buying in Italy. The procedures for applying for a mortgage as a non-resident doesn't vary much than for Italians, so long as you meet the requirement.
You can buy a house in Italy even if you are not resident or you're not an Italian citizen.
However, I'd suggest consulting a local attorney regarding rental arrangements. By default, renting out a property in Italy means earning an income on Italian soil and so you are liable to pay Italian taxes on that income. You'll also need to register with the local municipality, the local Questura (police), and the relevant regional offices.
Get Your Free Real Estate Report Now
Sign up for our free daily Postcard e-letter and get a valuable free report on the The 5 Best Places to Buy Real Estate In 2023.
Related Articles
The 15 Best Places to Invest in Real Estate