Casco Viejo.  Panama Canal.  Volcan Baru.  So many popular attractions throughout Panama that are enjoyed by tourists and residents alike. However, there is one more fascinating experience which is less touted but no less exciting.
Following a spectacular and picturesque path from Panama City on the Pacific side to Colon on the Atlantic/Caribbean side you will not only gaze upon stunning scenery in style and comfort but will learn the fascinating and colorful history of this country. Ride the train, following the same path as the people of old did during their quest for fortunes during the California Gold Rush.
This magnificent journey offers stunning scenery as it takes you by the Panama Canal through the famous Gaillard Cut, and over causeways in Gatun Lake. But its history is just as engrossing. The historic and economic importance of this railroad cannot be measured. It is the result of men who recognized the necessity for an interoceanic route across the Isthmus of Panama.
The discovery of gold in California was the catalyst which finally set these wheels in motion. Thousands of would be miners and speculators set off from Europe, Asia, and beyond to seek their fortunes. Fiebre del oro or gold fever had become an epidemic.
There had to be a way to cross the Atlantic to San Lorenzo in Caribbean Panama, trek across the fifty miles of Panama to the Pacific side, from there taking another ship to California.
Forward thinkers William H. Aspinwall and George Law proceeded to establish a steamship line, making this possible. The next step was finding a way to cross the formidable and treacherous jungle. Hence, Mr. Aspinwall proposed to build a railway for this purpose. On April 15th 1850 the contract for the Panama Railway Company was signed and construction commenced.
It was a horrendous, dangerous, and life-consuming task. Workers were brought in by boatload from all parts of the world. Sickness took a terrible toll. Cholera, dysentery, yellow fever, smallpox, and more, all with no known prevention or cure.
In 1852 a large military detachment from the United States, accompanied by their wives and children, made the crossing in order to take up garrison duty in California, but it ended in tragedy. About one hundred and fifty perished. The young officer in charge was to become a future president of the United States, Ulysses S. Grant.  "The horrors of the road in the rainy season are beyond description," he wrote.
It was necessary for food and materials to be shipped thousands of miles as the young country was without resources. Slowly and painfully, at great cost to the lives of the workers, the track was laid and train cars were purchased. Forty-seven miles of railroad had required one hundred and seventy bridges and culverts of fifteen feet or more, and one hundred and thirty four bridges with culverts of less than fifteen feet.
On January 28, 1855 the world's first transcontinental train ran from ocean to ocean. The massive undertaking was a reality. The Panama Railroad marked one of the greatest achievements in the world, and a glowing memorial to its visionaries and builders.
The gold seekers continued to pour in, resulting in a period of affluence and importance for Panama. The eyes of the world were focused on her. What followed naturally was the behemoth canal project.
The building of this railroad put the spotlight on Panama as the perfect place to build such a canal. All the hurdles endured by the railroad engineers served as a beneficial education in the problems of the terrain and climate for those building the canal.
Due to the building of the canal locks, it was necessary to construct an entirely new railroad at a higher elevation and this was completed in 1912. However, also due to the canal, it gradually became redundant and sadly, it deteriorated and fell to ruin.
In 2001, after an investment of $80 million it was reborn as the Pacific Canal Railway, open to passengers and freight.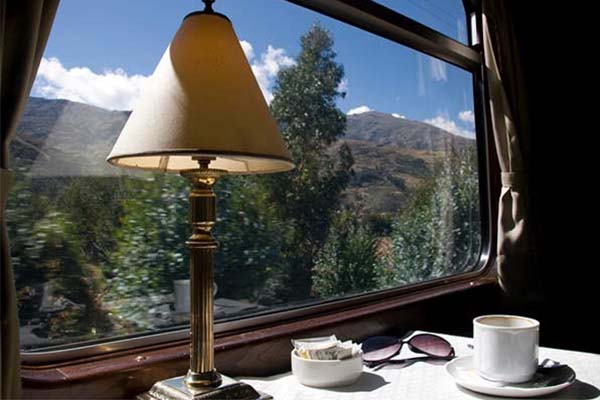 There are five cars currently in operation, one of which is a remodeled 1938 Southern Pacific Dome Car, which allows passengers the thrill of having a panoramic view, not only through the windows but through the giant dome above. The historic ambience of the railroad cars has been duplicated with rich wood paneling, plush carpets, muted lamp lighting, wooden blinds, and open air viewing decks. As a nod to current times, modern bathrooms and air conditioning are a welcome addition and all the cars have a snack service.
It serves as transportation for tourists travelling from Colon's cruise terminals to Panama City. In addition to tourists the daily service caters to business people commuting between the two cities.
There are two passenger stations, one in Panama City in the area known as Albrook, which also includes a museum, and the other in Colon, once called Aspinwall.  Departure from Panama City is at 7.15 a.m. daily and from Colon at 5.15 p.m.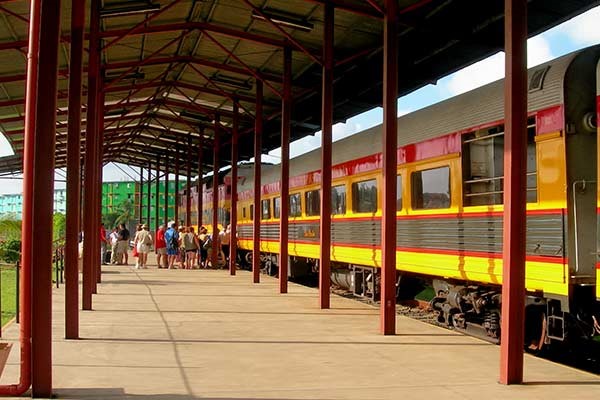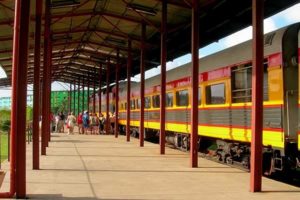 The train can also be chartered for private meetings, dinner parties, and field trips. Imagine hosting a fake murder mystery or stage show aboard the train.
In 2001 the railway was upgraded to handle large shipping containers, thereby complimenting the canal cargo transport.
Many tour companies offer tickets and bookings can be arranged online. Trips can also be booked through all the major cruise lines. In fact the railroad tour was once awarded Best Shore Excursion by Princess Cruises.
This luxurious mode of transport offers not only a journey through lush rainforests, and breathtaking terrain but a comprehensive glimpse into the fascinating history of this amazing country.
Get Your Free Panama Report Here:
Learn more about Panama and other countries in our daily postcard e-letter. Simply enter your email address below and we'll send you a FREE REPORT — Panama: Easy, First-World Living and the World's Best Retiree Program.
This special guide covers insider advice on real estate, retirement and more in Panama. It's yours free when you sign up for our IL postcards below.
Related Articles
The Best Places to Vacation in Panama
An Overview of Traditions and Culture in Panama
Most Popular Facts About Panama
Upcoming Conferences
Make 2023 Your Best Year Yet. Discover Panama with International Living

Panama has it all: beaches, mountains, a world-class capital city, top-notch, low-cost healthcare and the "World's Best Retirement Program" that makes the already low cost of living even more affordable.
Join us for International Living's Fast Track Panama Conference to see all that Panama offers. There's no better place to be and no better way to make 2023 your best year.
Most Popular Products