Panama is a little powerhouse in more ways than one. It's a bustling business destination, home to the Panama Canal and Tocumen International Airport, known as the Hub of the Americas. It's easy to travel here, and there are so many beautiful vacation spots, visitors are spoiled for choice.
I've been living in and writing about Panama for over a decade, and I haven't gotten bored yet. Far from it. A few hours travel can get me to exciting places like the Darién Jungle or quiet little havens like Isla Contadora. Scientists, adventure seekers, ecotourists, luxury travelers…there's something for everyone in Panama.
Visiting for the first time? Here are three incredible destinations that show three different sides of Panama.
The Best Places to Vacation in Panama: The Islands
At the top of my list are the Caribbean islands of Bocas del Toro, near the Costa Rica border. The unassuming main island, Isla Colón, is home to a little party town, also called Bocas del Toro. A little-known foodie destination, tiny Bocas is home to great restaurants, including Om Café, The View at Oasis, and Buena Vista.
Here's a little tip: The province, the archipelago, and the provincial capital all share the same name, so the latter is referred to simply as Bocas Town to avoid confusion.
Bocas Town occupies a tiny portion of the island—you can walk, bike, ride the bus, or hail a taxi (both land and water taxis are available) to explore the rest. From Bocas Town to Big Creek to Bluff Beach, you'll find little inlets and beaches, secluded eateries, and plenty of places to stay.
It's quintessential Caribbean, with turquoise waters, exuberant green foliage, and, yes, some rainstorms, too. (There are never hurricanes here, as all of Panama is outside the hurricane belt.) Sometimes there are brief power or water outages, but it's worth it to be somewhere this uncrowded and unspoilt.
I usually spend a couple nights in Bocas Town. During the day, you can book tours to surrounding islands and snorkel spots. Hospital Point, Coral Cay, Starfish Beach, and Zapatilla are some of the most popular ones, and with good reason.
After a few days in town, I like to spend a couple nights somewhere quiet, like Jungle Paunch, where the only thing you'll hear at night are the howler monkeys as they move through the rainforest canopy.
If Bocas doesn't sound like your cup of tea The islands of Guna Yala, formerly known as the San Blas islands, may be more your speed. They tend to get more media attention. And they are undeniably among the most beautiful places on earth. For me, I like a place with nightlife and great restaurants. But if you're looking to really and truly get away from it all, then by all means, book a stay in Guna Yala.
Here, the Guna (formerly spelled "Kuna") live much the way they did when the Americas were first "discovered." The Guna have their own autonomous government and they are diligent about protecting their reserve lands, allowing only low-impact, sustainable tourism. You won't find any big-name resorts here—only eco-friendly huts and small hostels.
Remember, you'll be in traditional dwellings (typically with mosquito netting over beds) no matter where you stay in Guna Yala. Don't expect upscale cuisine or air conditioning…and don't "bug out" if there are a few bugs.
Highland Vacations in Panama's Boquete Region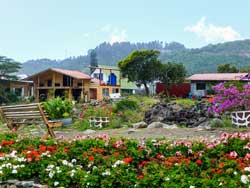 Once you've had your fill of the beach, consider a visit to the little mountain town of Boquete and neighboring towns like Volcán. You can drive there from Panama City—it takes about seven hours—but I prefer to fly an hour to the city of David, then take a short bus ride or rent a car.
It's a 40-minute drive from David to highland towns like Boquete and Volcán. In Boquete, be sure to visit The Rock, the best restaurant I've been to in years (the views are jaw-dropping). Head to Volcán or Cerro Punta for strawberries and a thick, goopy cream called nata, or fresh mixed berry milkshakes…there are multiple stands but Dulces Caseros Alina's is the best-known. Just ask any local where to find it!
There's so much to see in this area, you'll have trouble choosing. You can visit ancient petroglyphs at El Nancito Archeological Park, see thoroughbreds at the famous Haras Cerro Punta horse farm, or hike through the bi-national La Amistad forest. If you decide you want to tackle the climb to the top of the 11,000-foot Volcán Barú or Barú Volcano, hire a local guide and make sure you're in excellent physical condition—it's the kind of hike athletes train for beforehand.
Panama City: Everything Rolled Into One
If you don't have enough time to explore the country, you can have a great little vacation right in Panama City. I lived here for 17 years—now I live at the beach, just an hour's drive away—and I love it.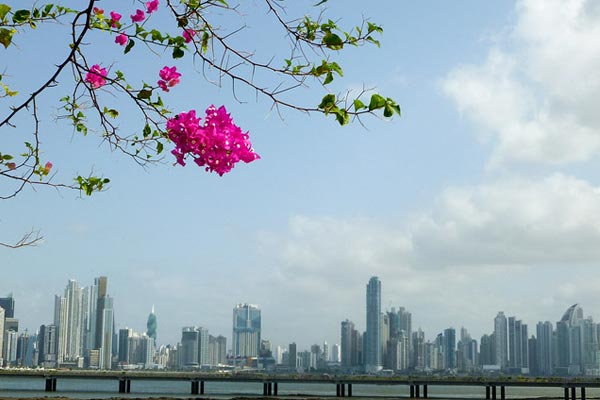 For a great weekend in Panama City, here's what I recommend: rent a beautifully restored colonial apartment in Panama City's historic quarter, Casco Viejo (Airbnb has several inexpensive listings). Spend a day or two exploring the stately plazas and enjoying the cool food and nightspot scene.
In Casco, Plaza Bolivar is my favorite spot to people-watch…it's lined with cafés and the site of the famous Salon Bolivar, where Simon Bolivar tried to create a league of nations and thus unify the region.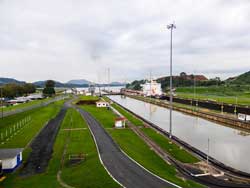 On any given evening in Casco Viejo you'll find venues offering live music, dancing, and more. Panama's art community is very visible in Casco and events here vary from film screenings to block parties and beer festivals. Restaurants run the gamut, from gourmet tourist traps to neighborhood dives (my favorite is microbrew pub Rana Dorada, there are several in and around Panama City).
You'll want to see the Panama Canal while you're in town, of course. The Miraflores Visitor Center is just a 20-minute drive from Casco. (Call ahead to see whether it's open.) Or for a nice day trip, book a ferry to Taboga Island. It's just 12 nautical miles offshore…perfect for a quick beach fix. When you get back, take a quick shower and get ready for another great night in the city.
Plenty of Panama City's neighborhoods are walkable, including Casco Viejo and El Cangrejo. For longer distances, I use the Metro de Panama or Uber, which is inexpensive and reliable. (I avoid yellow taxis in Panama City, as they have a well-earned, unsavory reputation. Outside of Panama City, however, I do use them.)
Go hiking or birding around Gamboa. Rub shoulders with friendly and beautiful people at trendy downtown bars. Try new and exciting foods. The point is, it's a convenient, modern city offering a huge range of activities…so just get out there and explore!

Get Your Free Panama Report Here:
Learn more about Panama and other countries in our daily postcard e-letter. Simply enter your email address below and we'll send you a FREE REPORT — Panama: Easy, First-World Living and the World's Best Retiree Program.
This special guide covers insider advice on real estate, retirement and more in Panama. It's yours free when you sign up for our IL postcards below.
Related Articles
An Overview of Traditions and Culture in Panama
Most Popular Facts About Panama
Pedasi is a Wonderful Place to Live for Ocean Lovers
Upcoming Conferences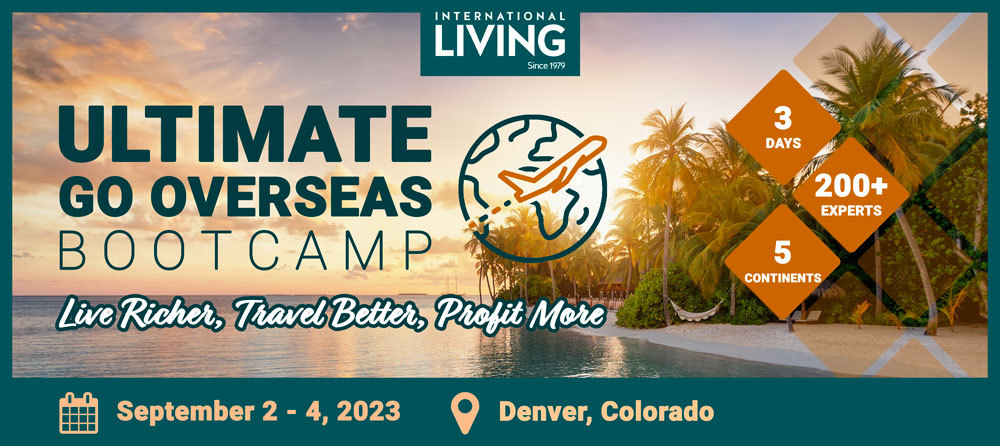 Most Popular Products