Most potential expat locations in Peru are separated by long stretches of desert, mountains, or jungle. With only 10 days to explore southern Peru, long bus trips would soon eat into your allotted time that could be spent exploring. For short visits, we recommend flying to make your time in Peru as productive as possible.
Ten days will give you time to become acquainted with the three southern locations that are most popular with expats; Lima, Cusco, and Arequipa. I've also included Machu Picchu in this itinerary since almost everybody who visits Peru wants to see this iconic site.
The weather is also a big factor as to when you travel. During the South American summer months (December to March), the coast is dry, sunny, and warm, but the interior mountain regions are rainy and wet. Come winter (May to October), much of the coast is cool and cloudy but is still quite dry for the most part. In the mountains, temperatures remain cool at night but days can be dry and warm. Only the far north is hot and sunny for most of the year.
Be sure to include time to research property rentals if this is something that may be of interest. This may involve speaking with a real estate agent and viewing a few properties, talking to other expats, or just hitting the pavement to see what you can find.
And check out the local markets and grocery stores. This will give you a good idea of how prices compare to those back home and allow you to roughly predict your food costs in any given location.
Keep all this in mind as you plan your trip.
10-Day Itinerary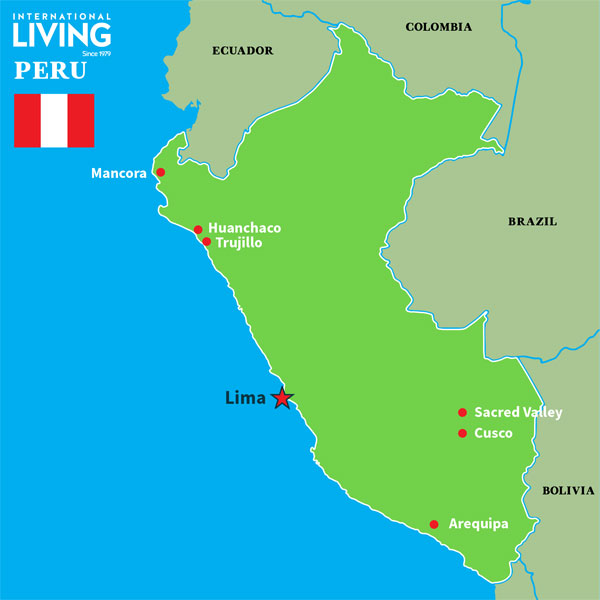 It's difficult to really experience what Peru has to offer if you only have 10 days. But this itinerary will still give you enough time to have a taste of what these three popular cities have to offer.
International flights head into Lima, the capital, so that is where any journey in Peru begins.
Day 1 and 2 – Lima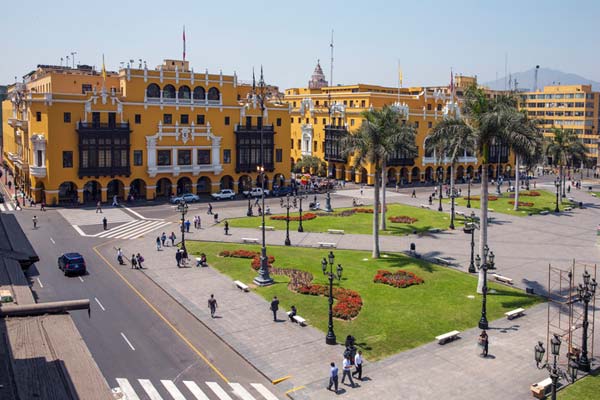 Spend a day in Miraflores, a popular waterfront area of the city. Enjoy a morning coffee at one of the many cafés located around the perimeter of Kennedy Park or visit nearby Manolo's (Larco and Schell) to sample some of the best churros you will find anywhere.
Then take a walk south along bustling Larco Avenue to the cliffside Larcomar Shopping Mall (website: www.larcomar.com) for a panoramic seaside view.
As you watch local parasailers gliding in the skies above the mall and the cliffs, you may be tempted to join in the fun. A popular takeoff point is located in a grassy field on the malecon boardwalk between Parque Raimondi and Parque del Amor, only a short walk from Larcomar. No reservations are necessary and the 10-minute tandem flights cost $85 as of this writing, including an HD video of the flight.
Take a stroll along the malecón, passing through the beautiful parks lining the clifftop walkway.
Spend the afternoon at the Larco Museum, where you can view over 5,000 years of Peruvian history, including a fascinating collection of pre-Columbian erotic pottery.
Dine on fresh seafood at the waterfront La Rosa Nautica (website: www.larosanautica.com) or choose from hundreds of other restaurants in the city.
On your second day in the capital, walk along the malecón from Miraflores to Barranco, the city's most romantic and bohemian district. You'll pass many gorgeous seaside condos, parks, and photo ops along the way. Don't miss the Bridge of Sighs, Plaza de Armas, and the Cathedral. Stop for lunch and a delicious Peruvian craft beer at the BarBarian Pub (website: www.barbarian.pe).
In the afternoon, you can continue to explore the backstreets of this fascinating district, or take a taxi to Lima's Plaza de Armas and historical center to tour the many museums, cathedrals, and historic buildings.
The sky's the limit when it comes to dining out in Lima. If you have made reservations months in advance, you can dine at world-famous Central Restaurant (website: https://centralrestaurante.com.pe/en/). If not, you still have a huge choice of great eating establishments to choose from.
For a much cheaper meal and night out, visit Molly's Irish Bar & Restaurant (website: www.mollyshostel.com) in Miraflores, a popular expat hangout.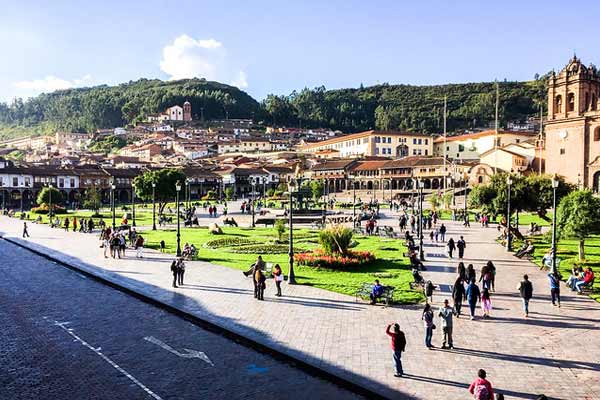 Take an early-morning flight to Cusco—the flight time is about 90 minutes. Spend the day exploring the historic center and narrow cobblestone streets of this fascinating Inca capital. Be sure to visit the Plaza de Armas and the centrally located Cathedral. From the main square, you can walk up the steep cobblestone street past the famous 12-angle Inca stone; you'll also pass numerous art galleries and shops, along the way to trendy San Blas.
Another option is to visit Sacsayhuaman, a steep one-mile hike or short taxi ride uphill from the Plaza de Armas. This huge Inca fortress has fine examples of the tight-fitting masonry work the Inca are famous for, and the massive stones they used for building.
You can choose from a plethora of restaurants serving traditional Peruvian cuisine in Cusco. Or, dine at the Greenpoint restaurant in San Blas (website: www.greenpointrestaurants.com) for some of the best vegan food you will ever find. Even non-vegans are repeat customers at this popular location.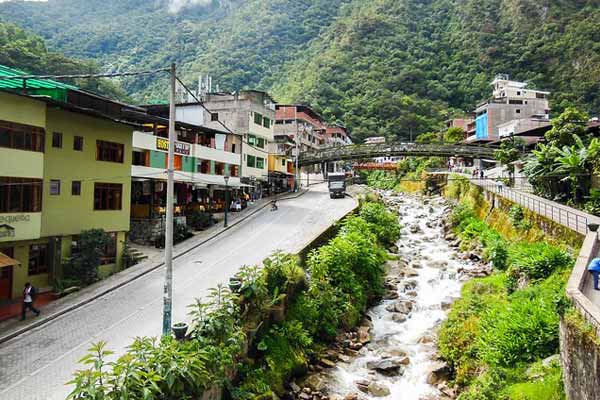 Spend the day traveling to Aguas Caliente, the closest town to Machu Picchu. Although you can take a train directly from Poroy, outside of Cusco, it is much cheaper to catch a bus to Ollantaytambo and take the train from there.
Spend time exploring the market and streets of Aguas Caliente. There are many restaurants to choose from, but Indio Feliz Bistro Restaurant offers great food and excellent service in a relaxing atmosphere, only minutes from the town center.
Day 5 – Machu Picchu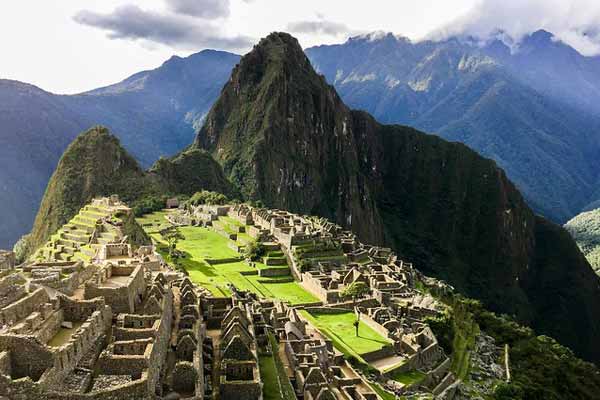 Wake up early the next morning to journey up the mountain to the hilltop citadel of Machu Picchu. Be sure to purchase your tickets well in advance, especially during high season. It is easy to spend several hours at the site, especially if you plan on hiking up one of the mountains, Machu Picchu Mountain or Huayna Picchu.
Take the train back to Ollantaytambo and stay in one of its many hotels for the night; there is one for every budget. This ancient Inca city, with its narrow cobblestone streets has been continuously inhabited since the 13th century and has some of the oldest continuously occupied dwellings in South America.
Day 6 – Sacred Valley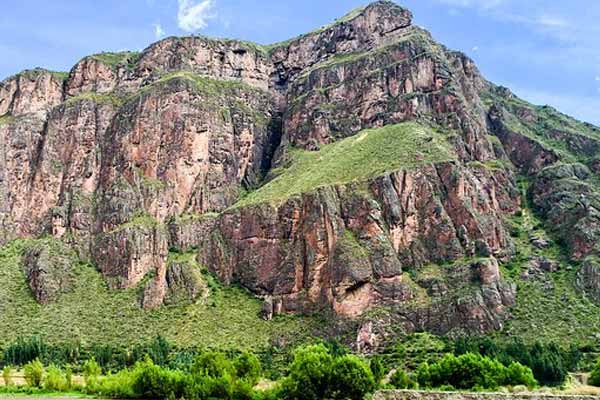 Spend the morning exploring the backstreets of Ollantaytambo and the large Inca ruins overlooking the town. Then jump into one of the inexpensive local colectivos to travel to Urubamba, the largest town in the Sacred Valley of the Incas. The twenty-minute trip only costs about a dollar.
In Urubamba, have lunch at the large central market or one of the popular restaurants in town. Be sure to visit the Seminario Ceramics studio and retail shop (http://www.ceramicaseminario.com/en/). For almost four decades, Pablo Seminario and Marilú Behar have been producing a high-quality body of ceramic work inspired by the culture and techniques of ancient Peru.
In the afternoon, continue your travels through the Sacred Valley to Pisac where you can stay the night at the centrally located Pisac Inn on the Plaza or choose from one of the many other lodgings in this quaint town. The 45-minute bus journey from Ollantaytambo costs about a dollar.
Day 7 – Pisac – Cusco – Arequipa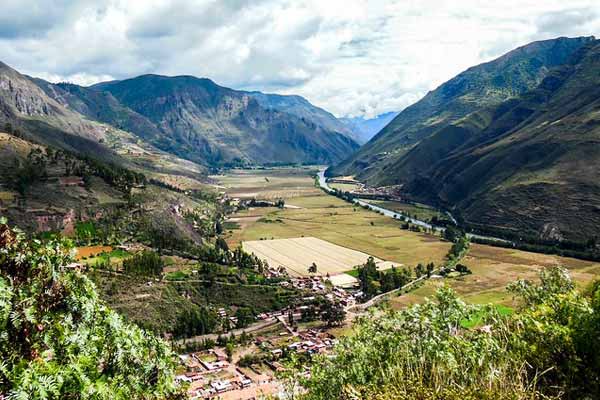 Spend the morning exploring Pisac and its surrounding Inca ruins before heading to Cusco for a late afternoon flight to Arequipa. Again, the 45-minute trip by colectivo is very inexpensive.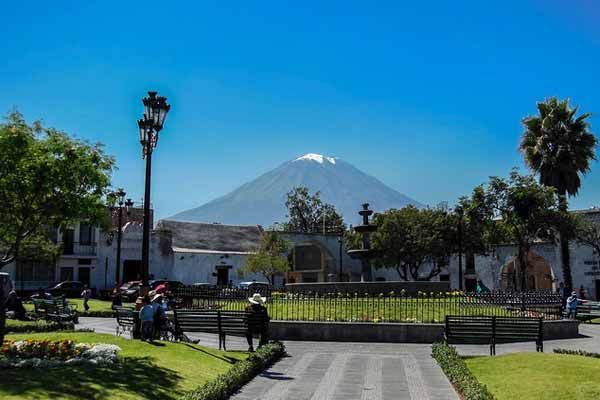 Have breakfast at the Casta Fior restaurant, where you can dine on some of the best French toast or Eggs Benedict you will find anywhere.
Spend the day exploring the historic center of Arequipa. Be sure not to miss the magnificent Basilica Cathedral, the Iglesia de la Compania de Jesus, and Mundo Alpaca.
One of the best ways to learn more about the historic center of the city is to take one of the free walking tours that are offered daily. One of the most highly recommended tours is Free Tour Downtown Arequipa. You can find more information and meeting times at https://www.inkanmilkyway.com/free-tour-downtown-arequipa.
There is no shortage of incredible restaurants in the city. Some favorites include Zig Zag with its upscale but not unaffordable Peruvian cuisine (website: www.zigzagrestaurant.com), Hatunpa, which features dishes based on some of the country's 4,000 potato varieties, and La Nueva Palomino where you can experience a traditional picanterias (website: www.facebook.com/LaNuevaPalomino/).
Have a delicious Peruvian craft beer and great burger or tasty wings at the Chelawasi Public House, a superb pub owned by an American/Peruvian couple. It is located in the San Lazaro barrio, one of the oldest and most photographic parts of the city.
Day 9 – Arequipa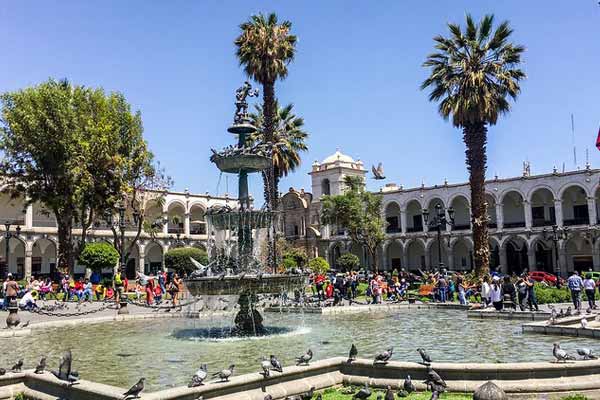 Spend another day exploring this Spanish-colonial city and dining in more of the great restaurants Arequipa has to offer. You could actually spend your two days just eating in this culinary paradise.
Be sure to tour the popular communities of nearby Yanahuara and Cayma. They are less than a half hour walk from the Plaza de Armas and are easily accessed by crossing the Puente Grau (Grau Bridge) and continuing to walk along Avenida Ejercito. You will also pass two of the cities large modern malls along the route; Mall Plaza and Real Plaza. A good place to begin your exploration is the Mirador de Yanahuara (Yanahuara lookout).
You also shouldn't miss a visit to the 16th-century Santa Catalina Monastery, which covers an entire city block. If you're lucky, you may be there when they are hosting a live music show in the main gallery. It's also fun to browse through the antique shops located nearby, and the numerous shops selling authentic alpaca textiles.
Head back to Lima on an evening flight from the centrally located city airport or wait until the next morning to return to the capital.
Day 10 – Lima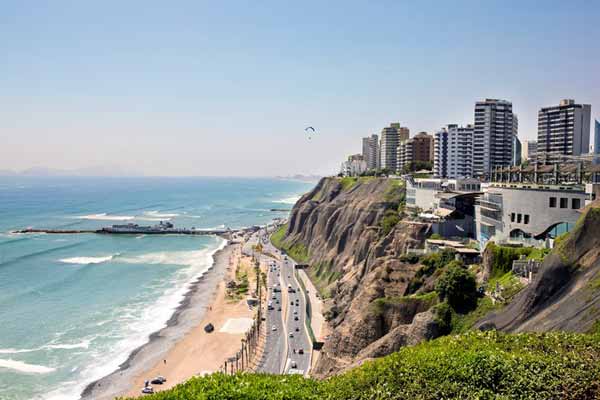 Enjoy your last day in Peru by relaxing in the "City of Kings". Along with trying out more of the great local food, there are several potential activities that can easily use up two or three hours of your time.
The Lima Gourmet Company (www.limagourmetcompany.com) offers five-hour food tours of the city. These combine a careful selection of unique restaurants, market visits, cooking classes, an exquisite Miraflores food tour, and a charming Barranco food walking tour.
Or learn how to make your own chocolate in a two-hour Bean-to-Bar Chocolate Workshop at the ChocoMuseo. This is a hands-on activity, starting from the cocoa tree to the finished product passing by every step of the whole chocolate-making process.
Related Articles