For a limited time, you can own an ocean-view, walk-to-the-beach lot in an exclusive up-and-coming coastal region that's being called the "Hamptons of South America"…from just $664 a month.
Our opportunity is in a region known for its unspoiled cream-colored beaches and interior of lagoons, pampas, forest, and farmland.
Internationally, it's still under the radar, but it's quietly becoming a popular destination for South American elites looking for a low-key vacation destination.
Best of all, it's right on a Path of Progress, which has been driving growth—and prices—along this coast for decades.
This Path of Progress started in the glitzy town of Punta del Este.
Punta del Este has been growing as a tourist destination since wealthy Argentine and Uruguayan vacationers discovered this sun-drenched peninsula in the early 20th century.
Today, it's an established playground for South American elites. Every year, during high season, the population of Punta del Este swells from under 10,000 to around 400,000. The wealthy flock to the glittering beaches and to dine at waterfront restaurants. High-rollers come for the casinos and the big hotels. And the marina fills up with yachts.
The incredible success of Punta del Este caused many elites to seek more discreet and laidback destinations farther along the coast…
The wave of wealth saw real estate prices explode in places like La Barra and Jose Ignacio. And now, thanks to new multi-million-dollar infrastructure projects opening up access, the region of Rocha is seeing the same transformation.
That's where we have our latest deal…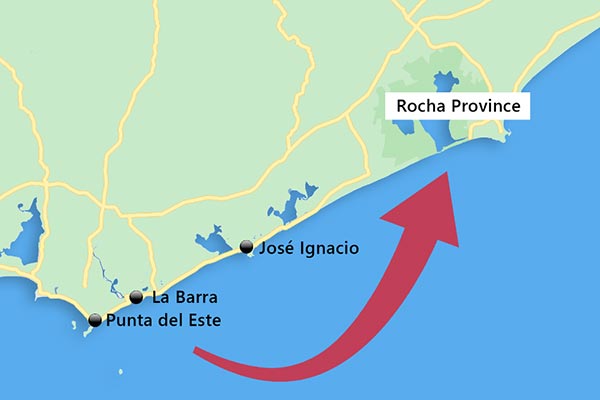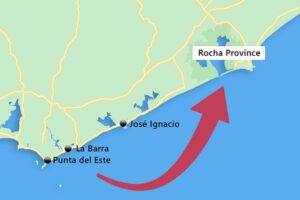 This is an opportunity to double our money by getting in on the ground-floor and then watching as the inevitable development rolls in and pushes real estate prices up.
In the April issue of RETA, I wrote that members could own from $579 a month. But this opportunity is going fast… Available inventory is now from $664 a month, and at that we're still getting a great deal.
I predict the lots we can own from $664 a month will see capital appreciation—and double in value—even if you do nothing with the land in the next few years.
If you do choose to build, you could bring in a healthy rental income due to a lack of accommodation that meets the standards of wealthy visitors. And you can always visit yourself…perhaps live in Rocha part-time or full-time.
And with financing, these lots are fully paid for within 48 months…
RETA members can get my full report in their April issue, here.
My senior researcher, Margaret Summerfield, is a big fan of Uruguay's Atlantic Coast. She's traveled the Path of Progress and visited each of the beach towns along the way.
One town has stood out to her however…
A beach town that's right on the doorstep of our incredible RETA deal.
Read on…
My Favorite Beach Town in Uruguay
By Margaret Summerfield
In 2008, I went on my first scouting trip to Uruguay.
I based myself in the capital city, Montevideo. From there, I headed west along the coast to the colonial town of Colonia del Sacramento. And then east to the province of Rocha, almost to the border with Brazil.
Uruguay charmed me. Its formal Old World manners…the Italian and Spanish influences in its cuisine…the attitude of getting things done but setting time aside for family and friends.
Two places on the trip really stood out: Punta del Este and La Pedrera. And one became my favorite beach town in Uruguay.
Punta del Este is a beach city a couple of hours from Montevideo. Punta is often compared to Cannes or St. Tropez. It boasts long stretches of sandy beach, chic dining spots, and luxury hotels.
Punta sits on a narrow peninsula with beaches on both sides. The Playa Mansa side has calm waters, a contrast to Playa Brava's wild surfer waves. At weekends, the beaches get busy with people sunbathing, swimming, playing volleyball, and picnicking. On the little streets around the beaches and marina you'll come across street-side cafes, gourmet restaurants, and boutique stores.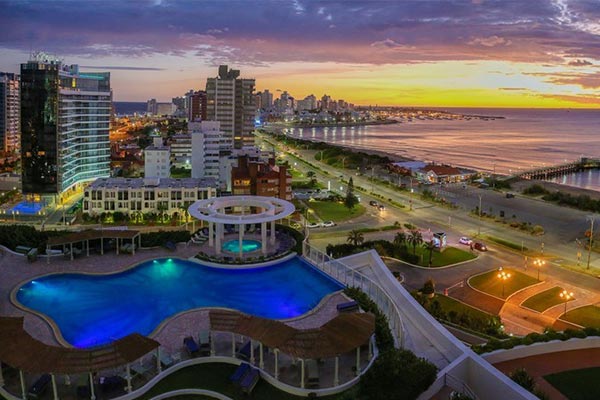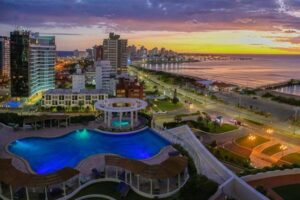 Punta's tiny population explodes in the summer season when actors, supermodels, business tycoons, and royalty come to party, play polo, and mingle. You'll hear the roar of supercars on the street, see cameras flashing when someone famous goes by, and hear accents from around the globe.
Of course, not everyone wants to live or stay in the heart of this summer craziness. In the 1970s, the discreet wealthy started to buy in Jose Ignacio, a small fishing village close to Punta. Today, it's a mini-Hamptons, with clapboard houses in pale shades of grey, green, and blue, and a long beach backed by sand dunes.
The vibe is best described as shabby chic. Everyone dresses down. Restaurants are casual. But don't let that fool you. Stores sell expensive antiques and the restaurants serve up dishes at prices that wouldn't look out of place in upscale Manhattan. This is a super expensive locale, where homes run into the millions of dollars, and a lot with a view of the ocean can set you back $250,000.
Past Jose Ignacio, the coastline is much less developed. Once you reach the province of Rocha, it's pretty much rural. Lots of farmland, barns with red roofs, cattle and horses, and farmers on horseback. And, Laguna de Rocha, a huge biosphere that's home to otters, foxes, and flamingos.
There's a little beach town in Rocha called La Pedrera. It's more of a village, with only a few hundred people that live there all year. It straggles away from a long sweep of beach. There's nothing master planned or cookie cutter about it. It's a random mix of rustic cottages, nice second homes, and eateries. In recent years, a couple of upscale boutique hotels have opened. The roads are bumpy and patchy, sandy tracks in some areas. There are sand dunes and pine forests, and lots of the great outdoors to explore and enjoy.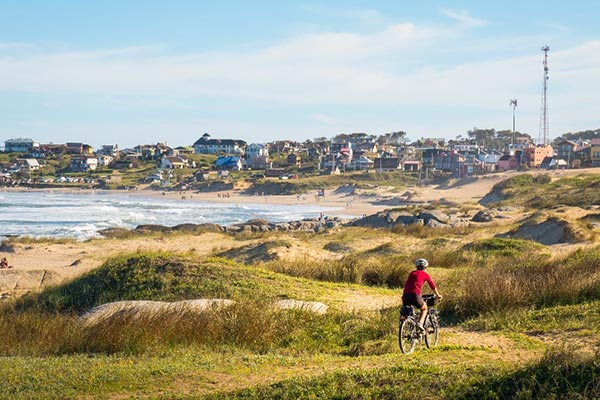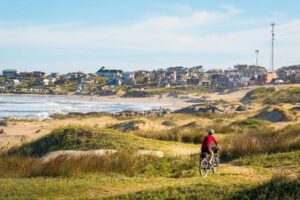 The latest RETA opportunity is just 15 minutes from La Pedrera. Find out more about how you can own here from just $664 a month—details here.
It's a wonderfully relaxed escape. I stayed there on my first trip and it's now a favorite, a must-stay on every repeat trip. It's not fancy or pretentious. You hang out on the beach, surfing or swimming…hike the biosphere…hop over to the neighboring town of La Paloma if you need to go to the bank or the supermarket—or for a change of scene for lunch or dinner. After a week or two, you feel renewed, recharged, ready to face the world again.
The pace heats up in La Pedrera for the short summer season, especially at weekends. Lots of folks from other parts of Uruguay, Argentina, Brazil, and farther afield travel to the town to surf, relax, and even get married.
This slice of coast is becoming more popular as a second-home destination, too. The current president of Uruguay, Luis Lacalle Pou, is reportedly building a vacation home on La Serena beach.
***
Ronan says: Indeed, the lots we can own from $664 a month are just back from La Serena beach, so you'll be in good company.
They're also just 15 minutes from the beach town of La Pedrera.
I expect these lots to be worth double in a few years, once the world has fully recovered from the pandemic crisis.
But to be clear, I view this primarily as a buy-and-hold play. You just wait for the land to appreciate…and then sell to a member of the wealthy elite ready to build their own beach house in the next must-visit stop on the jet-set trail. Or pass it on to your children as a legacy investment…an ever-growing nest-egg for them and even their grandchildren.
Or you could buy and build an attractive villa by the beach to live in full or part time…or rent out and make a bundle in high season. This sweet rental kicker could bring you in the neighborhood of $1,500 a week. Homes in nearby Jose Ignacio can command $20,000 or more during the 10 days around Christmas and New Year's.
But like I say, thanks to growing popularity of this region with those in the know, I predict these lots will experience capital appreciation even if you do nothing with the land.
Members can get my full report in their April issue
Your Daily Dream Home
Los Alcazares, Murcia, Spain
€82,000 ($100,482)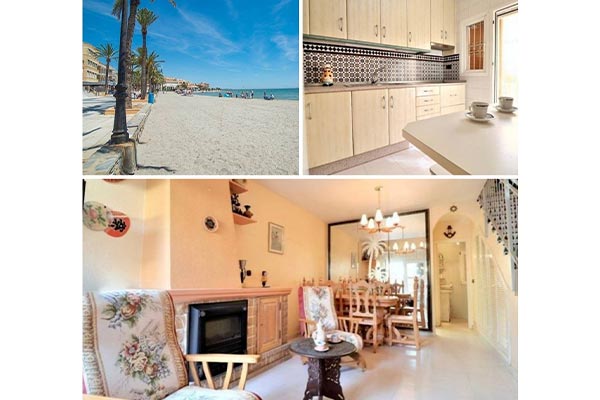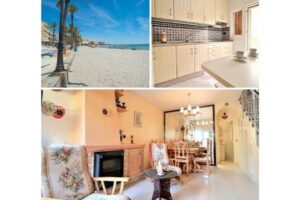 Just a half mile from the beach in the town of Los Alcazares, is this three-bed, two-bath townhouse. Spread over three floors, there's a kitchen (with access to the back yard) and an open-plan dining/living area with a fireplace. The master bedroom has a small terrace and on the top floor you have access to another terrace. This townhouse comes fully furnished and ready to move into.⁠⁠
Remember, we don't make money from any listing shared here in the Your Daily Dream Home section. We have no dog in the fight. We're just sharing cool properties we've found.
I haven't visited this property or done due diligence on it. If you're interested in the listing, you should hire an attorney and do your own due diligence.
Get Your Free Real Estate Report Now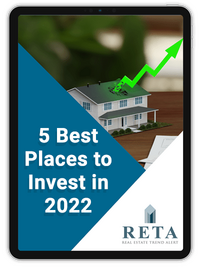 Sign up for our free daily Postcard e-letter and get a valuable free report on the The 5 Best Places to Buy Real Estate In 2022.
Related Articles
Ocean-View Lots From $664 a Month
A Luxury Island Home in Panama City
Portugal's Silver Coast Bargains?