There's a restaurant on the beach in Rayong where I often end up. On the first afternoon of the New Year, I sat in one of those folding beach chairs it's almost impossible to get up from, with a prawn fried rice, crunchy cucumbers and fluffy omelette on the side. It's a family operation, this restaurant: the son promises dishes the kitchen can't deliver, the father handles the wok, and the girls carry ice and glasses on trays.
Rayong showed its best self for the first day of the year. By 5 p.m. we had a cool breeze, a soft sun that made still-lifes out of beer bottles and all along the beach Thai families were eating and swimming, fully clothed, of course—it's the norm for the locals here. A little dog, overjoyed to be on the sand, galloped back and forth like a small horse.
If you live in Rayong, you get used to these easy beach excursions. What else are you here for?
A liveable little town, on the east coast of the Gulf of Thailand, Rayong is ideal if you don't require too much excitement. It straddles its fishing village past and its inevitable growth as one of Thailand's most affluent provinces. It's the kind of place where the biggest event of the year is a fair with bumper cars and a ferris wheel. At the same time, design-focused cafes, hotels, and condos (I rented one, fully furnished, with a huge swimming pool for $230 a month) are springing up.
The biggest draw here is the beaches. Rayong has two. Haad Mae Ramphueng is a long, pine-tree shaded stretch, where live seafood splashes about in buckets before hitting the pan. On Haad Saeng Chan, stone break walls create a series of half-moon harbours and stately hotels make the most of the sea breeze. After dark, colorful lanterns and woven mats appear on the sand, and vendors ply everything from dried squid to crispy roti.
It's been 16 years since I first came to Rayong, and little has changed since then. Yes, there's a new mall, better options for Western food, and a whole road devoted to casual watering holes. But more or less, Rayong is still a coastal town where anyone can enjoy a comfortable, easygoing life on a very small budget.
Most visitors only see Rayong from the window of a van on the way to Koh Samet. A 20-minute boat ride from the pier in Baan Phe, Koh Samet is a national park with white-sand beaches and resorts of every stripe…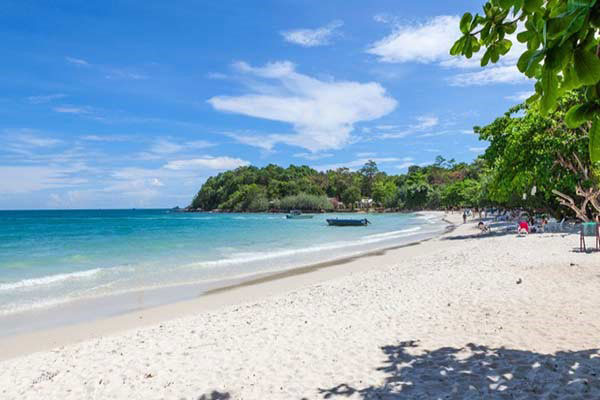 With its fire dancers, beach bungalows and thumping bars, Samet Island is an easy escape when Rayong feels too quiet. Drive an hour and you have the vibrant nightlife in Pattaya, and three hours to the Big Mango (Bangkok) itself.
Rayong's secret, if it is one, is that most of its money comes from factories in the Eastern Seaboard Industrial Estate. These factories aren't in the city, but their presence nearby is just enough to keep Rayong's population under check. The result is a sense of community among those who call this sleepy town home.
Each day noodle vendors cruise the residential streets selling bowls of thin egg or rice noodles, topped with flavorful broth, steamed greens and garlic oil. Breakfast solved for just $1. On a typical afternoon, you'll find half the town jogging, walking or playing football in Sri Muang Park. And in the evenings, the lively night markets give the impression nobody in Rayong cooks at home.
Star Market and Rayong Salud are top picks for a sumptuous Thai feast. Pick up a whole snapper, rubbed with sea salt, grilled and served with herbs, leafy greens and seafood sauce for $5. Or browse the deep red curries, spicy mango salads, and crispy fried chicken on offer—each for $2 or less. Don't forget a few coconut-based desserts. Maybe a custard in pumpkin slice, or sweet mango on sticky rice?
Despite its best efforts at forward movement, Rayong's sabai-sabai (relaxed) vibe keeps coming back. The more lazy afternoons by the beach, the harder it is to imagine that ever changing.
Related Articles
Find Your Dream Retirement in Thailand
Enjoy a Low Cost of Living in Thailand