If Santiago is the financial and business hub of Chile then the coastal city of Viña del Mar is the country's summer playground. Often referred to as "The Garden City", Viña is part of the Greater Valparaiso area that also includes the nearby port city of Valparaiso, as well as the smaller municipalities of Concon, Quilpue, and Villa Alemana. The population of the entire region is approaching 1 million residents.
Although the Spanish settled the area when they first arrived, it was the establishment of a large sugar refinery in the latter part of the 19th century that first provided the city with any economic clout. The city further grew in the early 1900s with the building of a military base and the housing of military and naval personnel. It was also during this period that the large seaside villa now known as Wulff Castle was built. Today its magnificent stone walls and turrets still overlook the rocky shoreline below.
With the building of the Municipal Theatre, a large casino, and the massive O'Higgins Hotel in the first decades of the 20th century, Viña's future as a tourist city was sealed. Today, Chileans from all parts of the country flock to the region during the summer months to enjoy its casino, entertainment venues, spacious beaches, and warm Mediterranean climate. Although winters can be cool and humid, summer temperatures (November to April) reach into the high 70s F.
Large upscale condominium towers, towering palm trees, and spacious green parks grace the city's waterfront beaches. Near Caleta Abarca beach is the city's famous large flower clock (Reloj de Flores) that is completely made up of flowering plants. Farther east, modern offices, residential homes, and apartment buildings are scattered along the city's tree-lined streets.
The large shady Plaza Vergara could be regarded as the center of the city and acts as a landmark when setting out to explore Viña. This is where you will find the famous O'Higgins Hotel, the Municipal Theatre, and numerous nearby banks and department stores. Valparaiso Street heads east and west from the southern end of the Plaza and is lined with restaurants, coffee shops, and retail outlets.
The main Viña del Mar metro station is only a block south of the Plaza which gives you access to the entire system, including the 15-minute ride along the coast to Valparaiso, Viña's grittier neighbor. Built upon dozens of steep hillsides overlooking the Pacific Ocean, Valparaíso is known for its labyrinth of streets and cobblestone alleyways and its colorful graffiti-decorated buildings.
This important port city was declared a UNESCO World Heritage Site in 2003 to protect its rich architectural heritage and the system of steep funicular lifts that carry residents and tourists up to the colorful hilltop neighborhoods.
Retire in Viña del Mar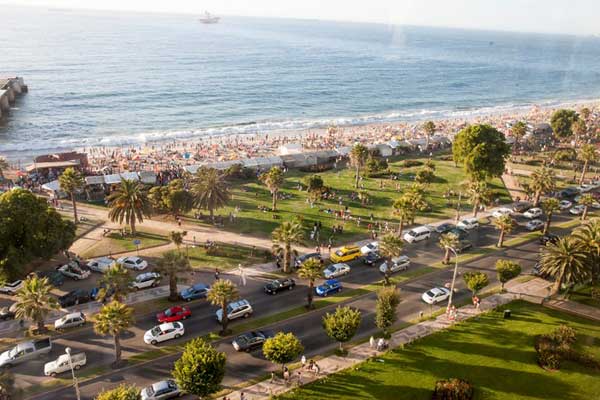 It's easy to lead an active life in Vina del Mar, both socially and physically. As a tourism center, the city provides a plethora of activities throughout the year. Golf, tennis, squash, and other sports are all readily available. You can also enjoy thoroughbred horse racing at the popular Sporting Club, the home of the Chilean Derby and the final leg in the national Triple Crown.
Culturally, the Viña del Mar International Film Festival is considered among the most important film festivals in Chile and Latin America. Another popular annual event is the Viña del Mar International Song Festival that has been held in the Quinta Vergara amphitheater since 1960.
Quinta Vergara Park is also home to Palacio Vergara. Once the city founder's residence, it is now home to the museum of fine art and is surrounded by a sculpture park. And the Municipal Theatre of Viña del Mar is host to a number of cultural and artistic events throughout the year.
Viña provides an affordable urban beach lifestyle in a moderate four-season climate. It is easy to live in Viña del Mar without owning a vehicle. The main core of the city is very walkable but when you need mass transit, it is cheap and efficient. Buses, taxis, and a clean modern subway all cost much less than in Canada or the U.S. and there are deals for seniors.
Several large shopping centers in the city feature all the international brand outlets along with a good selection of local retailers. With the large selection of local and international restaurants, outdoor markets, cinemas (with English movies), and numerous bars, you won't find many amenities missing.
A number of private and public hospitals and clinics in the city offer excellent healthcare for affordable prices. Expats are encouraged to purchase private insurance from one of the several national private healthcare companies, known as ISAPREs (Instituciones de Salud Previsional), which give them access to the private clinics. For an average couple, monthly fees would start around $300 per month, depending on age and medical history.
It's less than two hours to the international airport in Santiago for those times that you want to check out other parts of the country or travel internationally. Closer to home, the spectacular rural countryside between Viña and Santiago is one of the top wine-producing areas of the country so you are never too far from that weekend winery tour. It is also home to many olive groves.
Cost of Living in Viña del Mar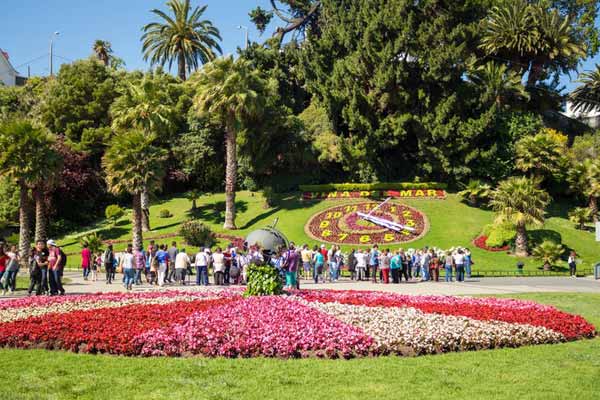 A couple could live in Viña del Mar for $2,500 per month or even less if they watched their pennies. Monthly condo rentals with sea views outside the city center start at about $700 per month. The best part of town to find excellent affordable accommodation is somewhere in the area of 2nd Norte to around 10th Norte on the beachside of the main Libertad street.
Between Viña and Valparaiso, and the surrounding communities, it is easy to find a location that fits your budget and lifestyle. If you are looking for a safe affordable Latin American coastal city for part-time or full-time living, Viña del Mar might be a good choice.
Video Tour of Viña del Mar and Valparaiso, Chile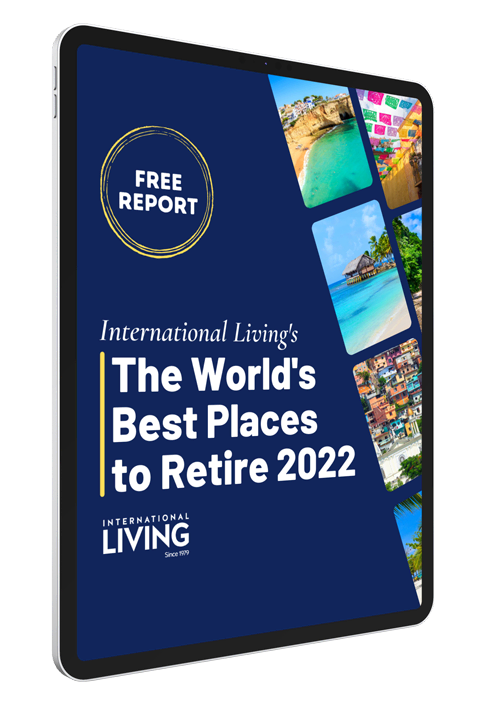 Get Your Free Report on the World's Best Places to Retire:
Learn more about the best places in the world to retire in our daily postcard e-letter.
Simply enter your email address below to sign up for our free daily postcards and we'll also send you a FREE report on The World's Top 10 Retirement Havens, plus access to over 10 more free reports. Our gift to you, on our favorite destinations.
Related Articles
The Ultimate Expat Guide to Chile
Retire in Santiago, Chile: First-World Living For $2,550 a Month
The World's Best Places to Retire
Upcoming Conferences
Live Better, Spend Less, Retire Sooner
IL's Retire Overseas Bootcamp
October 21-23, 2022 in Atlanta, GA

In safe, warm, welcoming communities abroad, as little as $1,700 a month can bankroll a good life... this fall, our experts will show you where—and how.
Early Bird DISCOUNT—Save $100 When You Register by Sep. 29
Details Here IL's Retire Overseas Bootcamp
---
Registration Now Open for the Best of Europe Private Screening

In the Right Spots in Europe, You Can Retire in Style—in an Historic, Sun-Drenched Locale—for as Little as $2,300 a Month or Less—Especially Now With the Dollar and Euro at Parity for the First Time in Two Decades.
And We'll Show You How, October 1-2, During the Special All-Online Best of Europe Private Screening.
---
The Income Revolution Forum
What if You Had the Freedom to Enjoy the Good Life Anywhere in the World You Wanted to Be...and Get Paid While You're There?
We'll show you how—with hands-on guidance—you could beat inflation...secure your retirement...ditch your commute...and turn a skill you already have into a portable side income of $300, $600, even $3,000 or more a month.