Chat with expats in Santiago and many will tell you how much they love the fact that it is a clean, modern city with an efficient public transportation system. Not needing a car is a great benefit to living in this vibrant metropolis. Spend a few days in the city and you will soon find out how true that is.
With its population of almost 7 million residents, Santiago, Chile's capital, is one of the biggest cities in the Americas. But with its dozens of unique neighborhoods, and efficient public transit system providing quick movement from one to the other, it doesn't seem that huge. Whether you travel by taxi, bus, or subway, the cost is very affordable. As an example, the two-hour bus ride from Santiago to the coastal resort city of Viña del Mar is less than $10.
The region's early history dates back to the year 800 AD when the first inhabitants formed agricultural communities along the Mapocho River. But the city was not founded until 1541 by the Spanish conqueror Pedro de Valdivia. It has been the capital city of Chile since colonial times and is the cultural, political, and financial center of the country, as well as home to the largest concentration of expats.
The downtown core is a showcase of 19th-century neoclassical architecture, winding side streets, and lots of green spaces. One of the first things visitors notice is the large number of trees and parks found throughout the city. The Parque de las Esculturas (sculpture park) features 30 different outdoor sculptures by different Chilean artists. Other forested parks line the banks of the fast-flowing Mapocho River and carpet the island hills rising from city center.
San Cristobal Hill rises about 300 meters above the city and is home to a 100-year-old funicular that carries both residents and tourists up the steep incline to the top. More energetic folk can hike to the top in about an hour where they can enjoy the 360-degree vista of the city below and the Andes Mountains in the distance. The hill is also home to the National Zoo of Chile.
Santa Lucia is a smaller hill with an adjacent metro station named after it. The hill comprises a large park adorned with ornate facades, stairways, and fountains that all provide great photo ops. It's very easy to spend an hour or two exploring the 16n-acre park and remnants of the two 19th-century forts located on the site.
Santiago enjoys a four-season climate with warm, dry summers (October to March) and cool, humid winters (April to September). During the hottest days of the year, daytime highs can reach into the high 80s and low 90s. Although nights are pleasantly cool year-round, temperatures can plummet to near freezing during some of the coldest mornings of the year.
Santiago's Colorful Barrios
If you love fine dining, good-quality healthcare, walkable neighborhoods, and lots of great shopping, then you might enjoy Santiago. Downtown living can help you stay active both physically and mentally while keeping you entertained in the process. As mentioned above, no vehicle is necessary. Wherever you live, you'll have easy access to some of Chile's best restaurants, malls, theatres, and nightlife.
Santiago is filled with beautiful forested parks, bike lanes and jogging trails, and wonderful views of the nearby mountains. But if you want to be more in touch with nature, it takes less than an hour to drive to the Pacific Coast, the mountains, or nearby vineyards and wineries in the surrounding countryside.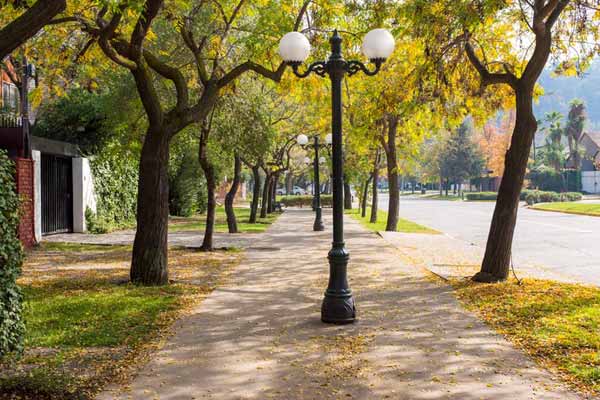 Chile's capital is divided into comunas (districts) and then into barrios (neighborhoods), each distinct and lively. Some are residential, some are more business oriented, and others were some of the first settled areas of the city. With the metro system, it's easy to travel around and explore the various parts of the city to see which fits your personality the best.
Close to the historical center and the Plaza de Armas, the Bellavista barrio stretches north from the Mapocho River and is home to San Cristobal Hill and Santiago's Metropolitan Park. This barrio is rather bohemian and is known for its lively night life—bars, clubs, and great places to grab dinner.
Head south of the river and you will be in Bellas Artes and Lastarria. These popular downtown areas are close to the large Museum of Fine Arts so it is no surprise that they are fashionable, artsy neighborhoods. At night, Jose Victorino Lastarria Street comes alive with street vendors, entertainers, and evening shoppers browsing for bargains. It is also home to several of the city's more popular restaurants that often spill out onto the sidewalks with outdoor patios and diners.
A quick ride on the metro takes you to Barrio Italia, the true bohemian center of Santiago. Settled by immigrant artisans in the 19th century, this upscale part of the city continues to uphold its traditional past with a plethora of beautiful furniture and crafts shops, boutique cafés, and antiques. Small shopping plazas beckon locals and tourists alike with independent retail shops and impromptu displays of artisanal soaps, homemade snacks, and handwoven items.
Strolling east along Santa Isabel Street from the Metro station of the same name, you could be in any number of U.S. or Canadian suburbs. This is where to experience Santiago at a slower pace. Here you'll find tranquil tree-lined streets, colorful well-kept homes interspersed with a few larger apartment buildings, and craft shops, art galleries, restaurants, courtyard cafes, and bars that peek out from the smaller side streets. Trendy independent shops are the norm in this part of the city, often part of an indoor/outdoor arcade of designer boutiques.
Lifestye in Santiago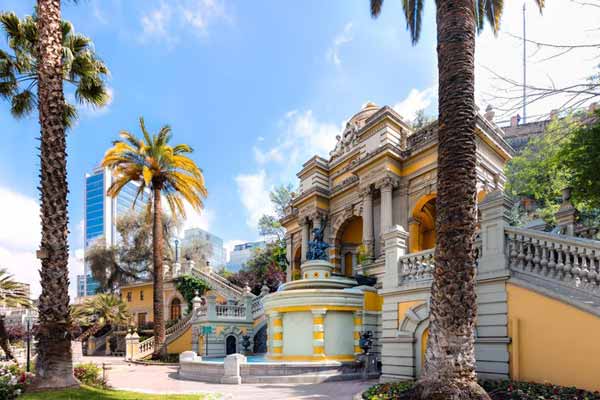 Santiago offers a comfortable urban lifestyle for less than you would pay in a similar sized U.S. city. As Latin American cities go, it is certainly one of the more expensive places to live but expat couples report living on as little as $1,500 per month in the city center, including rent. A budget of $2,500 to $3,000 per month would provide a good quality urban lifestyle for an average couple.
Taking a taxi anywhere in the city will cost you less than $10 and prices for a simple meal at an inexpensive restaurant start at $5. This would usually consist of a four-course meal of soup, salad, meat/rice/vegetables, dessert, and a beverage. There are plenty more expensive dining options available, featuring both local and international cuisine, but you still won't have to break the bank.
You won't have difficulty keeping busy. With its large number of galleries, theatres, museums, bars, and restaurants, you'll have no shortage of entertainment options. And most theatres offer English movies as part of their regular programs.
There are several large shopping malls with a good selection of domestic shops as well as all the large international big brand name stores. To make life easier, many are located in wide, spacious pedestrian-only zones of the city. And, of course, there are plenty of outdoor markets and smaller specialized shops that deal with items such as meat, cheese, and veggies. Not to mention the huge number of bakeries tempting you with their daily output of breads, cakes, and other sweets.
Santiago has a good selection of well-equipped public and private hospitals, many with English-speaking doctors. Although there is a multi-tiered public healthcare system, it is recommended that expats enroll with one of the many private insurers in the country. These gives you access to excellent private hospitals at a very affordable cost.
When you are ready to explore the rest of the country, there are plenty of cheap flights available starting as low as $35. The Comodoro Arturo Merino Benítez International Airport is located only 10 miles from the city center and is ranked sixth in passenger traffic among Latin American airports. Almost everyone entering or leaving Chile by air passes through this airport.
Real Estate in Santiago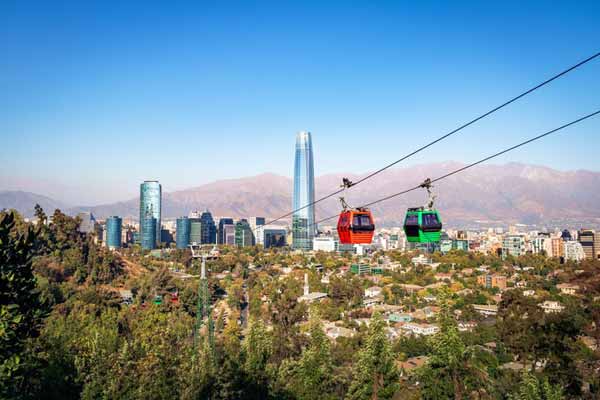 Living in the Chile's smaller towns and countryside is certainly going to be much cheaper than living in the capital city but you can still find good deals.
Surprisingly, it is not always a lot more expensive to live in the downtown core. There are lots of factors involved but many long-term rentals in desirable areas are going to be in the $700 to $1,200 range for a two- or three-bedroom unit.
A few of the more popular neighborhoods have already been mentioned. Bellas Artes, Lastarria, and Bellavista are all located in what could be called the city center. Here you have lots of parks, the two or three main hills, galleries, restaurants, and plenty of nightlife. Also within walking distance is the historical center with its Plaza de Armas and ornately decorated colonial buildings. These are all great area for anybody looking for an urban lifestyle.
Monthly rentals for two-bedroom units in Bellavista start at $600 per month. You can count on at least $100 less for one-bedroom apartments. A nice, remodeled, two-bedroom, 800-square-foot apartment is currently listed for $716. It also has two bathrooms, a spacious balcony, a 24-hour concierge, and common space. A short walk away is  the Manuel Montt subway station which gives you direct access to the rest of the city.
Barrio Italia is a more tranquil neighborhood with lots of older homes and apartment buildings. Because of this, it is a little pricier but still within easy reach by metro to the downtown core.
In this part of the city, a fully furnished, 750-square-foot apartment was recently listed for $900 a month. The two-bedroom, two-bathroom unit comes with visitor parking, laundry, gym, multipurpose room, barbecue, and a pool. The common monthly gas bill is included in the rent. A five-minute walk to the Santa Isabel metro station gives you quick access to the rest of the city.
A similar apartment to the one above with the same common building amenities is listed for $130,000. To purchase a house in this popular tourist area, you are looking at spending at least $300,000.
Providencia is home to a large upper middle to upper-class population and it holds the region's highest percentage of population over 60. It is a mixture of high-rise apartment buildings, business offices, and also home to many embassies. This is also where you will find the 64-story Gran Torre Santiago, the tallest building in Latin America and the second-tallest building in the southern hemisphere.
Cost of Living in Santiago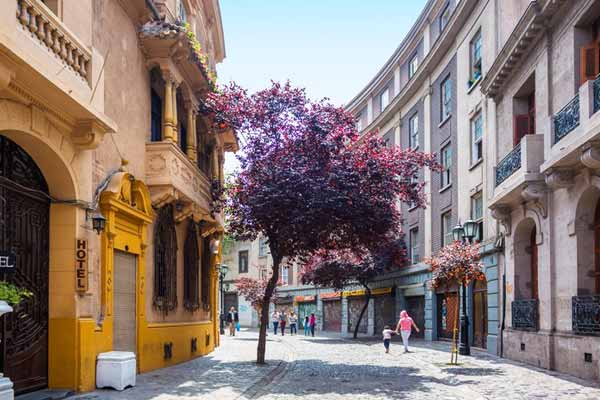 Here's a sample budget for a couple living in Santiago:
| | |
| --- | --- |
| Expense | U.S. $ |
| Housing (rental of a three-bedroom apartment) | $900 |
| Utilities (including phone, internet, and TV) | $150 |
| Maid (once a week) | $150 |
| Groceries | $400 |
| Transportation (public transit) | $150 |
| Clothing and miscellaneous | $100 |
| Entertainment | $400 |
| Healthcare (national private healthcare) | $300 |
| Total per month: | $2,550 |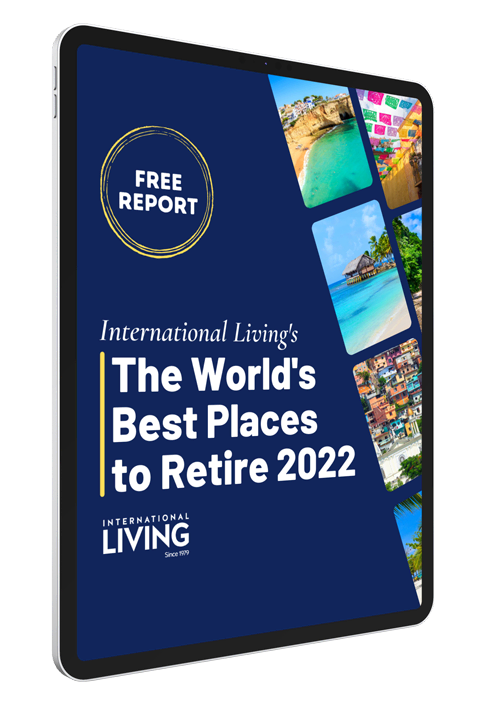 Get Your Free Report on the World's Best Places to Retire:
Learn more about the best places in the world to retire in our daily postcard e-letter.
Simply enter your email address below to sign up for our free daily postcards and we'll also send you a FREE report on The World's Top 10 Retirement Havens, plus access to over 10 more free reports. Our gift to you, on our favorite destinations.
Related Articles
The Ultimate Expat Guide to Chile
The World's Best Places to Retire
Buying Real Estate in Chile: Purchasing Procedure
Upcoming Conferences
With just a laptop and an Internet connection—you could speak English and get paid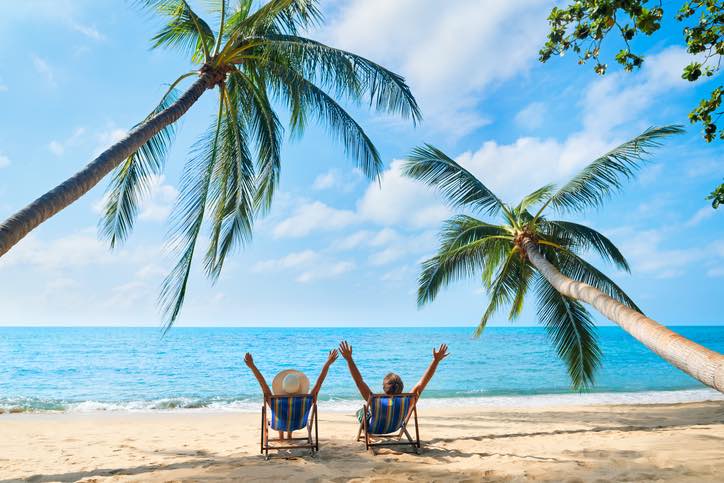 Register now and save!
Earn-with-English Online Masterclass
August 20, 2022
Over one power-packed day, discover how you can turn your native English skills into an online income you could earn from your living room—or anywhere in the world you want to spend time. Don't let inflation derail your retirement. This is a fun, flexible way to earn from anywhere—getting paid to speak English.