This week I'm in Lagos on Portugal's Algarve.
I'm here until Saturday, putting boots on the ground, checking in on our recent RETA deals, and probing for new opportunities.
My base for the week is a boutique condo near Praia do Porto de Mos, my favorite beach in the area, a couple of miles southwest of Lagos town. It's a long wide curve of beach backed by great beach bars and restaurants.
The view from my office is spectacular…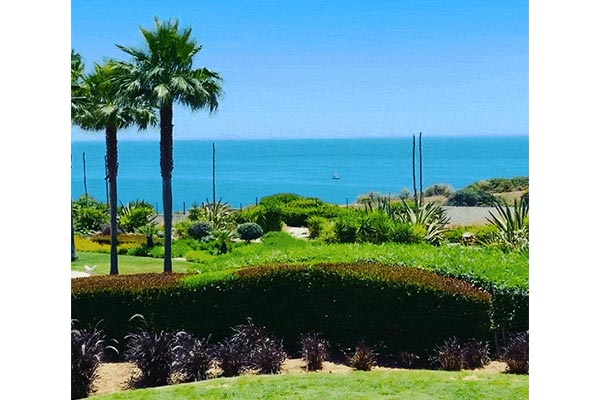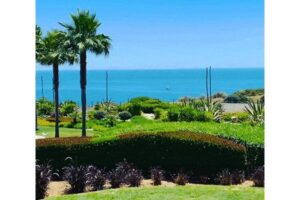 It's a highly desirable location. In 2011, a two-bed condo here would have cost you €300,000. Today, the same property would easily list for anything between €700,000 and €800,000.
That's if you can find one listed…
My contact here has been calling around, seeing if anyone is looking to sell, and so far he's only received hard NO.
I don't blame owners for wanting to hold onto what they have here. These condos can easily make €40,000 a year in gross income, with minimum upkeep costs. In fact, as one property manager told me: "The ocean-view rents itself, so the owner doesn't care."
Just another reminder of how incredible our recent RETA deal in Lagos was. We had the chance to own luxury ocean-view condos, with discounts that amounted to €54,500 off—that's more than $66,000.
It was an opportunity to lock in some of the last great Lagos locations and views, and because of our RETA edge, we're paying less than anyone else…
I'll be telling you more about what I've found here in the coming days, so stay tuned…
Location, Location, Location….
Proximity to the sea is one of the few distinguishing features that can significantly lift the valuation on nearly any piece of property.
Ocean-view and beachfront land is super desirable and incredibly scarce, making it one of the most highly sought-after assets in real estate.
I've spent years in search of it. But finding something in the right place, at the right price, that's steps from the sand is an incredibly difficult task. Next to impossible.
And it's only set to get harder. As they say, they're not making any more of it….
In the U.S. for example, finding an affordable, quality condo, close to the beach and close to a major city is virtually impossible…
Somewhere like Delray Beach, Florida, springs to mind because I've visited many times on business. Delray Beach is a 40-minute drive from Fort Lauderdale and is popular with retirees, snowbirds, and tourists.
The town grew from a collection of fruit farms in the 1900s into an exclusive and expensive enclave where an 880-square-foot condo off the main drag and a block from the beach now costs you nearly $725,000. HOA fees for that condo are $900 per month…
Or to take a Pacific Coast example, about 30 minutes north of San Diego, in the small beach town of Encinitas, you can buy a two-bed, 781-square-foot condo for $999,000.
There's always a premium attached to beach access. Even an ocean view alone—without proximity to a beach—can add as much as 68% value to a property, according to one study.
That's why, when I find something that meets our criteria, it's a very big deal…
And when I find something that exceeds our criteria, I want to make sure we have as big a chance as possible to lock in our share.
That's why I've been fighting so hard to bring RETA members another shot at our incredible beachfront opportunity at Playa Caracol on Panama's Riviera Pacifica.
And next week, I'm making it happen.
True Beachfront for Sub-$150,000
What we've found at Playa Caracol is simply unheard of. A perfect confluence of circumstances that have created one of the best opportunities we've ever had at Real Estate Trend Alert.
This is our chance to own in a true beachfront community with a super-high level of amenities, on what is easily the nicest white sand beach within an hour of Panama City.
All for under $150,000…
In the midst of a global real estate boom, that's incredible…
And it gets better…
Fully Furnished and Turnkey: The condos we can lock down come fully furnished and turnkey. That means they're move-in ready from the day they're delivered. The furniture pack alone is worth $17,000. From beds to silverware and everything in between, it's all taken care of…
A Massive Discount: Our low-price is only possible because of a $68,000 "bailout" courtesy of the Panamanian government. Essentially, the developer behind Playa Caracol is getting significant tax credits as part of a major tourism drive in Panama. He's agreed to pass on part of those savings to RETA members—handing us a discount of $68,000 each.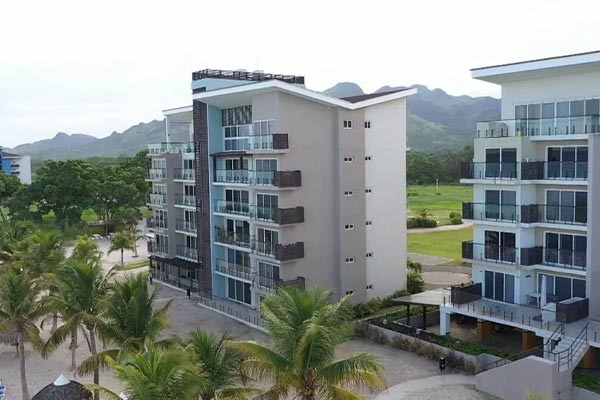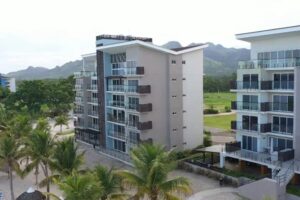 Huge Potential Gains: Playa Caracol is ideally located to benefit from Panama's tourism drive, and the super high-level of true beachfront amenities will ensure the community tops the list of vacationers from across Latin America, the United States, Canada, and Europe…all of whom can get to Panama easily thanks to Tocumen Airport's status as a global gateway.
If you choose to rent, I figure you can make up to $37,230 gross per year, while seeing another $118,000 in capital appreciation.
No Hassle Management: As part of the deal, a team of experienced professionals will manage and market your property for you, meaning you don't have to lift a finger to generate rental income.
I already bought a condo in Playa Caracol for the very same reasons I've just listed.
There is simply nothing else like it…
This is the result of years of boots-on-the-ground scouting, contact building, and getting the word out about RETA's incredible group buying power…
And next week, our patience pays off once more…
Stay tuned…
Your Daily Dream Home
Monte San Vito, Perugia, Italy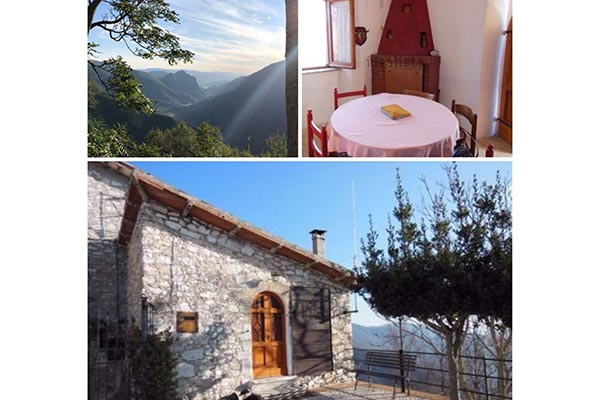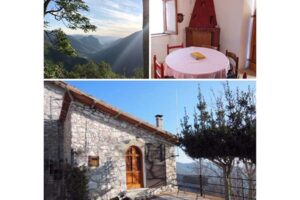 At $34,266, it doesn't get much cheaper than this. Tucked away in the village of Monte San Vito is this small Italian home with incredible mountain views. It's just a couple of miles from the historic town of Scheggino, which dates back to the 13th century.
The home offers stunning views over the Valnerina Valley. You're also close to the art cities of Spoleto, Assisi, and Norcia, as well as the Marmore Falls, the highest waterfall in Europe.
Remember, we don't make money from any listing shared here in the Your Daily Dream Home section. We have no dog in the fight. We're just sharing cool properties we've found.
I haven't visited this property or done due diligence on it. If you're interested in the listing, you should hire an attorney and do your own due diligence.
Get Your Free Real Estate Report Now
Sign up for our free daily Postcard e-letter and get a valuable free report on the The 5 Best Places to Buy Real Estate In 2023.
Related Articles
Profit by the Beach In Uruguay
Ocean-View Lots From $664 a Month
A Luxury Island Home in Panama City