Five minutes after I had rented a little Kawasaki 175 enduro bike for about $20 per day, the police stopped me for cutting a yellow light a bit too closely for their liking. I thought the 200,000 Kip ($21) fine was a bit heavy for not actually violating any law, but the police in the Laotian capital of Vientiane weren't giving me any breaks.
Nor were they in any hurry, and so, two-and-a-half hours later when they returned my license, I was back on the road knowing that I wouldn't make my destination—more than five hours south of Vientiane—that day. Which is why I spent the first night of my motorcycle tour in a crossroads truck stop instead of the eco-friendly resort I had booked at the conflux of the Hinbon River and a deep natural spring they call the Blue Lagoon.
My intended destination was Kong Lor cave, one of the highlights of central Laos on the Thakhek Loop, a 350-mile route normally starting from the town of the same name. The loop is gaining notoriety as an inexpensive must-do in Laos for its abundance of caves, nearly empty winding roads, and mountainous landscapes. I arrived at the SpringRiver Resort where staff greeted me with a cold glass of mango juice in their lush garden and carried over my paid reservation without question. The only riverfront resort in the Kong Lor area, they offer simple but comfortable garden rooms at $15 per night and riverside bungalows that are a bit more luxurious at $55. Seeing the views prompted me to upgrade.
After a quick lunch at the resort, I met with a local guide who introduced himself as Nok—meaning "bird" in the Lao language—and the two of us paddled kayaks up the Hinbon River (literally "rock on top") to the cave area. At the check-in center where I paid my entrance and boat fees ($6), I was given a life preserver and a headlamp. After a 10-minute walk we could see where the river disappears into the mouth of the cave, still just a black dot at the base of a towering limestone face rimmed with a froth of whitewater rapids.
The two of us boarded a narrow wooden skiff and slipped into the absolute darkness of the cave, which was broken after 20 minutes at the point where electric lights have been installed in the cave's natural gallery of stalactites and stalagmites. It's a natural wonder within a natural wonder. Forty minutes more and daylight creeps in again where the cave opens up into a jungled valley on the other side of the mountain. A makeshift café selling drinks and crafts has been set up, and villagers invite guests to stroll around and experience authentic country living, Laos style. The next morning just after dawn, rural life was already in full swing as I rode up into the mountains. The road twisted around steep drop offs overlooking the valley below, punctuated with clusters of jutting karst pedestals. Four hours into the ride I made a detour down a long dusty farm road to a natural pool known along the loop as the Blue Hole. A deep, cold aquifer of opal-colored water, and perfect to dive into on a hot afternoon.
Farther along Route 8, crossing over the Namkading River, the Tha Bak Bomb Boats are moored along the muddy bank available for river tours. These long aluminum boats are made from spent bomber fuel tanks dropped over Laos during the Vietnam War.
Sat at a table in the shade with his neighbors, Mr. Tao perked up when I approached and asked about going for a ride. He explained to me as we walked to the river that he wanted to sell his boats. "Young tourists aren't interested," he told me, which I guess made me an old one. We went for a half an hour ride (about $10) and then had a spicy lunch with his sister, who disagreed. "The boats are our living, they bring tourists to my café," she told me as Mr. Tao rolled his eyes.
Lak Sao on the high plains border with Vietnam was almost cold when I arrived just before sunset, looking for a place to stay. Of the three choices, Khammanivong Hotel met all my needs: a cold beer, a hot meal, and a clean bed for 80,000 Kip (about $9). The multi-generational family who own and live in the hotel invited me to share dinner with them, since I was their only guest. The grandmother of the clan explained to me in a mix of French and Lao that most of their customers are truck drivers crossing the border. She then plied me with dishes from her menu, which spanned Chinese, Laotian, and French cuisines.
The 1E from Lak Sao had been the looper's menace until it was recently paved. Now, it may be the best stretch of the Loop and the most fun to ride. Along the way, boulders that were blown out along the shoulder of the road are carved with larger-than-life Buddha faces to bless passing traffic. As the terrain descends from the plateau it levels off when the road crosses over the Nam Thuen River into the Sop Ma reservoir (also known as Lake Thalang). There, it winds through a lifeless forest poking up through the vast body of water. It's a hauntingly beautiful landscape despite the obvious destruction caused when the river was dammed. Guest houses here are a popular overnight destination for those doing the loop from Thakhek.
It's a hauntingly beautiful landscape.
From the 1E, a dirt road to the left of the Tha Nam power station leads to the little-visited Sa Nam waterfall, where I stopped for lunch. Most visitors park themselves right at the bottom pool among the noodle and drink sellers, but for the intrepid ones who like a little hiking and bouldering (and who don't mind balancing along a few basic bamboo bridges) it's a fine climb to the upper sections. Within an hour's walk I found myself completely alone at a vigorous cascade pouring into a swimming hole where I laid out my lunch on a hot rock, stripped off my clothes, and bathed in water so cool and clean I didn't think twice about drinking it.
Just north of Thakhek, limestone karst outcrops, for which the region is known, jut up along the sides of the road and where there is limestone there are caves. Sometimes referred to as "cave alley," this stretch of Route 12 has signs for numerous caves, the largest of which is Tham Nang Aem. Popular with tourists both local (on the weekends) and foreign, the cave is festooned with stairs and offers a boat tour of its interior, lit by multicolored lights. There is even a restaurant on site, serving basic foods but elaborate coffee. It is perhaps the polar opposite of the Kong Lor experience.
Thakhek town sits on the banks of the mighty Mekong, not much changed by Laos' recent economic and tourism boom. Many of the colonial buildings along the old main street have been converted to guest houses or cafés, but the city hasn't lost its integrity to tourism. I stayed in the upmarket Inthira Hotel for about $25 dollars when my first choice proved to be rundown and pinched between two nightclubs that even the manager told me would be very loud until after midnight.
There are several trips that are worth staying in Thakhek an extra day or two to make, notably the Hin Nam No protected area and its spectacular Xe Bang Fai River Cave from which, like at Kong Lor, another underground river flows. The area is also becoming popular among rock climbers who are served by a nearby climbing outfitter and guest house. In general, Thakhek is a pleasant town in which to while away some time. A place where a good meal and quality accommodation are easy to come by, and a cold beer by the river at sunset was all the entertainment I needed after three long, hot days of riding before making the return trip upriver to the capital city.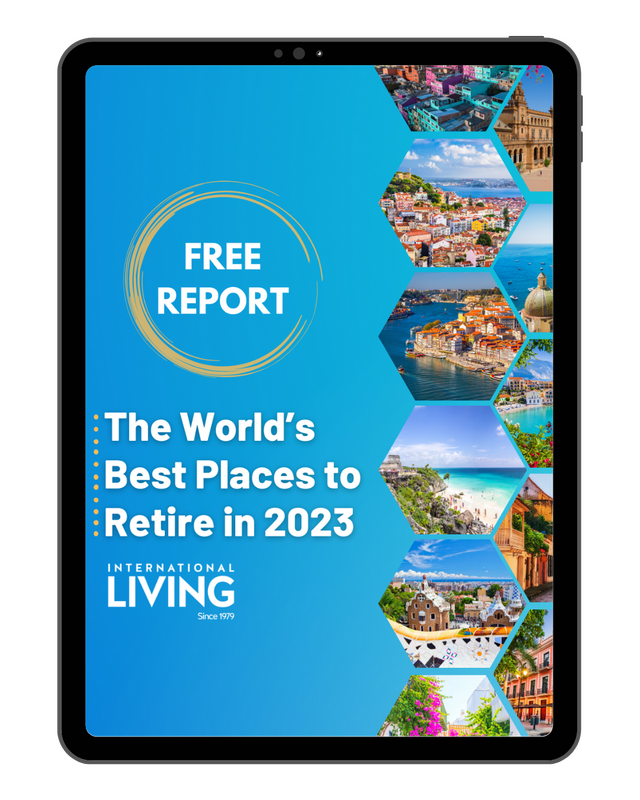 Get Your Free Report on the World's Best Places to Retire:
Learn more about the best places in the world to retire in our daily postcard e-letter.
Simply enter your email address below to sign up for our free daily postcards and we'll also send you a FREE report on The World's Top 10 Retirement Havens, plus access to over 10 more free reports. Our gift to you, on our favorite destinations.
Related Articles
The World's Best Places to Retire
The Cheapest Places in the World to Live
5 Great Places to Retire Where it's Easy to Fit In
Popular Articles You May Also Like