Traveling is on everyone's mind these days—mainly because we can't.
For those of us who are digital nomads, flitting from country to country for job and joy, or for those of us who just want to get away for a vacation after an extended quarantine, we long for the days of crowded airport security lines, the hassles of boarding, maybe even the niggling fees airlines ding us with because our luggage is three ounces over the limit.
But we can all take some solace in a small, soon-to-arrive victory: This is going to pass.
And when it does, the world of air travel will reopen. Once again, we will be able to get out and exercise our passports. Or, just fly around the country for a long-overdue getaway or to reconnect with family after this ordeal.
Whatever your travel dream is at the moment, a few travel-hacking strategies can help you save money once the all-clear sounds.
Tip #1: Book Flexible Flights
We've all grown accustomed to one of the more-infuriating travel slights: Paying additional fees to rebook an airline ticket or a hotel room, particularly when circumstances beyond our control force the change.
But with airlines and hotels reeling these days from a historic demand collapse, policies are a changin' in our favor.
Numerous Airlines and hotels now let you change a reservation for free, and often up to a year from your original purchase date. For instance, Delta Air Lines notes on its website that "Tickets purchased between March 1 and May 31, 2020, can be changed without a change fee for a year from the date you purchased it." However, given the coronavirus' inclination to keep on keeping on, it's likely that such policies will extend so that the deadline for making new reservations moves into June, maybe even beyond.
So, before you book a reservation with any hotel or airline, scour that company's website for rebooking policies. You probably won't have to scour very hard because these days the information is often on the homepage.  Be sure you know what that policy is, and choose those airlines and hotels for which you can claim a refund if your plans change, or policies that will allow you jigger your dates—for free—over the next year.
That will easily save you a couple of hundred dollars and it gives you great flexibility in your travel plans.
Tip #2: Check Out Travel Auction Websites
Desperate times call for… deep discounts!
Got a dream destination floating around your head? Well, check out the various travel auction sites that litter the internet nowadays and, wherever it is you want to go, search for deals on airline tickets to get you there, hotel reservations, resort packages, or destination experiences.
Some examples of what's out there:
Four nights in a suite at Mateya Safari Lodge in South Africa's Madikwe Game Reserve. At AndreHarperTravel.com, the "buy it now" price is $6,213 for a package that regularly costs $8,284. But the starting price for the auction is $2,675 – and there are no bidders at the moment.
Four nights, with a fifth night free, at the all-inclusive boutique resort of VIK Hotel Cayena Beach in Punta Cana, Dominican Republic. Stay anytime between June and December, with free changes and free cancellations. On the hotel's website, the same four-night stay in August is $216 per night. At SkyAuction.com, the "buy it now prices" for the same package is just $89 per night.
Want a trip that's more bespoke?
Register for free at LuxuryLink.com and then browse the auctions there for high-end hotels and resorts in luxury destinations such as the Amanwella resort in Sri Lanka or the Ritz-Carlton in Budapest, Hungary.
At the moment, no auctions are posted because of all the travel restrictions globally. Just bookmark the page and check-in once the travel world returns to normal. Hotels will be eager to attract guests and you will likely land a very nice hotel or resort at prices you probably wouldn't have expected.
Whatever you're looking for—airline tickets, hotel and resort reservations, experiential travel in some particular destination—you will likely find something to entice you into bidding.
Tip #3: Tourist Board Social Media Posts
As national borders begin to reopen and travel reverts to whatever the new normal will look like, we will absolutely see a rash of promotions aimed at attracting travelers to certain locations with great deals.
One of the first out of the gate is the Italian island of Sicily.
Though Italy has not yet reopened to travelers, the Sicilian government is already looking forward to that day. It recently announced plans to subsidize domestic and international holidaymakers who choose to travel to the island once the pandemic passes. The subsidy: Sicily will pay for half the cost of your plane ticket, and for every three days you stay on the island the government will pay for one of the hotel nights. Moreover, Sicily will fully cover the cost of tickets to any local museum or archaeological site.
Vouchers for all of those enticements will available at some point on the island's tourism website, VisitSicily.info.
And that underscores our money-saving travel-hack: Wherever you dream to travel, visit the tourist board website for that city/region/country to find out if it is financial any tourism promotions. As well, follow its social media feed on Twitter, Instagram, and Facebook. If such promotions arise, the tourist board will assuredly announce the deals through social media posts.
Who knows how long it will be before we are all overpaying for a mediocre airport hotdog again?
Honestly, that day can't come soon enough.
And, if you're prepared, when it arrives you will be primed to set a bundle of money … that you can then use for another trip.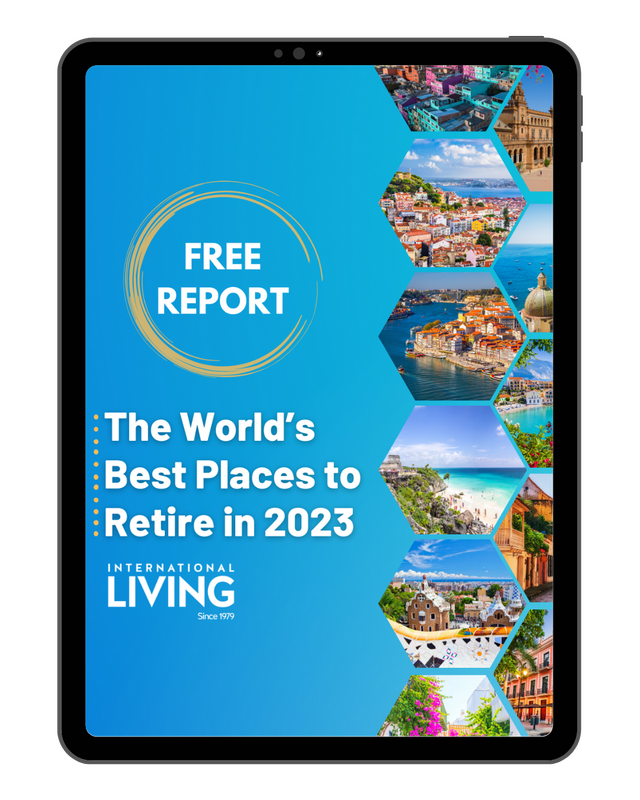 Get Your Free Report on the World's Best Places to Retire:
Learn more about the best places in the world to retire in our daily postcard e-letter.
Simply enter your email address below to sign up for our free daily postcards and we'll also send you a FREE report on The World's Top 10 Retirement Havens, plus access to over 10 more free reports. Our gift to you, on our favorite destinations.
Related Articles
The World's Best Places to Retire
The "New" Retirement: The Rise of the Gig Economy and How You Can Profit From It