A — Amed
Amed is one of a strip of seven small fishing villages dotted along Bali's northeastern coast. Its distance from the popular resorts in the south and its traditional roots mean it's still something of a hidden gem. The pace of life is slower and there's no great rush for change. Tarmacked roads, phone lines, and a bridge allowing uninterrupted access during the rainy season are all fairly recent developments here…making it the perfect place to get away from it all.
B — Bahasa
The local language is Bahasa Bali but most people also speak some English. In popular tourist spots and expat enclaves getting by in English is a breeze.
C — Canggu
A charming village of some 40,000 souls, located about nine miles north of the party resort, Kuta. Canggu, pronounced "changoo", is an up-and-coming expat favorite.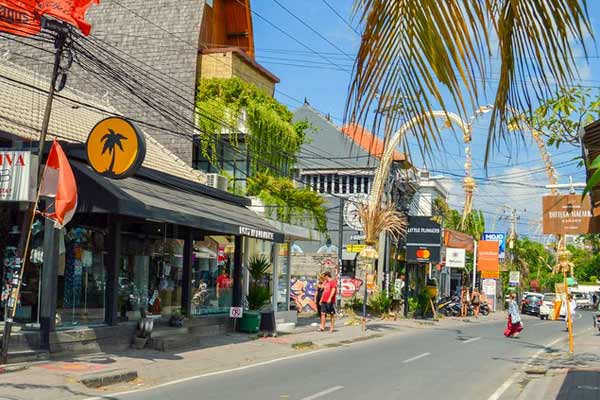 Dotted with lush rice paddies and plush villas and home to dramatic black-sand beaches it's the perfect choice for a laidback retirement.
D — Dental Care

Bali is a dental tourism hotspot, due to the great value, quality care on offer. The Australian-owned BIMC hospital and its medical tourism partner, Marriott Nusa Dua, offer a "Sun, Sand, and Smile" package. It comprises complex dental work, such as a crown, along with a week's stay in the luxurious courtyard resort for under $1,050. (See: http://bimcbali.com/).
E — Exchange Rate
US$1 = 14,110+ Indonesian Rupiah (IDR)
F — Festivals
Bali comes alive with vibrant festivals throughout the year, celebrating everything from kites to culture. The annual Ubud Writers and Readers Festival is the brainchild of Australian-born, Janet De Neefe. Established in 2004, the festival Southeast Asia's largest and most renowned cultural and literary event. (See: http://www.ubudwritersfestival.com/).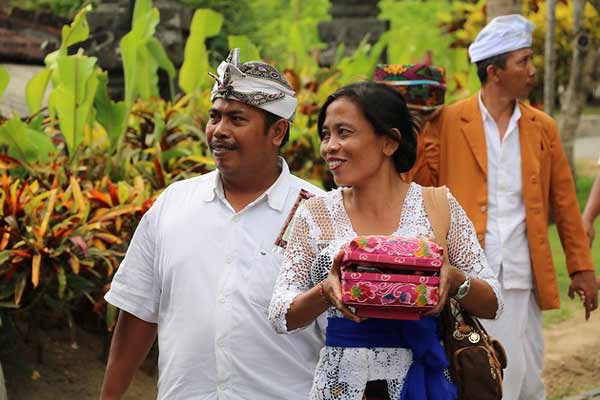 One to watch out for is Nyepi, a Balinese day of silence, when everything on the island shuts down: including the airport and internet services.
G — Getting Here
One-stop, return flights from Los Angeles start from around $600 (total journey time around 23 hours). From Orlando, from $1,121 (journey time: 26 hours), from Chicago, from $781 or New York, $638 (journey time: 24+ hours). From Philadelphia, fares start at $1,095 (average journey time: 38 hours). From Ontario, fares run from $800 with an average journey time of 24 hours. Carriers include American Airlines, Singapore Airlines, China Airlines, Hong Kong Airlines, Cathay Pacific, and Virgin.
H — Healthcare
Expats in Bali recommend having insurance, including medical evacuation cover. World Nomads are a popular choice. (See: https://www.worldnomads.com/). Healthcare in Bali is improving, but it's not world-class and prices can be steep in the private hospitals. A surgical consultation at Kuta's BIMC hospital will set you back around $125.
I — Immigration Office
You'll find immigration offices in Denpasar, Singaraja in north Bali, and Jimbaran. For visa extensions you'll need to visit the office closest to where you are staying and dress respectfully. Show up in shorts and sandals and they'll likely show you the door.
J — Jimbaran
Once a southern Bali backwater, this small fishing village has transformed into an upmarket resort spot thanks largely to its white-sand beach and calm, inviting waters.
K — Kuta
Bali's notorious party hotspot. This is where you'll find vibrant night life, all-hours clubs, and extensive shopping options. Kuta is a favorite with hard-partying, sun-seeking vacationers but you won't find too many retirees settled here.
L — Lovina
Lovina, on Bali's north coast, is made up of several villages along a black-sand beach. The first hotel here was built back in the 1960s and although it's the main resort area in the north of the island, its charming village feel remains. The three-hour drive from the airport takes you through spectacular, lush mountain scenery and the area is a dolphin watching hotspot.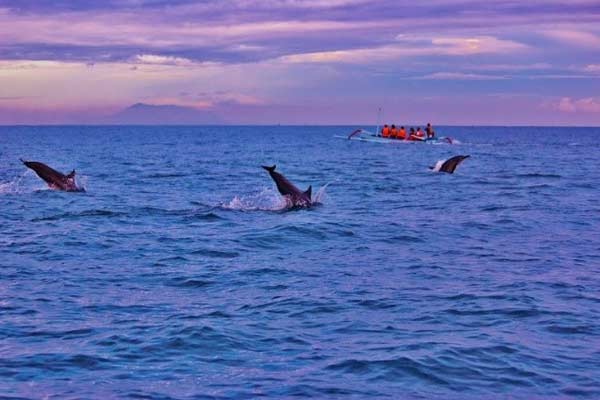 M — Mount Agung
Bali's highest point is also an active volcano that's been rumbling since August of 2017 when nearby villages were evacuated and an exclusion zone set up. The global headlines hit tourism on the island hard but the fact is most resorts are far beyond the reach of the volcano even in the event of a major eruption.
N — Nusa Lembongan
Just a 30-minute fast-boat ride away from Bali lies the island of Nusa Lembongan, filled with cosy beach hotels and dotted with luxury hilltop villas. Hire a scooter for around $7 or a golf buggy for the day ($70) and explore.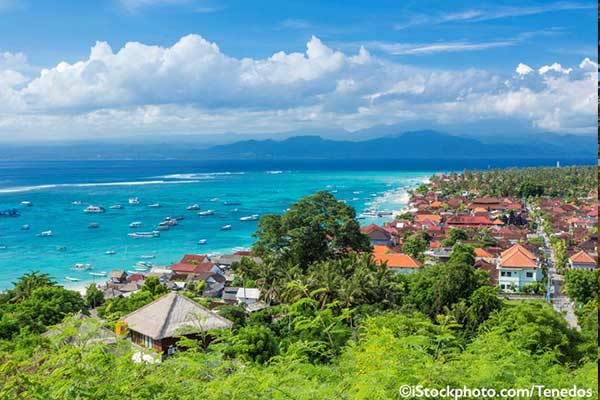 O — Offerings
In Bali, one of the first things you'll notice are daily offerings—known canang sari—dotted all over the streets and beaches. Don't step on them! These colorful small trays made from woven banana leaves are filled with fruit, rice, flowers, sweets, and incense, are offered to the gods by locals in the morning and throughout the day to bring good fortune.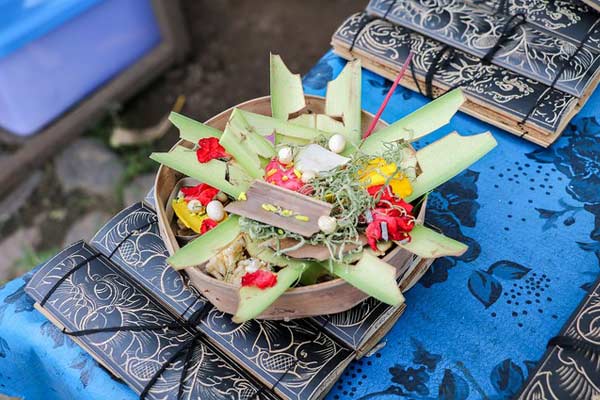 Stepping on one or over one will offend the Balinese. If you happen to do so by accident, simply apologize and keep moving.
P — Property
The law of Indonesia states that foreigners are not allowed to own land in Indonesia. The process of buying property in Bali is complex and should not be done without legal representation. A foreigner is deemed as anyone who has citizenship of a country other than Indonesia.
Basically, there are two ways to purchase any kind of property in the country…
The first option is Freehold, which translates to land or property purchased by an Indonesian nominee. This title is the strongest and fullest title that can be obtained but a lot of trust is required and it can be a risky process.
A Leasehold agreement entitles a foreigner to lease the property for a specific number of years. This is the simplest and easiest way for a foreigner to buy a property in Indonesia. Your name is fully attached to the agreement. This form of lease is fully legal, recognized by the Indonesian courts as a binding agreement between a local and a foreigner, and the term can be extended.
Q — Qigong
An ancient exercise practice, like Tai Chi, involving coordinated movements, breathing, and meditations. With roots in Taoist philosophy and Chinese medicine, you'll find qigong classes, groups, and retreats throughout Bali. (See: https://www.qigongbali.org/)
R — Renting
Rentals in Bali are let on a yearly rate, which is paid up front. If you wish to extend your stay, you have the option to negotiate further. Once done, you're locked in, so be sure you have a contract in place and specifics listed such as who will cover maintenance costs, for example.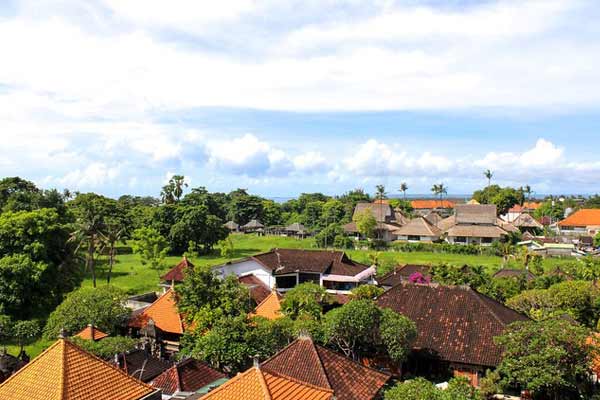 In the expat haven of Sanur, a two-bedroom, two-bathroom villa with open-plan living and a plunge pool is available for $8,165 a year, ($680 per month). In Canggu, a two-bedroom, two-bathroom villa, with an open kitchen and terrace and three minutes from the beach rents for $7,100 a year ($591 a month). In Ubud, the lush, spiritual heart of Bali, a furnished, one-bedroom, one-bathroom villa is available for $8,521 a year ($710 a month).
S — Spas
Wherever you go in Bali, you will find salons and spas on almost every street, with a myriad of treatments of all kinds being offered—from haircuts to massage, to acupuncture, podiatry, and pedicures.
Massage is part of the culture here—the Balinese massage their children from an early age. And, with the rise of plush spas in luxury hotels, there are also a variety of training colleges so you can rest assured you'll be in good hands with your chosen masseuse.
A massage or a pedicure on the beach can be enjoyed for as little as $3. An hour-long massage in a mid-range spa will run you about $7 and you'll typically be greeted with a cooling drink or some fruit. A pedicure or manicure will set you back about $5 for each treatment. In higher-end spots expect to splash out $20 and up.
T — Temples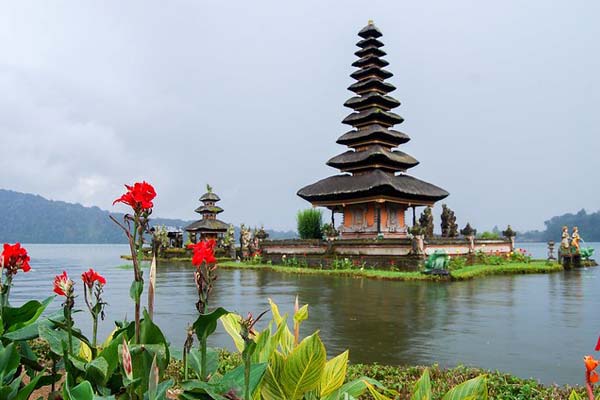 There's an estimated 10,000 historic temples (Pura in Balinese) and shrines scatted around the island. Some are landmarks and all are revered by the Balinese people. When visiting temples in Bali, shoulders must be covered and a sarong and sash must be worn to show your respect.
U — Uluwatu
A 45-minute drive from Bali's airport, on the southwestern tip of the Bukit Peninsula is the laidback, surfing hotspot of Uluwatu. White-sand and cobalt blue waves are the order of the day here.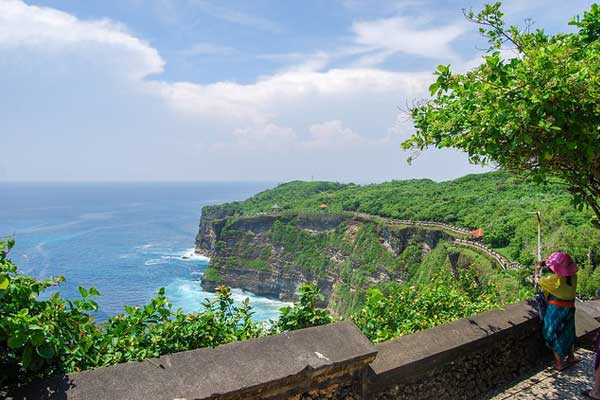 V — Visas
Indonesia offers a retirement visa officially called ITAS Lansia-Retirement Temporary Stay Visa (lansia stands for lanjut usia). You have to be 55 years old or older to get this visa and the initial cost is less than $700 (plus around $700 to renew).
One condition of this visa is that you must hire local staff, such as a housekeeper or a gardener. It's not a burden having to do this—in fact it's one of the perks of living in Bali—and it's not expensive. A housekeeper for six hours a week costs as little as $20 and a gardener to maintain your outdoor area costs $10 for three hours. If you're lucky enough to have a pool, maintaining it is very affordable. For $20 a month, your pool will be sparkling clear.
The retirement visa allows you to live in the country permanently, and along with a Multiple Exit and Re-entry Permit (MERP) you can exit and enter as often as you like. Just remember to ask for a MERP when you apply for the visa, otherwise, you have to remain in Indonesia for the first 12 months. A MERP allows you to come and go as you please without voiding your visa.
Your retirement visa also allows you to open a local bank account and hold an Indonesian driver's license.
After five years in Bali with this visa, you're eligible for a KITAP, or Permanent Stay Visa.
W —Water
Don't drink the tap water. Brushing your teeth is fine, but don't swallow the water and don't drink the tap water. Bottled water is readily available but to help the ever-increasing problem of rubbish, consider using refillable bottles.
X — X-rays
An X-ray at the dentist will cost as little as $7, at the hospitals' prices start from $50.
Y — Yoga
Yoga classes, workshops, and schools abound in Bali, many in Ubud, the epicenter of yoga on the island. Down in Sanur, there's a free yoga class every morning at 7 a.m. on the beach just opposite Jalan Pantai Karang.
Z — Zzzzzz
Relax, you're on island time now.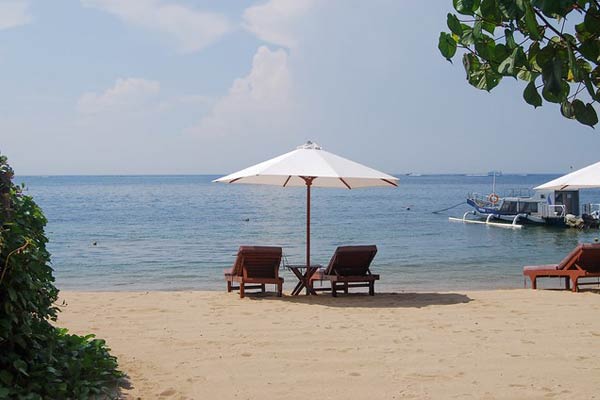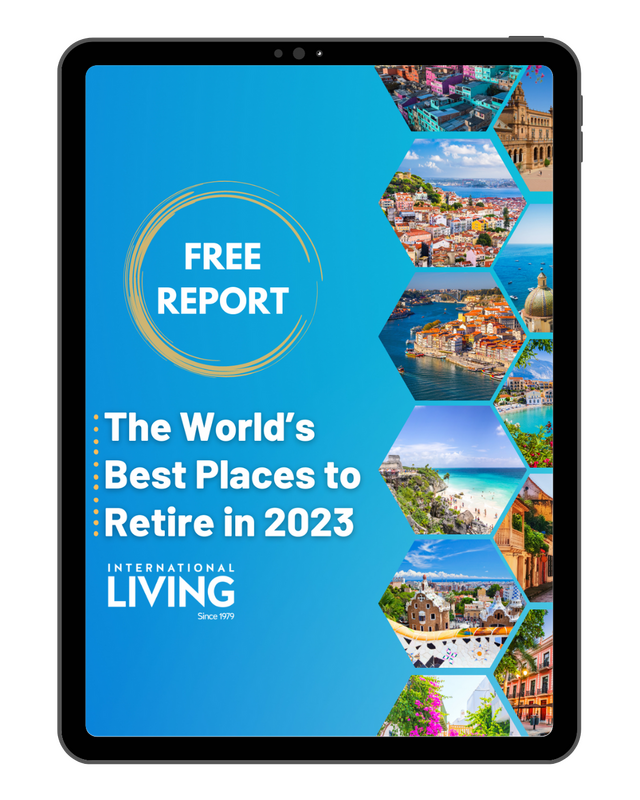 Get Your Free Report on the World's Best Places to Retire:
Learn more about the best places in the world to retire in our daily postcard e-letter.
Simply enter your email address below to sign up for our free daily postcards and we'll also send you a FREE report on The World's Top 10 Retirement Havens, plus access to over 10 more free reports. Our gift to you, on our favorite destinations.
Related Articles
7 Things to do in Bali…Big Adventure on a Paradise Island
Upcoming Conferences
The Only 2023 Fast Track Costa Rica Conference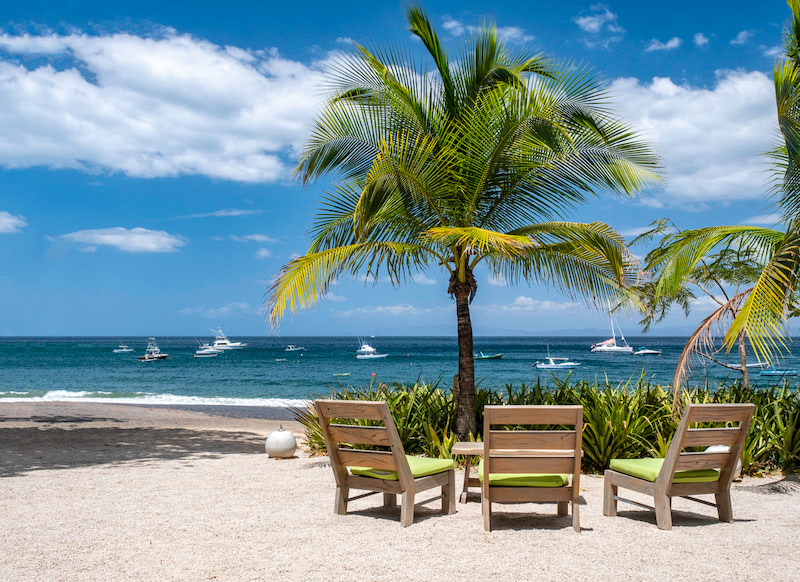 If your dream retirement involves stunning beaches… lush green mountains… a perfect year-round climate… first-rate healthcare… incredible value for money (a couple can live well on $2,109 a month—including rent!)...
Join our Costa Rica experts and expats in June and discover true Pura Vida.
REGISTER NOW, SEATS LIMITED: EARLY BIRD DISCOUNT HERE
---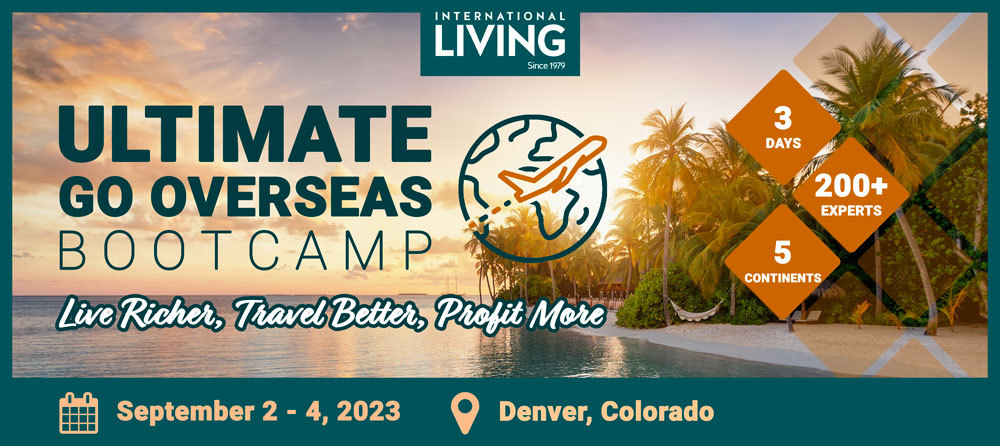 Most Popular Products