If you're considering Belize as a possible place to live, there are five regions where most expats settle. Each of these regions offers a somewhat different lifestyle, and the cost of living varies accordingly. In each region you'll find at least one hub where expats gather to socialize.
1. The Corozal District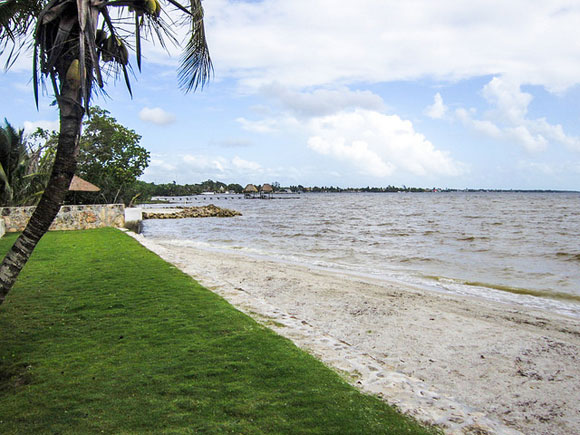 Corozal is a sleepy Belizean family town located on the picturesque Corozal Bay, near the country's northern border. You'll find few tourists here. Expats in this region appreciate the proximity of Chetumal, Mexico, and the resort towns of Tulúm, Playa del Carmen, and Cancún. They can easily hop the border to shop at Sam's Club, Wal-Mart, and other large shopping centers.
The low cost of living is a major attraction in this area. A couple who own their home can live comfortably on $1,500 a month in Corozal. In addition to town, a tranquil bedroom community—Consejo Shores—is located seven miles north of town.
The number of expats is growing quickly in this region, and the expat community is friendly and welcoming to newcomers. You'll find many social and volunteer organizations you can join to meet other expats.
The most popular meeting spot is the Jam Rock, a bar and restaurant that sits on the shore of the bay, a few blocks south of the Town Square. Expats gather for lunch, dinner, or for a drink with friends.
2. The Cayes: Ambergris Caye and Caye Caulker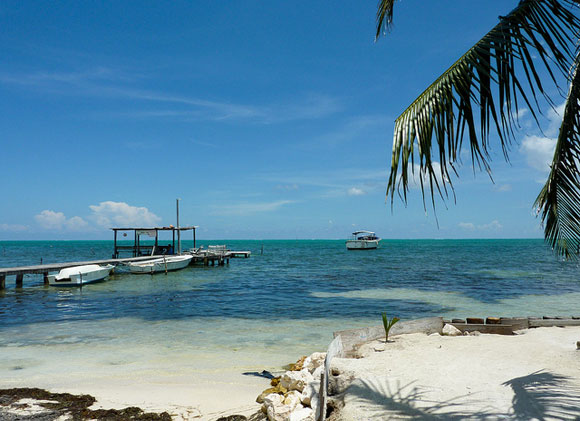 Both islands, known as cayes, are popular tourist destinations with active expat communities. You can travel between the two cayes by taking a 20-minute water taxi ride. Both are gorgeous Caribbean islands with breathtaking scenery. But the feel and lifestyle options of these two cayes are quite different.
Ambergris Caye has 20,000 residents; Caye Caulker has only 2,000. Many more expats live fulltime on Ambergris, in the town of San Pedro. San Pedro is a bustling hub of activity, so there's always something happening. You'll have many opportunities to meet fulltime expats here. They gather regularly at a variety of social functions, beach bars, and restaurants.
Sunday afternoons are a perfect time to chat with expats as they spend the afternoon at favorite beach BBQs. A popular spot is Caribbean Villas—south of town. On the north side of the island, expats and tourists drop in at the Truck Stop, which has an outdoor bar. The owners encourage their clients to participate in the games they've set up on the lagoon.
Two other popular spots where you can easily chat with local expats are Wine De Vine (on Friday nights from 4 p.m. to 8 p.m.) and Marbucks (on Thursday afternoons from 4 p.m. to7 p.m.).
Far fewer expats live on Caye Caulker than on Ambergris Caye, but those who do can usually be found at the Barrier Reef Sports Bar & Grill on Friday afternoon. That's when they have a drop-in jam session.
3. The Placencia Peninsula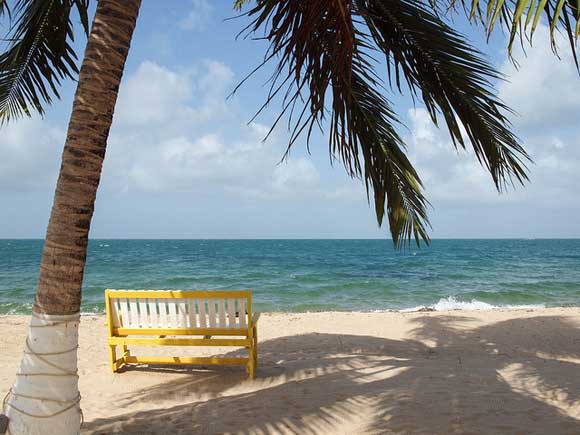 Placencia is best known for its 17 miles of golden-sand beaches. Wherever you travel on the peninsula you'll be within a few minutes of a lovely beach. This peninsula often feels like an island, since it's so narrow. You can often see the sea to the east and the lagoon with a backdrop of the Maya Mountains to the west.
Only 3,000 people live on the peninsula. Many are expats who own their own homes there. Placencia has been rapidly growing, becoming a popular tourism haven. But it's not nearly as frenetic as Ambergris Caye. It's actually quite sleepy on the peninsula during the low season. But you'll find a variety of chic restaurants, bars, and stores to choose from. And there are plenty of activities since you can access all that the mainland has to offer.
The peninsula has three villages and the top spots to socialize are in Maya Beach and Placencia Village. In Maya Beach, drop by Mango's Beach Bar in the evening to meet expats who gather at the bar, or for a meal. In Placencia Village, at the southernmost tip of the peninsula, check out Above Grounds Coffee House.
4. The Cayo Region: San Ignacio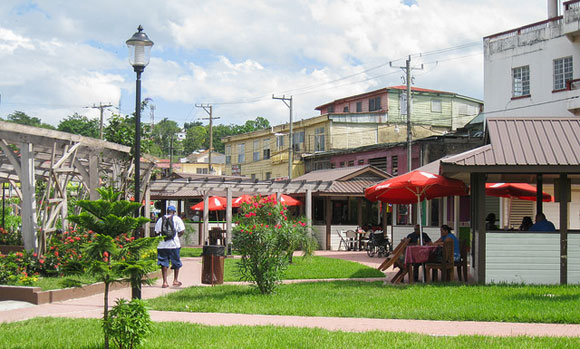 The Cayo region receives less attention than Belize's cayes and coastal districts. But a good number of expats are enamored with this lush, mountainous region, with its meandering rivers, wild jungle, mysterious ruins, and honeycomb of caves. This is where you'll find some of Belize's most productive Mennonite farmland, in Spanish Lookout.
Like Corozal, San Ignacio is a low-cost region where expats can live comfortably on their social security checks. The cost of living is similar to that of Corozal. You can rent or buy a home in San Ignacio, the main town. But some expats prefer to live in a small village where they can have a huge backyard with productive fruit trees and a garden.
The Cayo's expat community is active and involved. A good way to meet expats is to drop in on one of the local volunteer meetings, such as the weekly Rotary Club. Or you can check out Hodes Place Bar and Grill, a few blocks outside of San Ignacio's town center. It's a low key restaurant that expats love.
5. Punta Gorda: The Toledo District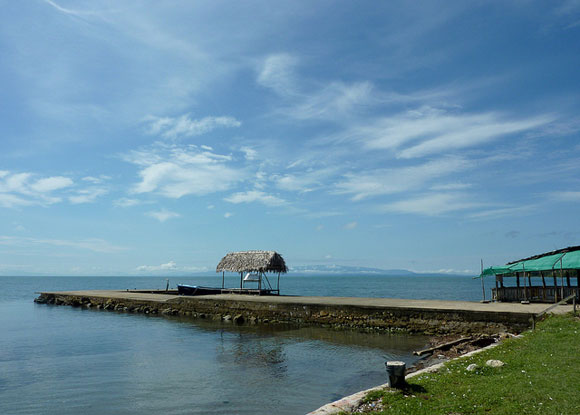 Few expats venture as far as Punta Gorda, at the far southern end of Belize. Those who do live there appreciate that the Toledo District has not yet been spoiled by the impact of tourism. Often referred to as the Forgotten District, this is the authentic Belize where you can still see many traditional Mayan villages. It's a region of wild, dense jungle, with winding rivers that make their way down the rolling hills, emptying into the Bay of Honduras at Punta Gorda and beyond.
The town of Punta Gorda is a small, quaint town that sits on the expansive bay. Across the bay, to the south, are the rugged mountains of Guatemala and Honduras. Expats who live in this district fulltime are an independent, self-sufficient lot. Toledo is a good spot for expats who want to farm, or live a simple off-the-grid lifestyle.
The cost of living in the Toledo District is the lowest of any expat region in Belize. But don't expect the same modern amenities you'd find in Belize's pricier tourist areas.
To meet local expats, head to the Snack Shack for a cup of coffee, breakfast, or lunch. It's a favorite spot where expats and tourists gather. April, the owner, is very helpful and will happily point out the expats who have lived there for a while.

Free Webinar: Belize, The Last Affordable Caribbean Paradise
This Special FREE Online Event, The Caribbean's Last Affordable Paradise will show you where you can...
  ➢ Recapture the carefree, contented days of time gone by...spend your time playing in the sea, fishing, swimming, sunning...
  ➢ Rent a luxuriously furnished two-bedroom condo just steps from the beach for just $1,200 a month. Or buy one—furnished—for as little as $139,000.
  ➢ Live all in...rent, utilities, groceries, fun and entertainment included...on as little as $1,700 a month—less than $20,000 a year—and vastly reduce your overall tax burden.
All in a friendly and welcoming English-speaking haven just 2 hours from Miami.
Your Hosts...Two of the Most Qualified Caribbean Experts are ready to share all their insights and first-hand knowledge about this often overlooked, low-cost paradise.
Sign up for our daily postcard e-letter and you'll get FREE and INSTANT access.
Related Articles
In Pictures: Corozal, Belize–A Subtropical Haven for Active Expats