In November 2015, my wife Vivien and I arrived, sight unseen, in Hua Hin, the tropical Thai beach town we now call home. We reassured ourselves that if it didn't turn out to be the right spot for us, we had other options…
We needn't have worried.
Welcoming, safe, and affordable, Hua Hin—a royal resort town on the Gulf of Thailand—is packed with conveniences and home to a flourishing expat social scene. Our move here was absolutely the right choice. In 2016 we bought a two-bedroom villa, with a pool and spa, for $94,500 and we haven't regretted a day since.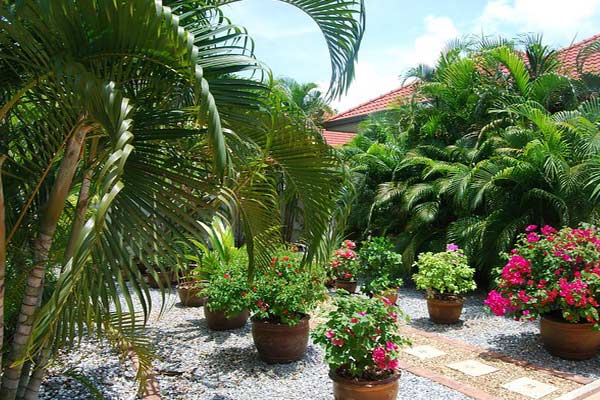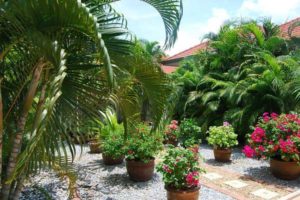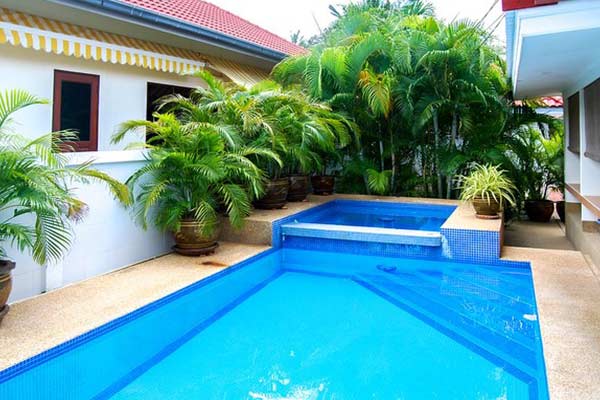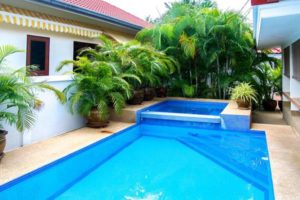 Michael and Vivien's home is surrounded by tropical blooms,
and their inviting pool is the perfect place to cool off.
Just three hours south of Bangkok, Thailand's vibrant, bustling capital and home to around 80,000 souls, Hua Hin has managed to retain the laidback charm of the fishing village it once was but still cater for the discerning expats and beach-loving tourists that flock to the sandy shores.
Home to long, wide, sandy beaches suitable for the whole family and blessed with a year-round tropical climate, you'll find all the infrastructure needed to live a comfortable and safe life here—including international standard healthcare. Plus its proximity to the capital—and its airport—means exploring farther afield is a breeze.
Expats from all over make up the welcoming community of overseas retirees based here. Golfers have eight quality golf courses to choose from, including several at international competition standard. Tennis…badminton…yoga…whatever your preference and budget you'll find a fitness facility to cater to it.
Water sports including kitesurfing, paddle boarding, and surf skiing are readily available too and there's also two mega adventure waterslide parks to keep kids—young and old—active all day.
Take a drive out of town and sugar cane fields and pineapple and aloe vera plantations abound. The region is surrounded by three large and diverse national parks—nature in all its wild wonderment and right on our doorstep.
While you're on the road, why not stop off at the nearby winery. It's just 45 minutes from the town, makes for a fantastic day trip, and offers up very drinkable stuff.
Hua Hin's fishing-village roots are evident come meals times too. Just check out the local markets or the profusion of food stalls and restaurants at the night market to find fresh, local seafood in abundance and prices that will make you want to dive right in. Just last week we bought fresh fish from the market which gave us two large fillets—for just $2. And they cleaned & filleted the fish on the spot.
The local cuisine is delicious. Food stalls sell tempting snacks like freshly fried banana or taro pieces, mini chicken satay skewers, sweet sticky rice cooked in bamboo, or freshly-cut, ready-to-eat tropical fruits for under $3.
You'll find more traditional cafés and restaurants where main courses cost from $4 to $8 but if you have a craving for something you used to have back home, that's no problem, you'll find Italian, French, Japanese, and Middle Eastern restaurants dotted about the town.
Our monthly budget here is $1,600. That includes groceries, eating out and entertainment, utilities, telephones, WiFi, basic local healthcare, and all the other usual incidentals. Add to that annual expenses like health insurance, car and house insurance and the like. We live very comfortably here…and we do it for less than a third of what we were spending back home.
Rental properties of every conceivable option are available and longer-term rentals (six-plus months) offer the most attractive pricing. We've seen two-bedroom, two-bathroom, fully furnished apartments in a new complex with air-con, WiFi, and a large on-site resort-style pool for $150 per week.
Larger, private, fully furnished pool villas in gated communities can be found starting from $200 a week. Visiting friends secured a fully furnished, one-bedroom apartment with all inclusions for $80 a week and it was only three minutes' walk from the beach.
That's the other great thing about making our home in an alluring beach town such as this…we're never short on friends and family looking to come and stay.
Related Articles
Enjoy a Low Cost of Living in Thailand
Fun & Interesting Facts About Thailand