Consider a Move to the Land of Smiles
Thailand has long established itself as one of the top destinations in Asia for expats looking to relocate and enjoy the tropical paradise that's rightfully known as the Land of Smiles.
The Kingdom of Thailand is a truly beautiful and diverse country which offers a tantalizingly unique mixture of the traditional and the ultra-modern. This is a country which looks to the future while still holding on tightly to its rich history and heritage.
It is not an understatement to say that Thailand has something for everyone, including hi-tech urban metropolises, royal coastal resorts with beaches that stretch for miles, picture perfect islands, bountiful farms and fields filled with exotic fruits and fauna, and lush mountains and vast national parks that have to be seen to be believed.
Expats can enjoy the best of all that the modern world has to offer here and live a life of affordable luxury, or they can also experience the joys of rural life in the provinces if that's what they prefer. This is a place where your options are very much open.
It is possible for a couple to live quite comfortably in different parts of the country for between $1,800 to $2,300 a month. Those who wish to move to the smaller towns will find that their cost of living becomes dramatically reduced the deeper into the provinces they go.
Thai food is not only delicious but it is also accessible and inexpensive, so you can eat well no matter how large or small your wallet may be. Great street food can be found throughout every city, town, and village, which means you rarely have to go far without finding something tasty to eat.
Thailand appeals to many expat pensioners thanks to its advanced medical and dental tourism industry. A wide range of treatments, medications, and surgeries are competitively priced, and tourists flock to the country every year to get everything from hip replacements and cosmetic enhancements to laser eye surgery and root canals, at a fraction of the cost back home.
Where to Live in Thailand
Thailand is a major regional transport hub in Asia and also has a developed domestic travel infrastructure which makes getting from one part of the country to the other an easy proposition be it by plane, train, or automobile. This means you can pretty much choose to live anywhere you like in Thailand with the minimum of hassle. The following destinations are among the most popular for expats:
Bangkok is the capital city of Thailand and the center of the country's economy. It also has the largest population of any city in Thailand with over 14 million residents. A large and modern metropolis, it is filled with skyscrapers, shopping malls, and sky trains which sit alongside more traditional markets, parks, and waterways. Many expats live in Bangkok for business or professional reasons, although some people simply enjoy the urban lifestyle.
Chiang Mai attracts a wide range of expats who love the peaceful and historic city in the north of the country, where you can still see the old city's fortified wall and moat. The cost of living here is much more inexpensive than Bangkok and it attracts people from all walks of life—retirees, small business owners, teachers, and many others. Chiang Mai benefits from its proximity to several national parks and mountain areas where popular activities such as hiking and camping take place. It is also an excellent destination to enjoy many of Thailand's best loved festivals like Yi Pen—when the sky becomes filled with thousands of fire lanterns—or the Chiang Mai Flower Festival, with its much loved flower parade.
Phuket is the largest island in Thailand and home to well over 600,000 local residents and more than 100,000 expats of every nationality. If you are a beach lover then Phuket has a lot to offer, with many different beaches scattered around the island, each with their own special vibe. The marine scene is also big with numerous marinas and a large expat community dedicated to life on the water. The island benefits from a number of world-class golf courses that are particularly popular with expats and tourists as well as middle and upper class Thais.
As in the rest of the country you can enjoy the best of the modern world with all manner of shopping malls, fine restaurants, and other places of luxury, or you can spend your time visiting traditional markets, exploring the historic areas of Phuket Town, and eating out at local Phuket restaurants where the food is delicious.
Hua Hin is known as the Royal beach resort town of Thailand and is a more affordable option than Phuket in some regards. Apart from offering a great beach lifestyle, the town boasts multiple international standard hospitals, a plethora of water sport activities, ever-expanding golf courses, and some significant events and festivals. The Thailand International Kite Festival, Hua Hin Jazz Festival, and Hua Hin Vintage Car Rally all attract considerable interest from both foreign and Thai enthusiasts.

---
How to Move Out of the U.S.
(and Where to Escape to)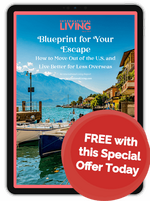 In lots of safe, warm, friendly spots abroad, a couple can live well for around $2,000 a month. Hundreds of thousands of Americans have already escaped—and you could, too. International Living shows you—step-by-step—how (and where) to go. You may be stuck at home right now—but it's the ideal time to put your escape plan in place.
Subscribe to International Living with this special discount offer today—and we'll give you a blueprint for your own escape.
Claim Your FREE copy of this Special Report now when you subscribe to International Living
---
How to Move to Thailand
Expats who want to move to Thailand will need to secure an appropriate visa from a Thai Embassy or Consulate before relocating to the country.
For most expats over 50 years in age the best option is the Retirement Visa, which can be used for multiple entries over a one-year period. Aside from the age threshold you will need to meet the financial requirements for a Retirement Visa. Essentially, you will require a letter from your Thai bank that shows at least THB 800,000 ($23,000) deposited in your account. Alternatively, if you can show you have a monthly income of at least THB 65,000 ($1,900), or a combination of the two, this will satisfy immigration requirements.
Other visa options include the Education Visa, which is issued for those wishing to study in Thailand and can be used for multiple entries over a one- year period.
If you intend to work or have invested in a Thai company then you will need a Business Visa, which can also be used for multiple entries over a one-year period. Various requirements will need to be met to obtain this visa.
Those who only wish to travel and live in the country rather than retire, work, or study often go with the simpler option of getting a Tourist Visa which allows for stays of up to 60 days with extensions allowed for another 30 days. Many expats will stay in Thailand for the maximum duration allowed under the Tourist Visa then visit other countries in the region to obtain another visa so they can re-enter Thailand.
Once your visa obligations are taken care of you can focus on enjoying your new life in the "Land of Smiles."
5 Things I Wish I'd Known Before Moving to Thailand
By Rachel Devlin
Having been an expat for a few years now in the vibrant, culture-rich city of Chiang Mai, there's a few things I can tell you about expat life. One is that making the decision to live or retire overseas is far more difficult than actually moving and doing it.
The thinking and planning ahead of time can be stressful but the actual act of moving to another country is nothing short of enthralling. Of course, the road is not necessarily a silky-smooth highway and there's bound to be a few surprise bends and potholes along the way but, just like any road trip, you adjust to the changing terrain and enjoy the journey.
In saying that, there are a few things I wish I'd known before I moved to Thailand. They are not biggies but they would have been good to know ahead of time, which is why I want to share them with you…
1. The Expat Community Love To Help.
There are all kinds of silly little things that you need to sort out when you move overseas. You will have all sorts of questions that back home you would have instantly had the answer to. Little things like, 'Who is the best internet provider?' and 'What is the cheapest way to transfer money overseas?'
When I first moved to Chiang Mai I was lucky enough to meet some expats, Anne and Steve, who had been living in Thailand for 10 years. They were so kind, knowledgeable, and generous with their time. They ended up moving back to Australia and I could never really pay them back so instead I decided to 'pay it forward' and help other new expats when the opportunity arises. We are all on the same side and it will be okay. In fact, it'll be great.
2. Moving Will Do Wonders For You.
I was aware that a move to Thailand would make my life easier. The food is wonderful and cheap, I have cleaners come in once a week, and my husband, teenage son and I take small trips to explore the country all the time. But to be honest, I didn't realise how good it would be for my health.
My life now has so little stress and with less stress comes a healthier lifestyle. I recently got my Thai driver's license renewed after two years and was absolutely gobsmacked to see that I looked older in my first licence than the one I got two years later. I have no complaints there.
3. Living In A 'Developing Nation' Doesn't Mean You Miss Out On Quality.
Labels and generalizations can be very misleading. Being a realist, I thought that I would have to make some lifestyle sacrifices when I moved to Thailand. What a fallacy that was. My internet is better here than back home and I only pay $24 per month. The specialist at my local hospital is managing a chronic health issue perfectly, in fact, I have never felt better. I have an app on my phone that can get meals from all my favorite restaurants delivered for a $1.40 fee. I am living my best life here.
4. Time Is Precious.
When we are stuck in the demands of working, paying bills, and overladen with the day-to-day running of our lives, we know how precious time is. We are desperate for more time. We never have enough time. This sounds crazy but, as an expat, I value time even more, even though I have lots of it.
At the risk of sounding corny, I can say that I wake up with joy every single morning. I am so excited about what the day will bring. I have so many options here in Chiang Mai. These days I spend my time exploring, eating out with friends, doing courses like ceramics and sketching, and just simply enjoying every second. My days are full. I am on the flip-side, because now, time is my friend, not my enemy.
5. Sheets Back Home Are Fabulous
I know this sounds ridiculous but I wish I had known that sheets in Thailand are quite expensive and not quite as soft as the ones back home. Thai sheet sets only come with a bottom, gathered sheet and two pillow cases. I mean, I get it… It is hot. Locals don't need a top sheet. But I do.
Thank goodness I have friends that come over and visit. They are always happy to pick up a set of sheets and bring them over. Like I said, not a biggie and easily fixed. There is always a solution to any issue here in "The Land of Smiles".
---
How to Move Out of the U.S.
(and Where to Escape to)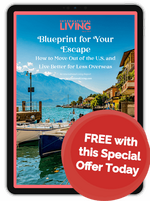 In lots of safe, warm, friendly spots abroad, a couple can live well for around $2,000 a month. Hundreds of thousands of Americans have already escaped—and you could, too. International Living shows you—step-by-step—how (and where) to go. You may be stuck at home right now—but it's the ideal time to put your escape plan in place.
Subscribe to International Living with this special discount offer today—and we'll give you a blueprint for your own escape.
Claim Your FREE copy of this Special Report now when you subscribe to International Living
---