Koh Samui is a small tropical island off the East Coast of Thailand with a population of over 60,000 Thai people. The island was probably first inhabited over 1,500 years ago by fishermen. In recent times, fishing, coconut and rubber plantations were the major source of income. The island was without roads until the early 1970s but has long attracted backpackers. In the early 1990s tourists started arriving in increasing numbers and is now a fully-fledged tourist destination with luxury hotels, spas and boutiques.
Retire in Koh Samui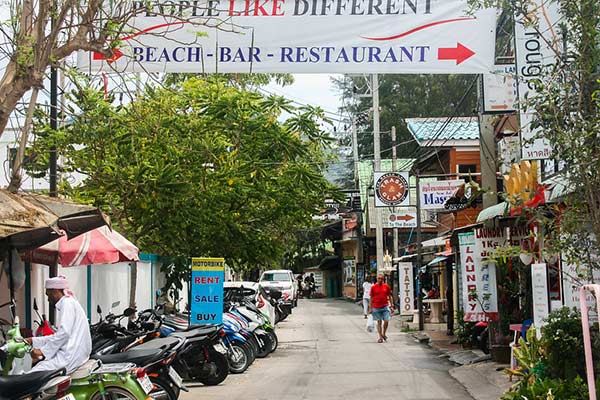 Samui is Thailand's second largest island and you can drive around the 34 mile 'Ring Road' in about three hours. It offers a warm tropical beach climate, with average daily temperatures of about 86 F. White sandy beaches and headlands fringe the island. The main beaches are recognized as some of the best in the world, with inviting crystal blue waters and you can still find delightfully secluded coves or a long stretch of beach to wander along. Low-rise housing developments are dotted with coconut palms and lush jungles climb the hillsides.
The growth in luxury resorts has attracted quality chefs and restaurants. Tropical fruits and vegetables, countless varieties of seafood, free-range poultry and meats, aromatic herbs and spices blended with Thai, Asian and European cuisine make for mouth-watering dishes. And you don't have to spend a lot, you can get a tasty meal for two with a beer for $16. Or savor delicious meals of Thai cuisine for under $2 at the night markets you'll find dotted around the island.
There's plenty to do on Koh Samui too, with just about any water sport you can think of, jungle trekking, exploring temples and Buddhists monuments. For all the attractions, Samui retains the delightful, traditional Thai hospitality and stepping away from the more touristy areas and into the towns and villages, you'll find a world of friendly locals going about their day-to-day lives.
Lifestyle in Koh Samui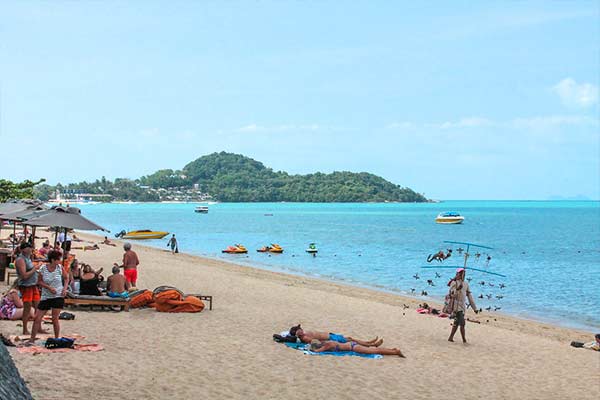 A benefit of living in Thailand is the easy access to other countries and at a low cost. Samui has an international airport and you can be in Singapore, Malaysia or Hong Kong in just a few hours. Bangkok Airways offers residents discounts too. Car and passenger ferries traverse between Don Suk near Surat Thani and Nathon on the island's west coast. Passenger ferries also go to beautiful Koh Tao and Pha Ngan and to mainland Chumpon, where there are connecting buses to Bangkok. Living in the heart of Asia, at a low cost, means travel is more affordable and attractive.
Most expats live in the northeastern region around Lamai, Chaweng, Choeng Mon, Bophut and Maenam where you will find the most shopping and amenities. You can get practically whatever you need on the island. There are supermarkets stocked with imported foods, white goods and furniture stores, top-notch home improvement and consumer electronic stores. High-speed, fiber optic internet and digital TV access are affordable.
There are well over 1,000 restaurants on the island, plus many food and market stalls offering excellent value for money tasty meals. Fine dining establishments provide culinary delights at much less than what you would pay at home.
There's more to this paradise island than tropical beaches, great food and friendly people. It also offers outdoor "adventure" activities like deep-sea fishing, scuba diving, sea walking, or horseback riding, archery, golf, tennis, jungle trekking, zip lining, running and walking events and more.
With a vibrant expat community that swells up to 40,000 in peak periods, there are many opportunities to make new friends. Put on your thinking cap for trivia nights, join a service organization like Rotary or learn the Thai language. Lunch with the 'Sisters Of Samui' ladies group… chill out with live music… dance Salsa… watch spectacular sunsets… visit hilltop temples… play a round of golf… enjoy a Thai massage for $7… loll on the beach… the choice is endless.
Cost of Living on Koh Samui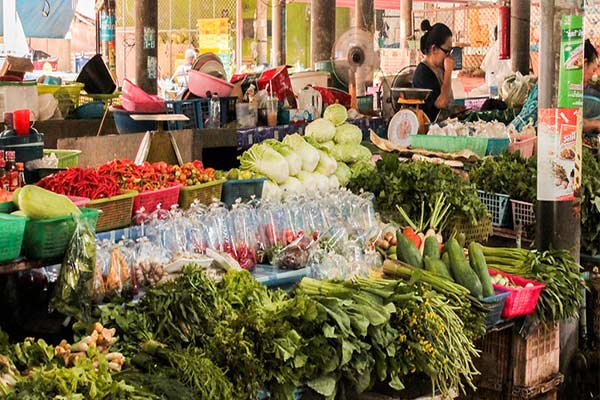 When looking for a place to retire, cost of living is the first concern for most. Many people have a set budget, look for a comfortable lifestyle but without the same high prices from home. As you would probably expect Samui is a little more expensive than the mainland, but not that much.
Depending on your lifestyle and rental requirements, expats report living here for as little as $1,500 a month. Spend in the range of $1,950 to $2,400 and you will live very well. And if you want to splurge, there's certainly no shortage of ways to spend your money.
A couple can take in breathtaking ocean views, from a penthouse apartment in Chaweng Heights. A modern two-bedroom, two-story, furnished apartment, rents for $750 a month. You have access to a communal pool, onsite restaurant and there is 24-hour security. Drive 10 minutes and you're in Chaweng town.
If you are happy to live further from the action, you can rent one apartment for about $450 a month. And if you shop and eat like a local you can cut your total monthly costs down even more. Buying locally grown fruit, vegetables, seafood and meat cost much less than imported foods. And if you eat at authentic Thai restaurants you can get a meal including a drink for as low as around $5.
There are five hospitals on the island, including the renowned Bangkok Hospital Samui. Local clinics are operated by well-qualified, English speaking medical practitioners. A consultation including any required medications typically cost no more than $14 a visit. Alternately, visit the outpatient departments at the main public or private hospital. It is not uncommon to walk into a local private hospital and be seen by a specialist within the hour. Public hospitals are much less expensive, but generally more crowded and sometimes less well equipped, however many of their well-trained doctors will work at the private hospitals too.
Dental and optical care also high quality and low cost. A dental check-up and clean cost $50, crowns will set you back between $260 and $550. An eye test and prescription glasses will range from $60 up to $250 for more specialist lenses and frames.
Many expats take out private health insurance to cover in-hospital and emergency hospital services. Very few insure for outpatient care as it is so inexpensive at local clinics and taking outpatient cover drastically increases the premium. In-hospital insurance, for a couple aged 55 and 60, can cost as little as $2,600 annually.
5 Best Things to Do in Ko Samui, Thailand
By Michael Cullen
Ko Samui (or Samui Island) epitomizes why Thailand and tropical island paradises are so often used in the same sentence. When roads were first built on the island in the 1970s, it became one of 'the' places in Southeast Asia for backpackers to hang out. Nowadays Samui offers tropical beach holiday options for travelers of every budget, interest, and persuasion.
A long-held requirement that no building be higher than a coconut palm tree has ensured that the island has retained a more natural tropical feel, with most resorts and developments no taller than four stories.
When it comes down to it, Ko Samui is all about the white sand beaches, turquoise waters, and days enjoying endless sunshine in a tropical coconut-palmed environment. Water sports of every kind, outdoor jungle adventures, entertainment and shopping for all ages and tastes, dining for every budget, spa and wellness. Top all of that off with the famous Thai hospitality and their world-renowned cuisine—it has it all.
Thailand's second largest island, Ko Samui, sits in the lower Gulf of Thailand. Surat Thani, with its rail and bus connections and a major regional airport, is its nearest mainland city. Access to the island is easy, either by direct flight from Bangkok and other Asian airports or by ferry from the mainland port of Donsark (Surat Thani). Samui's 31 mile ring road makes it easy to navigate the island.
Here are the five best reasons to add Ko Samui to your itinerary for any trip to Thailand.
1. The Beaches
No matter if you are staying for a few days or a few weeks, the great news is Ko Samui's diversity of beaches means you could easily be lazing on a different beach every day. Here are some highlights:
Chaweng, on the mid-east coast of the island with over three miles of soft white sand, safe to swim azure waters, rows of sunbeds, and friendly beach vendors, is the biggest draw for tourists. And given its length, there is space for everyone.
In the evening, the sun loungers make way for candlelit tables, fairy lights, and lanterns, as the beachfront resorts entice diners with their fresh seafood displays and beaming staff.
Chaweng Beach Road, which does not actually run along the beach but behind the vast array of resorts and bungalows that occupy prime beach positions, is where Chaweng's entertainment, bars, and restaurants can be found. This area is always a hub of activity once the sun goes down.
Continuing south on the island's east coast from Chaweng you'll pass by a couple of smaller bays before arriving in Lamai, the island's second most famous beach. We recommend taking the time to stop at one of these 'lesser' beaches. Known as Thong Ta Kien or Crystal Bay, its clear waters, soft white 'squeak as you walk' sand, large shade trees, and easy off-the-beach snorkeling make for a great day-trip destination.
Lamai is truly a beautiful beach with fine sand and crystal waters hemmed in by boulder-strewn headlands at each end. Lined by hotels and guesthouses for nearly its entire length, this is, after Chaweng, is Samui's most developed beach. You'll find clutches of deckchairs and umbrellas at regular intervals. Southeast facing, Lamai enjoys dazzling sunrises.
The lower southwest coast of the island is mostly coconut groves and banana plantations, making a green backdrop for the north-south running beach Taling Ngam, or "beautiful shore". This stretch of Samui's west coast is one of the best spots to enjoy the setting sun over the beautiful and mysterious 'Five Islands'.
There are upmarket dining establishments that will happily take your Baht, including the InterContinental Resort, while you enjoy sunset views. We recommend heading to one of the low-key beach resorts like i-Talay to enjoy the beachfront location and spectacular sunsets over a chilled beverage or inexpensive Thai meal.
Perhaps one of the most underrated beaches on Ko Samui is the beautiful Lipa Noi with its calm, crystal waters and a fine, yellow to white sand backing onto coconut plantations and a smattering of places to stay. Like Taling Ngam to the south, Lipa Noi is very low-key with ample places to eat, both on and off the beach. Lipa Noi's "scene", as it is, is an icy beer under a shady tree rather than dancing around in a club.
The longest of Samui's north coast beaches, Mae Nam, boasts wide-open stretches of sand and views north to neighboring Ko Phangan. Mae Nam offers a great balance of tranquility and convenience thanks to the busier Bophut and other beaches within an easy drive.
Heading further east along the island's north coast, Bophut is a long and narrow beach with coarse golden sand that offers excellent swimming, no matter the tide, along with a great food and shopping scene in the Fisherman's Village precinct. Bophut is popular with families and those not interested in the party scene of Chaweng, and has an excellent selection of accommodation both in the village and along the beach.
Moving around to the top northeast corner of the Island is Choeng Mon beach, which offers clean water and a protected bay. The bay is suitable for swimming, and at low tide, you can walk out to miniature Ko Fan Noi (Island) which sits just offshore.
Ko Samui has so many beaches to discover and explore and makes for fun days out and about. Enjoy!
2. Ang Thong Marine National Park
Ko Samui offers snorkeling off several of its beaches; however, a day trip to Ang Thong Marine Park is a must to truly explore these tropical waters. Ang Thong gained widespread prominence when it appeared in the novel The Beach by Alex Garland, though it is not the location used in the movie of the same name starring Leonardo DiCaprio.
Situated around 17 miles to the west of Ko Samui, this marine national park comprises 42 islands where visitors can experience towering limestone cliffs, thick jungle, white sand beaches, waterfalls, and hidden coves and lakes. More than 35 square miles of land and sea fall within this protected area, creating rich biodiversity.
Activities to expect when on the highly popular day trips to Ang Thong include snorkeling, hiking, sea kayaking, diving, and simply relaxing on one of the accessible beaches.
3. Gateway to Ko Phangan and Ko Tao
As Ko Samui has two smaller sister islands, you actually have the opportunity to visit three exotic tropical islands in one trip! Ko Phangan (also written Ko Pha Ngan) is just seven miles north of Samui, while its even smaller sister, Ko Tao, is a further 21 miles north.
Both are easily accessible by regular ferry and fast boat transfers from Ko Samui. You can visit each as boating day trips or as an added longer stay onto your Ko Samui itinerary.
Ko Phangan is Thailand's fifth largest island, stretching over 60 square miles, with 70% of its topography mountainous jungle and the remainder beaches and coconut groves. The island is renowned worldwide for its Full Moon Party, which attracts many thousand each month for several days of partying.
But the island is much more than once-a-month music and dance (and passed out on the beach) event.
Ringed by over a dozen beaches, some only accessible by boat, with more than half the island designated as National Park and some 30 square miles of pristine rain forest with diverse flora and fauna, the island is a natural wonderland.
There's a smattering of waterfalls, many detox and yoga centers, and the island is fast becoming renowned for meditation retreats and wellness centers. Accommodation from backpacker and budget to five stars and beyond awaits.
Fast ferries from Ko Samui can have you on Phangan in less than an hour. A more relaxing alternative could be a full-day sailing cruise to Phangan with stops at some of the more secluded bays for a more intimate and personal way to first experience the island.
Ko Tao (translated as Turtle Island) is a relatively small island offering a selection of different bays and beaches and all manner of accommodation options. The draw though, for many visitors, is scuba diving.
Dozens of dive sites, plenty of scuba schools, and notably inexpensive scuba certification costs, Ko Tao is the most popular place to learn to dive in Thailand. Day visitors can take snorkeling trips around the island to experience some of the underwater wonderlands that so attracts divers.
4. Island Temples
Temples can provide an excellent insight into the culture and people of a country, and with over 92% of Thai people identifying as Buddhist, this is undoubtedly the case for Thailand. As you travel across Thailand, you will discover many spectacular temples (or Wats), and the temples of Ko Samui are no exception.
Here are our recommendations. As all of these except Guan Yu Shrine are active Buddhist temples, visitors are advised to dress appropriately. Be sure to wear shirts that cover the shoulders, trousers, or long shorts, and not beachwear when visiting.
Wat Plai Laem
On the top of the island in the region called Plai Laem is Samui's floating temple—Wat Plai Laem. Wat Plai Laem's design incorporated elements of Chinese and Thai traditions and was, in part, designed by distinguished Thai artist Jarit Phumdonming.
Its central statue is of an enormous seated deity, known in Chinese as "Guanyin", with her eighteen arms reaching out and providing help and support to all. There is also a giant white statue of Budai (Chinese Laughing Buddha) and smaller shrines dedicated to Ganesha, Vishnu, Shiva, and Sakka. A lake teeming with fish sits as the backdrop for the temple and statues and adds a sense of tranquility.
Big Buddha (Wat Phra Yai)
Less than a mile away from Wat Plai Laem is Wat Phra Yai, also known as "Big Buddha." It's an iconic image and featured on numerous Ko Samui postcards. On the north side of the island and overlooking Bangrak bay, this imposing seated Buddha statue glimmers gold and is visible from miles away.
The already imposing 40-foot high Buddha sits atop a platform and is reached by a wide staircase guarded by brightly painted and mosaic-studded nagas (serpents). Once you've climbed the stairs and made your offering to Buddha (or simply taken your Instagram snaps), wander over to the prayer bells, take in the views of the bay, and relish in the sea breeze.
Guan Yu Shrine
When traveling south from Lamai on the island's ring road, you will come to the Muslim fishing village of Hua Thanon, which makes for a great photo stop.
However, just a little before town, you may see the big red head of a statue towering above the surrounding houses. In 2014, this gigantic image of Guan Yu, a Chinese general who lived 162 to 219 and is now revered as a god of war, was built by prominent islanders of Chinese descent.
Said to be worth more than 20 million baht (62,000 USD), this bronze statue stands several feet taller than the Big Buddha in Bangrak. The Shrine is the center of Chinese community celebration on the island, in particular Chinese New Year.
Visit late afternoon on a Wednesday and you will see a night market coming together. Hang around and enjoy the food.
Laem Sor Pagoda & Wat Khao Chedi
On a point right at the bottom of the island are two small places of worship for Buddhists that are worth visiting: Laem Sor Pagoda and Wat Khao Chedi. This part of Samui doesn't get a lot of tourist and is quiet compared to the beach resorts on the eastern side of the island.
Laem Sor Pagoda, a small golden pagoda, sits at a stunning oceanfront location, overlooking a calm sandy beach and Bang Khao bay. Shutterbugs will love the contrast of the luminous golden pagoda against the stark blue ocean and sky.
Take the half-mile walk (or drive) up the neighboring hill to visit Wat Khao Chedi, which consists of a glimmering white Chedi and golden reclining Buddha, all surrounded by a perimeter of 28 seated Buddhas.
Once you're done taking in this contemplative scene, walk a few feet to the viewpoint to take in the panoramic views of Bang Khao bay, the islands of Ko Tean, Ko Mat Sum, and the Surat Thani mainland in the background. As this is possibly the most southerly point on the island, both sunrises and sunsets can be spectacular.
5. Waterfalls
Given Ko Samui's highest elevation of just 2,083 feet, its waterfalls may not be the tallest you'll find in Thailand, but they all have a distinctive charm. Each is worth a visit during your stay, for a refreshing break. At the end of the dry season in April/May, you'll find minimal water flow; however, this does not detract from the overall tropical landscape they are set within.
In the hinterland on the southwest corner of the island, you will find three accessible waterfalls with the most popular being Na Muang Waterfalls 1 and 2. The third, Wang Saotong Waterfall, requires a half-mile walk, so bring along a picnic or book to make the trip worthwhile and spend an idyllic afternoon relaxing to the sound of the waters.
Hin Lad Waterfall is Ko Samui's least populated waterfall (Na Muang 1 and 2 are on most island tour packages and are crowded in the afternoons) owing to a 1.2-mile walk to get there. The trail is along a stunning jungle path with a refreshing dip in the waterfall pool as your reward. Sturdy walking shoes and leg protection are recommended for the walk.
Conclusion
Ko Samui is absolutely worth adding to your Thailand travel itinerary. Easily accessed by flights or ferries from the mainland, the tropical island wonderland retains its Thai charm and has managed to eschew the high-rise and overtourism suffered by some Southeast Asian locations, including elsewhere in Thailand. Come for the beaches and make sure you take the time to explore some of the many hidden corners of the island.