Thailand's Phang Nga Bay: Limestone Karsts, Secluded Bays, and Hidden Lagoons
By Lucy Brown
A dramatic landscape of colossal limestone karsts juts abruptly skyward out of the calm, emerald-green Andaman Sea. Secluded bays with sandy beaches rim steep overgrown islets, and sheer jungle-draped cliffs and caves enclose hidden tranquil lagoons. This is the distinctive natural phenomenon of Phang Nga Bay, one of Thailand's top tourist destinations and one of South-East Asia's most stunning seascapes.
Phang Nga Bay is in the northern part of the Malacca Strait between the island of Phuket and the provinces of Phang Nga and Krabi on the mainland of southern Thailand. It covers an area of 249 square miles and a large part is protected by the Ao Phang Nga National Park in Phang Nga province.
In an archipelago of over 40 mostly uninhabited islands, the two populated islands of Ko Yao Yai (Big Long Island) and Ko Yao Noi (Small Long Island) are the largest. Ko is also spelled Koh and means island in Thai.
During the mainly dry November to April high season, the iconic Phang Nga Bay attracts throngs of Thai and international visitors. A myriad of sightseeing tours by traditional wooden longtail boat, speedboat, sailing yacht, and sea kayak outnumber the small fishing vessels plying the shallow bay waters. Then, from May to October during the wet tropical monsoon of the low season, the activity subsides.
How To Get To Phang Nga Bay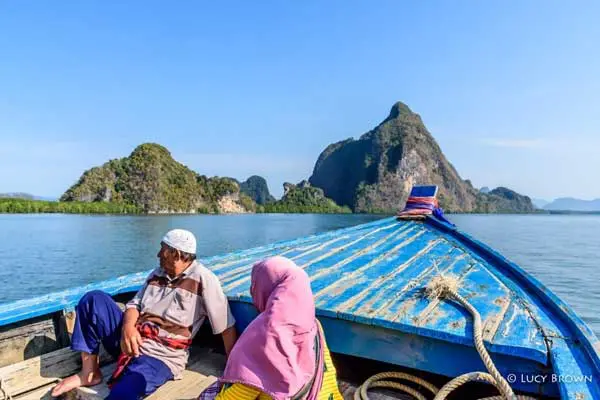 The simplest way to get there is to book a boat trip through your hotel with lunch and hotel transfers included.
A plethora of tours depart from various piers along the east coast of Phuket facing Phang Nga Bay. However, to reduce traveling time—and often tour costs and group sizes for a more relaxing experience—there are also several departure points from Phang Nga province on the mainland.
Tourists can book boat excursions at hotels and tour agencies in Phang Nga Town. One tour operator there currently offers full-day tours for 1,250 THB ($38) per person including the national park fee and lunch. They also offer a private full-day boat trip for 4,500 THB ($137) for 1 to 4 people with an additional national park fee of 300 THB ($9). It's an extra 300 THB per person to add kayaking to a trip.
Another option is to drive to Surakul Pier and hire a longtail boat there. It's about 7.5 miles from Phang Nga Town on the mainland and just over an hour's drive from Phuket Town.
Right on the bay's doorstep, the islands of Ko Yao Noi and Ko Yao Yai offer a much slower pace to relax and explore for a few days. From there you can have a ringside view of sunrise and sunset illuminating a striking panorama of karsts. Daily public boats leave Phuket, Phang Nga, and Krabi or Ko Yao Noi and Ko Yao Yai. From Bang Rong Pier on the northeastern coast of Phuket (about a 20-minute drive from the airport) to Ko Yao Noi, the longtail takes an hour (200 THB $6) and the speedboat 30-minutes (300 THB $9).
5 Best Things to Do in Phang Nga Bay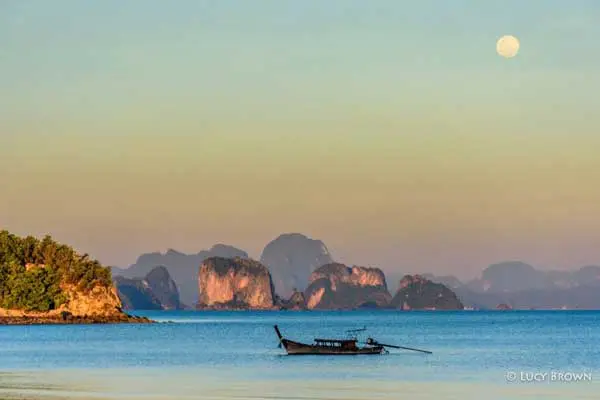 The spectacularly scenic Phang Nga Bay is one of the most famous tourist hotspots of southern Thailand. Cruising the calm water amongst majestic limestone cliffs and verdant islands with leisurely swimming, and snorkeling stops at secluded beaches is a highlight for any traveler.
1. Enjoy a Boat Trip Through the Bay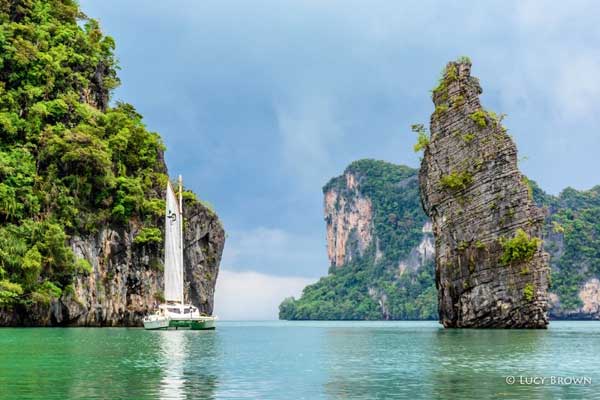 Most organized boat trips visit a variety of the islands and include the most popular spots such as James Bond Island on their tour itineraries.
Costs for tours depend on the departure point, whether it's a group tour or private boat hire, what kind of boat takes you and if the tour includes kayaking, if it's a half-day or full-day tour, and if it's high or low season. For private boat hire, the motoring distance affects cost as the price is based on how much gasoline is consumed.
The most affordable choice is to join a group tour. However, although pricier, for a more unique experience with the most freedom and flexibility, I'd recommend hiring a boat for a private cruise and island-hopping. The cheaper private option is to hire a wooden longtail boat for a more authentic and laid-back Thai experience.
2. Get Adventurous With a Sea-Kayaking Trip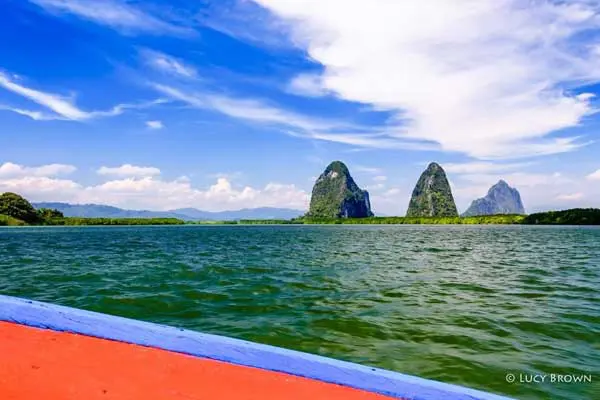 For the more active, adventurous, and eco-conscious, there are sea-kayaking trips. These visit areas accessible only by kayak and are available as a one-day tour, or with overnight camping on island beaches. They offer the chance to peacefully paddle through mangrove swamps, grottoes, and stunning enclosed lagoons created by collapsed cave systems in the center of islands like Ko Hong and Ko Panak.
3. Explore Iconic Movie Locations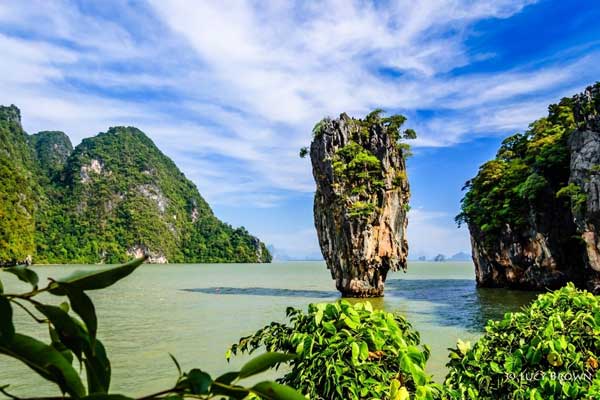 Phang Nga Bay is the iconic location for some famous movies including Star Wars: Episode III – Revenge of the Sith, and the James Bond movie The Man with the Golden Gun. Most tours of the bay include a visit to 007's archenemy Scaramanga's island hideout. Even Thai locals call the island of Ko Khao Phing Kan with its neighboring karst pinnacle Ko Tapu just offshore, James Bond Island.
4. Discover a Floating Village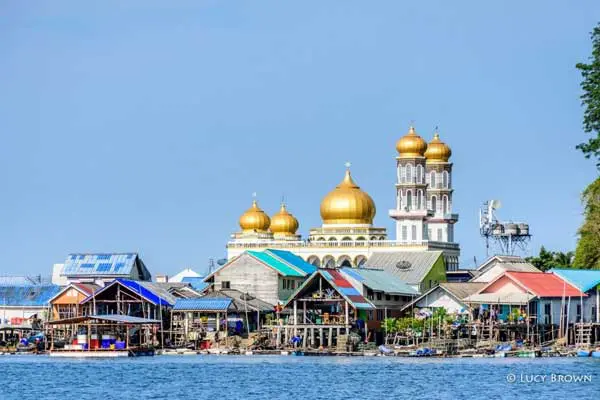 Another popular attraction on any tour itinerary is Ko Panyi (also spelled Koh Panyee). This fishing village is almost entirely built on stilts over the water, sprawling out from the steep limestone cliff of a little island. A maze of wooden walkways lined with market and souvenir stalls leads to houses, a school, and even a floating football pitch although the mosque is built on the island shore.
The population of Muslim fisherfolk is said to originate from two Indonesian families who settled there about 200 years ago. Nowadays, villagers live off tourism as well as the sea. Around lunchtime during high season the village is overrun with tourists dining at the waterfront restaurants or browsing the stalls. If you have the option, come early or late for a calmer visit, and explore beyond the restaurants and stalls to see the local way of life. For a closer glimpse into this traditional fishing culture, you can stay overnight in bungalows.
5. Enjoy the Views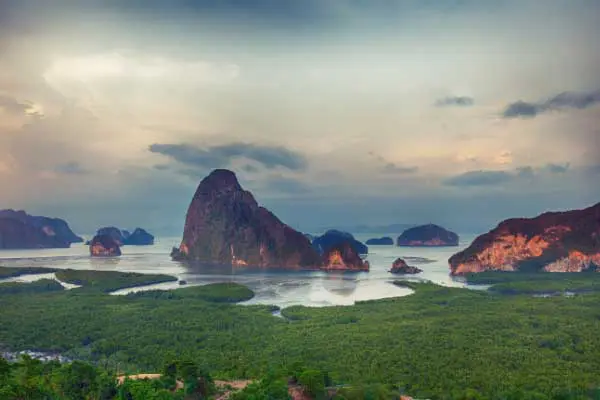 On a mainland hilltop, about a 30-minute drive from Phuket, the Samet Nangshe Viewpoint offers a spectacular panoramic view (especially at sunrise) across the vast expanse of green mangroves and limestone karsts of Phang Nga Bay.
Ko Yao Noi and Ko Yao Yai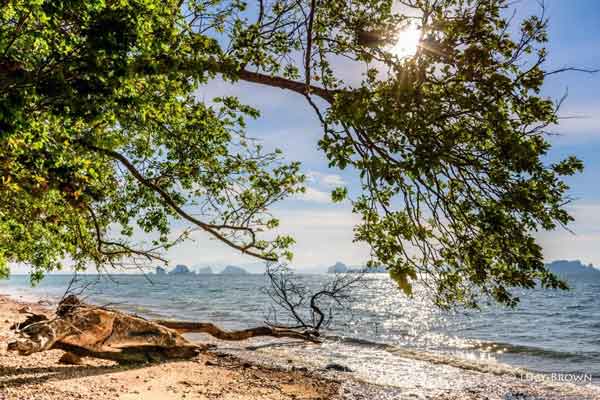 Ko Yao Noi and Ko Yao Yai are the two largest islands in the 91 square miles Ko Yao Archipelago in Phang Nga Bay. These predominantly Muslim islands retain a peaceful, traditional, rural way of life, unspoiled by mass tourism and a far cry from Phuket and many other Thai islands. It's a place where people come for a few nights and never want to leave.
The islands are covered in lush dense tropical vegetation growing down to the shoreline, plentiful plantations of rubber trees, a few rice paddies with herds of water buffalo, and large coastal tracts of mangroves. A few paved roads, as well as a network of smaller dirt roads, crisscross the islands.
Nature's soundtrack of exotic birdsong, shrilling cicadas, and other jungle sounds fill the humid air. Frequent wildlife sightings and encounters include soaring sea eagles, wading egrets, flocks of hornbills, troops of monkeys, and huge prehistoric-looking monitor lizards.
Islanders live mainly off the fishing, rubber, and tourism industries, and life here revolves around the ebb and flow of the tides. At high water, moored longtail boats bob to the rhythmic slapping of the waves on the shore, children splash in the shallows below leaning coconut palm trees, and boat motors putter as fishermen depart or return with their catch.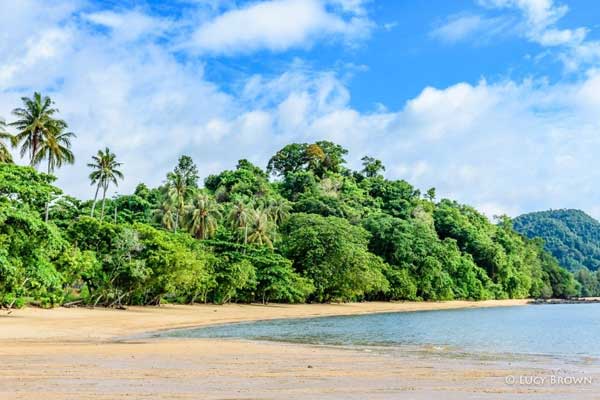 The receding tide slowly exposes narrow sandy beaches, tide pools amongst the dark rocks, and mudflats; leaving longtail boats stranded and a labyrinth of tangled mangrove tree roots revealed until the rising seawater reclaims them. Seaside cats prowl below clusters of wooden stilt fisher houses lining the shore, bare-chested fishermen repair weathered timber hulls on the sand, and women wearing colorful sarongs chip away shellfish clinging to the rocks.
There are Thai and some international restaurants as well as accommodation ranging from budget-priced beachside bungalows to exclusive pool villas, eco-resorts, and boutique hotels. Ko Yao Yai is wilder, hillier, and double the size of its more populated and developed smaller sister Ko Yao Noi. A narrow sound separates the two islands and longtail boats regularly ferry passengers back and forth.
Ko Yao Noi attracts more visitors as it has the most amenities, including the hospital serving both islands. Visitors can explore by scooter or bicycle, and activities include kayaking, paddle boarding, yoga retreats, rock climbing, Thai cooking classes, birdwatching, scuba diving, and professional Muay Thai boxing training at a waterside gym.
On the islands, you can also book private boat excursions around Phang Nga Bay and if you're lucky you might even spot whale sharks offshore! A day trip to beaches and limestone islands near Ko Yao Noi costs 2,900 THB ($88) for two people including lunch, snorkeling gear, and the national park fee. Another trip that includes kayaking around Ko Panak and Ko Hong costs 5,000 THB ($150) for two people.