This week we have something historic on the menu that you need to know about…
A chance to snap up "boat on the doorstep" luxury condos in a landmark marina with a private beach planned.
Every condo comes with a water view and we have killer RETA-only pricing…a huge discount of $52,313…
This one has all the elements of a classic RETA deal…
More on that in a moment…
First, to understand just how good this upcoming RETA deal is…just how hot a profit opportunity…you need to know about one of the world's most beautiful colonial cities…
That's Mérida, Mexico.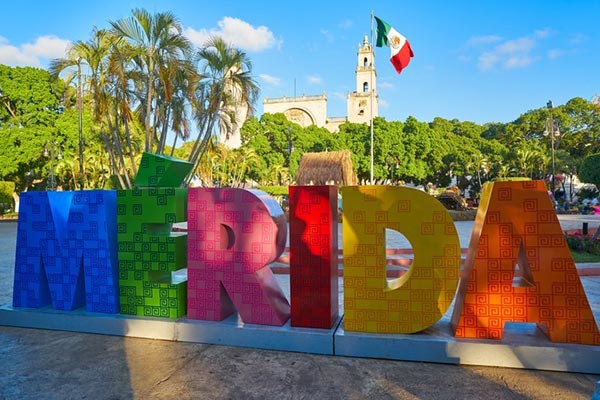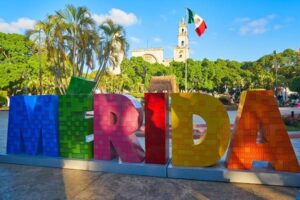 Mérida is known for sparkling clean avenues and leafy cobbled plazas, art-filled galleries…live music…amazing restaurants…
Since the Spanish conquest, Mérida has been the cultural capital of the entire Yucatán Peninsula. A blend of provincial and cosmopolitan, it is a town steeped in colonial history.
In fact, there was a city here long before the Spanish came—the ancient Maya city of T'hó. But when the Spanish arrived in the 16th century, they used the stones of the great Maya temples surrounding the main square to build the grand colonial palaces and churches you see today.
Over the last few decades Mérida's historic core has undergone a renaissance of restoration, driven by the many North American and European expats.
Every Sunday afternoon the historic center is closed to traffic. Families and friends stroll amid food stands and along arched colonnades. Musicians occupy street corners, and life is very good indeed, especially with an ice cream on a shady plaza.
Mérida is a great strolling city as it's mostly flat and you'll see a lot of public art and sculpture. Plus, there are cafés all over for a pitstop.
The art scene is big in Mérida, with dozens of galleries and artists from all over.
Museum lovers are always impressed and usually run out of time on their first visit to Mérida. There are museums of anthropology, popular art, contemporary art, the national music center, the city museum…even the lobbies of boutique hotels offer you an incredible atmosphere.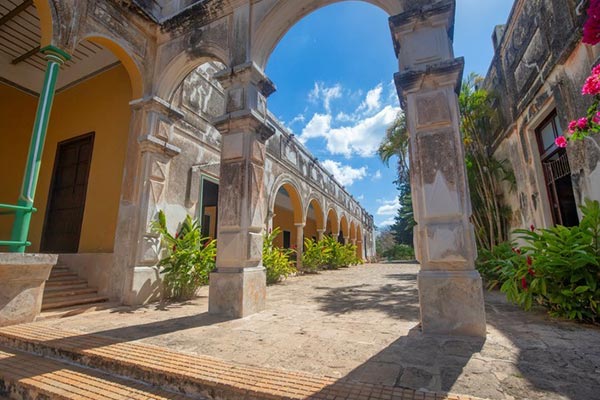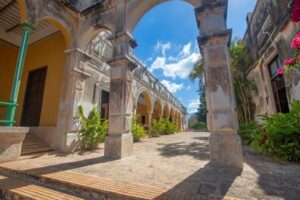 All this art and culture help to attract tens of thousands of part-time expats and a rapidly growing number of vacationers too. It's partly why Conde Nast Traveler named Mérida "Best Small City in the World" in 2019. (It came third in 2020.)
Another reason why it's a top contender for this title is because it's incredible clean and safe. Mérida is so safe, in fact, that it's been twice named the second safest city in North America. (The first one is Quebec.) It feels like a European city on the Mediterranean, with kids playing on the streets, families relaxing in the parks, culture-hungry tourists strolling around…an easy, outdoors lifestyle. In a 2020 worldwide ranking by CEO World, the city holds the 21st spot on the list, ranking safer than cities such as The Hague, Holland, home to the International Court of Justice, and Geneva, Switzerland.
It's a place my friend and International Living senior editor, Dan Prescher, lived for seven years with his wife Suzan.
My senior researcher, Margaret Summerfield, and I recently hopped on a Zoom call with Dan to discuss Mérida and our incredible new RETA deal, on the Caribbean coast just a short drive away.
Watch it here: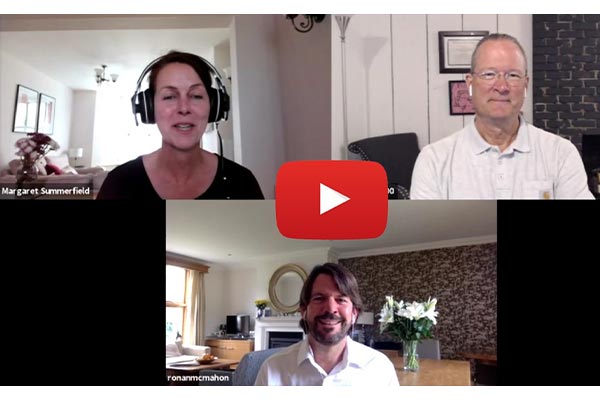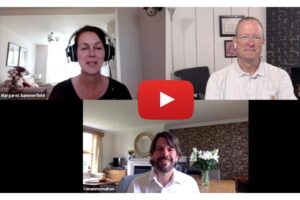 As Dan explains in the video, Mérida offers an incredible lifestyle, colonial beauty, and vibrant expat community but it gets hot…
Which is why our upcoming RETA deal is so smoking…
It's about 30 minutes' drive or so from Mérida and just steps from the Caribbean…with a planned private beach. It's unique…a landmark marina project…
I don't know of another landmark project like it anywhere. Far as I know, after visiting literally thousands of developments around the world, this combination of beach-marina-stunning colonial city is totally unique….
Best of all, we're tapping into two rental high seasons—snowbirds flock here in winter and well-to-do locals come in summer.
The summer months in Mérida are hot and humid. The average high in July is 95 F and the low averages just over 75 F. But it's always a few degrees cooler on the coast, plus you have that refreshing Caribbean breeze.
That's why in summer everyone who's anyone heads to the coast. Mérida's high society and growing professional elite flock to family beach homes and rentals on the coast. And many of them have been waiting a long time for a project like our marina community…
They aren't hungry for it, they are starving. I predict a frenzy of wannabe renters and buyers.
In the winter months as snow and ice cloaks the northern U.S. and Canada, the snowbirds fly in. And there's never been anything for these snowbirders like the community where we have our opportunity this week…a self-contained high-end beach and marina resort with the plushest of comforts and amenities.
That gives you incredible options for when you want to rent or use the condo yourself.
In a nutshell, the play is simple and classic RETA:
We get our members-only discounts of $52,313 and even a bit more on some units.
We can rent for a strong income during the hottest months of the year to wealthy locals falling over themselves to pay you for nights in your condo. I figure $22,800, or a 10.86% gross yield, is achievable.
In fall and winter, rent to the snowbirds who flock to Mérida and the Yucatán coast. Like I say, there are two high seasons here.
Do it all by tapping into the planned onsite rental management…
And, of course, visit and enjoy… Make the most of your marina condo with colonial Mérida on your doorstep. Spend time here whenever you like…
In the meantime, be sure to check out our Zoom conversation with Dan.
Your Comments and Questions
Following an article I wrote on rising crime, costs, and the subsequent population exodus from U.S. cities, I reached out to readers to share their experience. Here's a selection of what you wrote back:
Jennifer says: I'm leaving Phoenix for Portugal!
I was originally born in Poland, brought here to Chicago by my mother in '83 for a better life during the Solidarity movement in Poland. Then I moved to Phoenix in 2005. Now, I'm leaving the U.S. altogether for Portugal with my husband who is from Cleveland, Ohio. The U.S. is not the place my mother brought me for a better life anymore.
Chantelle says: Yes, we are planning on moving. We live in Victoria, Texas. The property taxes and homeowner's insurance have gone through the roof. We live on a small farm, which is paid for, BUT $5,000 property taxes and $2,400 insurance is more than a house payment and cannot afford this on Social Security and my small pension.
Rita says: Hi Ronan, I live in Manhattan and I definitely feel you are spot on. The crime is out of control. And it is not just the big stuff either. No one pays for the subway anymore—they just hop the turnstiles. My son called me in a panic last night as he ordered food and when a person buzzed his apartment and announced delivery he let them in, only to watch on his video monitor as they ransacked the packages in the lobby (he has no doorman).
The last of our three children is finishing her final year of high school and then we definitely foresee ourselves moving. Many of our friends have already decamped to places like Florida, Georgia, Texas, and Italy.
Roberto says: Ronan, we agree completely. Myself and my wife have left Ft Lauderdale for Panama City Beach, Florida. We are in the process of taking a three-month tour of the western U.S. We then plan on seeing if Europe will offer—at least for six months—a place for us to travel and live.
We both want to experience the lifestyle of other countries. We are in the process of building a new home. We both want to experience other lifestyles before we build to try all our options.
Your Daily Dream Home
Sacierges St Martin, Brennes, France
€78,000 ($94,600)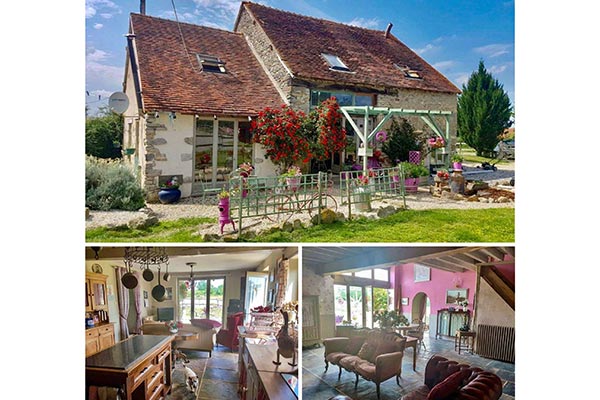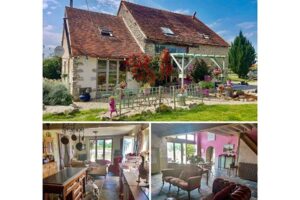 This characterful country home is a converted barn in a peaceful hamlet in the Indre region of France. It has two bedrooms, two bathrooms, a kitchen/living area (check out the wonderful country kitchen) and another separate living area with a wood burning stove. It sits in just under an acre of land and also has stables. ⁠⁠⁠⁠
Remember, we don't make money from any listing shared here in the Your Daily Dream Home section. We have no dog in the fight. We're just sharing cool properties we've found. I haven't visited this property or done due diligence on it. If you're interested in the listing, you should hire an attorney and do your own due diligence.
Get Your Free Real Estate Report Now
Sign up for our free daily Postcard e-letter and get a valuable free report on the The 5 Best Places to Buy Real Estate In 2023.
Related Articles
The Real Estate Market in Menton, France