Can't decide between France and Italy?
Try Menton…
The last town on France's Côte d'Azur before the Italian border is considered one of the region's best-kept secrets—to this day it remains mostly unknown to North American travelers.
The second language here is Italian, and locals switch easily between the two. You can hop the border for a lunch of risotto with wild mushrooms and then be back for a French dinner of bouillabaisse (fish and shellfish stew).
Menton's microclimate makes it the warmest nook of the entire French Riviera in winter, protected from the mistral winds by the mountains behind it.
This climate brought Menton its initial prosperity, with European aristocrats building homes here throughout the late 19th and early 20th centuries. However, it was soon overshadowed by the towns farther west, such as Canne, Nice, and Antibes.
Recently, my senior researcher, Margaret Summerfield, was there to check it out for herself. She's on the hunt for a European base, and lacking the celebrity glitz of other towns on the French Riviera, Menton might just offer the kind of value she's looking for.
Discover what she found below…
The Real Skinny on the Real Estate Market in Menton
By Margaret Summerfield
My morning walk around Menton usually takes in the Basilica Saint-Michel-Archange.
I managed to get a sneak peek one morning when cleaners had left the doors open. Built in the 1600s, it's baroque style, heavy on marble and gilding and carved wood.
To get to the basilica from the beachside promenade and lower parts of town you need to climb. I prefer to take the steps opposite Plage des Sablettes. They're pretty steep, but the view once you get there is worth it: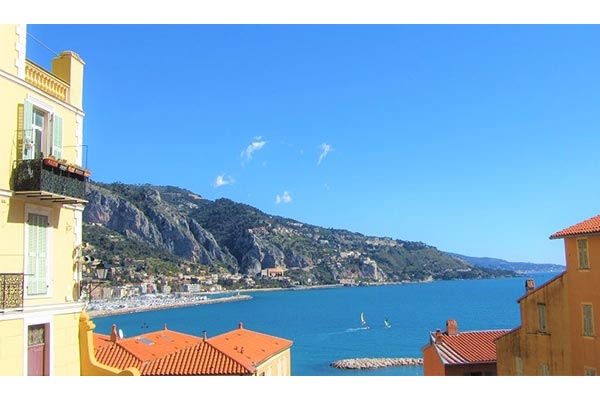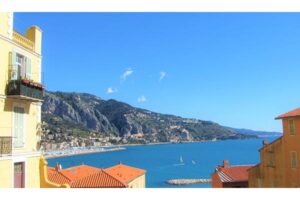 Menton sits on a semicircular bay backed by steep mountains which lend the city it's unique microclimate.
Much as I Iove baroque and gothic church architecture, I'm writing to you today about other matters. Namely, what's on the real estate market in Menton.
Like the rest of the French Riviera, Menton is not cheap. And, because Menton is half the size of Cannes or Antibes, there's fewer properties for sale.
Real estate prices start at €19,000—for a garage. Garage prices run all the way up to €54,000 when I searched. You could buy a bolt hole or pied-a-terre in many parts of the world for that kind of money.
Under €100,000, you won't find much. One apartment for €70,500 is on the outskirts of town. It's 592 square feet and needs a complete overhaul. It's dated and unattractive.
Then there's a "studette." This a French term and means a small studio apartment. Tiny is more accurate in this case as the floor space is 11 square meters, 118 square feet. The bedroom is a poky mezzanine and the overall feel is dark and claustrophobic. It's listed at €95,000.
One property, at €97,000 for 710 square feet, looked like a screaming deal. The market value of the apartment is €330,000. What's the catch? The property is selling en viager. It comes with an additional extra—a live-in owner. The owner retains the right to live in the property until they die. On top, the buyer pays the owner an indexed cash lump sum every month for life. In this case, the owner is 71 years old. The "bouquet" or down payment is €97,000. The monthly payments are €855.
There are upsides to buying this way. You don't pay the full market value of the property, you pay an "occupied" value which is lower. But you're gambling on the lifespan of the owner. And in this part of the world, thanks to healthy living and the Mediterranean diet, folks live longer. Plus, part of the deal is that it's forbidden to quiz the owner on the state of their health. Stories abound of sprightly pensioners lying under blankets, coughing, when potential buyers come to view, to fool the buyers into thinking they won't live long.
In 1965, Jeanne Calmont sold her apartment in Arles to her attorney, en viager. She was 90, so the attorney likely thought he wouldn't wait too long to take possession of the home. He agreed to pay her 2,500 francs a month. But Jeanne lived to the ripe old age of 120. The attorney died before she did. At the time of Jeanne's death, he had paid more than twice the apartment's market value.
Clearly Menton is not a market where you'll find cheap bargains.
For €213,000, there's a new one-bed apartment close to shopping, the beach, and all amenities. It's also small, only 312 square feet. But the bonus is a private patio garden of 225 square feet which offers additional living space.
Proximity to the beach and a view bump up the price. For €425,000 you can buy a 753-square-foot apartment in the town center with a sea view from one of the two terraces. The apartment is dated and needs a remodel. As a contrast, one listed at €431,000, has more than 1,100 square feet. It's newer in style but it's farther from the beach and has no sea view.
If money's no object, then you can buy a dream home in Menton.
There's a villa listed at €835,000. It sits on 0.6 acres of land, perched above Menton, with panoramic views of the sea and the hills. Amenities include an infinity pool and jacuzzi. There's a workshop that could be converted into a games room or gym. The villa has four bedrooms and a large living area at ground level.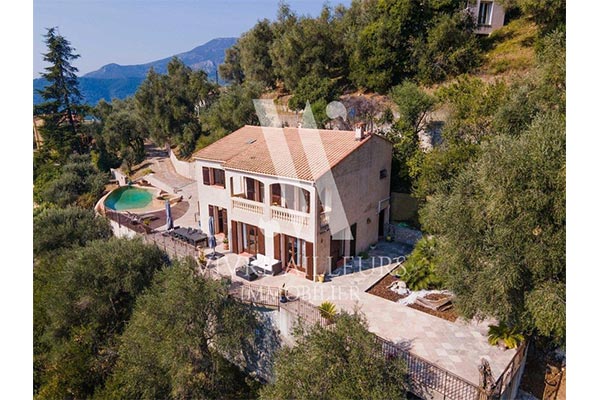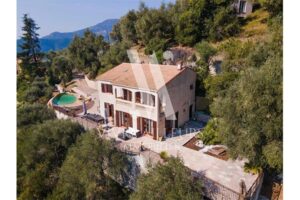 This villa in the hills, with panoramic views of the sea, is listed for €835,000.
With a price tag of €1.695 million, there's an apartment in one of the original "palace hotels" that Menton is famous for. It covers almost 2,500 square feet, with four bedrooms, a full bathroom, three shower rooms, and two half baths. The impressive living area features ceiling heights of more than 16 feet, huge Art Deco-style windows with views to the sea and town. There's original wood and tile floors, marble pillars, and lots of light.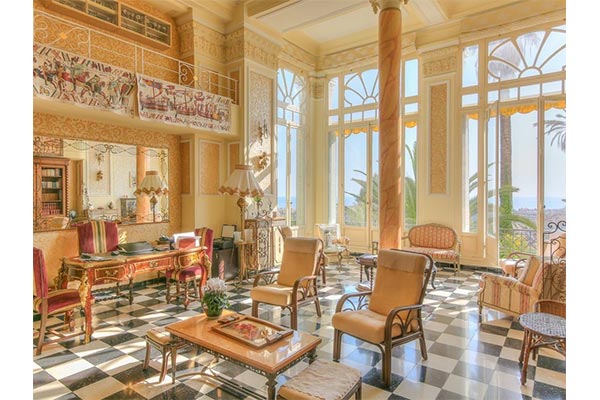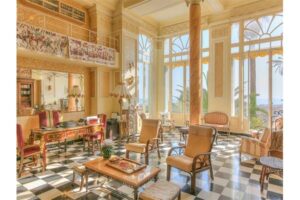 An apartment in a palace hotel will set you back a cool €1.695 million.
I'll return to the palace hotels next time. Today, they're mostly apartment buildings. These gorgeous buildings are a reminder of Menton's past when it was the vacation destination for aristocrats and the uber-rich.
More on that next time…
Your Comments and Questions
Peter says: Ronan, I fully enjoy your column. However, if a person doesn't have the funds to purchase an overseas property, are there any alternatives?
I was thinking maybe a stock, ETF, Limited Partnership, or Real Estate Investment Trust (REIT) that invests in these areas?
Ronan says: Hi Peter. Sure, these are all ways to gain exposure to the real estate market. However, when taking these alternative routes, you need to be aware of what you're sacrificing.
Most obviously, you're giving up control. With an REIT for instance, you're buying ownership of an individual real estate company, which gives you no say in the decision of said company. And while returns can be good, you also need to consider management fees, which can be as high as 10% or even 15%–negating your return.
You can avoid some of the pitfalls of a REIT by choosing a Publicly Traded REIT, or a REIT ETF. But remember, holding an asset that can easily be traded has it's own drawbacks. One of the things I love about real estate is its liquidity, or lack thereof. The crowd surges at the top of the bubble, so you have a lot of buyers when it's too expensive. It also makes it more resilient to economic jitters (as we've seen over the past two years). With a REIT or ETF, you're far more exposed to the whims of the stock market.
And finally, you're sacrificing my favorite part of real estate—its tangibility. For instance, when I bought my condo in Cabo in 2015, I thought of it primarily as an investment property. And it's more than earned that distinction—I bought it at the RETA-only price of $336,156 and today I'm sitting on six figure paper gains. However, I don't plan to sell anytime soon. That's because my condo meets all my criteria for a part-time base. The weather in Cabo is perfect for me—I don't need heating or air-conditioning while I'm here; golf is close by and accessible, with affordable public courses; I'm right by the sea; I'm near an international airport; it's quiet and serene but with good food and a vibrant town close by.
I understand that it can be harder to get a foothold in real estate than other asset classes. And the options you've mentioned can offer an alternative route. But just be careful about what you're buying, because if an investment doesn't come with a set of keys, then it's not truly real estate.
Your Daily Dream Home
Rosales, Andalucia, Spain
€59,950 ($71,280)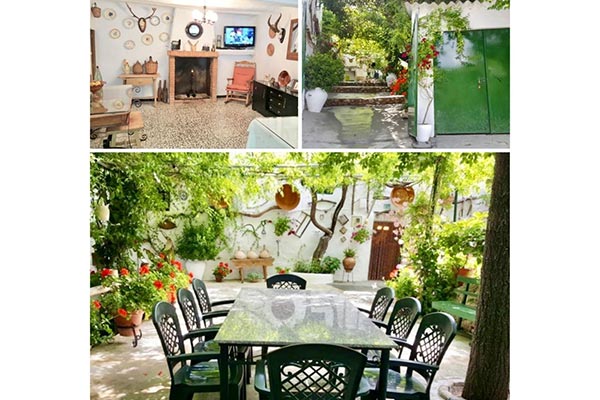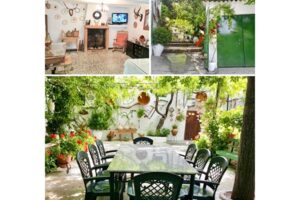 If you're looking to get away from it all and spend some time in rural Spain, today's listing is for you. Just under two hours from Granada, this bright, three-bed, one-bath home offers a galley kitchen, a sitting room with an exposed wood beam ceiling and an open fireplace, a shower room, and a cellar. Outside, is a vine-covered courtyard/patio area with a hand-built barbecue and a seating area. The house comes fully furnished. And sits on a lot that is planted with 60 olive trees.
Remember, we don't make money from any listing shared here in the Your Daily Dream Home section. We have no dog in the fight. We're just sharing cool properties we've found.
I haven't visited this property or done due diligence on it. If you're interested in the listing, you should hire an attorney and do your own due diligence.
Get Your Free Real Estate Report Now
Sign up for our free daily Postcard e-letter and get a valuable free report on the The 5 Best Places to Buy Real Estate In 2023.
Related Articles
3 Bargain Homes You Can Visit Right Now