With its rugged mountains meeting the brilliant-blue Adriatic Sea, Croatia's Dalmatian Coast is jaw-droppingly beautiful. Historic towns with centuries-old limestone buildings complete this enchanting landscape, luring more and more visitors each year. But it's not just this region's scenery that is enticing. Dalmatia also has a delicious cuisine, which features fresh ingredients and a Mediterranean and Balkans influence. Here are five traits of Dalmatian gastronomy that make eating there a treat:
Seafood Galore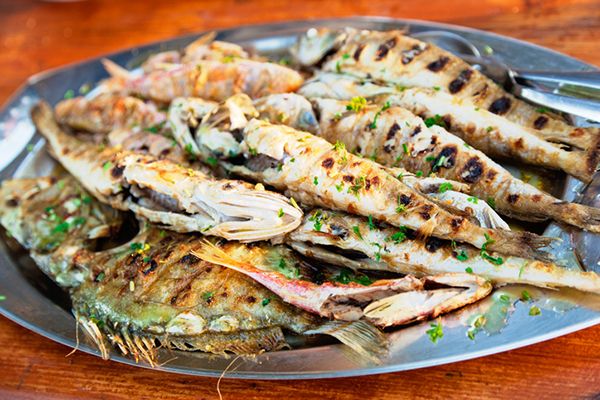 Croatia has over 3,600 miles of coastline. As a result, people living in the country's coastal areas have long been connected to the sea. Naturally, this maritime tradition is also reflected in Dalmatia's cuisine.
Head into almost any of Croatia's coastal communities—regardless of their size—and you're bound to find a fish market (called a ribarnica or peškarija based upon the dialect). Here, on handsome old limestone tables, vendors sell an abundance of fresh seafood. Depending on the season, you'll find mackerel, anchovies, squid, octopus, and cuttlefish. If you'd rather not clean the fish yourself, there is usually someone at the fish market who will do it for you for a small fee.
If you're lucky enough to be invited into a local's home, they're likely to prepare fish using a gradele, a type of grill placed over the embers of an open fire. The Croatians often season their fish with olive oil, sea salt, and pepper, topping it off with sprigs of rosemary plucked from their garden. Many Dalmatian homes have an outdoor oven in the backyard exclusively for grilling. Dalmatian men, who most often tend to the gradele, pride themselves in making sure this process is done just right.
Once the fish has been grilled to perfection, your hosts are likely to serve it with a steaming plate of mashed potatoes and swiss chard (blitva sa krumpirom). This beloved combination is often flavored with fresh olive oil, garlic, and sea salt.
Other popular seafood dishes that you might encounter in the region include cuttlefish risotto or crni rižoto (tinted black by the cuttlefish's ink) and ribarski brudet, a fish and vegetable stew often served with polenta, potatoes, or bread.
Inviting Green Markets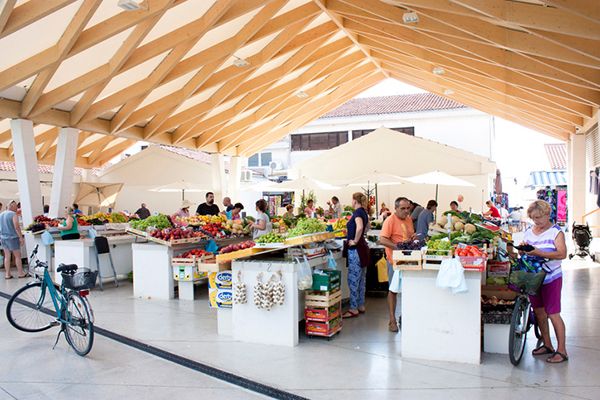 Dalmatia's outdoor markets are a must-visit if you want to get to know the area's cuisine. Thanks to the region's Mediterranean climate, these green markets, or pazar as they're known in Dalmatia, are generally open year-round. Inside the markets you'll find a cornucopia of nuts, tasty cheese, and home-grown vegetables.
The winter months usher in a bounty of delightful citrus, grown in the Neretva Valley—between Split and Dubrovnik. At the height of the orange harvest you can buy one kilogram of this Vitamin C-packed fruit for four kuna (about 70 cents).
Farmed produce isn't the only thing you'll encounter at the market, as some Dalmatians also forage for wild vegetables. As the first hint of spring is ushered in, these hard-working locals take to the countryside looking for wild asparagus, called šparoge. It's customary to serve this delicate vegetable with hard-boiled eggs that have been seasoned with olive oil, salt, and pepper. Another popular foraged green is mišanca. This bundle of mixed vegetables can vary widely but wild onions, fennel, and thistle are popular components.
And since this is the Mediterranean, you're bound to find bottles of homemade olive oil, mounds of olives and dried figs, and pretty, pink pomegranates.
Hearty Stews and Meat Dishes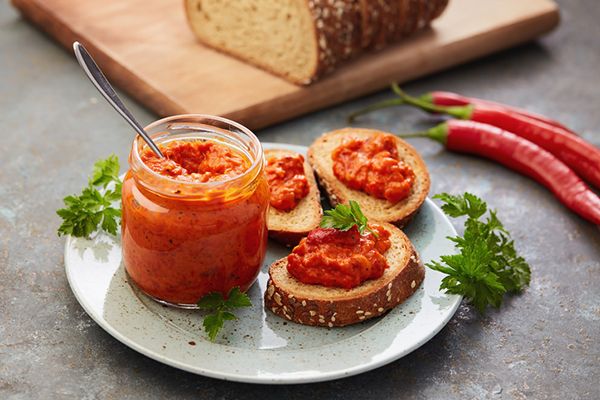 While Dalmatian cuisine has some lighter culinary options, rich stews and meaty dishes are perhaps even more common.
A dinner might begin with a plate studded with a few types of local cheese as well as Dalmatia's version of prosciutto (pršut). Proceeding to the next course you might be treated to a steaming platter of pašticada, a stewed beef dish made with prunes, carrots, and red wine, and served with gnocchi.
Peka is another Dalmatian favorite. It involves slow-roasting vegetables under a bell-shaped metal dome, in a wood-burning fire. There are many different versions of peka, but some of the most popular feature chicken, lamb, or octopus. Carrots, potatoes, zucchini, and a dash of white wine round out the dish. Croatians often pair peka with hearty flat bread, a salad made with cabbage, cucumbers, and beets. Peka is often accompanied by a bowl of ajvar, too. This flavorful condiment is made with roasted red peppers, eggplant, garlic, olive oil, and vinegar. Ajvar is popular not only in Dalmatia, but also throughout the Balkans.
Dalmatia's Balkan-inspired dishes don't stop there. You'll also find ćevapi (minced meat rolled into a stubby, tube-like shape), and burek (a flaky phyllo-dough pastry that's filled with cheese, ground meat, or spinach). Both of these are favorites among people looking for a quick meal or snack.
Wonderful Wine
The Romans ruled this area for hundreds of years, so it's no surprise that you'll find some great wine in Dalmatia.
A town near Croatia's second-largest city of Split, is actually the genetic home of the zinfandel grape (crljenak kaštelanski). And, with abundant sunshine, Dalmatia also produces some other high-quality reds like plavac mali, dobričić, and babić.
If you favor something a bit lighter, look no further than white varietals such as pošip, maraština, or grk.
Sweet Treats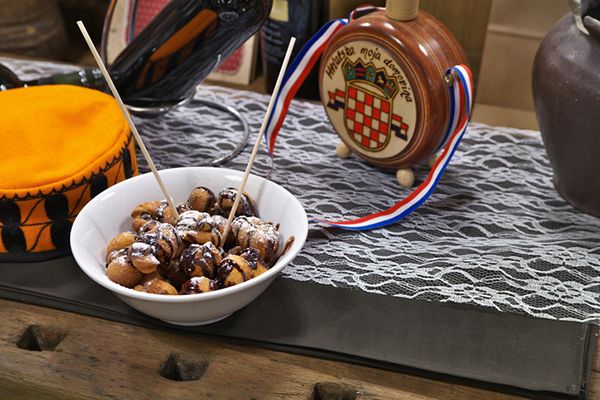 If you have a sweet tooth, don't despair, you'll find lots of tasty desserts in Dalmatia. From almond biscuits and carob squares, to baklava, pudding, and palačinke (Croatia's version of a crepe) there are a lot of ways to round out your meal.
Around Christmas time, fritules are in full force. These small balls of fried-dough are flavored with brandy, lemons, or raisins. Fritule are often dressed in a beautiful dusting of confectioners' sugar or a burst of melted chocolate. They're a staple at family Christmas celebrations but you can also find them at Christmas markets or other festivals.
Like fritules, kroštule are also deep-fried. However, once cooked, these ribbons of pastry with a ravioli-shaped edge are sometimes served in a jumbled pile. Powdered sugar completes the presentation. Once you bite into them, you'll notice an essence of lemon—perhaps even a hint of rum.
Get Your Free Report on Europe Here:
Learn more about countries in Europe and other countries from around the world in our daily postcard e-letter.
Simply enter your email address below and we'll also send you a FREE report - All the Charm and Romance of Europe…at a Price You Can Afford.
Related Articles
Interesting Facts about Croatia