When I first visited Montenegro in 2007, it was one of the world's newest countries. This southeastern European nation was also basking in the afterglow of a mention in the James Bond film, Casino Royale, released the previous year. Contrary to what you'd think, given the movie's storyline, none of Casino Royale was actually filmed in Montenegro. Nevertheless, 007 helped put this captivating mountainous and maritime country on the intrepid traveler's radar.
Fast forward to today, and Montenegro's Bay of Kotor is a fixture on many Mediterranean cruise itineraries. The glittering bay area is also popular with tourists who make an overland day trip from the nearby Croatian city of Dubrovnik. Yet, though the Bay of Kotor is well worth a visit, it's only the entry point to one of Europe's most interesting, but least explored, Mediterranean countries. Here's an itinerary to get you deeper.
Stari Bar: A Ruined Town Enjoying a Renaissance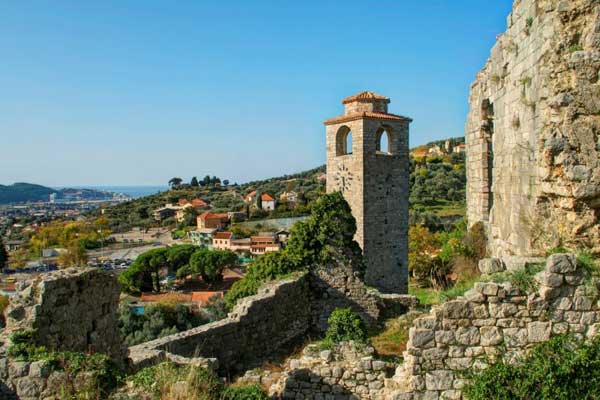 Stari Bar (meaning "Old Bar") is located in southern Montenegro, just a few miles from Bar, a modern city and seaport. Over the centuries, Stari Bar was controlled by several powers, including the Venetians and the Ottoman-Turks. After a significant earthquake in 1979, Stari Bar's residents abandoned the town, leaving it to fade into history.
Today, Stari Bar has been partly restored, and there are plans to enliven more of its medieval stone buildings. However, much of what makes the location a delight to explore is its crumbling walls and how the shells of its houses have been overtaken by exuberant wildflowers. During a spring visit, wisteria flowers blanketed several buildings. The scent was heavenly—not only to me, but also to the bees.
Stari Bar features a variety of architectural styles. Churches with faded frescoes are juxtaposed with Ottoman-era mosques. There's also a clocktower, a hammam (Turkish bathhouse), an aqueduct, a tiny museum, and fortress ruins. The town's cobblestone streets, stairs, and grassy areas are uneven and steep in places, so be sure to wear comfortable shoes. Tickets to enter the historic area of Stari Bar cost €2 (about $2.40).
Outside Stari Bar's gated area, you'll find several shops, cafés, and restaurants. Merchants line shelves with bottles of golden olive oil (maslinovo ulje), as well as honey (med), wine, and olives. If you'd like to take home a souvenir that's more lasting, be on the lookout for lavender sachets or soap, as well as handsome cutting boards made from olive wood.
On Stari Bar's menus, you'll see Montenegrin staples like cevapcici (minced meat sausages), barbecued meat, vegetables, seafood, and sides of cheese and olives. A cup of Turkish-style coffee is the perfect way to round out your meal. Thick and unfiltered, this coffee is traditionally served from a džezva, a small copper vessel with a long handle.
Not far from Stari Bar, the mountainous landscape is dotted with acres of olive groves. The area is home to one of the world's oldest olive trees, Stara Maslina. The tree springs from a jumble of gnarled trunks; it's believed to be at least two millennia old.
Cetinje, Montenegro's Royal Capital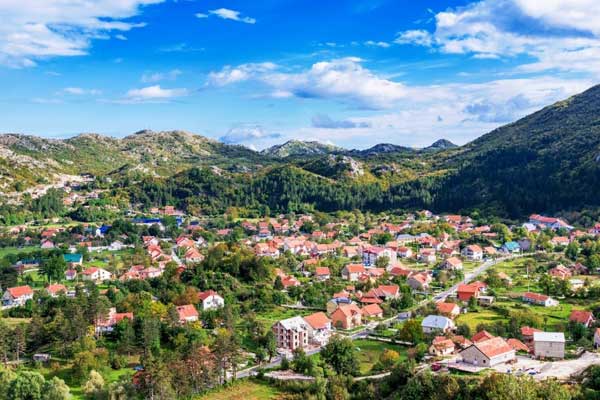 Once Montenegro's capital city, Cetinje exudes an Old World atmosphere. But don't let its former capital status fool you, because Cetinje is small and home to a mere 16,000 people. Locals often refer to it as Montenegro's "royal capital," owing to when the country's royalty lived there.
Located in the Montenegrin hinterland, Cetinje has a decidedly different flavor from the country's coastal communities. Cetinje is a place to spend a relaxed afternoon relishing simple pleasures. On my trip there, I sipped a cup of coffee while soaking up the sunshine, people-watched by King Nikola's palace, and listened outside a music school's window as violinists practiced a lively duet.
I also enjoyed strolling past Cetinje's elegant mansions—some of which used to be embassies. (France's former embassy, which is adorned with Art Nouveau tiles, is worth a peek. So is Montenegro's powder-blue presidential palace.) Some of Cetinje's streets are lined with colorful cottages whose facades are painted with murals.
There's also an 18th-century monastery complex, tiny churches soaked with local history, museums, and art galleries.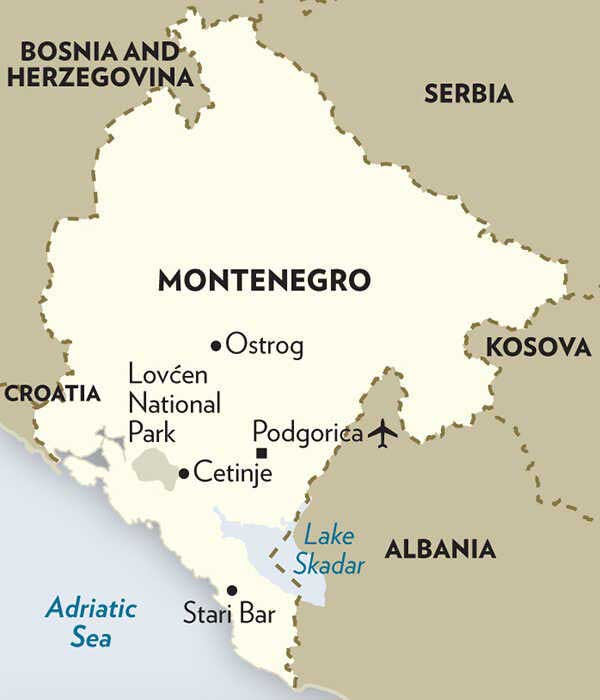 Lovcen National Park is located a few minutes away from Cetinje by car, making the town a great launching point for exploring Lovcen and its star attraction, the Njegoš Mausoleum.
Black Mountain, Home to the World's Highest Mausoleum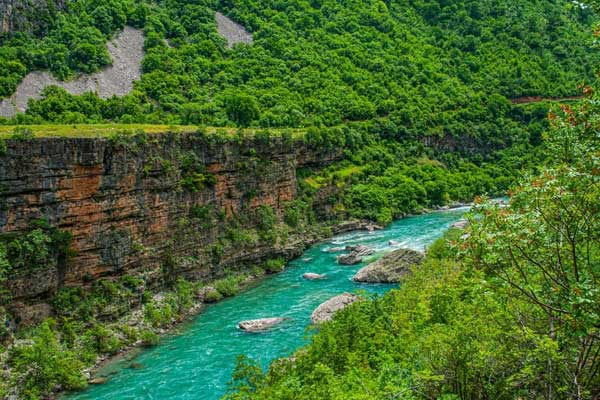 Montenegro has five national parks, but only one can claim to be the home of the country's namesake mountain. Montenegro's native name is Crna Gora—literally "Black Mountain." It's believed that Mount Lovcen's dark forested areas were the inspiration behind the name Crna Gora.
Aside from its natural appeal, Lovcen National Park plays host to the Njegoš Mausoleum. Named after Prince-Bishop Petar II Petrovic Njegoš, a Montenegrin hero and poet, at about 5,440 feet, it's said to be the highest mausoleum in the world.
A sidewalk snakes atop the mountain's "spine," leading you to the grey-stone mausoleum containing Njegoš' remains. A bit farther down the path are extraordinary views of the butterfly-shaped Bay of Kotor. On a clear day, you can also see Croatia and Albania, as well as the sapphire- blue water of Lake Skadar National Park. Admission to the mausoleum costs €3 (about $3.65).
Get Your Free Report on Europe Here:
Learn more about countries in Europe and other countries from around the world in our daily postcard e-letter.
Simply enter your email address below and we'll also send you a FREE report - All the Charm and Romance of Europe…at a Price You Can Afford.
Lake Skadar National Park: A Paradise for Birdwatchers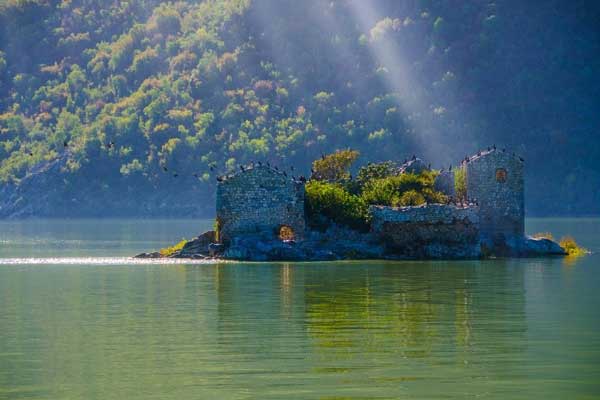 Lake Skadar is the largest lake in Southern Europe, and is shared by both Montenegro and Albania. It's an important refuge for Europe's migratory birds, so it's naturally a superb spot for birdwatching.
One of the best ways to take in the area's emerald and cerulean splendor is to go on a boat ride. Numerous operators offer tours; I went on a two-hour, semi-private excursion with my husband, Shawn. The tour was led by the husband and wife who own Boat Milica, and cost €34 ($42) for the two of us; we also paid a park entrance fee of €4 ($4.85) each.
The journey mostly included time on the water, but Andrija and Jelena also took us to scenic Vranjina for a short stop. This hilly island is home to a tiny monastery where monks sell honey made from thyme flowers. Before we hopped back on the boat, we had a chance meeting with the beekeeper. A chorus of boisterous frogs soundtracked it all.
Ostrog Monastery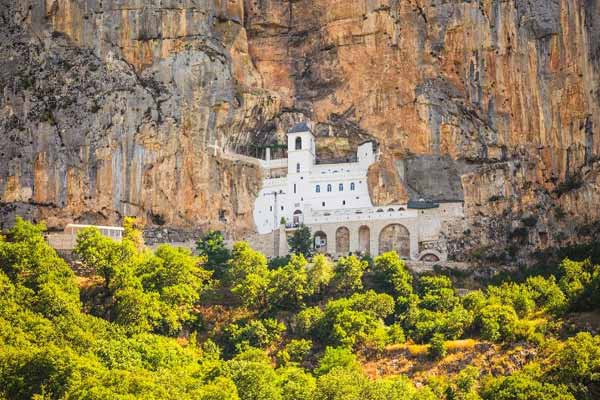 Set in a rock face nearly 3,000 feet above a valley, the Ostrog Monastery can be reached by car or on foot. The hike ended up being one of the highlights of my most recent visit to Montenegro.
This 17th-century monastery is Montenegro's most important Orthodox Christian site, and photography is not allowed inside the cave shrines. However, putting your camera aside for a moment allows you to savor the monastery's extraordinary views of the Zeta Valley. And from a cultural perspective, it's fascinating watching the pilgrims as they approach this holy site. Some do so barefoot. See: Manastirostrog.com
Podgorica: Cafés, Waterfalls, and Roman Ruins
Montenegro's capital, Podgorica, is neither Paris nor Vienna. However, its cafés, galleries, and varied architectural styles—which include a blend of Austro-Hungarian, Ottoman Turkish, and Soviet-era brutalist concrete apartment blocks—make it a worthwhile spot to spend a day or two.
Celebrate the city's history in Stara Varoš, Podgorica's 400-year-old Ottoman district. Then, pop into the city's 21st-century cathedral. Its interior features controversial frescoes of Karl Marx and Josip Broz Tito (president for 35 years during the communist regime). Both are depicted in hell. See: Hramvaskrsenja.me
Not far from Podgorica's center, you'll find wine-tasting opportunities, Cijevna gorge (Montenegro's "Niagara Falls"), and the remains of the ancient Roman city of Doclea (Duklja).
TIPS FOR EXPLORING MONTENEGRO
We used Kotor, Podgorica, and Sutomore as our bases as we explored the spots featured in this article. Next time, we'd stay in pretty Petrovac instead of Sutomore, as we found Sutomore to be a bit rough around the edges. Sutomore has the advantage of having a train station, though.
Currency: Montenegro uses the euro as its currency. However, it's not yet a member of the European Union or the Schengen Zone.
Getting there: There are two international airports—one in capital city Podgorica and another in Tivat (which is five miles from Kotor). You can also fly into Dubrovnik, Croatia, then travel to Montenegro by bus or rental car. A more adventurous option is to take the train from Serbia's capital, Belgrade, to the seaside town of Bar. This is reputed to be one of the world's most scenic train journeys. It's on our travel wish list.
Transportation: We explored Montenegro using primarily buses and trains. Occasionally, we went on private tours. Coaches and minibuses connect Montenegro's main cities; we used Busticket4.me/en to research bus schedules and prices. Montenegro also has a limited number of train connections. (See Zcg-prevoz.me)
Accommodation: We used Airbnb and Booking to find our self-catering apartments. Keep in mind that Montenegro charges a daily tourist tax of €1 ($1.20) per adult. Property owners often build this tax into the final price, but confirm this with them beforehand. Also note that tourists should be registered with their local municipality. Your hosts should do this for you, but sometimes they do not. If in doubt, ask your hosts to see a proof of registration, or check with the local tourism office.
Get Your Free Report on Europe Here:
Learn more about countries in Europe and other countries from around the world in our daily postcard e-letter.
Simply enter your email address below and we'll also send you a FREE report - All the Charm and Romance of Europe…at a Price You Can Afford.
Related Articles
Montenegro's Coast: A Lesser Known European Gem
The History, Beaches, and Bistros of Budva, Montenegro
Mountains and Mosaics in Montenegro's Bay of Kotor
Popular Articles You May Also Like