Budva is famous for its beaches. This city in Montenegro features a beach that is about a mile long and attracts thousands of visitors a year.
However, Budva is far more than a sun and sea destination. The area has a history dating back at least 2,400 years to the ancient Greeks. It also has a thriving informal dining scene focused on the culinary delights of the Mediterranean.
Budva may have been built on beach towels and sunscreen. Yet, the future of this city may be its cultural and culinary offerings.
Overview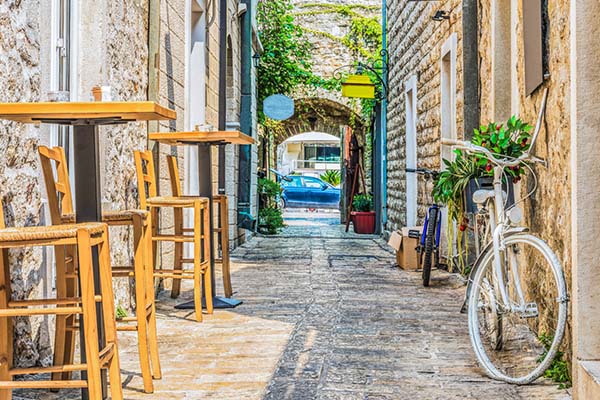 Roughly the size of Connecticut, Montenegro is one of the youngest countries in the world. Established in 2006, the "Black Mountains" were once a part of the former Yugoslavia.
Today, Montenegro has increasingly tied itself to the European Union's 450 million people and its economy. The country has unilaterally adopted the euro as its currency and is now a member of the North Atlantic Treaty Organization (NATO).
Montenegro has a population of over 630,000 and over 19,000 of them live in Budva. However, the city's population skyrockets in the summer. Researchers estimate that over 130,000 people visit Budva every day during the warmer months.
Budva's increasing number of tourists and the sudden rush to accommodate them has caused a surge of unconstrained property development. This phenomenon has led to a term called "Budvarisation."
Much of Budva's growing pains were a result of outdated urban design plans during the days of the former Yugoslavia. However, as the country continues to develop, more laws and regulations are being put in place. As a result, the city's future growth should be more balanced.
Early History
Budva's history dates back to around 400 BCE when settlers from ancient Greece established a trading center in what is today's Stari Grad (Old Town).
They gave this settlement the name Bouthoe (Budva). However, the town had already existed for at least 100 years before the arrival of the Greeks. It originally belonged to another regional civilization—the Illyrians.
During this time, the Illyrians were being squeezed by the great powers of Greece and Rome. As a result, the Illyrians launched an attack on Budva in 229 BCE.
This prompted a military response from Greece's allies in Rome. The Roman counterattack led to the demise of the Illyrians and their leader, Queen Teuta.
However, the Greeks paid a price for Rome's help. Budva was absorbed into the Roman Empire and would remain there for the next 500 years.
Montenegro Divided
Budva has a long history of being sandwiched by major powers. In 395 CE, the massive Roman Empire formally split into eastern and western parts, with a new border running right through Montenegro.  
In 1054 CE, the Great Schism divided Christianity into Roman Catholic and Eastern Orthodox faiths. Again, the border cut across Montenegro.
With the arrival of the Ottomans around 1400 CE, Islam began to expand in the region near Budva. However, this expansion continued to press up against the Ottoman's old foe—Venice.  
After Budva was sacked in the early 1570s, the Venetians signed a peace treaty with the Ottomans. This agreement ceded the towns south of Budva to the Ottomans.
The effects can still be seen today. In the southern Montenegrin towns of Stari Bar and Ulcinj, minarets still sound the call to prayer.
Yugoslavia
In 1918, Montenegro was absorbed into the Kingdom of Serbs, Croats, and Slovenes, which later would become Yugoslavia.
As a non-aligned communist country during the Cold War, Yugoslavia's coastal cities, including Budva, would become a magnet for tourists on both sides of the Iron Curtain.
Following the explosive breakup of Yugoslavia in the early 1990s, Budva fell off the map as a tourism destination for the next decade. However, after the financial crash of 2008 and the Great Recession, visitors to the city began to accelerate.
Historical Sites
Thanks to Budva's long and complicated history, the town has several interesting historical sites.
Venetian walls still surround the old town. The remains of the winged Lion of St. Mark, the symbol of Venice, is visible over the main entrance.
Roman legacies can also be found. Just outside the front gate are the remains of an ancient Roman necropolis.
Inside the walls you'll find the ruins of an ancient Roman villa and a Roman bathhouse (thermae). Many of the Roman ruins were discovered after a catastrophic earthquake in 1979.
A defensive citadel is located on the southern edge of the old town. The current structure was built by the Austro-Hungarian Empire in the 19th and 20th centuries. However, the site is believed to have been the location of the original fortified Greek settlement (acropolis) around 2,400 years ago.
In the summer, the old town becomes "Theatre City" and features plays, concerts, and poetry nights. After a full day on the beach, these live performances offer a nice touch of culture.
Budva's Beaches
From 1936 to 1938, the British novelist Rebecca West visited Montenegro during a tour of Yugoslavia. Upon discovering the 22 miles of Adriatic coastline known as the "Budva Riviera," she described it as "a little white tortoise against the blue sea."
Today, that "little white tortoise" continues to be an incredible assortment of beaches of all shapes and sizes. At the heart of the tortoise is the beach stretching from Budva's Old Town to the other side of the bay.
Roughly one mile in length, this beach is often densely populated with sun bathers due to its proximity to most of the hotels. However, if you have a vehicle at your disposal, several other beaches are within reach.
Jaz, Kamenovo, and Becici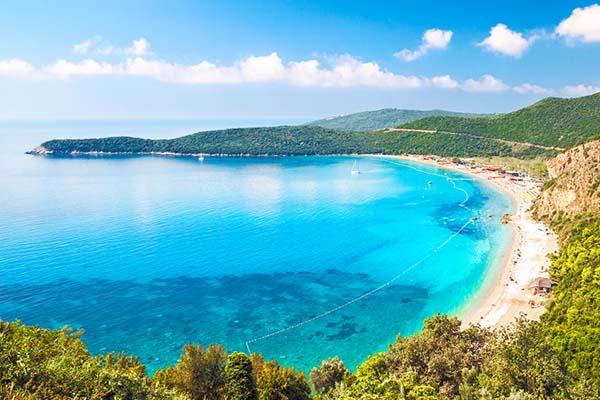 The three beaches of Jaz, Kamenovo, and Becici are located a little further afield than the main sandy stretch in Budva. Yet, these sunbaked strips of sand may offer delightfully smaller crowds.
Budva's Bistros
Paris is certainly the birthplace of bistros and informal dining. However, Budva is striving to build its own bistro culture based on Balkan and Mediterranean cuisine.
Meals typically begin with a shot of local brandy called rakija. This firewater is usually made from grapes, but can also be distilled from apple, quince, and pears.
You may even find some rakija bottles with a whole pear inside. If you do, salute the patience of the maker who fitted the bottle over a small young pear and watched it grow. 
Montenegro's signature red wine is called Vranac. This is often served with the country's popular meat dishes including cevapi sausages and sac—a meat and vegetable combination that is cooked in an open fire under a metal dome.
Meat is often accompanied by a local condiment called ajvar. This spicy red pepper and tomato spread, like many dishes in the Balkans, has its roots in Turkey and the Levant.
Budva's bistros capitalize on the city's proximity to the sea. Restaurants serving fresh seafood grilled with olive oil, garlic, and parsley are nearly ubiquitous along the waterfront. 
A signature dish definitely worth having in Budva is called Black Risotto. This risotto drizzled with cheese and olive oil is blackened with squid ink.
After your meal, enjoy a cup of Turkish coffee and a plate of palačinke. Palačinke is similar to a French crepe and is often infused with local fig jam and cream.  
If you're looking for something zesty to match your Turkish coffee, try a tantalizing slice of baklava layered in honey and pistachios.
Sveti Stefan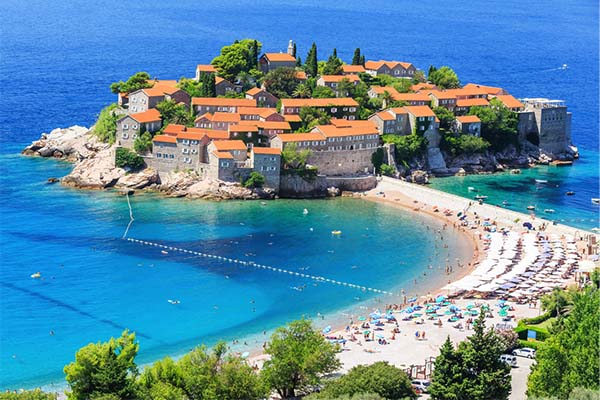 This island-turned-peninsula was once a fishing community and a Venetian protectorate. However, in the mid-1950s, the whole island was converted into a luxury resort.
Famous personalities such as Elizabeth Taylor, Sophia Loren, and Richard Burton all visited Sveti Stefan. It was even rumored to be a planned wedding site for Prince Charles and Princess Diana before the paparazzi forced a change in plans.
Access to the island and its private beach is limited to hotel guests. However, there is a public beach on the other side of the peninsula with a good view of the island.
Sveti Nikola Island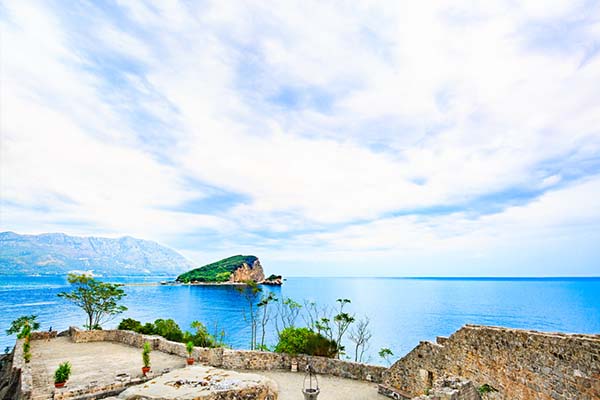 If you have your sea legs, try taking a ferry out to the island just off the coast of Budva's Old Town. The island is named after Saint Nicholas, the patron saint of sailors and merchants. He is also known more colloquially as Santa Claus for his legacy of secret gift-giving.
Due to its position away from the hustle and bustle of Budva, the beaches of Sveti Nikola make for a quieter day trip.
There is also a church on the island. Dedicated to the island's namesake, the church is at least 400 years old. It was badly damaged in the 1979 earthquake and the subsequent 90 aftershocks that were greater than 4.0 on the Richter scale.
Beyond Budva
Budva is a great place from which to launch a few memorable day trips. From Kotor to Lake Skadar, there are a wealth of treasures to uncover in Montenegro.
However, you may discover that the history, beaches, and bistros of Budva are so enthralling that you run out of time. If you do, it just means that you'll have to come back to Montenegro.
Get Your Free Report on Europe Here:
Learn more about countries in Europe and other countries from around the world in our daily postcard e-letter.
Simply enter your email address below and we'll also send you a FREE report - All the Charm and Romance of Europe…at a Price You Can Afford.
Related Articles
Mountains and Mosaics in Montenegro's Bay of Kotor
Dénia: A Beach Town for Food Lovers on Spain's Mediterranean
Olive Groves, Pebbled Beaches, and Deep History in Brač, Croatia
Upcoming Conferences
Live Better, Spend Less, Retire Sooner
IL's Retire Overseas Bootcamp
October 21-23, 2022 in Atlanta, GA

In safe, warm, welcoming communities abroad, as little as $1,700 a month can bankroll a good life... this fall, our experts will show you where—and how.
Early Bird DISCOUNT—Save $100 When You Register by Sep. 29
Details Here IL's Retire Overseas Bootcamp
---
Registration Now Open for the Best of Europe Private Screening

In the Right Spots in Europe, You Can Retire in Style—in an Historic, Sun-Drenched Locale—for as Little as $2,300 a Month or Less—Especially Now With the Dollar and Euro at Parity for the First Time in Two Decades.
And We'll Show You How, October 1-2, During the Special All-Online Best of Europe Private Screening.
---
The Income Revolution Forum
What if You Had the Freedom to Enjoy the Good Life Anywhere in the World You Wanted to Be...and Get Paid While You're There?
We'll show you how—with hands-on guidance—you could beat inflation...secure your retirement...ditch your commute...and turn a skill you already have into a portable side income of $300, $600, even $3,000 or more a month.