"Give me Goodwood on a summer's day, and you can forget the rest of the world."
– Roy Salvadori, British Racing Driver
One of the things that I love about living an overseas lifestyle is the unique memories you can create with your friends and family members when they visit you.
One year, when I lived in Costa Rica, my cousin came down from California, and we took a road trip to Puerto Viejo, on the Caribbean side of the country. Often, my mom and I would meet in Europe for a holiday, from summers in Spain and France to fall in Eastern Europe. My parents also met up with me when I was staying in Amsterdam a few years back.
I had another such experience last weekend when my dad visited me in the U.K.
Since it was my dad's fourth or fifth trip to the U.K., we didn't visit the typical tourist attractions. Instead, we rented a car and headed south of London to the towns of Chichester and Emsworth.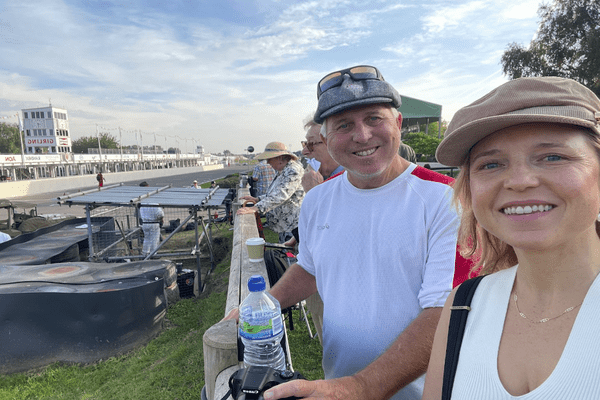 My dad has always been interested in cars, and I spent much of my childhood accompanying him to racetracks, from Daytona to Sebring Raceway to the Indianapolis 500. Earlier this year, he joined the Goodwood Racing Club Fellowship, a motorsport community in England founded by The Duke of Richmond. As such, I was happy to join him at this year's Goodwood Revival, a vintage motor race staged entirely in a period theme that celebrates cars, fashion, and history.
The Revival aims to help attendees experience "the romance and glamour of motor racing as it used to be." After attending, I can attest that they certainly achieved their goal.
Walking into the Goodwood Motor Circuit feels like stepping into a movie scene steeped in nostalgia. Upwards of 150,000 people attend the event each year, most of whom are dressed in period attire from the '40s, '50s, and '60s.
Between the many races throughout the day, which last between 25 minutes to an hour, you can peruse rows of antique and exotic cars, enjoy plenty of food and beverages, and marvel at displays of aircraft and paraphernalia dating back to WWII. In addition, there's a festival and carnival on the site, complete with rides, games, shopping, dancing, and entertainment.
My dad and I arrived when the gates opened at 8 a.m. We had a full day of fun, exploring, and experiencing all types of British weather, from blistering sun to wind and rain, which made for challenging race conditions for the drivers.
My favorite parts of the day included seeing a race with Formula 1 cars from the 1960s, and walking through the displays of authentic historic memorabilia, from WWII motorcycles and campsites filled with soldiers' personal belongings to the ceremonial Land Rover that Queen Elizabeth II often rode in.
On our way back to London, we drove to Kingston-Upon-Thames and had dinner at a pub with a view of the sunset over the River Thames. It was the perfect end to a great weekend, adding to the many wonderful memories I've made with my family abroad in 20 years of traveling the world.
Goodwood happens again September 6-8, 2024. If you'd like to go next year, check out https://www.goodwood.com/motorsport/goodwood-revival/.
Related Articles
Housesitting in Europe: Everything You Need to Know
9 Best Things To Do In Rye, England
A Week of Fun in London…For Just $15 Dollars a Day
Popular Articles You May Also Like