Deep blue water stretching into the distance. Rocky coastlines where mountains push up against the sea. Terracotta rooftops cascading down bright green hills. Islands silhouetted by fiery sunsets. And fortresses dotted across the landscape, towering above the valleys on a hilltop or settled against the sea with holes in their walls for cannon fire.
This is Croatia's Dalmatian Coast—a place where natural beauty, dark and ancient history, and now a booming tourist trade collide.
In the past few years, what was once a sleepy off-the-beaten-track destination has become a beloved favorite for travelers from around the world. Cruise ships pull into the harbors nearly year-round. Tour groups stop to walk the ancient city walls. And more and more people add the coast to their bucket lists each year.
If you're one of those people, here's what I suggest you do, see, eat, and seek out along the coastline.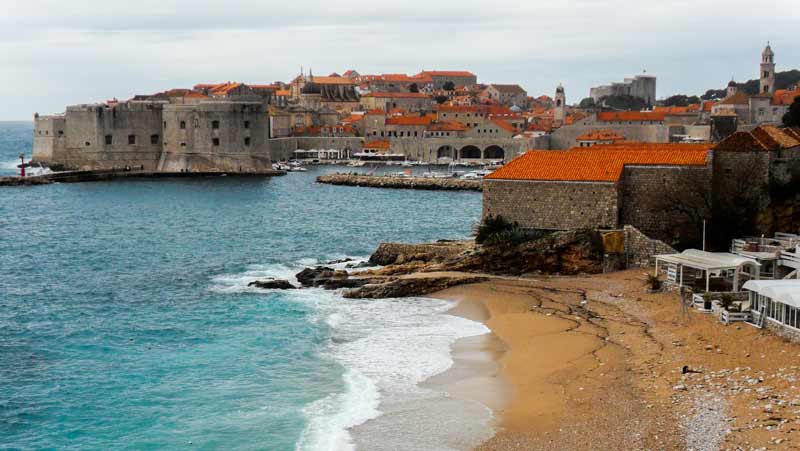 Where to Stay
Dubrovnik is the most popular town along the coast, but I recommend starting in Split—home of the Roman Emperor Diocletian's fourth-century-built palace—and staying in or near the old city.
If you're planning to rent a car, Split makes a great base for seeing the whole coastline and region. If you'll be taking buses, consider dividing your time between Split—where you can easily explore the northern coast and islands—and Dubrovnik or Cavtat—where you can check out the south and take day trips into Bosnia and Herzegovina or Montenegro.
If you choose to base yourself in the south, Dubrovnik is the most crowded and expensive option, so consider heading to tiny Cavtat instead. The little resort town has a beautiful seaside promenade, some excellent food, and is only a short ferry ride away from Dubrovnik.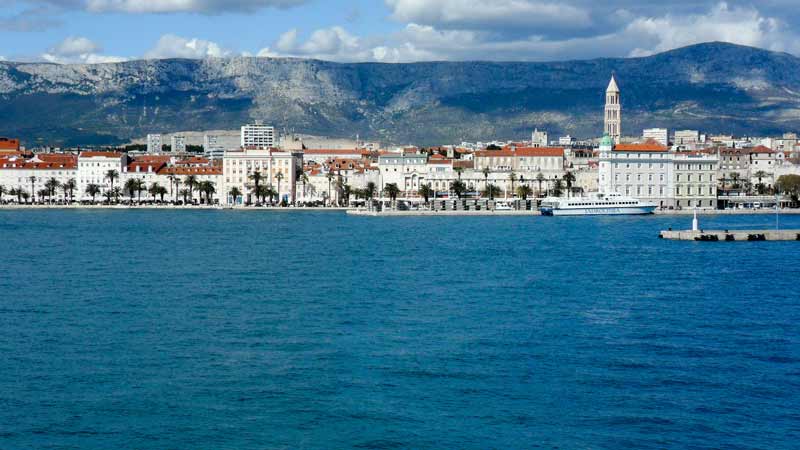 Food and Drink
In Split, head up the hill just north of town (Marjan Hill) and stop at the coffee shop halfway up for a drink on a spacious patio with views down the hill to the city, port, and sea. The coffee's nothing special, but the views make it worth a pit-stop.
Locals recommend trying the Pašticada (a local stewed beef dish) and the fresh catch of the day in restaurants like Fife, and grabbing ice cream or a cake from Kuća Sladoleda. For fresh cooking ingredients (if you're renting an apartment), the enormous market just south of the old city is bursting with fruits and veggies, and butcher shops and grocery stores line the town square.
Dubrovnik Food Tours are an excellent way to get a sense of the local foodie scene, and Wine Bar Razonoda offers up tasty charcuterie and cheese boards for two.
Further south in Cavtat, Bugenvila might just be the best restaurant on the Dalmatian Coast. The chicken liver pate with tangerine jelly and Tri Tip Beef Steak (featuring truffle foam) are delicious.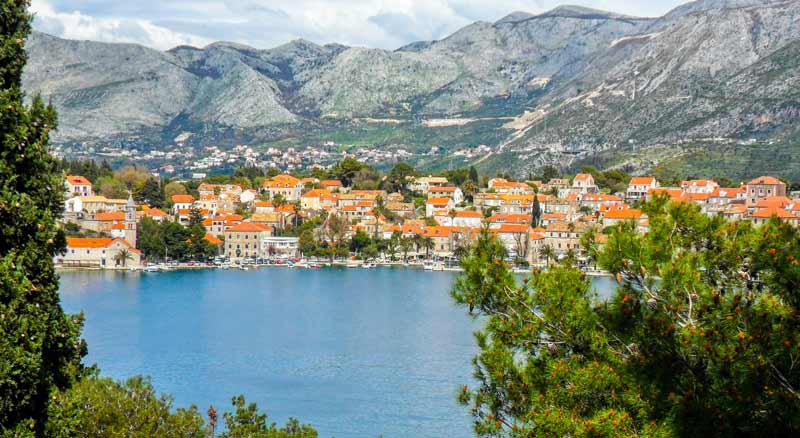 What to Do
In Split, don't miss Diocletian's Palace and the inside of the walled city, with its many curious nooks and surprisingly spacious squares. Foodies may find the fish market—located just outside the city walls—fascinating. And walkers and view-seekers should make time to walk up Marjan Hill and then come back down to walk the seaside path that winds around the hill along the coast.
Movies here are shown in English (with Croatian subtitles) and cost about $4 per person, so if you catch a rainy day, take the bus (or car) out to the cinema to catch the latest release.
Outside the city, those seeking quiet and solitude may like the island of Solta, with its walking paths along the sea. Most tourists don't head this way, so expect to be surrounded by locals or no one at all. For a more bustling island experience, Hvar is beautiful and beloved.
Back on the mainland, Trogir—an old walled town surrounded by water—is something special, especially in the early evening when all the lights shine off the ancient stones in shades of yellowish-pink and Brela boasts some of the prettiest beaches in the world, as well as a well-kept promenade for leisurely walks along the sea.
In Dubrovnik, the old city walls are worth walking, but try to pick a less-crowded day or time of year for an optimal experience.
For something spooky and unusual, head to Kupari (a town between Cavtat and Dubrovnik) and visit the old abandoned military hotels on the beach. Abandoned and burned out during the war, the abandoned facilities are a spooky, strange reminder of the cost of conflict. They're scheduled to be demolished sometime this year or next, so go while you can.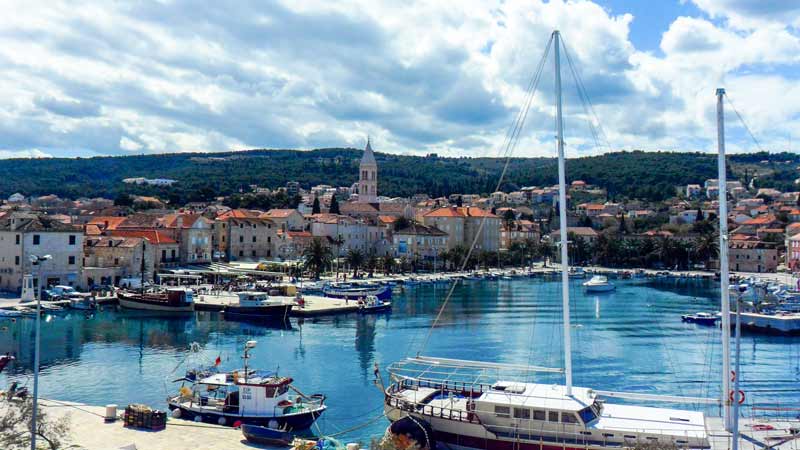 When to Go
In Split, locals rave about the gorgeous weather and more manageable crowds of September and October, when the sea is often still warm enough for swimming and everything is still open, but prices tend to drop as the crowds thin.
If you visit in summer, expect high temperatures and big crowds. In winter, cool temperatures and good prices prevail, but many restaurants, tours, and even ferry services close or cut their hours.
Getting There
Most flights from the U.S. will take you through Zagreb (Croatia's capital) or another major European city with direct flights to Split or Dubrovnik. From Zagreb, you can either fly direct to either city (less than an hour to either) or rent a car and spend a day or two seeing the Croatian countryside on your way to the coast.
Night trains also run between Zagreb and Split and take about eight hours.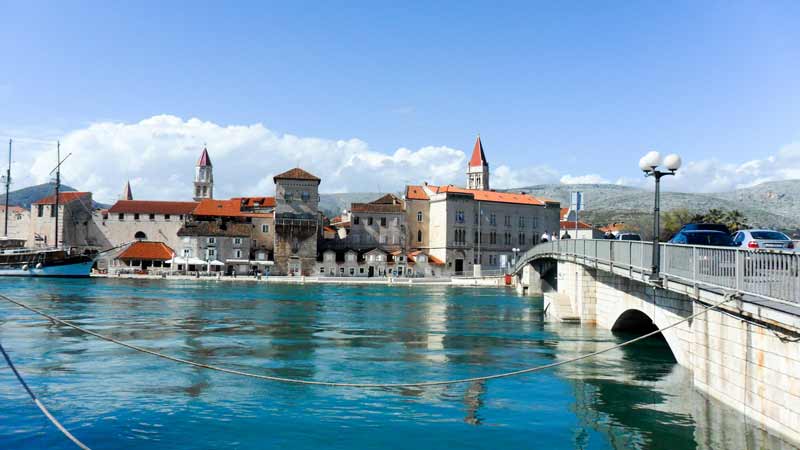 Money Matters
When it comes to European destinations, Croatia tends to be a bargain—as long as you don't base yourself in Dubrovnik in the heart of summer season. Expect Western prices in the popular, tourist-loved center of Dubrovnik and some of the resort areas along the coast…and big bargains outside the tourist centers.
A month in Split, Croatia, including groceries, meals out, local transportation, gifts, and accommodations in November, cost me less than $1,350. A similar month in an apartment just outside Dubrovnik for the month of March—again including everything from local transport to meals to accommodations and attractions—cost just under $1,600.
Get Your Free Report on Europe Here:
Learn more about countries in Europe and other countries from around the world in our daily postcard e-letter.
Simply enter your email address below and we'll also send you a FREE report - All the Charm and Romance of Europe…at a Price You Can Afford.
Related Articles
Interesting Facts about Croatia