Welcome to your Weekly Wrap-Up!
On Wednesday morning I received the text message I had been waiting for: "COVID-19 not detected."
I arrived in Ireland the previous Wednesday. There's a 14-day quarantine that can be cut short by passing a test from day five. This was my fourth PCR test and hopefully my last.
With the all-clear, I got straight in the car to do some touring…Ireland looks idyllic this time of year.
Add in good weather, like we've had here, and it's truly special.
Nature is bursting with life and every outside seat in pubs and restaurants is filled.
Wednesday evening, I joined friends for nine holes behind my home in Fota Island, near Cork. We finished at 9 p.m. But again at 10.15 p.m. I hopped the fence to play another few holes in the fading light.
That's the beauty of the Irish summer…endless evenings. And I plan to make the most of them…
I have a full schedule of scouting and exploring in the coming weeks. Last summer, I uncovered an opportunity to buy and repurpose Irish pubs into profitable Airbnbs.
This week however, I'm keeping a close eye on events across the Atlantic…
As you know, on Thursday we launched a killer deal in Playa del Carmen, on the Riviera Maya.
Within hours of opening our deal at Singular Dream the waitlist was already building.
The phenomenal response of RETA members to this deal showcased our awesome group buying power and I used this to leverage more condos at hefty discounts for RETA members from the developer.
The huge demand just confirms the strength of what we're sitting on. Singular Dream is setting the standard for architectural vision and pampered luxury living in Playa.
Thanks to our group buying power, RETA members who got in on the deal locked in major discounts on fully furnished turnkey luxury condos: from nearly $50,000 and up for one-bedroom condos, and from $66,000 for two-bed condos.
That includes furniture packs for each buyer valued at $15,000 and $23,000 for the one and two bedrooms respectively…
What makes this truly killer…a bonafide RETA deal…is that we're buying in the best location, with exclusive RETA-only pricing, which all adds up to stellar potential yields of what I figure will be 15% gross rental yield annually.
The condos are just 30 seconds from Playa's white-sand beach, close to the action in town, but also in one of the lushest and most exclusive areas of Playa…
These condos are perfect to tap into Playa's red-hot rental market for two reasons:
Singular Dream is classed like a hotel, which means that it will be listed on travel booking sites like Expedia.com and Kayak.com. Travelers can easily book a stay there.
Thanks to the in-house rental management company, which has been running hotels in Playa since 1998, an investment in Singular Dream can be hands-off and hassle-free from day one. The management company handles marketing, booking, check in and check out—leaving owners to cash the checks.
Millions of travelers of visitors come to Playa every year in search of fun in the sun on the Caribbean.
This is the heart of the Riviera Maya, an 80-mile stretch of coast that didn't exist as a world-class tourist destination 30 years ago. But today, the Riviera Maya is Mexico's hottest getaway…and one of the most popular in the world.
A recent survey from TripAdvisor of American travelers found that Playa del Carmen is the 7th most popular destination in the world for travel this summer. But Playa is also a favorite of Europeans, not to mention Latin Americans and Mexicans from other parts of the country.
There are vacationers, snowbirds, part-time expats, extended vacationers, the work-from-home crowd, digital nomads… They come for the tropical weather, white-sand beaches, magical cenote adventures, shopping, dining, incredible nightlife…
That's a huge and varied market for vacation rentals pretty much year-round…and Singular Dream, so close to the beach and a short walk to Playa's "main drag," 5th Avenue, a miles-long pedestrian promenade lined with shops, restaurants, and nightlife, will be hugely in demand, as tourism rebounds.
My senior researcher Margaret Summerfield has been visiting Playa del Carmen since 2007. It's one of her favorite places. As she says:
"Playa charmed me on that first trip. I've gone back countless times since. Each time, I'm amazed by what's changed: New restaurants, new hotels, new businesses, new faces. And what hasn't changed: The beaches, the high quality of life, the instant appeal of Playa. Playa's gone from a fishing village to a chic beach city in a couple of decades."
Margaret recently shared some of her recommendations for where to eat, shop, and simply hang out and relax. Not to mention the best place to spend a day at the beach where they'll bring you delicious food and cold drinks all day long… If you're gearing up to get down there, be sure to check out Margaret's top picks.
An Incredible Track Record in Playa
Of course, Singular Dream isn't our first rodeo in Playa del Carmen.
Last time I was in town, this April, I stopped by our RETA opportunity in Siempre Playa. It was another project by SIMCA, the developers behind Singular Dream and multiple successful projects up and down the Riviera Maya.
Members bought in Siempre Playa in 2017 at RETA-only pricing from $193,800. Today, the same condo type lists at retail for $314,333. A whopping paper gain of $120,533.
If you haven't already, check out what these SIMCA guys deliver: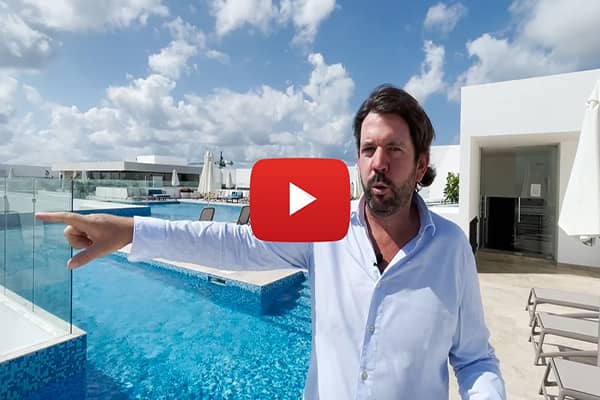 RETA members who invested in Siempre Playa have already been taking delivery. I've heard that some have even rented their places out to the tune of $1,900 per month for a two-bedroom condo.
Here's what some RETA members who bought in Siempre Playa had to say…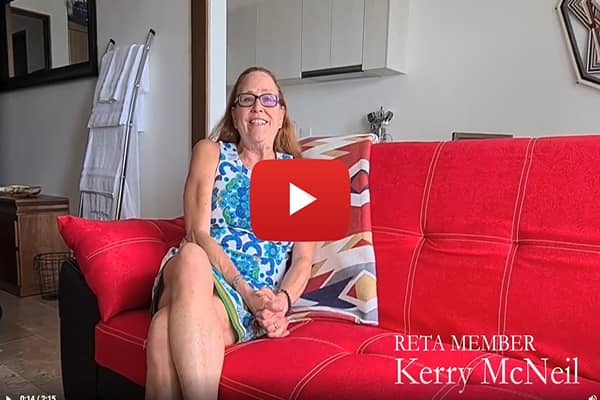 The developers, SIMCA, has a long history in Playa del Carmen, the Riviera Maya, and the Yucatan peninsula overall…
In fact, in the coming weeks, I'm gearing up to another incredible deal with on a SIMCA project…a landmark marina community on the coast close to the colonial city of Merida, capital of the Yucatan.
Like the Riviera Maya, Merida is undergoing a Path of Progress of its own.
A wave of new boutique hotels is establishing Merida as Mexico's latest hotspot…
Its airport is second only to Cancun as the busiest airport in the south of the country. It has seen passenger numbers doubling over the past decade. And new terminal and infrastructure improvements is further doubling existing capacity…
The government is going all in on the northern Yucatan, with huge investment in urban improvements, port upgrades, and sustainable tourism…
Smart private investment is riding this wave of growth…
And at RETA, we have a unique opportunity to own right on the coast—and within a short drive of one of Latin America's most beautiful and vibrant colonial cities. I'm talking "boat on the doorstep" luxury condos in a landmark marina community with a planned private beach.
Just about 30 minutes from Merida in the beach town of Progreso, our opportunity is on the best stretch of beach on this coast—and it's set to be a total landmark community…the kind of real estate wealthy locals and snowbirders snap up and hang on to…
Stay tuned for the details…
Your Comments and Questions
Pete says: Dear Ronan, Arrrrgggghhhh!!!! This is the first deal that really, *REALLY* grabbed our attention. Unfortunately, as good as it sounds, we're on a road trip down the Oregon coast, and in no position to make a snap quarter-million-dollar investment decision.
Sorry, but just had to vent. Hopefully, rumors of "something in Cabo" are more than just rumors.
Ronan says: Hi Pete. Unfortunately, it's impossible to be in a position to act on every RETA deal, especially during major buying moments when we're seeing more deals than ever before.
However, I would still encourage you to put your name down on the call back list. You never know when a unit might become available. And once you've registered your interest with the developer's team, you'll be in a position to act if something becomes available down the line.
Your Daily Dream Home
Inverness, Scotland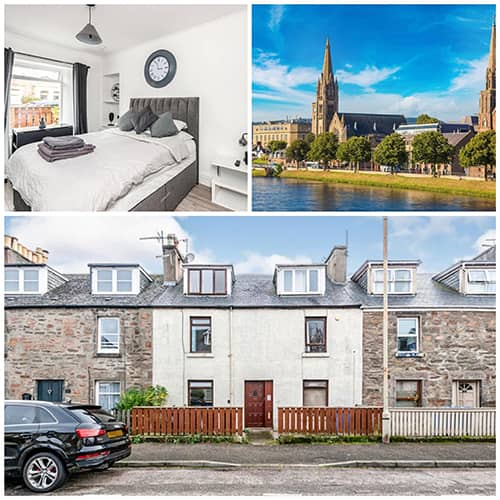 Inverness is a city on Scotland's northeast coast, where the River Ness meets the Moray Firth. It's an ideal place to base yourself if you want to explore Scotland's Highlands and many islands…or indeed if you want to go monster hunting at nearby Loch Ness. This ground-floor studio apartment is located in the Crown area of Inverness, you're close to all amenities as well as being an easy journey to the center of Inverness. This property has been newly renovated and has a newly fitted kitchen and access to a communal garden at the back of the property. ⁠⁠
Remember, we don't make money from any listing shared here in the Your Daily Dream Home section. We have no dog in the fight. We're just sharing cool properties we've found.
I haven't visited this property or done due diligence on it. If you're interested in the listing, you should hire an attorney and do your own due diligence.
Get Your Free Real Estate Report Now
Sign up for our free daily Postcard e-letter and get a valuable free report on the The 5 Best Places to Buy Real Estate In 2023.
Related Articles
An Insider's Guide To Playa Del Carmen
Huge Discount In Booming Playa Del Carmen