Exciting news from our RETA beat this week…
We have a killer new deal in Playa del Carmen on the Riviera Maya…
RETA members can lock in RETA-only discounts from nearly $50,000 for fully furnished luxury condos just 30 seconds walk to the beach and a short stroll to Playa's "main drag"—5th Avenue.
As you may recall, I visited Playa in April. I was there to take the temperature of the market, check in on our past deals, and find new ways to put our RETA edge to work.
What I found was a city booming!
Along famed 5th Avenue, there were throngs of people strolling along from morning 'til late at night, looking for a place to eat, drink, and be merry.
The restaurants (and Playa has everything from steakhouses to tapas bars) were busy…the cafes were packed in the mornings with those seeking a pick-me-up from the night before and digital nomads working diligently between lattes. The beach was full of vacationers laying out on loungers or soaking in the Caribbean…and area hotels were solidly booked.
You can check out my short walking tour of Playa in this video.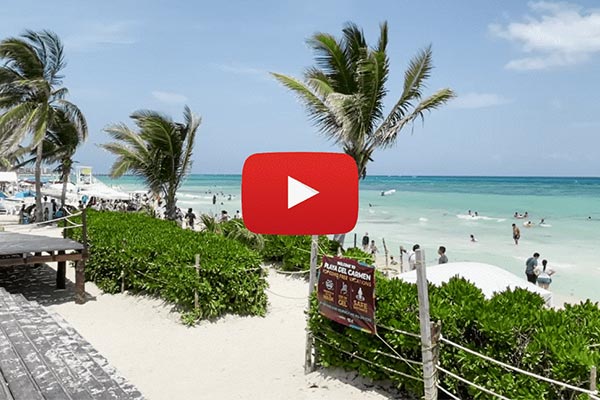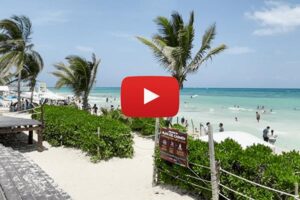 Playa del Carmen is the seventh most popular destination in the world for Americans this summer. That's from a recent TripAdvisor survey.
No surprise. Thanks to abundant and cheap flights, getting to Playa del Carmen and the Riviera Maya is easy from the U.S. and Canada…
But Playa is also a favorite of Europeans, not to mention Latin Americans and Mexicans from other parts of the country. There are vacationers, snowbirds, part-time expats, extended vacationers, the work-from-home crowd, digital nomads…
There is a huge and varied market for vacation rentals pretty much year-round in Playa del Carmen…and we have the perfect opportunity to capitalize on this market, potentially bringing in an annual gross yield of 15%.
Playa is the definition of what I call an "internationalized" place. A destination that's inherently desirable, a place people want to be in good times and bad. A place to escape for vacation or to just escape full stop. A place that is easy to get to and from…
You have great weather year-round. A big international mix of people, lots of fun things to do, good food…a stunning white-sand beach…
There is strong rental demand from multiple markets pretty much year-round, making this a place that can that bounce back quickly from global crisis.
In fact, it's bouncing back stronger…
From Fishing Village to Thriving Tourist Hot Spot
A few decades ago, Playa was a fishing village with a ferry dock. People would come to town to catch the boat to Cozumel, the island just offshore that is one of the world's top placing for scuba and snorkeling. You can still do so—it's a great day trip.
It's the classic Path of Progress story. In the 1960s the Mexican government realized the huge potential of the booming travel market. Cheaper flights had opened up overseas vacations to the masses. And they wanted a slice of the action.
It started in Cancún. At the time, it was little more than a coconut plantation with a few caretakers, but it had loads of potential—a beautiful Caribbean setting with sugar-soft beaches. The Mexican government rolled its sleeves up and set to work.
In 1974, they built an international airport. They put in roads and water treatment plants and electricity. They lured big hotel chains with promises of tax breaks and financing to help them build.
It took a few decades, but they pulled it off. Cancún became a tourist mecca.
In 2019, Cancún Airport's four terminals saw more than 25 million passengers. It's the gateway not just to Cancún but the entire 80-mile coast of the Riviera Maya.
About 50 minutes south of Cancún, Playa del Carmen was the next spot on the Path of Progress roaring south.
Get a brief overview of Playa del Carmen in this video.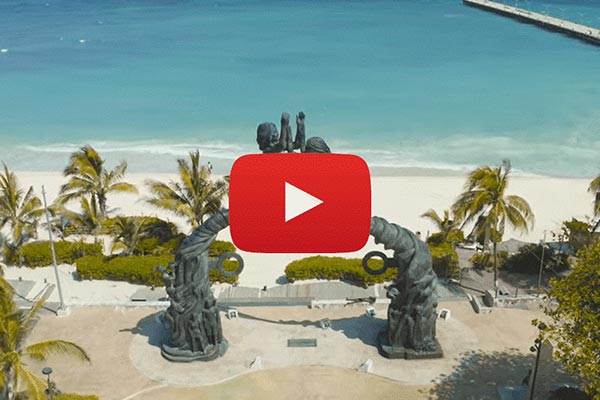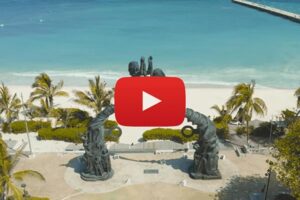 Development accelerated to a blinding pace over the years, turning it into a sophisticated beachside city of close to 300,000 residents with millions of visitors. It has large malls, an international dining scene, big box stores, medical centers, and more. English is spoken everywhere.
Because Mexico stayed open to tourism during most of the pandemic, Playa stayed quite busy. Like I saw, on my last scouting trip there in April it was positively buzzing. I expect it to see a fully recovery and then some as post-pandemic travel resumes.
And as it does, the millions of vacationers drawn to Playa each year will be joined by even more mobile folks with "work from anywhere" jobs. That's a huge pool of renters, who are already being drawn to Playa for this proximity, its established "digital nomad" community, and its incredible lifestyle.
These are folks who rent for weeks, even months at a time, and who will want the kind of boutique, luxury condos RETA members can lock down.
Luxury Condos, 30 Seconds from the Beach
Our condos are going to be one of the most prestigious addresses on the edge of Playa's "Golden Zone." It's certainly one of the best locations in town…just a block from the beach—100 meters walk. That takes around 30 seconds.
You're also just a few minutes from 5th Avenue, the "main drag" of Playa, and all the action, restaurants, and nightlife there…close to stylish cafés, your pick of beach clubs, and so much shopping—for everything from high-end fashions to traditional arts and crafts.
I've secured a RETA-only discount of nearly $50,000 and up on 22 fully furnished, completely turnkey luxury condos. These are hand-selected one-bedroom condos for discounts from $49,775, as well as two-bed lock off condos with discounts from $66,326…
I'll say now that the retail price—the price a non-RETA member would pay—is still a pretty good deal. Maybe one of the best deals in town.
Yet I've carved a huge discount on that for us…
It's an unbeatable deal, considering the incredible location and the stellar white-glove service it offers residents and guests, including concierge, housekeeping service, fitness center, spa, restaurant, and other luxury resort amenities…fantastic for when you visit and the kind of next-level service that supercharges rental occupancy when you're not there.
Your condo also comes with a furniture pack worth $15,000 and—just like the infinity pools, spa, gym, restaurant, sky bar, and courtyard lobby—this pack is designed to make a spectacular high-end rental.
I've seen the developer's rental projections. They make for a potential gross annual yield of $26,190. That's 15% on those luxury one-beds. The assumptions for their predictions look reasonable to me. About in line with pre-Covid travel and occupancy…
All these luxury condos come completely turnkey and ready to rent or for you to spend time there. Like I say, on delivery you can plug straight into that white-hot Playa rental market. And I think Playa is going to bounce back even stronger.
The optional rental program, managed by a company that has been running hotels in Playa since 1998, sweetens the opportunity even more. It makes the whole experience hassle-free from start to finish.
Every new owner can join, and it means your investment can be completely turnkey and hands-off. The management company conducts maintenance on every condo, checks in renters, leaves the condos like new when guests leave, and handles marketing and booking.
This is about as hands-off as you can get for this calibre of a deal…
RETA members can stay tuned to their Alerts for my full report, which drops very soon.
Your Daily Dream Home
Cabo San Lucas, Mexico
$129,000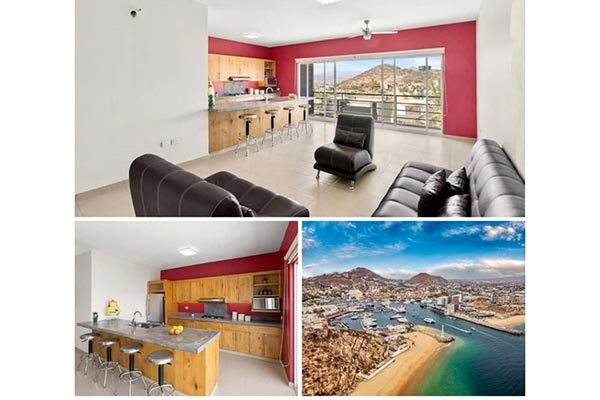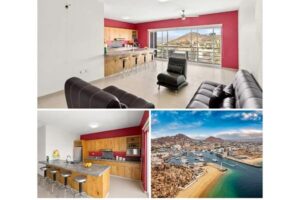 Cabo San Lucas on Mexico's Baja California Sur is not known for cheap real estate. But there are some exceptions. This beautiful two-bed, one-bath condo, listed for $129,000, has a large open-plan kitchen (with a breakfast bar), living area which opens out to a sunny balcony. It has a total of 925 square feet of living space. The condo comes with two parking spaces and you have access to the community pool.
Remember, we don't make money from any listing shared here in the Your Daily Dream Home section. We have no dog in the fight. We're just sharing cool properties we've found.
I haven't visited this property or done due diligence on it. If you're interested in the listing, you should hire an attorney and do your own due diligence.
Get Your Free Real Estate Report Now
Sign up for our free daily Postcard e-letter and get a valuable free report on the The 5 Best Places to Buy Real Estate In 2023.
Related Articles
3 Real Estate Opportunities You Can't Miss
The Only Way to Get the Next RETA Deal