History buffs will often stop in Huế, a city about halfway between Hanoi and Ho Chi Minh City (Saigon), Vietnam. Most people spend a day or two exploring the famous Citadel and the Imperial City hidden within its depths, but there's so much more to see if you have the time—immense tombs, a quaint covered bridge, a serene Buddhist temple, unique regional cuisine, and even a city of ghosts.
1. Visit the Citadel and the Imperial City of Hue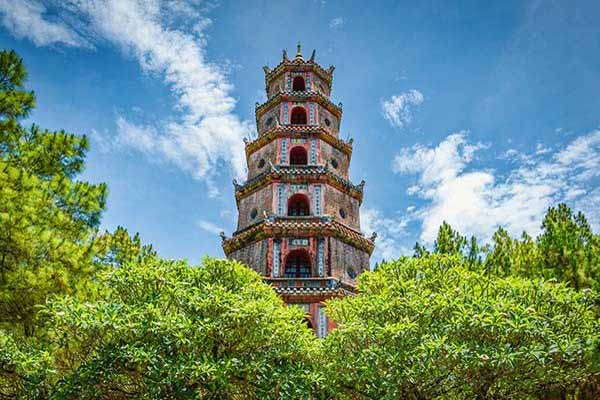 Hue's imposing citadel was the seat of power of the Nguyen Dynasty lords who ruled over most of Vietnam from 1802 until 1945. The 6.5-foot-thick outer walls and intricately decorated protective gates of the citadel are surrounded by moats that stretch a full 1.2 miles on each side, protecting the residences of its emperors and royal courtiers, as well as their libraries and temples. Access was controlled from one part of the complex to another, with only the imperial family and their trusted staff permitted in the inner sanctum. As you pass through the gates leading deeper into the complex, you'll see where political decisions were made, what daily life was like, and where the emperors resided in luxury. Many of these buildings still stand and more are being carefully restored after being extensively damaged by heavy fighting during the Tet Offensive in 1968. Several museums displaying Vietnamese costumes, textiles, and art are also housed within the UNESCO World Heritage complex.
2. Visit the Tombs of the Ancient Emperors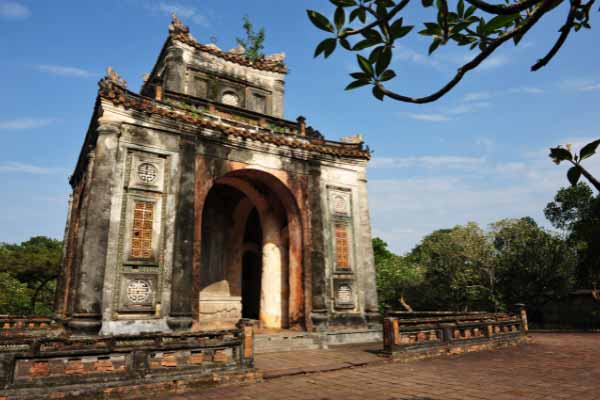 When the Nguyen emperors passed away, great tombs, surrounded by walls and moats, grand ornate gates adorned with mosaic glass and tiles, carefully manicured gardens, temples, and lotus ponds stocked with colorful koi carp were erected where they were laid to rest.
The tombs mostly date from the 19th and 20th centuries; after the citadel, they are the most popular destinations for visitors to the city. Two of the best tombs are the Tomb of Tu Duc and the Tomb of Minh Mang.
Tu Duc was the longest-reigning Nguyen Lord. He designed the expansive grounds of his mausoleum for use before and after his death, including its well-kept ponds, pavilions, and a palace for himself and his more than 100 wives and concubines.
The tomb of Emperor Minh Mang is in a peaceful, rural pine forest about seven miles from the city center. There are marvelous stone bridges and statues, a pretty moat and rock garden, and a grand staircase that ascends to the Pavilion of Light temple. The ornate wooden pavilion was constructed without the use of nails; its red and gold interior has been carefully restored and is now in perfect condition.
3. Visit a City of Tombs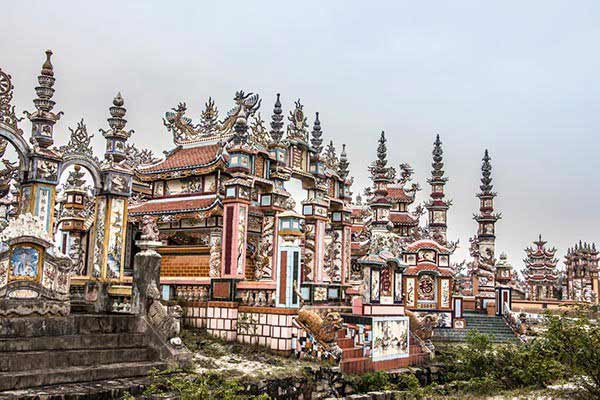 Few Vietnamese cemeteries are as unique as the one in An Bang, otherwise known as the City of Ghosts. Hundreds of acres are covered in thousands of the largest and most lavish tombs that you're ever likely to see. Family tombs may take six months or longer to construct and cost upwards of $70,000—more than the price of most homes in this area. The multi-level tombs, which range in appearance from Buddhist-style temples to gothic Christian churches, are brilliantly colored with designs of dragons, Phoenix birds, and lotus flowers. An Bang is 20 miles from Hue, so you'll need to arrange transportation. It's a village, not a tourist attraction; buffalo-driven carts outnumber tourists, which adds to the other-worldliness of this unique location.
4. Get in Touch With Your Spiritual Self
The Huyền Không Sơn Thượng Buddhist Temple is a hidden gem just seven miles outside of Hue. The small complex is set in a mountainous pine forest; its immaculate mahogany buildings, thousands of orchids, fragrant flowers and bonsai trees, lazily fluttering butterflies, stone pathways, and quiet lily-covered ponds lend a deep feeling of serenity to the setting. Peaceful Buddhist statues are carefully placed around the complex, and handcrafted signs give gentle reminders (in Vietnamese) of the "do's and don'ts" of Buddhist teachings.
5. Travel by Bicycle to an Ancient Covered Bridge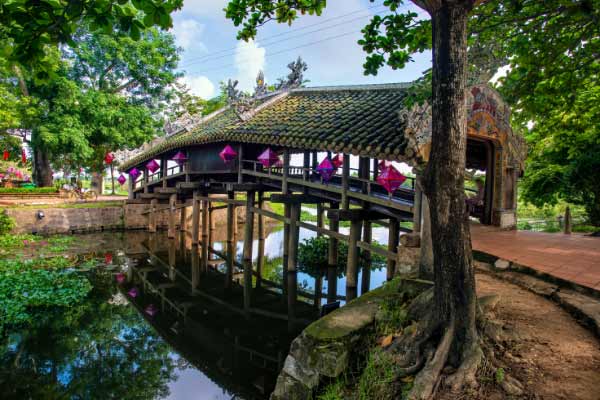 It's worth a visit to this picturesque covered wooden bridge known for its ornate clay-tiled roof. The Thanh Toan Bridge, which was constructed in 1776, crosses a small canal just a few yards upstream from the Sông Cùng, a tributary of the Perfume River. The inside of the bridge is lined with benches worn smooth with age and there's a small, well-tended altar at the arched midpoint. The bridge is in the small traditional village of Thanh Toan, where daily life centers on fishing, growing and harvesting rice, and raising ducks. Many hotels in Hue rent bicycles, and since the bridge is only about five miles from the city, it's easily accessed without taking a taxi or an organized tour. The ride from Hue passes through rural hamlets and scenic rice paddies.
6. Discover Hue's Savory Cuisine
The distinctive cuisine of Hue is outstanding. Some of the city's most famous dishes, such as bún bò Huế (a hearty rice vermicelli and beef soup), are popular throughout Vietnam. Other dishes, such as bánh khoái (happy pancake), are found almost exclusively in Hue. The extremely popular, though unassuming Hanh Restaurant is this writer's favorite.
7. Explore Hue's Best Traditional Market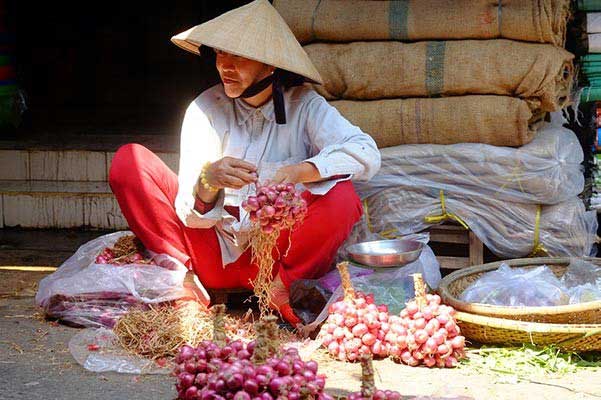 Anthony Bourdain sampled the bún bò Huế at Hue's Dong Ba Market, and you can too—or sample one of the other many local and popular Vietnamese dishes served up at the tiny street stalls here. Try the fresh spring rolls (gỏi cuốn) or beef noodle soup (phở bò) for a special introduction to Vietnamese cuisine. Allow extra time to wander through the market to discover all sorts of foods, textiles, and merchandise for sale.
8. Take an Evening Stroll Along the Banks of the Perfume River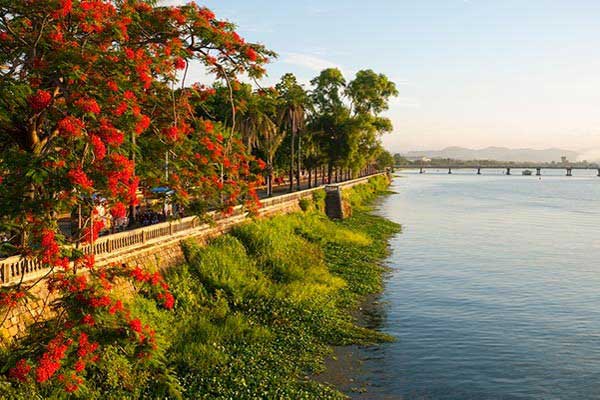 A scenic promenade runs along the banks of the Perfume River through the heart of Hue; it's busiest after the sun sets. You can also ride a bicycle along the river, and stop at some of the famous tombs along the way.
Related Articles
Is Vietnam A Safe Place to Live?
Traditions and Culture in Vietnam
Upcoming Conferences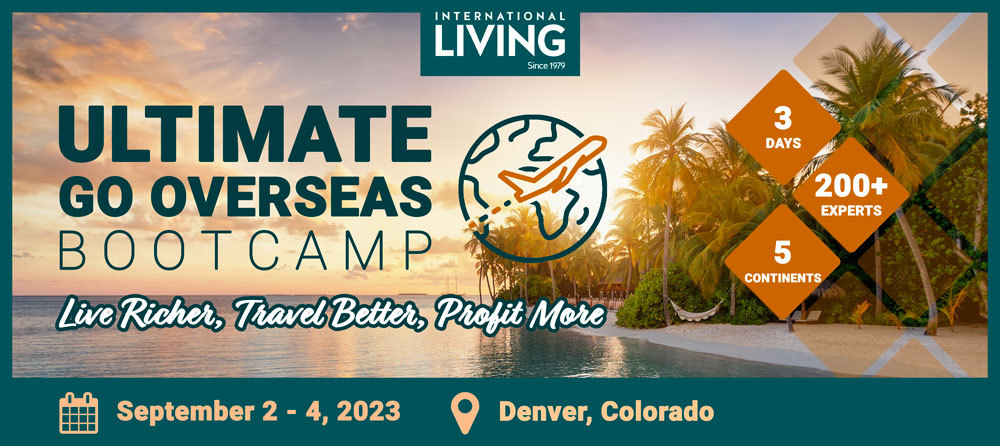 Most Popular Products
Popular Articles You May Also Like