Whether you're standing in the center of the medieval old town or peering down from the city tower, you'll never lose sight of the mountains in Innsbruck. In summer, the vibrant, colorful city comes to life with open-air concerts and outdoor cafes open late into the evening.
Compared to other cities in Europe, a trip to Innsbruck can be a bit expensive, but staying in a village outside the city or on the outskirts of town is significantly cheaper, and the excellent public transportation makes getting around easy, and connections to other countries improve every year with the addition of more high-speed trains. The city is constantly modernizing by investing in cheaper public transportation, city-wide WiFi, and the renovation of older buildings, though the city never manages to lose its medieval charm. While many buildings still have the original exteriors, the interiors are often sleek and modern, so you never need to worry about plumbing or heating.
No matter what interests you, Innsbruck has something for everybody, and though it's a great location for short trips, you'll never run out of things to do.
1. The Golden Roof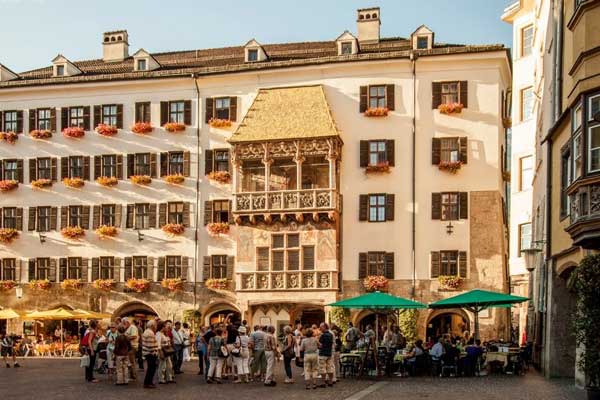 It's impossible to visit Innsbruck without seeing the famous Golden Roof, but few people take the time to visit the museum inside as the entrance is often overlooked because of the splendor of the roof itself. The museum tells the history of the Golden Roof, which was built by Emperor Maximilian I to prove that his empire wasn't bankrupt, as well as the story of Innsbruck, displaying artifacts from antiquity to the more recent Olympic games, which the city has hosted twice.
2. The Cable Cars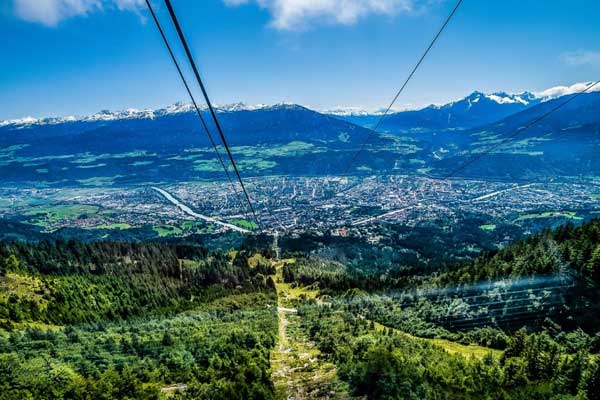 No trip to Innsbruck is complete without a trip up the Nordkette and the Hungerburg tram, a feat of modern engineering and architecture designed by the famous Zaha Hadid, but locals often prefer hiking on the mountain on the other side of the city, Patscherkofel, which is fondly referred to as the Hausberg, or house mountain. Both mountains offer incredible views, and if you make it to the top, an easy 45-minute hike from the cable car, you can glimpse over the border into Italy. Both mountains have many traditional hiking huts to visit, and most lifelong Innsbruckers haven't even made it to all of them, and the difficulty levels range from beginner to expert.
3. Ambras Castle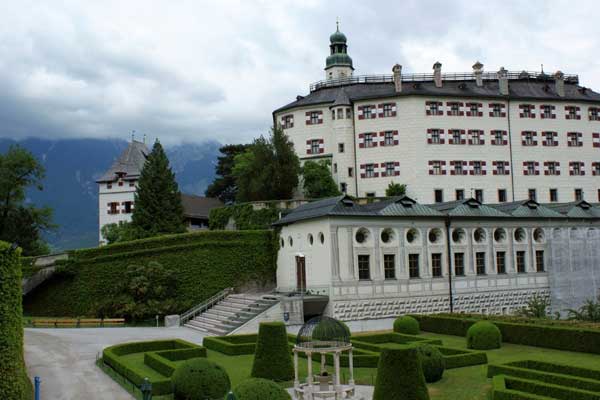 Ambras Castle looms proudly in the mountains over Innsbruck, but don't worry if you aren't up for a hike. It's easily reached by bus. The Renaissance castle features an impressive collection of Medieval and Renaissance armor in Europe as well as the official Hapsburg portrait gallery, and the gardens are free to enter and are home to beautiful peacocks that are more than happy to show off their colorful feathers for visitors. It's a favored picnic spot among locals as well as a popular spot for joggers.
4. Hofburg Palace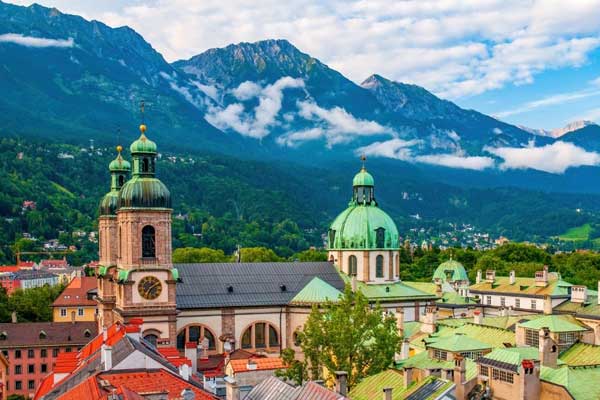 Inside the imperial palace that Empress Maria Theresia referred to as her favorite home, you'll come face to face with larger-than-life portraits of her and her daughter Marie Antoinette in the Giant's Hall before stepping into the private apartments of Emperor Franz Josef and his wife Sissi. Located in the center of the old town, the palace is impossible to miss, and across the street, you can explore the imperial gardens, another popular spot for picnics and sunbathing.
5. Bergisel Ski Jump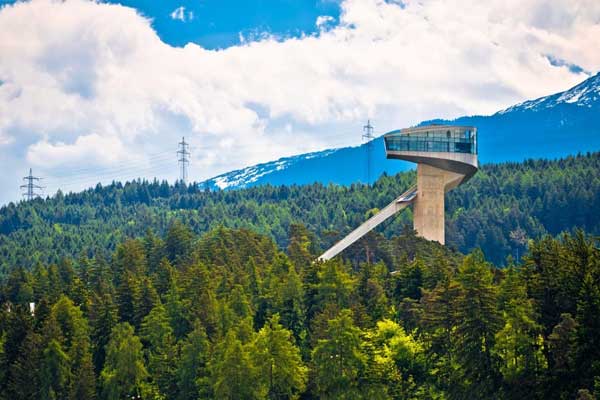 Also designed by Zaha Hadid, the Olympic ski jump is one of the city's most striking buildings. In winter, it hosts the annual ski jumping world cup, but even in summer, you can catch glimpses of jumpers practicing on the wet mat instead of snow. The restaurant is popular for New Year's Eve parties since it offers the best vantage point for fireworks, which welcome the new year nonstop from midnight until 2:30 in the morning.
6. Grassmayr Bell Foundry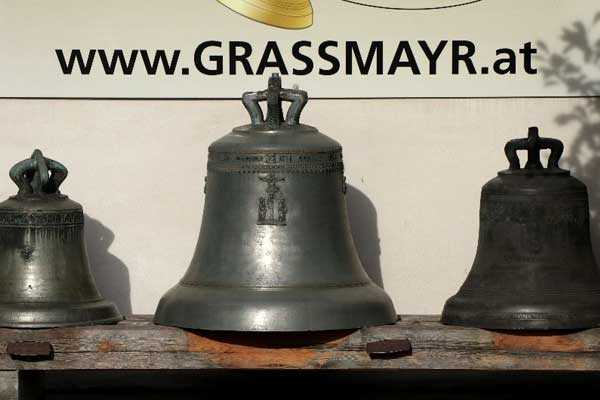 From the steeples of the city's medieval churches to the clanging of cattle in the fields, Grassmayr bells have been heard echoing throughout Austria since 1599. At their museum and foundry, you can discover the unique process of bell making and the long history of this family business in addition to learning about the sensation of sound in their sound studio. As the market for church bells is dwindling, their business is constantly evolving, so even if you've already been, you'll always discover something new. If you're lucky, you might even see a bell being cast while you're there and get to celebrate with a glass of Schnapps.
7. Coffee Houses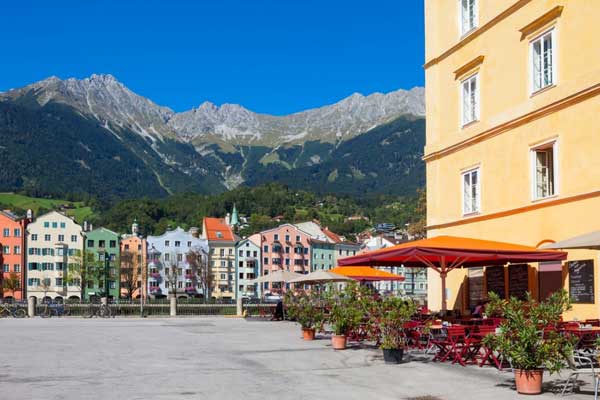 At 4 p.m., Austrians stop and take a break for the country's favorite ritual: coffee and cake, preferably at a traditional coffee house. For the classic, Viennese experience, Café Central right off Maria Theresia Street has the best Kaiserschmarrn (traditional Austrian pancakes) and it's not uncommon to see elderly Tiroleans in their traditional clothing. For cakes, Café Munding in old town is unparalleled. It's the city's oldest confectionary, and their selection of cakes changes daily, so you'll never run out of new things to try. Of course, no trip to Austria is complete without strudel, and Café Kröll in old town has sweet and savory options. It's fairly small, so getting a table can be a bit tricky, but it's worth the wait.
8. The Museums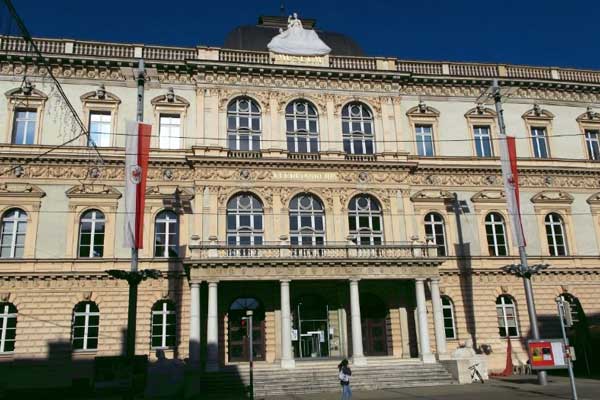 Innsbruck has several excellent museums that can be combined on one ticket that is valid for a year, so there's no rush. If you're interested in art, the Landesmuseum has a collection ranging from classic to contemporary. The Volkskunstmuseum chronicles the history of the region and is connected to the imperial church, where the empty grave of Emperor Maximian I lies. It's right next to the imperial palace, and recent exhibits have covered topics as diverse as the history of smoking to traditional Tirolean clothing. In addition to indoor museums, the city is constantly erecting open-air displays, and many bus stops feature signs with information about ongoing research projects at the university, so waiting for the bus is rarely boring.
Many of these activities are available year-round, but Innsbruck changes dramatically from season to season as leaves change in Autumn and snow melts to make way for Spring wildflowers, and with the changing seasons, restaurants adapt their menus, so no matter how many times you visit Innsbruck, you'll never have the same experience twice, making it a great destination for return travelers or a home for expats.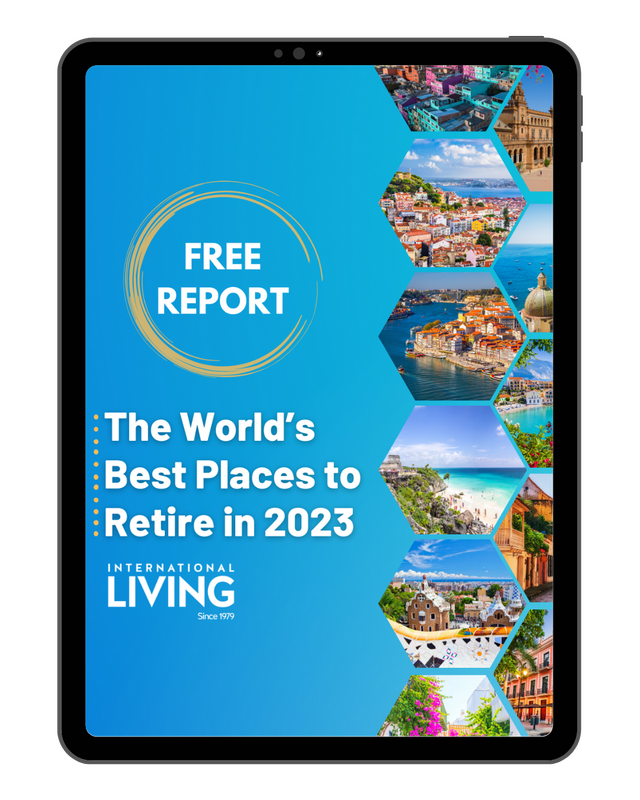 Get Your Free Report on the World's Best Places to Retire:
Learn more about the best places in the world to retire in our daily postcard e-letter.
Simply enter your email address below to sign up for our free daily postcards and we'll also send you a FREE report on The World's Top 10 Retirement Havens, plus access to over 10 more free reports. Our gift to you, on our favorite destinations.
Related Articles
Europe's Top 5 Affordable Retirement Havens
Planning Your Roving European Retirement
5 Great Places to Retire Where it's Easy to Fit In
Upcoming Conferences
The Only 2023 Fast Track Costa Rica Conference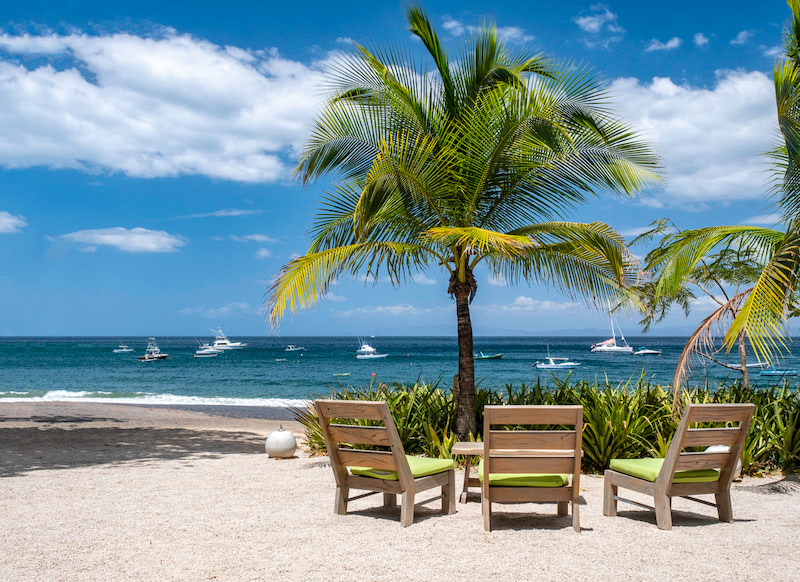 If your dream retirement involves stunning beaches… lush green mountains… a perfect year-round climate… first-rate healthcare… incredible value for money (a couple can live well on $2,109 a month—including rent!)...
Join our Costa Rica experts and expats in June and discover true Pura Vida.
REGISTER NOW, SEATS LIMITED: EARLY BIRD DISCOUNT HERE
---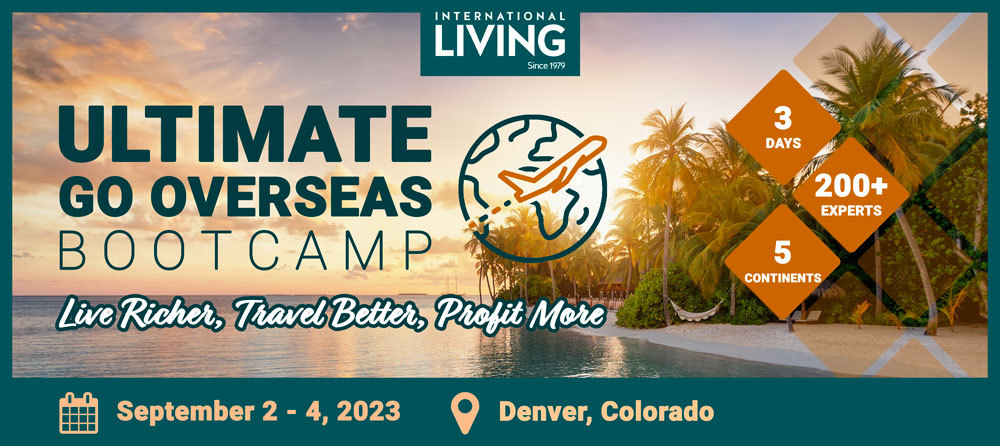 Most Popular Products
Popular Articles You May Also Like