Murcia is a city in south-eastern Spain, serving as the capital of the region of Murcia and its center of culture and history. Lying at the confluence of the Segura and Guadalentín rivers, in a fertile area known as the Huerta (orchard land), Murcia thrives in agriculture and tourism.
Its unique natural landscape and rich background have made exploring the city a truly unforgettable experience.
Are you interested in retiring abroad? Yes | Not Sure Yet
Here are my picks for the top 10 things to do in Murcia.
1. Visit a Museum
On Paseo Alfonso X El Sabio, the Santa Clara la Real Convent Museum sits in an old royal palace, featuring prized artistic, archaeological, and architectural remains from Moorish and Christian times. In the same area, the Murcia Archaeological Museum houses the city's collection of Iberian archaeological items found in the region. In 16 rooms, the museum takes its visitors on a journey through Prehistory to the Pre-Moorish era.
If you prefer to look at the more artistic side of the city, visit the Salzillo Museum and Almudí Palace and Art Gallery. Dedicated to the famous sculptor Francisco Salzillo, the Salzillo Museum is home to his Baroque artwork like the pasos carried for the Easter week processions and the 500-piece Bethlehem of Salzillo. Originally built as a storage unit in 1556, the Almudí Palace now houses the Department of Culture, the Almudí Arts Centre, and the Municipal Archives of Murcia.
2. Tour Historic Sites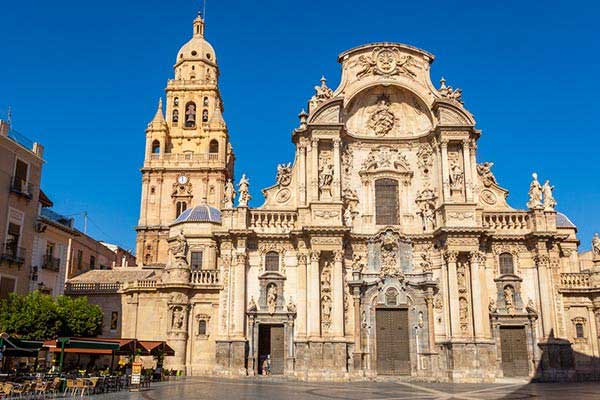 Nothing speaks more of Murcia's elegance and devotion than the Cathedral of Murcia, which stands proudly on Plaza del Cardenal Belluga with its magnificent bell tower. This Gothic church features a Baroque façade and has gone through many renovations since its first stone was laid in 1388. Pay a $6.07 admission fee for adults and take a guided tour of the architecture, passing through its 23 chapels, the museum that houses the Cathedral's treasures, and up to the 90-meter-tall bell tower.
Right next to the church is the Episcopal Palace. On Calle Trapería, you will find Murcia's gentleman's club, the Real Casino de Murcia. Although a private club since the 19th century, the Royal Casino was declared a National Historic Building in 1983 and is now open for visitors. Explore its extravagant halls, sculptures, and paintings and enjoy the many cultural activities held year-round.
3. Try the Local Cuisine
The city of Murcia is known for many things, and fortunately for us, one of them is good cuisine. The city's dishes represent the region's rich gastronomy centered around local produce.
The Zarangollo dish is an omelet special made primarily of tomatoes, zucchinis, onions, and eggs, but restaurants like to add their twist like putting in red prawns. Try the local Pastel de Carne or the Empanadillas sold at Espinosa, the meat dishes in Restaurante Extremeño, or eat Migas or any Paella dish.
4. Take Gorgeous Pictures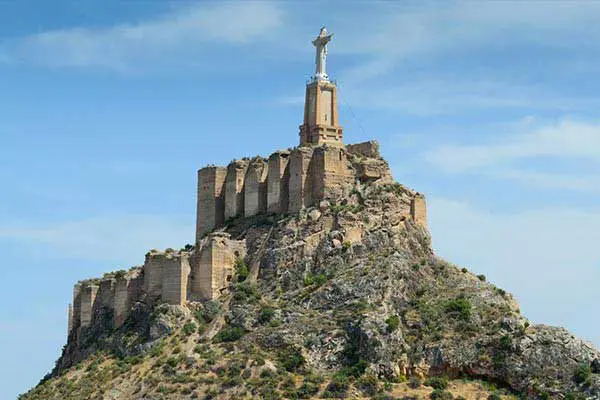 The old town area of the city of Murcia—centered around Platería and Trapería streets—is simply the most magical place you can visit. Walk the streets and enjoy the warm European air as you photograph old architecture.
If you fancy a short trip, head for the hills, and visit the La Fuensanta Sanctuary in Algezares. This church is the home of the patron of Murcia, the Virgen de la Fuensanta, and offers a beautiful panoramic view of the city and the Regional Park.
Another emblematic site is the Monteagudo Castle in the Monteagudo district. This daunting fortress atop a hill can be seen from all neighboring areas and features a 14-meter statue of Christ.  It served as a guard post, a prison, later a royal residence, and now, the perfect subject for a great picture souvenir from the city of Murcia.
5. Relax at the Plaza or Garden
Located in the heart of old town, you'll find Murcia's main urban space, Plaza de las Flores. Around the plaza's central fountain, there are flower stalls, shops, cafes, restaurants, and lounging areas. It's a fun and charming place, ideal for relaxing after a day of getting to know the city. If Plaza de las Flores gets too noisy for your taste, walk the paths of the Floridablanca Gardens and explore its many romantic structures.
Get Your Free Spain Report Here:
Learn more about Spain and other countries in our free daily postcard e-letter. Simply enter your email address below and we'll also send you a FREE REPORT - Live the Good Life in Sunny, Affordable Spain.
This report covers real estate, retirement and more in Spain and is yours free when you sign up for our IL postcards below.
6. Watch Cultural Shows at the Theaters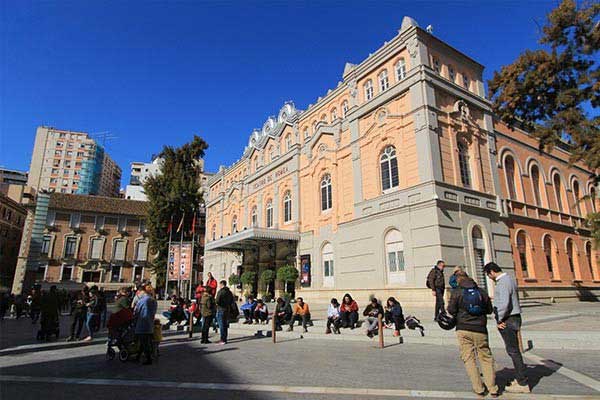 The city of Murcia hosts some of the finest performing arts show in the region. The grandest ones are held in Romea Theatre on Plaza Julián Romea, where you can witness flamenco shows, plays, and orchestra performances programmed every year. The building itself is of cultural importance for the city, with its eclectic style, Modernist details, and somewhat cursed history.
Another is the Teatro Circo on Calle Enrique Villar. Inaugurated in 1892, this privately-owned theater holds circus performances, as well as boxing and wrestling events, cinema, and various other shows for entertainment.
Meanwhile, on Centro Párraga, is where contemporary arts thrive in outstanding exhibitions and performances.
7. Attend a Festival
Murcia's spring festivities are highly anticipated every year by locals and tourists alike. They're colorful and loud, with people of all ages out into the streets and dressed according to the day's events. If it's Bando de la Huerta, held on the Tuesday following the Holy Week, people would be dressed in their traditional costumes and enjoy the street parades. The day after, there is a Spring parade, celebrating the importance of flowers of the region by purchasing them from local producers and wholesalers, then parading through the streets. The next day, these same flowers will be used to decorate the floats of the Battle of the Flowers. The party does not stop until the burning of the sardine is done in the Martínez Tornel square. There's also the Murcia Fair in September that's equally rich in culture and fun.
8. Visit Terra Natura Murcia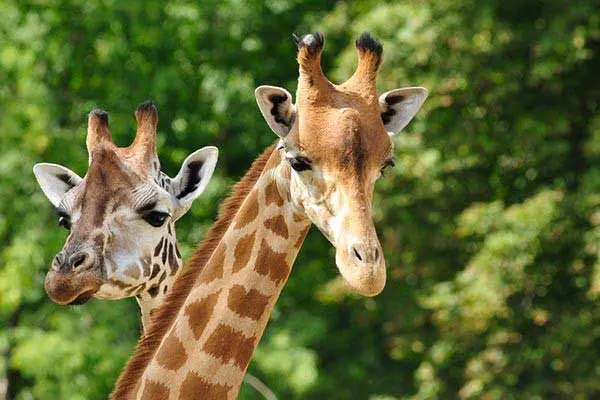 Terra Natura Murcia is an amusement park that's perfect for the family. It has a zoo, a waterpark called Aquanatura that's open from mid-May to mid-September, and hosts annual exhibitions. Visit majestic African and Iberian Peninsula animals, such as meerkats, giraffes, wolves, and bears in their habitat, and watch exciting birds of prey or raptor shows. The Park also has a variety of restaurants with options that the whole family can enjoy.
9. Go Hiking in Carrascoy y El Valle Regional Reserve
Located 3.73 miles east of the city, this Natural Park is the perfect nature getaway from the busy city life. This nearly 4,000-acre mountainous landscape is home to dense forests of Aleppo pine, over 600 other species of plants, and unique animals. Enjoy walking, hiking, or cycling guided trails, explore caves and rocks, and take in the scenery and the warm Murcian air atop cliffs and deep ravines. Visit any of the three visitor centers to start, but before that, you might also fancy a BBQ at the nearby car park.
10. Take a Trip to a Nearby Beach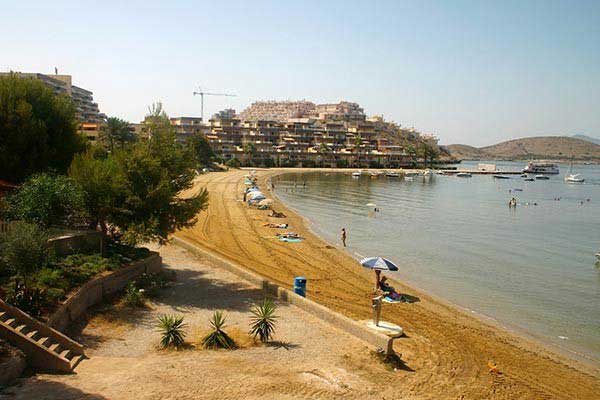 The city of Murcia is very close to some of Europe's top beach destinations. Costa Cálida is only an hour ride from the city and spans 155 miles of the Mediterranean coastline. Aside from its hot microclimate (hence, its name, "Warm Coast"), what's unique in Costa Cálida is that visitors can choose to go for a swim in the deep blue Mediterranean Sea or in the coastal lagoon of Mar Menor. With the La Manga just over the horizon, the scenery in Costa Cálida is simply breathtaking. Meanwhile, the Costa Blanca in Alicante province is full of white sand beaches and mountains. In this 120-mile Mediterranean coastline, everything is possible. You can go rock climbing, diving, surfing, sailing, or have fun in the nearby towns.
Get Your Free Spain Report Here:
Learn more about Spain and other countries in our free daily postcard e-letter. Simply enter your email address below and we'll also send you a FREE REPORT - Live the Good Life in Sunny, Affordable Spain.
This report covers real estate, retirement and more in Spain and is yours free when you sign up for our IL postcards below.
Related Articles
The Best Places For Every Budget in Spain
Five Places to Live in Spain; Two to Avoid
Two Beautiful Small Towns to Live in Spain
Upcoming Conferences
Live Better, Spend Less, Retire Sooner
IL's Retire Overseas Bootcamp
October 21-23, 2022 in Atlanta, GA

In safe, warm, welcoming communities abroad, as little as $1,700 a month can bankroll a good life... this fall, our experts will show you where—and how.
Early Bird DISCOUNT—Save $100 When You Register by Sep. 29
Details Here IL's Retire Overseas Bootcamp
---
Registration Now Open for the Best of Europe Private Screening

In the Right Spots in Europe, You Can Retire in Style—in an Historic, Sun-Drenched Locale—for as Little as $2,300 a Month or Less—Especially Now With the Dollar and Euro at Parity for the First Time in Two Decades.
And We'll Show You How, October 1-2, During the Special All-Online Best of Europe Private Screening.
---
The Income Revolution Forum
What if You Had the Freedom to Enjoy the Good Life Anywhere in the World You Wanted to Be...and Get Paid While You're There?
We'll show you how—with hands-on guidance—you could beat inflation...secure your retirement...ditch your commute...and turn a skill you already have into a portable side income of $300, $600, even $3,000 or more a month.
Popular Articles You May Also Like