A procession of formally dressed figures walks by, painted skeleton faces adorned with colored patterns and, sometimes, glittering sequins surrounding the eyes. Altars adorned with marigolds, calaveras (sugar skulls), candles, and other items line the sidewalk. There's a festive air as friends and families gather in the main square of San Miguel de Allende, to celebrate life by…celebrating death.
It's Dia de Muertos, or Day of the Dead, in the heart of Mexico, in the Colonial Highlands. With the centuries-old Spanish colonial buildings, soaring church towers, and cobblestone streets, it's the perfect setting.
Some think of this holiday, which stretches over November 1 and 2, as the "Mexican Halloween." But aside from some superficial similarities, they're completely different.
Day of the Dead's origins go back to the earliest colonial period of Mexico. It's a blend of ancient indigenous traditions to honor dead relatives, mixed with newly brought Catholicism. Traditionally—and this still happens to this day—families gather in the cemetery at the grave of a family member or members to spend time with them. It's believed that their souls are brought back to earth for this day only.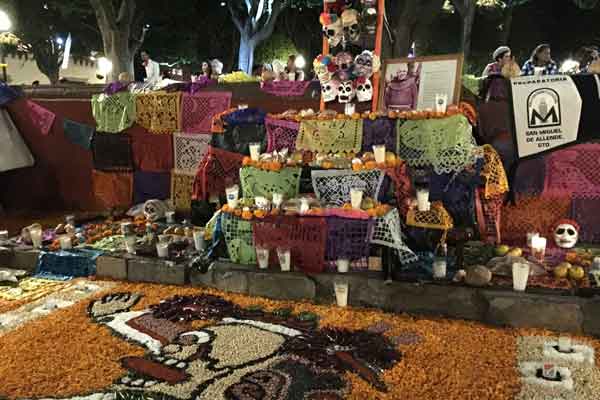 It's far from a solemn occasion. It's really a celebration of life. It's a party, with music—often mariachi bands—and food. People tell stories of their loved ones. And the deceased are right there with them in spirit. Altars adorned with mementos treasured by the relative and other offerings are the centerpiece.
That's the tradition. But as with any holiday, it's morphed over the years. Today, there are parades, festivals, music performances, and more over the two days in cities around Mexico.
San Miguel de Allende, in particular, has become a destination for its Day of the Dead celebrations. And the large expat population eagerly takes part…along with enthusiastic locals.
My friends and I started prepping last week, buying makeup, renting tuxedos, and buying costumes of elegant gowns, so we could join in the fun as catrins (men) and catrinas (women), the skeleton figures in formal wear associated with the holiday. It's not about being scary…the catrina was created in the 1920s by an artist as a caricature to show the snobbish wealthy elite that we're all the same on the inside.
After we put on makeup at my house on the afternoon of November 1, we walked to the town center, passing hundreds of people made up for the occasion as we went.
Some groups gather in outlying neighborhoods and march together to the Jardin, the main square, where they stay well into the night, enjoying the celebration, taking photos of particularly creative costumes, and admiring the altars set up by civic groups. There's plenty of food and drink—it was quite a sight to see a group of skeletons eating tacos at my usual corner stand, let me tell you.
The large number of expats has had some influence. Many bring bags of candy to hand out treats to children. But for the most part, we're just joining in the fun of this vibrant Mexican tradition.
Get Your Free Mexico Report Here:
Learn more about Mexico and other countries in our daily postcard e-letter. Simply enter your email address below and we'll send you a free special report – Why Millions of Americans Are Moving to Mexico.
This special guide covers real estate, retirement and more in Mexico and is yours free when you sign up for our postcards below.
Get Your Free Report Here
Related Articles
Everything You Need to Know About Retiring in Mexico