There are plenty of valid reasons to rent a home before you buy when you relocate overseas. For those who choose to live in Panama's Western-most province, Chiriquí, one major reason is to check out the weather in various locations to find what suits you best. Despite being a small country in the middle of the tropics, you'll find Panama has a variety of climate zones and even within the province there are variations in temperature, rainfall, wind, and cloud cover.
I live in the provincial capital city, David, which is known for its warm weather. My friend Manzar said to me recently, "I just don't see what you like about living in David. It's so hot! When I have to go there for some reason I can't wait to get back home to Boquete."
I hear comments like his often, and I understand that the heat in David is too much for some people. But on the other hand, the frequent clouds and rain in Boquete are too much for me and others I know who live in David.
"My cousin lives in Boquete and when I first came here I lived there for six months," says fellow expat, Alan. "It's certainly beautiful, but it's just too cold there for me. I prefer the warmer weather in David and I'm more comfortable here, plus I can visit Boquete whenever I want."
The two towns are only a 30 to 40 minute drive apart, on a nicely paved four-lane highway. But the elevation makes all the difference, so that towns at 3,000 or 4,000 feet up the mountain slope may be at least 10 degrees cooler than those near sea level.
Boquete and its surrounding villages are the most popular and well-known destinations for expats and retirees settling in Chiriquí. The town center sits in a hollow formed by ancient volcanic activity, with steep hillsides reaching up on all sides. Even this sector has a surprising range of microclimates to experience.
James and his wife, Leslie, live in Volcancito, a popular community to the west of Boquete. Their home overlooks the town and the Caldera River that runs through it. "It's cooler up here and we often get a nice breeze so we don't need air conditioning, even though we get plenty of sunshine," Leslie explains.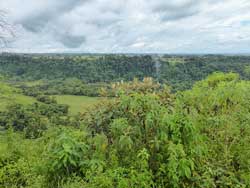 On the other side of the hollow the Alto Lino community is known for having more frequent cloud cover, which is good for many crops. Mary Ann has a hilltop home there, surrounded by coffee plants. "The coffee grows very well here because it needs shade, so I don't mind the cloudy days," she says. "The hillsides all around are covered with rows of onions, cabbages, broccoli, and lettuce crops that need shade as well."
One advantage to being high up in the hills is watching the weather as it changes throughout the day. In the neighbourhood of Jaramillo, Ann built her home with a huge balcony that stretches the length of her house. "It's my favorite spot to have my morning coffee, eat a bite of lunch, and relax at the end of the day," Ann says. "The sky is constantly changing and every day the cloud patterns and sunshine put on a new show. Rainbows are common up here, too."
The coolest settlements in all of Panama are at 6,600 feet on Baru Volcano, including Cerro Punta and Guadalupe. Few foreigners live there because the rich farmland is where most of the country's produce is grown. It's also too wet and chilly for most folks, with frequent drizzle and cloud cover.
The town of Volcan, at a lower elevation of 4,600 feet, is home to a growing expat community. Theresa, an expat from the U.S., chose the town of Volcan for her new home when she moved to Panama. "I'd been living on the water for a number of years and I wanted to get up in the mountains," she tells me. "Volcan is the perfect place for me, with its rural lifestyle. The days are usually sunny and warm, with rain coming in the afternoon and cool nights that are great for sleeping. It gets very windy in some months, but the scenery is stunning."
The rolling countryside that extends between lowland David and highland Boquete is the perfect spot for some retirees. This "midland" region is cooler than David and warmer than Boquete, making it just right for those who live there. Ray and Margie live near the town of Caldera in this region. "It's really the sweet spot as far as we're concerned," Ray says. "Our neighborhood sits on the edge of a steep canyon with mountains beyond, so the views are spectacular. Not only do we have the best climate but we're close enough to Boquete and David to get to either town quickly and easily."
Looking at the climate data for Panama and Chiriquí Province you won't see much variance in overall temperature range or rainfall. But once you get your boots on the ground and start exploring the area you'll realize that minor subtleties in the weather can make a difference and help you find your sweet spot.


Get Your Free Panama Report Here:
Learn more about Panama and other countries in our daily postcard e-letter. Simply enter your email address below and we'll send you a FREE REPORT — Panama: Easy, First-World Living and the World's Best Retiree Program.
This special guide covers insider advice on real estate, retirement and more in Panama. It's yours free when you sign up for our IL postcards below.
Related Articles
By Moving to Panama You Can Move to Paradise